Previously: So, About That Time I Stayed Overnight In An Extremely Haunted House…
These days, legend tripping — literally taking trips to investigate sites connected to urban legends, ghost stories, and pieces of folklore — is easier than ever. We have advancements in technology to thank for that — although perhaps not in the ways you think. Sure, the internet puts a wealth of stories to investigate at our fingertips, and GPS devices can help us navigate to them; beyond that, though, there's also… Google Maps. It turns out that there are tons of urban legend locations in the United States on Google Maps. You don't even have to know the exact address of the spot you're looking to find. In many cases, all you need to know is the name of the legend itself — and Google Maps will do the rest.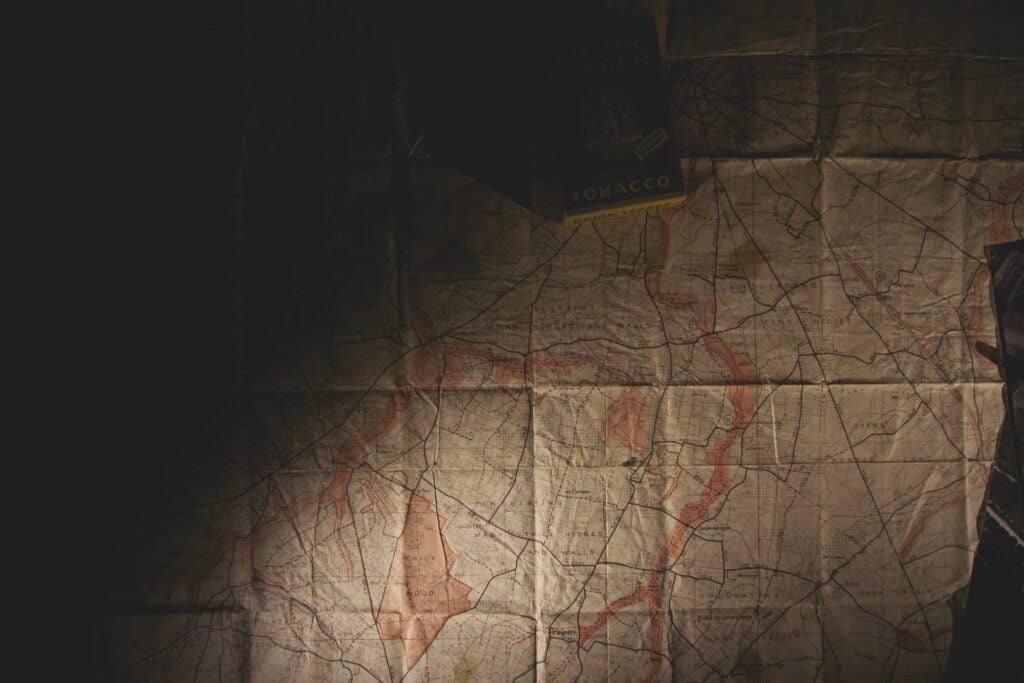 I've been lucky enough in recent years to be able to take a few trips to strange and unusual locations near where I live. Sometimes, they're a few hours away; other times, the trips take less than 20 minutes. Either way, though, I've increasingly found that, in planning these trips, getting to the spots proves to be much less difficult than I initially assume, mostly because we don't need to actually map out a route to get there. We just need to make sure our phones are charged and that there's enough signal for them to keep working.
[Like what you read? Check out Dangerous Games To Play In The Dark, available from Chronicle Books now!]  !]
What makes these places — both the ones I've visited and the ones I've only read about — notable is that they're all findable by searching Google Maps not by their official names, but their colloquial ones. You won't find them as they're listed here on any official land surveys or on any standard road maps; if you ask around, though, odds are the locals know exactly what you're talking about.
And there's another bonus, too: Even if you can't actually go to these places, you can still do a little armchair traveling to them — and, in some cases, even "walk around" them.
Just, y'know, be careful. Satellite images can carry their own risks, too.
Boy Scout Lane, Steven's Point, Wisconsin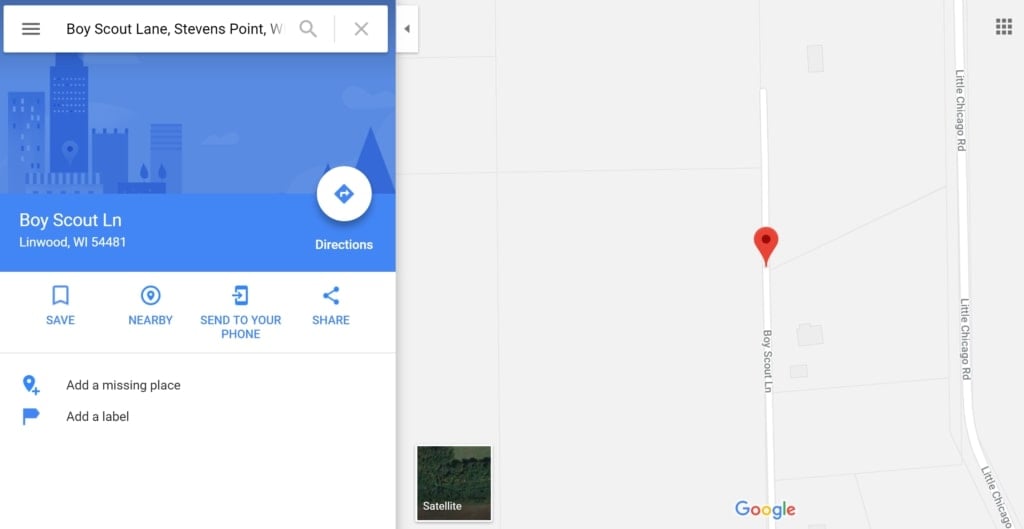 Boy Scout Lane isn't a road of its own; it encompasses the final, unpaved 2,500 feet or so of Cardinal Road. There's never even been an actual Boy Scout Camp there. But both the name of the area and legend clinging to it persist: According to the stories, a group of young scouts were killed by their bus driver — no, their Scout Master — no, they died in a crash — no, the bus caught fire and they died in the blaze — no, they just disappeared and have never been found. There's no truth to them, but they do make for good campfire tale fodder.
Bunny Man Bridge, Clifton, Virginia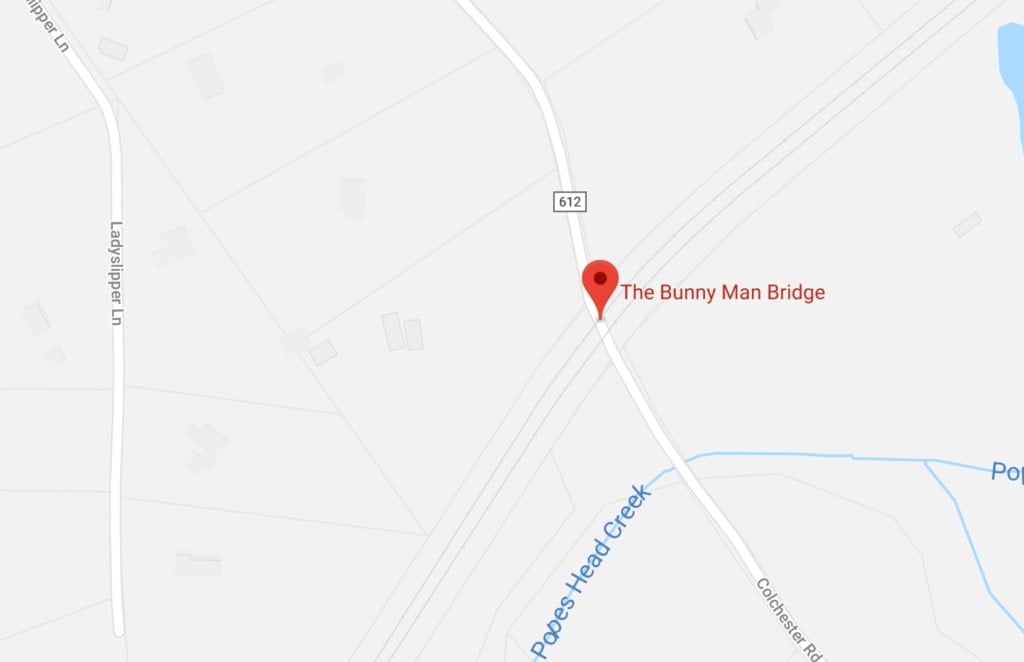 I was delighted to discover after I moved to the DC area a few years ago that I'm now extremely close to the spot most frequently identified as Bunny Man Bridge. I was even more delighted to find that, when planning a quick day trip out to visit it with some friends a few months ago, finding the bridge is incredibly easy — all you have to do is search for "Bunny Man Bridge" on Google Maps and it comes right up. The stories of escaped prisoners running amok in the woods are all hooey, of course, but there are a few incidents that did actually happen in the area in the 1970s that may have given rise to the legends.
Various Gravity Hills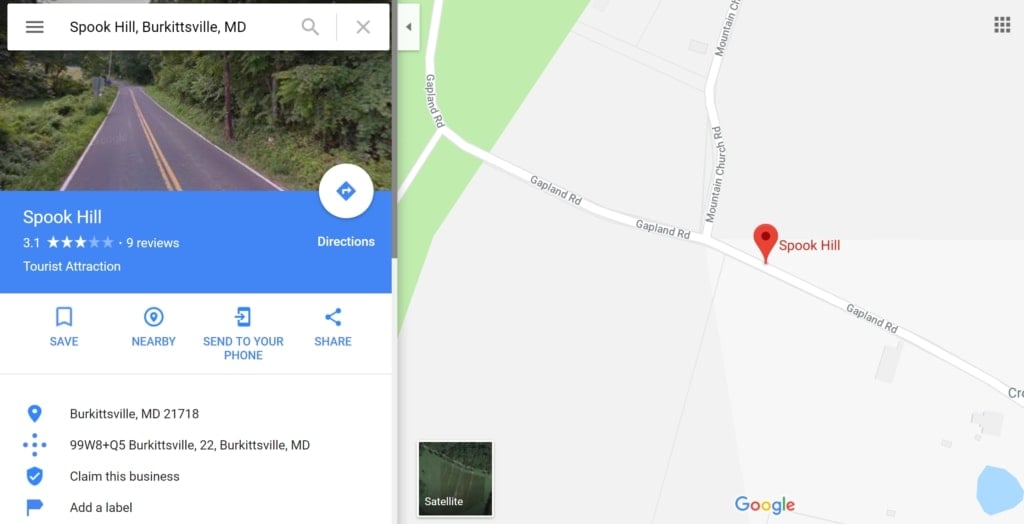 You know all those legends about how, if you put your car in neutral at a spot where a tragedy allegedly occurred, the vehicle will mysteriously roll uphill as the ghostly hands of those who died in the tragedy push you to safety? There's nothing ghostly about them; they're optical illusions. They certainly do mess with your head, though, which is kind of a fun experience all the same.
Tons of them are findable on Google Maps, too. Look for "Spook Hill," for example, and you'll pull up both the one in Burkittsville, Maryland (yes, that Burkittsville, Maryland) and the one in Lake Wales, Florida; looking for "Gravity Hill" sends you to a variety of spots in Pennsylvania; there's another Gravity Hill in Richfield, North Carolina; and so on and so forth.
Helltown, Ohio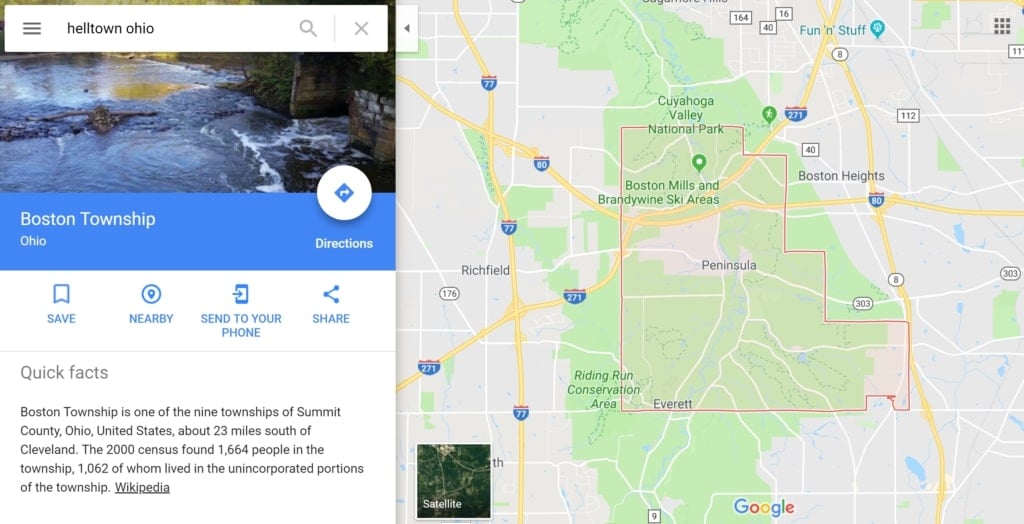 Okay, so technically, Helltown itself isn't on the map. That's to be expected, though; the town never really existed, after all (or at least, not the way the stories say it did). Funnily enough, though, searching for it on Google Maps brings you automatically to Boston Township, Ohio — right where Helltown was supposed to be. Curious, no?
100 Steps Cemetery, Cloverland, Indiana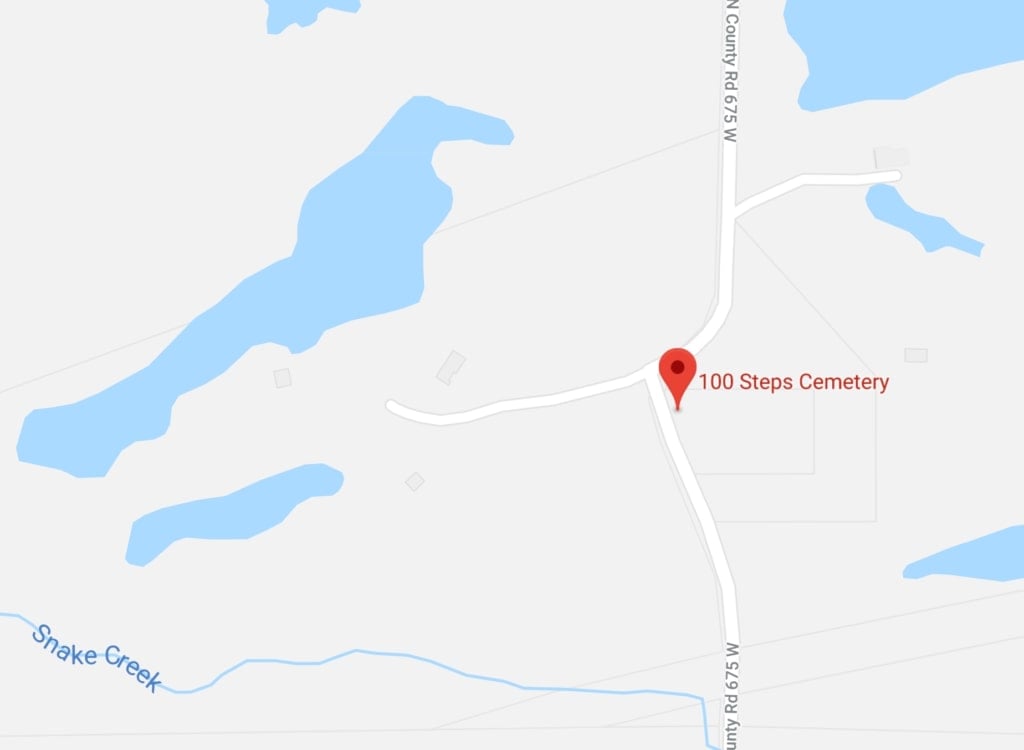 Officially, the cemetery located at 7114-7140 N County Road 675 W in Cloverland, Indiana is called Carpenter Cemetery, Carpenter's Cemetery, or Cloverland Cemetery. Unofficially, it's called 100 Steps Cemetery — and legend has it that if you walk up and down the steps for which it earned that name at a specific time of night, counting them as you go, that you might be given a vision of how you'll die. Oddly, there aren't actually 100 steps at 100 Steps Cemetery; there are only about 60. The legend has persisted all the same, though — and it has since the early '80s.
Emily's Bridge, Stowe, Vermont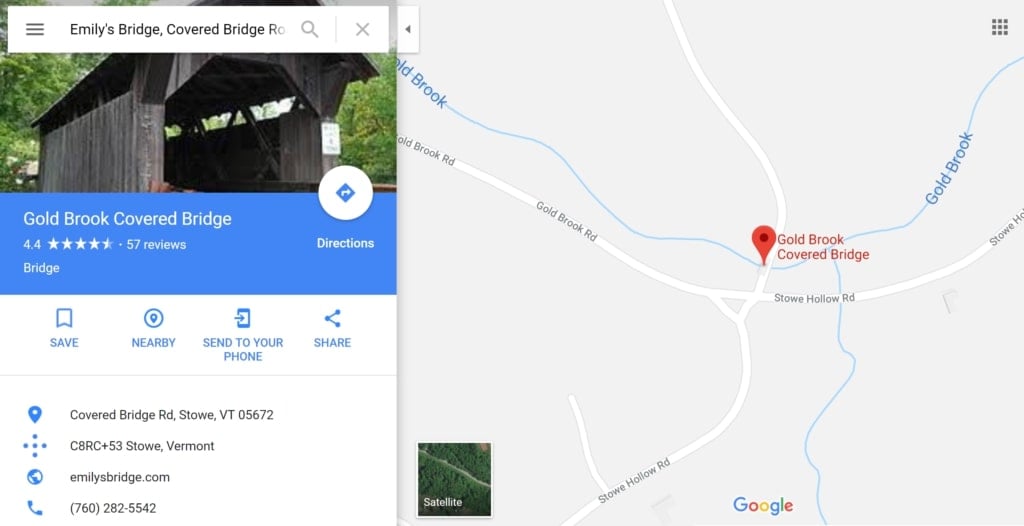 It's labeled on the map itself as Gold Brook Covered Bridge — that is, as its actual name — but if you search for Emily's Bridge, Google Maps will bring you to the right spot. "Emily's" true identity remains unknown; indeed, there's actually no historical evidence that she ever existed in the first place. But those who believe in her still tell the stories of how she may have met her end on the picturesque covered bridge in Vermont: She was thrown from her horse on the way to her own wedding; she was left at the alter and died by suicide afterward; she gave birth to children out of wedlock and died by suicide; or she was murdered by her fiancé's mother.
Ghost Lights Of All Kinds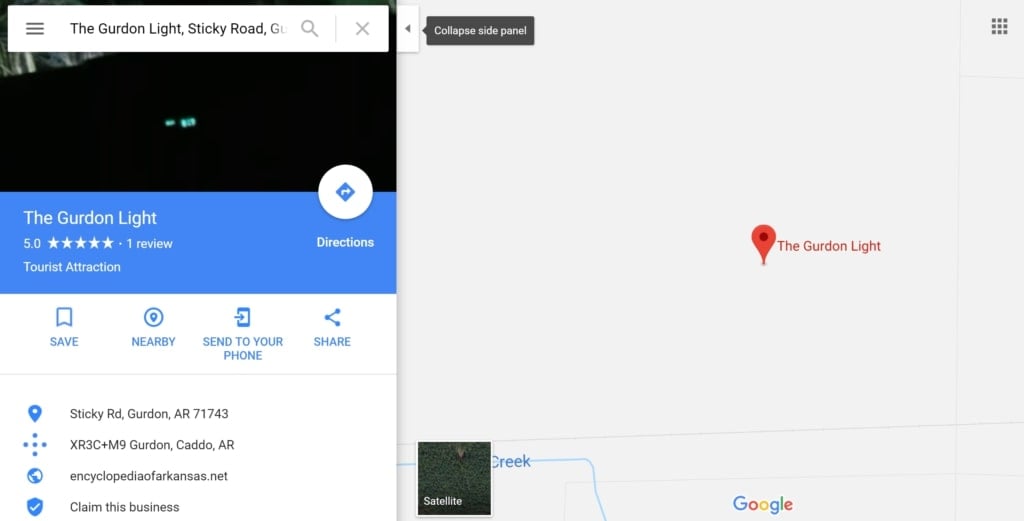 "Ghost lights" — strange, mysterious balls of light that might be seen floating or bobbing about in the distance in any number of locations in the United States — are one of those curious sorts of phenomena that have an almost endless array of possible explanations. Even stranger, though, is the fact that each one might be caused by something entirely different. The stories surrounding them certainly vary depending on which on you're talking about; the Gurdon Light in Gurdon, Arkansas, for example, is said to be the lantern of a railway worker who was killed on the tracks nearby many years ago, while the Hornet Spook Light in Joplin, Missouri might be the spirits of two star-crossed lovers who died together rather than be parted. Occasionally a ghost light might be ascribed to aliens or UFOs, rather than ghosts.
They're probably just car headlights, though.
Or are they?
Clinton Road, West Milford, New Jersey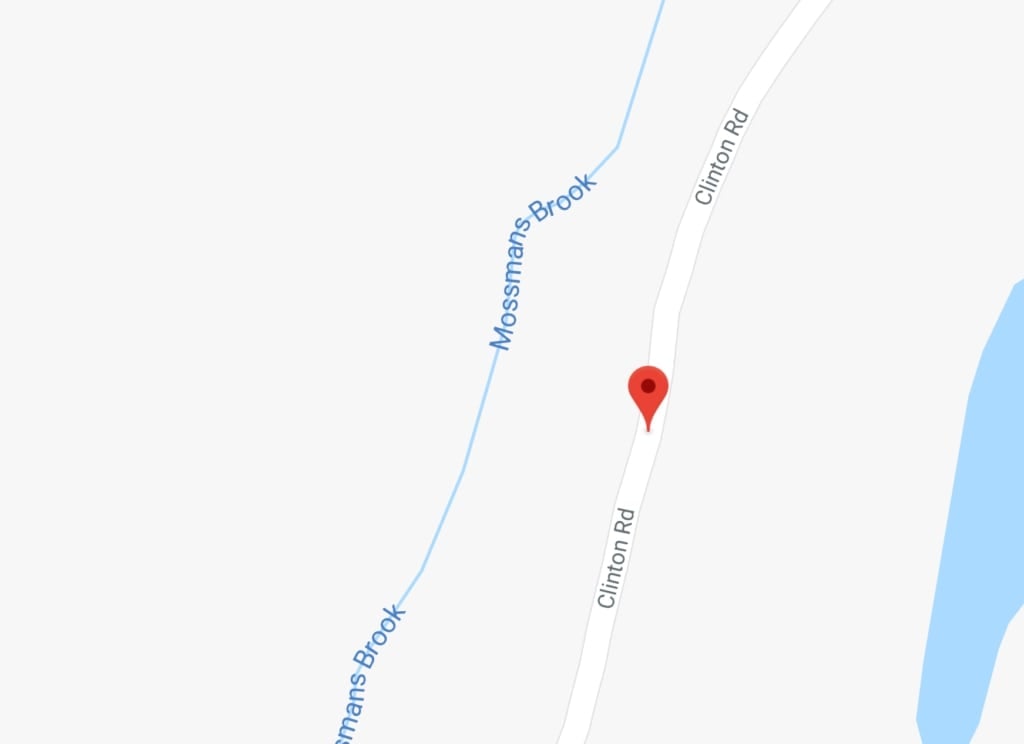 Most of the stories about Clinton Road aren't true. There's no ghost boy living under the bridge located by the road's Dead Man's Curve; no wild animals were ever released from a nearby amusement park into the woods; the "Druidic temple" is just an old smelter; and no Satanic rituals were ever carried out at Cross Castle. A murdered man was discovered by the side of the road being eaten by vultures in the '80s, but the rest of the tales are just fiction. Still, though — it's a dangerous road, nerve-wracking to drive down and very, very dark at night. Although Clinton Road is its official name in this case, curiously, it is also apparently not part of the New Jersey county highway system.
The Mothman, Point Pleasant, West Virginia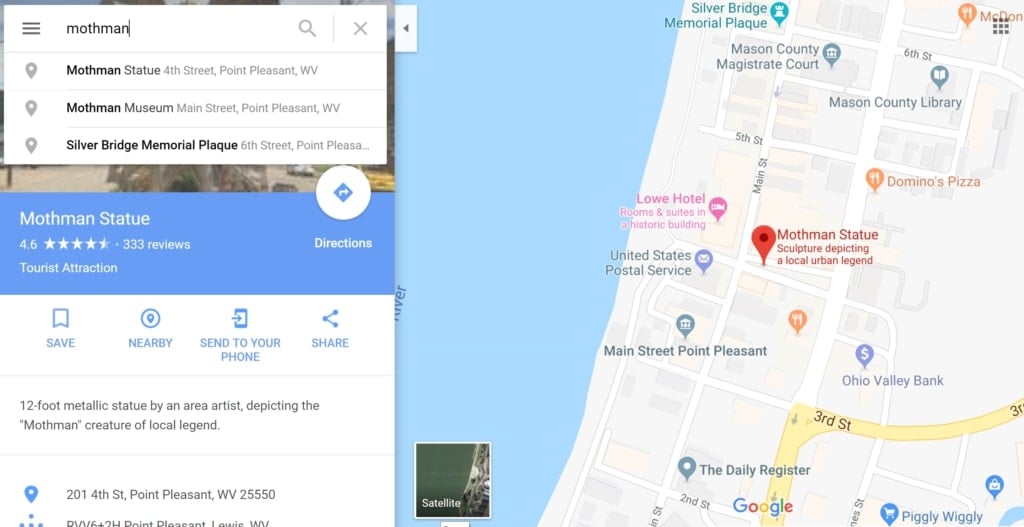 Well… sort of. The Mothman Statute, the Mothman Museum, and the Silver Bridge Memorial Plaque all come up if you search Google Maps for "Mothman." Between Nov. 12, 1966 and Dec. 15, 1967, this "Man-Sized Bird… Creature… Something," as the first newspaper piece about the whole thing put it, seemingly terrorized Point Pleasant, West Virginia, culminating in the deadly collapse of the Silver Bridge over the Ohio River.
Of course, there's some question over whether Mothman stayed in the area after the collapse; according to a number of reports from 2017 and early 2018, he may have moved to Chicago. Time for a change of address, perhaps?
Assorted Crybaby Bridges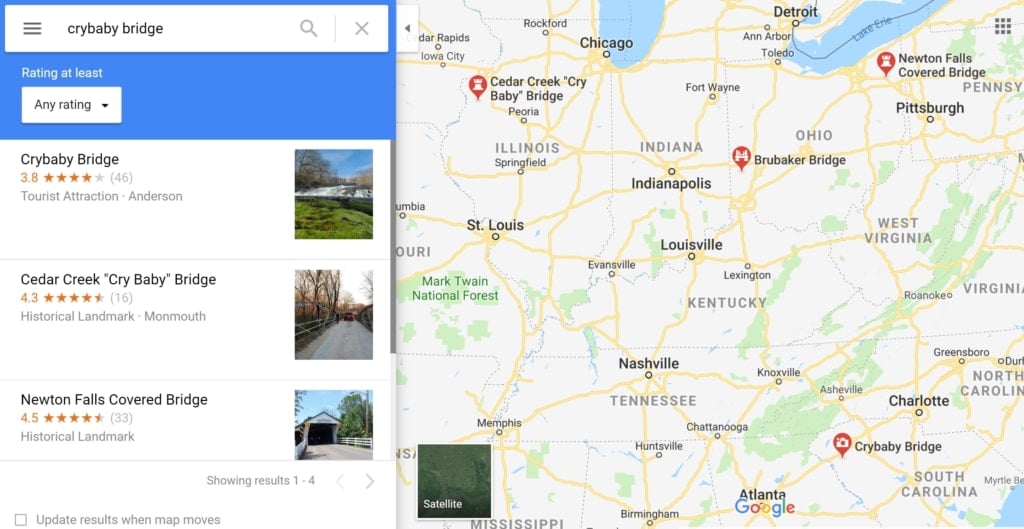 "Crybaby bridges," as they're known, are a particular variety of haunted bridge: Consistent throughout most of the tales is the belief that if you park your car on one at certain times, you'll hear a wailing in the distance. The cause of the wailing might vary; much of the time, it's the wail of a dead child, but occasionally it's the wail of a grieving mother. Either way, there are tons of these urban legend bridges across the United States — many of which Google Maps is happy to point you toward.
The Cedar Creek Bridge in Monmouth, Illinois has two stories attached to it; one involves an unwed mother throwing her own child off of it, while the other tells of a school bus full of children plummeting off of it. Brubaker Bridge in Butler County, Ohio, has two similar stories, as well as a third in which mother and child are killed by an oncoming vehicle. Elsewhere in Ohio, the legend of the Newton Falls Covered Bridge tells yet another story of an unwed mother hiding her shame with its help. And Anderson, South Carolina claims to be the home of the original crybaby bridge.
There are lots more out there, too — if you look for them.
The Devil's Chair, Kirksville, Missouri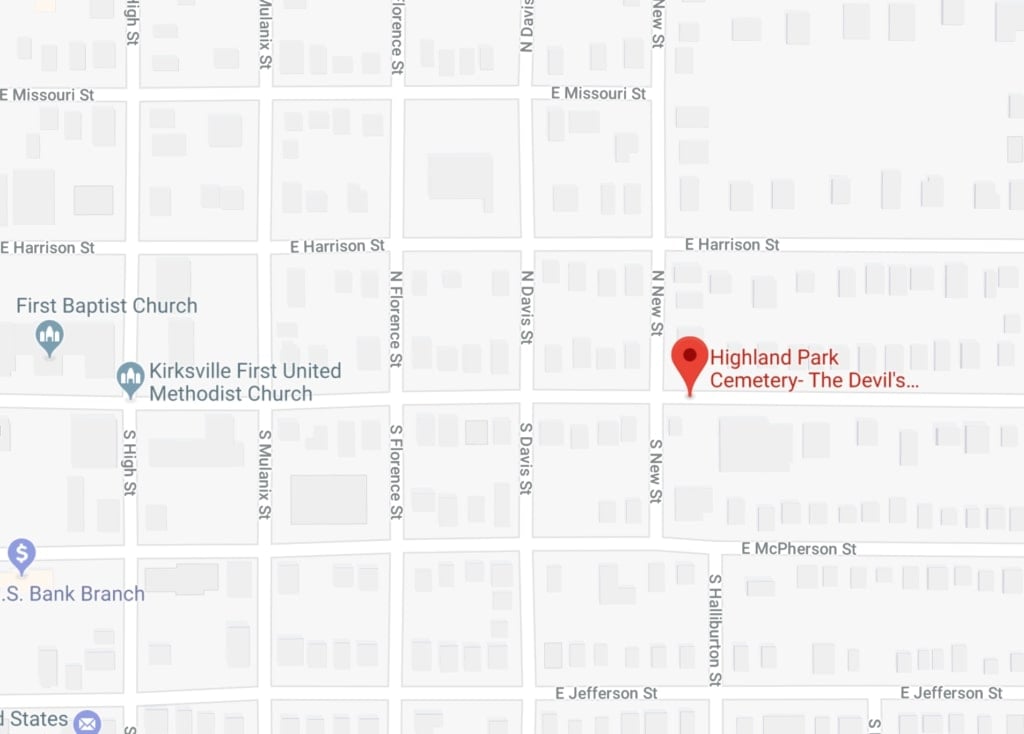 There are a number of Devil's Chairs scattered across the United States, but the one at Highland Park Cemetery in Kirksville, Missouri bears the distinction of actually sharing its spot on Google Maps with the cemetery itself. Formally known as the Baird Chair, the stone seat was built in the 1880s according to a commission by businessman William Baird — but not as a grave marker. It's a mourning chair — a seat intended to allow those visiting the cemetery a quiet spot to sit and reflect.
It's also said that if you sit in the chair at midnight, a hand will reach up from beneath you and drag you to hell. So, uh… maybe don't sit there reflecting for too long.
Dead Children's Playground, Huntsville, Alabama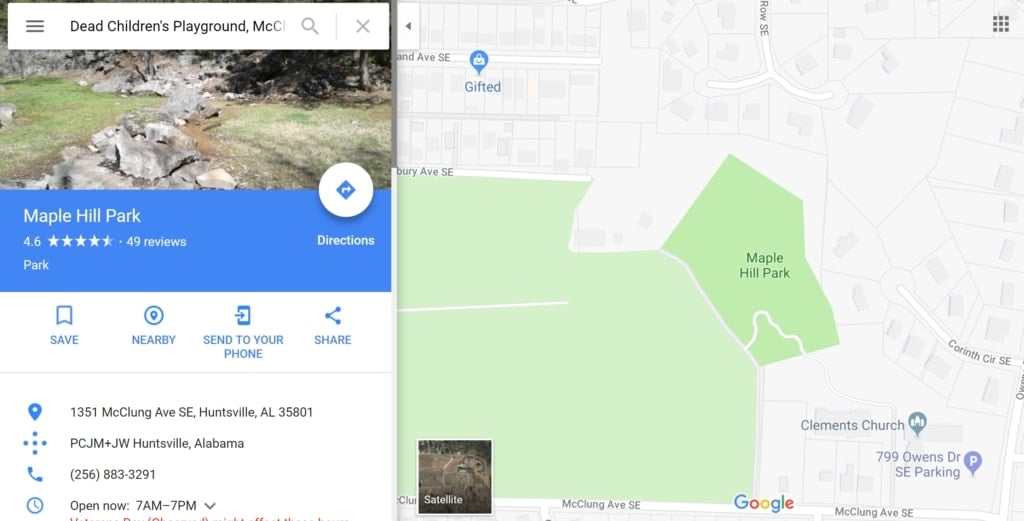 Hanging off the eastern edge of Maple Hill Cemetery in Huntsville, Alabama — which, by the way, is thought to be the oldest city-owned burial ground in the United States, according to AL.com — is a park. In the park is a bunch of playground equipment. And although the park is actually called Maple Hill Park, it also has another name, according to locals: Dead Children's Playground. It's said that the swings sometimes move by themselves, that spook lights might be seen floating about, and even that the manifestations of small, ghostly children have been spotted playing on the equipment.
Two stories exist surrounding the playground's colloquial name. One involves a child abductor who was allegedly at large in the area in the 1960s; however, this story might be an urban legend with no basis in fact. The other, meanwhile, is a little more straightforward: There are kids buried in the adjacent cemetery, so naturally, their spirits gravitate towards the playground. Gotta keep yourself amused in the afterlife somehow, right?
Hell's Gate Bridge, Oxford, Alabama
It isn't totally clear what Hell's Gate Bridge's official name once was; it might have been the Old Boiling Springs Road Bridge, or perhaps simply referred to as "BOILING SPR. RD. over CHOCCOLOCCO CREEK," as the bridge database Bridge Reports puts it. But even though its true name has been lost — and even though the bridge itself isn't even open anymore — it's still just a simple Google Maps search way. You can't actually venture onto it now — but if you were to do so, some believe that looking back over your shoulder as you went would show you not Boiling Springs Road, but the entrance to hell itself.
Best stick to the nearby bridge on Leon Smith Parkway instead.
The Mojave Phone Booth, Rainbow Wells, California
The Mojave Phone Booth doesn't even exist anymore; it was removed in 2000. But its former location is still pinpointed on Google Maps, should you ever wish to see the spot where it once stood.
There was actually nothing otherworldly about the phone booth itself; set up in 1948, it was part of a government-run system intended to server residents of isolated areas of the state of California. It went viral in the late '90s after receiving a few mentions in the mainstream media, becoming a beloved oddity that people delighted in calling — or, more rarely, picking up, if they happened to be nearby. At least its Google Maps location stands in memorial to it even now.
Bell Witch Cave, Adams, Tennessee
In 1887 in Adams, Tennessee, the Bell family found themselves endlessly tormented by an unknown, unexplained being that many called a "witch." The being's reported behavior was actually closer to that of a poltergeist than a witch; either way, though, the Bells were, uh… not thrilled to have it around.
The site of the alleged haunting is able to be visited these days; there's even a reproduction of the Bell family cabin built on the site. If you want to see something that was actually around when the incident occurred, though, head not for the cabin, but the cave nearby. You can tour it between 10am and 5pm most days.
Goatman Bridge, Denton, Texas
The bridge isn't actually called Goatman Bridge, of course; it's called Old Alton Bridge. But if you search for "Goatman Bridge," Old Alton Bridge, which was first constructed in the early 1880s, is where Google Maps leads you.
The titular goatman here isn't a skinwalker, as it is in another story I could name; however, it's not clear exactly who Old Alton Bridge's goatman might be. In some stories, he was a black goat farmer who was targeted by the KKK in the 1930s, while in others, the term is connected to Satanic activity. Whoever he is, though, it's generally not recommended that you knock three times on the bridge's trusses.
Just, y'know… fair warning.
So: Who's up for a road trip?
***
Follow The Ghost In My Machine on Twitter @GhostMachine13 and on Facebook @TheGhostInMyMachine. And don't forget to check out Dangerous Games To Play In The Dark, available now from Chronicle Books!
[Photos via Free-Photos/Pixabay; screenshots/Google Maps (16)]