Previously: The Chimera House.
Type: PD (Prophetic Device).
Period/location of origin: 19th century, Cloverland, Indiana. Precise date of origin is unknown, but the oldest gravestones present within subject date back to the mid to late 1800s. Subject is located at 7114-7140 N County Road 675 W.
Note: Subject's location is sometimes noted as Brazil, Indiana; however, Brazil is several towns over, approximately 6.5 miles away. Subject is properly located in Cloverland.
Subject should not be confused with Stepp Cemetery in Bloomington, Indiana.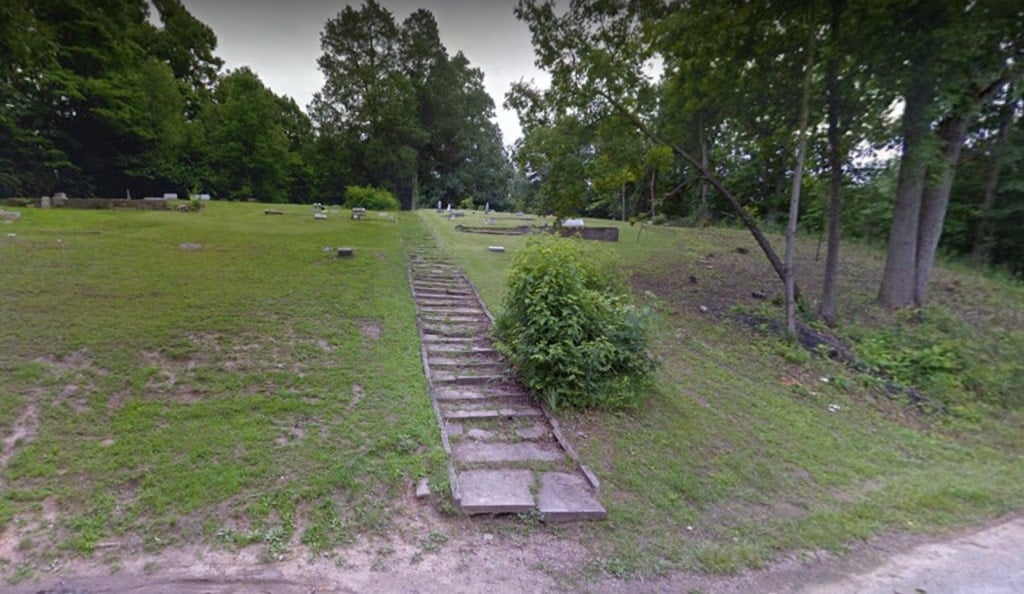 Appearance: Subject appears to be a cemetery in the Midwestern United States. Subject is old — perhaps around 150 years, although the exact age is unknown. In the warmer months, the area is verdant, although the grass may be patchy in some spots. In the cooler months, the ground may brown, the leaves may fall from the trees, and the snow may mount high. The headstones, of which there are at least 323, are aged, crooked, occasionally collapsing, and in some cases unreadable.
[Like what you read? Check out Dangerous Games To Play In The Dark, available from Chronicle Books now!]
In recent years, subject has frequently been seen to be vandalized, with spray paint and graffiti marking many of the trees and graves.
At the entrance of subject, just off of N County Road 675 W, there is a long staircase made of stone. It is not steep, but it is treacherous all the same; the steps are crumbling and broken, and in many places, they have been overtaken by grass and greenery.
There are 100 steps in the staircase.
Or at least, there are supposed to be 100 of them.
There usually aren't.
And the number is only consistent… some of the time.
Modus operandi: It is unknown how subject acquires targets, but once a target has been acquired, there is no need for subject to do anything but wait: Targets will come to subject of their own accord. Frequently, they are "legend-trippers" — e.g. targets are self-selecting.
Should a target arrive at subject shortly before midnight, target may undertake a certain challenge associated with subject. To do so, target must ascend the stairs beginning precisely at midnight, counting each step as they go. Upon reaching the top of the stairs, target must make note of the number of steps they counted.
It is imperative that targets do not forget this number.
Once target has both reached the top and made certain of the number they counted, target must turn around and face out — towards the stairs and the cemetery below. At this point, a… presence will greet target. This presence will reveal to target a vision of exactly how and when target will die.
Targets should not speak while this vision is being presented to them.
After the vision has ended, the presence will disappear. Target must then descend the stairs, once more counting each step as they do.
At the bottom of the stairs, target must again make note of the number of steps they counted. If the number matches the number of steps target had previously counted while ascending the stairs, the vision of their death may be considered a false prophecy. If the number is different, however, the vision may be considered accurate.
Target should depart the cemetery as soon after reaching the bottom of the stairs as possible.
Containment: None required.
Additional notes: Subject is officially called Carpenter or Carpenter's Cemetery. It may also be referred to as Cloverland Cemetery. It is unknown precisely when subject became known as "100 Steps Cemetery," but reports date back to at least 1982.
Some sources specify that targets may not begin the challenge unless total darkness has been achieved. A blindfold may be utilized to meet this condition. Targets are cautioned to proceed carefully if they choose to use a blindfold. If a blindfold is utilized, targets should remove it at the top of the stairs and replace it before they begin the descent.
Reports vary as to who or what the presence that greets targets at the top of the stairs is. According to some, it is the spirit of the cemetery's first undertaker; according to others, however, it is… not. It has been described as "demonic, but not harmful," despite the seeming contradiction of the two concepts.
Targets may not attempt to "cheat" subject by walking next to or alongside the stairs instead of directly on them while either ascending or descending. Should targets take this ill-advised action, they will feel an unseen force push them violently to the ground. Red marks or handprints may be visible on the skin for several days thereafter.
It is unknown how 100 became the number associated with the steps; it is unusual for targets to count any number higher than 60. However, according to some reports, the steps will only number 100 if the challenge is carried out at the correct time — if the steps are counted at any time other than midnight, they will number no more than 60.
Recommendation: Target may be visited safely during the day.
However, do not attempt to complete the midnight challenge associated with subject unless you are certain you wish to go through with it.
Once your fate has been revealed to you, there may not be anything you can do to change it.
What will you do if it is… unfavorable?
Resources:
Count Down To Your Death At 100 Steps Cemetery In Indiana.
Did You Know? The Legend Of 100 Steps Cemetery.
Handwritten Account – Brad Sufers, Terry Williams, 1982.
100 Step Cemetery [sic].
***
Follow The Ghost In My Machine on Twitter @GhostMachine13 and on Facebook @TheGhostInMyMachine. And don't forget to check out Dangerous Games To Play In The Dark, available now from Chronicle Books!
[Photo via screenshot/Google Maps]