Previously: What Happened To Crow 64?
There's a place outside of reality which, if you're not careful, you can sort of… slip into — or "noclip," as the terminology goes. This place is called the Backrooms. It is full of yellow hallways and yellow rooms. It is full of damp, musty carpet. It is — no, they are; the Backrooms are plural — infinite. What are the Backrooms, exactly? Where are they? Where did they come from, and how do you get into them (what does it mean to "noclip into the Backrooms," anyway)? Most of that is up for some debate — but whatever they are, they go on forever, as far as anyone knows, and once you land there, you're unlikely ever to leave.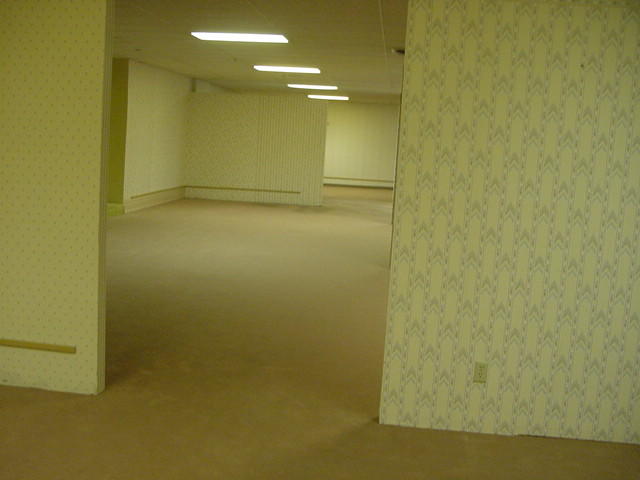 Or at least, that's the way the story goes. They're not real, of course, although they're often positioned as though they are. In reality, the Backrooms began life as a meme, and then became something much bigger — so big that I kept delaying diving into it because the subject was just so intimidatingly vast. Now, though, I think it's time — time for us to look at the Backrooms, which, over the past few years, has become one of the internet's most beloved pieces of spooky lore.
[Looking for an explanation of the story and lore of the Kane Pixels "Backrooms (Found Footage)" universe, specifically? Head here, here, and here!]
When I first started looking into the Backrooms, what I wished for fervently and did not find was an explainer — a guide that walked me through the basics in enough detail to point me in the right direction for further independent exploration of the subject. I assume I'm not the only person for whom such an explainer or guide to the Backrooms would be (or would have been, as the case may be) useful, so that's the tack I'm going to take here.
[Like what you read? Check out Dangerous Games To Play In The Dark, available from Chronicle Books now!]
What makes it a little tricky is the fact that, when we talk about the Backrooms, we are — much of the time, at least — talking about them from two different perspectives: From within the mythos, and from outside the mythos. The lore itself is twisting and complex; what's more, there's not just one canonical version of the Backrooms — there are basically as many versions as there are people in the world. But just as twisting and complex is the history of the meme itself, where it originated, and how it grew to become the online juggernaut that it is today.
As such, what follows will attempt to address both angles. It's not exhaustive, of course — but maybe it'll help you make sense of the Backrooms. We'll talk about what they are, where they come from, where they're located, how get to them, and what you'll find inside of them. We'll talk about the different schools of thought surrounding their structure, and where and how those schools of thought intersect. And we'll talk about where you can go to find out more, to discuss them with others, and to strike out on your own as an independent explorer.
Ready?
Here we go.
What Are The Backrooms?
Within the mythos:
Exactly what the Backrooms are is a difficult question to answer. They are a space that exists outside of reality — and, as a result, they do not behave the way we usually expect spaces to behave. They go on forever. They loop. They twist. They turn. They double back on themselves. They relocate. And they do all sorts of other things that, to our minds, they should not. They're said to cover 600 million square miles, but that may just be an estimate, or possibly even an analogy — the closest our human minds can get to understanding how staggeringly vast they truly are. The measures of length and area, of course, are not necessarily the same as they are on our usual plane of existence.
Time, too, works differently in the Backrooms; what seems like an instant could be an eternity, and vice versa.
The Backrooms often — although not always — look like the worst, most dated office building you've ever seen. They are comprised primarily of a maze of rooms and hallways, all a vaguely ill-looking shade of yellow, with musty, aging carpeting and a questionable wallpaper choice. They are lit by fluorescent lights that continually hum and buzz at an obnoxiously apparent level. The rooms and hallways are typically unfurnished, although the odd, lonely chair or desk may occasionally appear. They do not have windows.
I say "not always," though, because sometimes, the Backrooms look like something else. Sometimes, they look industrial, made of concrete and filled with pipes and condensation. And sometimes, they look like something entirely different — an old hotel, a study, an arcade, a parking lot. It all depends on who you talk to, and what system of organization you find the most… well, maybe "appealing" isn't the right word, but you know what I mean. (More on these systems in a bit.)
Should you find your way into the Backrooms, you should also be aware that sometimes there are… others there with you. Others who may be Wanderers like yourself — but also others who, unlike yourself, have not recently found their way into the Backrooms, but rather, who have always been there.
They're not human, usually.
No, not even the ones who look human.
It's best you avoid them, if possible. If you hear something, head the other direction, as quietly as you can.
The Backrooms are, simply put, the epitome of an Eldritch Location. Try not to slide into them if you can help it — although, of course, you may not have a say in the matter.
Fair warning.
Outside the mythos:
The Backrooms are a meme that grew into a collaborative fiction project — one which anyone is free to contribute to or engage with in whatever way or ways they find most meaningful. The Backrooms themselves don't actually exist, but when you're engaging with them and their extensive mythos — as a reader, as a writer, as an artist, etc. — it's best to play by what I generally think of as NoSleep rules: While you're here, everything is real, even if it isn't — that is, the Backrooms may not exist as a real, physical place, but you'll get the most out of the experience if you willingly suspend your disbelief and treat them as real while you're reading about them, writing about them, or otherwise immersing yourself within them. It's just more fun that way.
If you're familiar with the SCP Foundation, you'll probably note some similarities between how it and the Backrooms operate as largescale collaborative fiction projects — for example, the use of wikis that function as hubs around which the lore can coalesce.
At least two wikis act as repositories for everything that's been contributed to the Backrooms mythos so far: One on Fandom, and one on Wikidot. The Fandom wiki was the first of the two to arise, but it's not the go-to these days; due to its lack of moderation, it's easily and frequently vandalized, and therefore isn't considered canon anymore (insofar as there is a canon for the Backrooms, that is). The Wikidot one is widely accepted as the canonical version now.
That said, though, the Wikidot canon isn't the only Backrooms canon out there — and in that sense, the Backrooms are less like the SCP Foundation and more like, say, the Slenderman mythos. There are essentially an infinite number of Backrooms canons; the only limitations on what the Backrooms can encompass are what you yourself personally think about them. Most of these differing canons, however, start from one of three primary standpoints, all of which are based on how you view the Backrooms' "level" system — that is, the structure of the Backrooms themselves.
The first system, as the r/TheBackrooms subreddit puts, believes that "there are no levels, just the Backrooms." Pretty much what it says on the tin, this system posits that "everything that is seen as Level X in the Backrooms is just a part of the Backrooms as a whole, and you don't necessarily need to go deeper to come across it." It's a more bare-bones and less involved system than the other two; it's also the one under which the r/TrueBackrooms subreddit mainly operates. (Although, to be fair, r/TrueBackrooms actually expressly isn't geared towards creating a mythos; as the subreddit's FAQ puts it, "This subreddit is more focused on the concept at its base level. We're trying to explore the emotion the Backrooms brings out of us, not create a mythos.")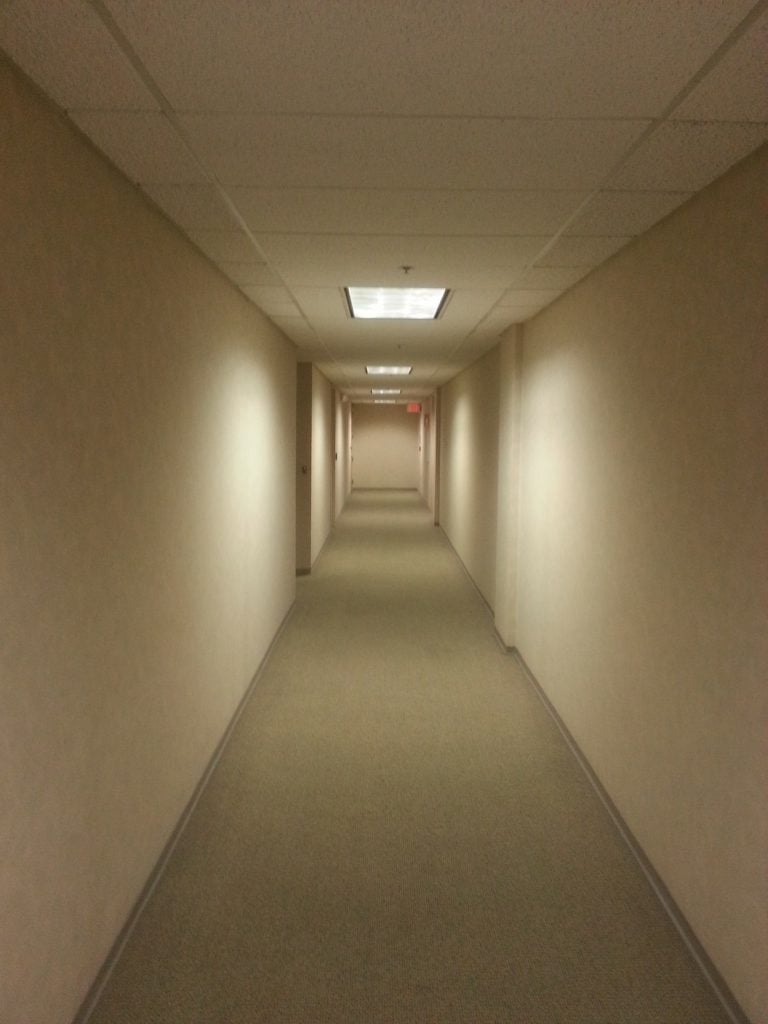 The second system, meanwhile, is known as the Three Level System. As you might expect, this system posits that there are three levels to the Backrooms — the first level, which consists of the quintessential Backrooms environment of yellow hallways, manky carpet, buzzing lights, and an endless degree of labyrinthine monotony; the second level, which is darker and more dangerous than the first and sometimes appears much more industrial; and the third level, which is the darkets, the most industrial, and the most dangerous of the three — and therefore almost certain to kill you if you descend to it. This system was concisely explained in an r/TheBackrooms post dated June 6, 2019; the text of this post was subsequently cleaned up and adapted into a visual guide posted to DeviantArt on June 18.
Lastly, there's the third system, often referred to as the Extended Lore. In this system, there are an infinite number of levels; they're all different, and no one knows how far down they go. I tend to think of this system as the House Of Leaves system — it's not unlike the interior of the House on Ash Tree Lane, as described in the Navidson Record portion of the book. The Wikidot canon is the main collection of information on this system; within the entirety of the Wikidot, the Backrooms are understood to be functioning under Extended Lore rules.
But again, the beauty of the Backrooms is that anything goes with them. In fact, the r/TheBackrooms subreddit entertains all three systems — and pretty much any system that spins out from them, as long as it's not an obvious joke or shitpost. Anything is valid; the Backrooms are whatever you want or need them to be. And whatever you determine your own personal headcanon to be, odds are there's an online community of likeminded folks you can go chat with about it, if you feel like it.
Where Did The Backrooms Come From?
Within the mythos:
The origins of the Backrooms remain unknown. I actually haven't been able to dig up much lore on the subject at all; the best I've found is a "Theories And Unconfirmed Information" page on the old Fandom wiki, but given that this wiki is full of vandalism and considered obsolete now, it may not be the most reliable of sources. For whatever it's worth, at the time of this writing, the Theories page suggests that the Backrooms could be some kind of collective dream or a government initiative.
It's perhaps worth remembering, however, that part of the allure of the Backrooms as a concept is the fact that so much about them remains unknown. That is to say: Maybe it's better that we don't know where they come from; some questions are best left unanswered.
Outside the mythos:
When we ask where the Backrooms came from, we're usually talking about who created the fictional idea of the Backrooms in the first place. And although there are a number of mysteries that remain about the meme's origins — more on that in a bit — we can actually pinpoint a precise date and moment the concept came into being: The Backrooms originated on 4chan's /x/ paranormal board on May 12, 2019 as a result of two separate pieces of content coming together to form a whole.
The first piece of content is the image — the quintessential Backrooms image you'll see whenever you look up basically anything on the subject. This image was posted by one user as a way to launch a thread about "unsettling images," in which the user asked for others on the board to "post disquieting images that just feel 'off.'" Perhaps because this initial image depicted a location, the vast majority of images that followed also depicted locations — weird, empty, ominous places that don't really have anything overtly threatening about or within them, but which feel oddly threatening nonetheless.
It's worth noting that this 2019 appearance of the image was not the first time it showed up on 4chan. It actually made its debut a little more than a year prior — on April 22, 2018, to be precise — in which it was posted without any additional context in a thread titled simply "cursed images." But what's notable about the 2019 re-post, and the thread in which it occurred, is that it led directly to the creation of the second piece of the equation.


This second piece was the text. In response to the image in the 2019 "unsettling images" thread, one user asked, "what is that?"; then, in response to that query, yet another user posted the following:
"If you're not careful and you noclip out of reality in the wrong areas, you'll end up in the Backrooms, where it's nothing but the stink of old moist carpet, the madness of mono-yellow, the endless background noise of fluorescent lights at maximum hum-buzz, and approximately six hundred million square miles of randomly segmented empty rooms to be trapped in.
God save you if you hear something wandering around nearby, because it sure as hell has heard you."
Within two days, someone — we don't know who — had combined the original image and this piece of text into one image macro. It appeared in a new thread on /x/ in which the poster asked for someone to explain the Backrooms to them ("Saw this on a previous thread and it's got me intrigued") — and from there, the macro spread, becoming first a meme, and then a whole, collaborative fictional universe.
The really remarkable thing is that those two original pieces contain everything that has gone on to characterize the entire Backrooms mythos: The terminology, the the method of arrival, the physical appearance and other sense-related details, the size and seemingly endless nature of the place, the unknowability of it all, and — most importantly — the possible presence of other entities that do not necessarily wish you well.
Where Are The Backrooms Located?
Within the mythos:
Where precisely the Backrooms are in time and space is unknown — or at least, mostly unspecified. All we really know is that they're outside the reality we usually live in, and that you can stumble into them from virtually anywhere.
I realize this is a somewhat unsatisfying answer, but, well, it is what it is. And, hey, the good news is that, thanks to the flexibility and "anything goes" nature of the whole concept, you can decide the answer for yourself, right?
Outside the mythos:
The question "where are the Backrooms?" usually refers to the location in which the original Backrooms photograph was taken. This, too, is unknown, although a number of intrepid internet sleuths have been on the search for some time. A few spots have been proposed — an office in Montana; an address on Main Street in Ogdensburg, NY; wherever this place is (Canada, probably); and so on — but the location of the original Backrooms image hasn't yet been definitively identified.
To be perfectly honest, though, I actually think it's possible that the image isn't a photograph at all, but rather, a piece of art. It might even be the result of something like procedural generation, which, as the newsletter the Magnet put it in December of 2020, is "a process that can be used to automatically create endless virtual architecture, among other things." Although the Magnet didn't propose that the original Backrooms image actually was procedurally generated, the newsletter did make the observation that the "wave function collapse algorithm is commonly used to create worlds like the Backrooms"; as such, it's not a totally unreasonable proposition to suggest that the Backrooms image could have arisen out of something like this.
That's just a theory, of course — and not everyone buys it — but again, it's a possibility.
For what it's worth, one of the possible locations for the source image I linked a paragraph or two up — the photo of the empty office on Flickr — does seem to have been the source image for a second commonly-encountered Backrooms photo; however, it's not the one from the 4chan posts.
The Ogdensburg address is also likely incorrect. Usually stated to be 6 Main Street, explorations to that particular building show an environment that looks Backrooms-like, but does not at all resemble the actual Backrooms photo.
The jury's still out on the true origins of this image — whether it be photograph, piece of art, a combination of the two, or something else entirely.
How Do You Get In And Out Of The Backrooms, And What's Inside Once You're There?
These questions are all generally only applicable when considering the Backrooms from within the mythos, so that's the angle we'll focus on here. Everything that follows should be considered in-universe, as opposed to outside of it.
Getting inside the Backrooms is done by "noclipping" — a term you're probably familiar with, particularly if you spend a lot of time playing video games. Originally meant for use by developers as a way to test games — if you need to get to a specific area to see how a certain level or convention is operating, it's a lot faster if you can just zip your way there without needing to fight through the full level first) — it gained popularity in the 1990s as a player cheat. By entering the debug mode of a game or pulling up its developer console, you could input a code that would enable noclip mode, thereby allowing you to skip through levels in an extremely literal way: With noclip mode on, the player character could literally walk through walls and solid objects.
What noclipping does is shut off collision detection. The term "noclip" itself was coined by John Carmack, a co-founder of id Software and the current Consulting CTO of Oculus VR; Carmack has noted in the past that he considered collision detection to be "clipping a movement vector" — that is, as YouTuber Codex put it in the channel's video on the history of noclipping, "when you collide with an object you're not supposed to walk through, your movement vector is being clipped." Noclipping therefore refers to the fact that — well, there's nothing clipping the player's movement anymore, therefore allowing you to direct your sprite or avatar through things collision detection would otherwise prevent you from traveling through.
In the context of the Backrooms, the term applies not to a player character in a video game walking through something within the code that's meant to function as "solid", but to actual humans phasing through walls or other solid objects or environmental elements — and, as they do so, moving from the reality of the actual world into the (non-)reality of the Backrooms. Hence the phrase, "noclipping out of reality."
There isn't a single prescribed way in which to trigger or induce noclipping; most of the time, it just… happens, for no clear reason, and without the person who experiences it having any control over it. However, it is sometimes said to be more likely to occur if you or the area in which you're situated satisfy certain conditions. The Extended Lore, for instance, posits that walls in abandoned buildings that are "a shade darker" than the other walls around it, "doors that look like they shouldn't lead anywhere or are in a random place," and areas that just feel off — they make your hair stand on end, they seem to be surrounded by a low-level buzz or humming noise, etc. — are commonly found to function as entrances; going to places like these might increase your chances of noclipping into the Backrooms. Some folks, meanwhile, have found that lucid dreaming can be used to access the Backrooms.
Regardless, once you get to the Backrooms, you'll most likely find yourself in what those who believe in the two multiple level systems term Level 0. This is the level shown in the 4chan image that started it all: Miles and miles of the same yellow walls, the same gross carpet, and the same impending sense of doom. (For those who believe there are no levels, you'll find yourself here, too; it just isn't called Level 0, and it doesn't lead to other levels. This is all there is.)
As for what's inside the Backrooms? Well, that depends on the system you ascribe to, or on what you determine you'll find there in your own personal headcanon.
For those who are active within r/TrueBackrooms, all there is to find in the Backrooms is what's in the original 4chan image and text — no more, no less. Per the subreddit's guidelines, a true Backroom is a room with "dull, monotonous colors" (ideally yellow), "'buzzy' fluorescent lights," "an almost palpable musty scent" (ideally that of an old carpet), and an appearance that "looks too empty." True Backrooms do not have windows, natural light, lots of furnishings, doors that lead outside, skylights, entities, rooms with special purposes, levels, etc.
The note about there being no entities is interesting to me, as the original piece of text does feature a line that implies the existence of creatures or entities; however, the way it's actually phrased doesn't say anything about actually seeing these entities. In case you need a refresher, the precise wording is this: "God save you if you hear something wandering around nearby, because it sure as hell has heard you." So: You might hear something, and there may, in fact, be something out there somewhere — but you won't necessarily encounter it. Or at least, you won't if you're smart.
If you're a proponent of the Extended Lore system, however, you can find… just about anything inside the Backrooms.
There are infinite levels, of course, some of which are known and many of which are not. They're divided into three categories: "Normal" levels (insofar as any levels of the Backrooms are "normal"); sublevels, which are typically located between levels and denoted with a fraction or a decimal; and "secret" levels, which "don't have an ordinal placement" — that is, they're not numbered and it's hard or impossible to pinpoint where they are in relation to other levels.
Some of the levels look or feel similar to Level 0; they have that same sense of incompleteness, abandonment, and liminality. Others, however, look like… let's call it more specific environments: The suburbs (Level 9); a jungle (Level 37) a Chuck E. Cheese-style pizza restaurant and arcade called Roller Rockin' Pizza (Level 40). The levels are of varying degrees of safety, with the safest levels filed under Class 1 and the most dangerous filed under Class 5.
How you get from level to level varies. To get from Level 0 to Level 1, for example, you have to noclip through reality the same way you do to enter Level 0 from the regular world; however, from Level 1, there are two ways to move to another level: You can get to Level 2 simply by wandering around long enough and exploring any extended hallways you might find; or, you can get to Level 19 by traversing through any holes you might find in the walls. From Level 19, there is only one way to travel to other levels — a "rusted, damaged door found in an area of the level with a higher roof than the rest of it" that can be forced open if you push hard enough — although that one way may lead to any of five different levels (Level -1, Level -2, Level 5, Level 12, or Level 20).
It's complicated, is what I'm saying, and each level is quite unique. If you don't go in with advanced knowledge — or with the guidance of the Wikidot — you kind of just have to figure it all out as you go. Know too, though, that stumbling around blind can be dangerous. You might end up somewhere you realize too late is… not where you want to be.
There are also special rooms located within some levels. The rooms, too, are divided into categories, although most of them are considered "Normal." There are comparatively few rooms — or at least, only a few have been documented; in the Extended Lore, there's information available about only 20 of them, spread across a mere handful of levels. They might be generally innocuous, like the Manila Room on Level 0 (so named for the color of its floor); they might be refuges or places you can stock up on supplies, as is the case for Level 1's Trader's Vault or Level 2's Office Space EL3A; they might be outright hostile, like the Headquarters on Level 11; or they might be just… odd — for instance, Mark's Bathroom on Level 2. (Don't go to Mark's Bathroom; it sounds horrifying.)
And within the levels and rooms, you might find… other beings. They may be, but aren't always human; they be on their own, or part of a group; they may have stumbled into the Backrooms just like you, or they might have always lived there; they may be limited to specific levels, or they may be found anywhere. It varies from being to being.
The groups and factions all have different goals; some of them, for example, seek to remodel the Backrooms, while others have taken it upon themselves to document everything they possibly can about the Backrooms. Indeed, it's implied that the Wikidot itself is the work of one such group — the Major Explorer Group, or the M.E.G.
Included amongst the M.E.G.'s work is a list of Persons Of Interest — individuals who may be encountered within the Backrooms and who the M.E.G. has deemed significant in some way, shape, or form. Some of them are former M.E.G. operators who either left or were ousted from the group, such as the Rat Master or Dr. Shields; others, though, do not appear to have been associated with any groups at any given time (for instance, Kubileya, or the Shepherdess, as she's more frequently known). Some, meanwhile, blur the line between Person of Interest and Entity, such as "Simon Etterick," who looks like an individual but is actually a virus-like hivemind.
Speaking of entities, there are plenty of these to be found in the Backrooms. Here, the Backrooms are at their most SCP-like, with entries in the Wikidot detailing close to 200 of the otherworldly creatures you might find lurking on the various levels.
The entities — which, again, have presumably been documented in the Wikidot by the M.E.G. — range from benign to hostile; as such, they are to be approached or avoided as necessary. Some entities may be helpful, such as the Artist; if you locate her on Level 57, and if you abide by her rules, she'll gladly stock you up with supplies and show the way to move onward.
Others, however… well, let's just say that you'll want to make sure you don't ever get close enough to see them. The Smilers, for example, can be found on nearly all levels; if you see a smiling face that looks like something a child might have drawn glowing at you out of the darkness, you've found one. It's best to back away slowly and quietly — they attack when Wanderers "panic and retreat" or make loud noises. No one knows what they look like up close, because no one who has seen them up close has ever survived the encounter.
You'll also want to avoid the Partygoers, who are particularly crafty in how they attract prey. Don't go to Level Fun, for instance. Don't approach any balloons you might see floating about in the Backrooms. Stay away from the confetti on Level 188. And do not — DO NOT — trust any page in the Wikidot that has a smiley face like this one anywhere in it: =) The Partygoers have somehow gained access to the M.E.G. database and like to… improve things, so to speak. If they latch onto you, you'll become one of them within the space of an hour. And after that… there's no saving you.
Does all that sound a little intimidating? It is; there's no getting around that. But if you like the general idea of the Backrooms having different levels and being filled with entities, while still appreciating the simplicity of the r/TrueBackrooms philosophy, then you might be interested in the Three Level System. It's sort of a middle ground between the two: You'll find entities and multiple levels to explore, but not on the scale of those found within the Extended Lore. Here, the rules are simple — the three levels get progressively more dangerous, and the deeper you go, the more likely you are to find otherworldly beings lurking about with you. There don't seem to be rooms, Persons Of Interest, or groups or factions, which keeps things streamlined.
What most of the systems agree on, though, is this:
Once you have entered the Backrooms, there does not appear to be a way to return to your original world.
If you find yourself in them… you'd best get comfortable.
Or as comfortable as you can, at least.
Because odds are you're… going to be here for a while.
Where Can I Find Out More About The Backrooms?
For the curious, a list of resources:
So: There you have it. It's not exactly a roadmap, but my hope is that this explainer might put you on the right track if you're interested in finding out more about the Backrooms.
Just… be careful the next time you find yourself in a sterile office environment, or a waiting room, or an abandoned building, or anywhere you feel the hair on the back of your neck stand up for no reason that you can explain.
If you feel yourself starting to slide… somewhere else, try to pull yourself back into it before you go too far.
You wouldn't want to noclip out of reality, would you?
***
Follow The Ghost In My Machine on Twitter @GhostMachine13 and on Facebook @TheGhostInMyMachine. And don't forget to check out Dangerous Games To Play In The Dark, available now from Chronicle Books!
[Photos via /x/; stephenbayer/Pixabay.]