Previously: "Backrooms (Found Footage)" Explained – Part 2.
Well, friends, it's been a while since we've taken a look at the Kane Pixels Backrooms universe — about eight months, in fact — and in that time, the storyline of the YouTube analog horror series has expanded considerably. In fact, a feature film is now in the works from A24, Atomic Monster, Chernin Entertainment, and 21 Laps, with Kane Parsons himself set to direct the movie from a script penned by Roberto Pantino. (Big news!) So, in the interest of keeping things up to date, let's revisit our timeline, shall we? Here's a full summary of the "Backrooms (Found Footage)" universe, from its very first video all the way up through the present, in chronological order. The timeline matters here, and not just because the story is being told non-linearly: It turns out there's also time travel at play, which has some pretty wide-reaching repercussions.
To skip directly to the revised Kane Pixels Backrooms timeline, click here.
To recap, Parsons posted the first video in what would end up being a hugely expansive analog horror series to his YouTube channel, Kane Pixels, in January of 2022. A unique take on the existing Backrooms meme/creepypasta/collaborative fiction project, which first arrived in its earliest form on the internet circ 2018-2019, "Backrooms (Found Footage)" rapidly went viral as an effective and accomplished piece of found footage storytelling — and when it emerged that Parsons was only 16 at the time, interest in the video rose even more.
[Looking for a primer on what the Backrooms are, more generally? Here's an explainer for you.]
In the year since, Parsons, now 17, has dropped new videos regularly, building out a complex world, story, and universe centered around a fictional research institute called Async and their experiments with the Backrooms — the seemingly never-ending space existing outside of reality known for swallowing people whole, whether they want to end up there or not. And since our last visit to the Kane Pixels Backrooms mythos, Parsons has produced nine videos — six main ones and three supplemental, hidden ones — which substantially build out the next arc of the series.
It's worth noting that, over time, Parsons has done a little… let's call it readjusting to some of the smaller details of the series at it's stood thus far. For instance, the unlisted video previously known as "collateral.mov" is now titled "faultline.mov"; it's also, as Parsons put it on Reddit in January of 2023, "no longer a part of the standard viewing experience." He did further note that the plot point of the earthquake occurring simultaneously with "First Contact" — that is, with the sixth test of the Low-Proximity Magnetic Distortion System used to open the Backrooms — "has not been retconned," though, so know that it's still there; it's just not essential for the overall story that it be there.
[Like what you read? Check out Dangerous Games To Play In The Dark, available from Chronicle Books now!]
There has also been a small edit to the unlisted video "Mar11_90_ARCHIVE.tar." Although the title of the video remains the same, the description box now calls the file itself simply Mar_90_ARCHIVE.tar; furthermore, we're given another date: The file was "compiled [sic] on Jun[e] 1991." This is a little confusing to me; I'm unclear on what the file name refers to now — it seems so clearly to be a date, but if it is, what is it referring to if not the date the file was made? Then again, maybe it's not a date at all now, which just kind of leaves us in the dark.
Additionally, a number of characters we previously didn't have names for — mainly Async researchers and personnel — have since been given names. The updated timeline below will add in these names where applicable, but know that our major players are these: Peter Tench, the Async researcher who disappeared during the Feb. 29, 1990 exploration depicted in "Informational Video"; Mark Blume, who also first appeared in "Informational Video" as one of Tench's teammates; and Clyde, a researcher with a great deal of seniority at Async whose last name isn't given. Per the r/KanePixelsBackrooms subreddit, Parsons has confirmed that Clyde is the bearded white guy with long hair and glasses that we see for the first time in the video "Report."
As in the previous installments of our coverage of the Kane Pixels Backrooms universe, I'm going to start with a blow-by-blow summation and analysis of the new videos; then we'll jump to the revised timeline; and then we'll talk about what questions remain and where the series might go in the future. Note that the videos are all much denser this time 'round, both visually and in terms of the plot points and information they convey, so there's… a lot to dig into in order to situate ourselves properly for the timeline update.
Again: To skip directly to the revised timeline, click here.
If you're interested in what actually happens in each of the nine new videos, though, continue on.
What's Happening In The Kane Pixels Universe?: "Backrooms – Presentation" And Onwards
"Backrooms – Presentation"
Following the plateau we reached at the end of the last batch of videos, we have
"Backrooms – Presentation," which was uploaded on June 25, 2022 and is dated May 8, 1990. Timeline-wise, the May 8 date places it between the main video "Report" and the original "Backrooms (Found Footage)" video. In it, we see clips of a presentation titled "'A-Space' Prospective Development" interspersed with footage of Async personnel and a middle-aged white man in a suit touring the Async facility.
The presentation details the myriad ways Async believes that what they've decided to publicize as "A-Space" — that is, the Backrooms, or "the Complex," as the institute calls it internally — can be harnessed to alleviate national and global problems ranging from the housing crisis to climate change: A-Space is never-ending and cost-effective, providing literally unlimited space for offices, warehouses and storage, retail and shopping, and residential needs at a fraction of the cost of it would in the regular world.
The tour footage, meanwhile, is stamped with the label "DOE TAPE ARCHIVE (3282)" — meaning the tape is from the archives of the United States government's Department of Energy. This lines up with the identity of the man we see taking the tour of the Async facility: It's James David Watkins, who was the real-life Secretary of Energy under George H. W. Bush. Watkins held the position from March 1, 1989 to Jan. 20, 1993. (For the curious, he's no longer alive; Watkins died on July 26, 2012 at the age of 85.)
Taken together, it's pretty clear at this point that Async is seeking government funding, making this an incredibly important meeting for them.
However, it's worth noting that Async may not be intending to use A-Space the way they're telling Watkins they are: There's a hidden message flashed briefly on the screen at one point, which, although distorted, can be edited back to its original proportions. A fragment of something larger, it reads, "D TO DECIEVE THE FEDE." The widely-accepted interpretation of this fragment is that it involves Async planning to deceive the federal government, although Federal Bureau of Investigation (that is, the FBI) has also been proposed as a possibility.
But it's the last minute and a half of "Presentation" that contain the really crucial moments: While Watkins meets with Async personnel in the main control room, we see the Threshold vestibule go into lockdown as alarms sound. Inside the vestibule, we see an Async employee clad in the yellow protective gear worn while exploring the Backrooms looking around, awash in confusion.
It's Peter Tench — the researcher who got lost during the Feb. 29, 1990 exploration. Here, we're seeing the final moments of "Informational Video" from a different perspective — one that confirms time travel as a canonical function within the Kane Pixels Backrooms universe. For Tench, it's been only a few hours since he got separated from his team. For the rest of the folks at Async, it's been more than two months.
"Simpsons"
The description of "Presentation" also contains a link to an unlisted video uploaded the same day — June 25, 2022 — although it's undated within the lore itself. It also didn't appear on Kane Parsons' own channel; it's on an auxiliary channel Parsons (probably) created specifically for this purpose: One belonging to username LauraHarris4308.
The video is titled "Simpsons," and contains — you guessed it — a short clip from an episode of The Simpsons. Specifically, it's from the second season episode "Bart Gets Hit By A Car," which originally aired on Jan. 10, 1991. The episode hinges around Bart having been hit by Mr. Burns — that is, Homer's boss — which, to me, seems thematically relevant: Just as Homer and his family experience personal repercussions following his employer's negligence, so, too, does Peter Tench experience personal repercussions following his employer's negligence. It won't become clear exactly how awful those repercussions will be for another couple of videos (we'll get there in a few minutes), but at the very least, we know he's lost more than two months of his life.
There's an additional point worth paying attention to in the "Simpsons" video, too, though: In the middle, it's interrupted by distorted footage of a Spanish-language advertisement for the cough suppressant Dimacol. Notably, this advertisement did not air until 2000 — roughly nine years after "Bart Gets Hit By A Car" aired. Could The Simpsons episode have been a rerun? I mean, of course — but again, the implications here are too strong to ignore: Things are very literally out of time.
"Backrooms – Found Footage #2"
Next up, we have "Backrooms – Found Footage #2." Uploaded on Aug. 21, 2022, it's a big one — more than 13 minutes in length — which is fitting, given that it returns to and further develops the format that kicked off the whole series. With an in-universe date of Aug. 19, 1995, it's also currently the last video chronologically in the series, taking place even after the fictionalized Kane's misadventures as seen in "Backrooms (Found Footage)."
Like the original "Backrooms (Found Footage)" video, this one features an everyday protagonist who unintentionally noclips into the Backrooms. This time, however, our protagonist sounds like a young woman; furthermore, she actually finds the portal before she falls through it.
It's in her garage. She has taped it off into a little square, and after observing it behaving oddly, she has begun documenting her observations: She drops first a handful of woodchips into it, and then a baseball, both of which disappear. When she extends a tape measurer into it to see how far down it might go, however, the inevitable happens: With a startled cry, she tumbles in — or, perhaps, is pulled in, as if by some sort of gravitational force — and lands, along with her woodchips and baseballs and other items, on the floor of the Backrooms.
With nothing else left for it, she begins exploring, periodically calling out for help, or even just to identify whether or not there's anyone else in there with her. As she wanders the yellow rooms and corridors, she sees a number of out-of-place items — things you might see in a home: Some partial kitchen cabinets with an exhaust hood, but no stove; oddly-proportioned chairs set at an equally oddly-proportioned table; a random couch. The encounters a brown door — again, the type of door you might see in the interior of a home — but it's locked; she can't open it. Through the keyhole, she spies another corridor, with light-colored walls, doors going off it, and a small set of brown stairs leading up.
In front of the door is jagged hole directly in the floor leading to a lower level.
She bypasses the hole, however, and continues exploring. As she does, we begin to see evidence of the black fungus characteristic of the Backrooms streaked across walls and ceilings. Eventually, she sees an old car smashed headlong into the wall, covered with black mold. (Kane Parsons has apparently confirmed, by the way, that this car is not the one that noclipped out of existence in the unlisted video "9780415263573." Just, y'know, FYI.)
There's an open doorway immediately next to the car, and on the wall nearby, there's a handprint smeared, although it's unclear what the smear is made of. She goes through the doorway and finds a space that… looks as if it's trying, unsuccessfully, to be a house: There are bookshelves; a split-level living area with a white banister separating the two levels; and, as she follows what looks like a blood trail smeared across the floor, rooms with other furniture and décor. She spends quite a few minutes focused on a painting of a rosy-cheeked woman wearing what looks like equestrian gear — a black helmet and red jacket.
The final room she steps into is covered in mold. It's in this room that the painting is hung… but unfortunately for her, it's also the room in which the series' iconic bacteria monster is sitting in. It comes alive, chasing her as she runs back the way she came. She drops down into the hole in front of the brown door as she runs, passing through an area that looks like it wants to be a swimming pool and climbing up a set of steel rungs embedded in the wall. She pushes through an extremely narrow passage and finds herself in a dead-end room.
As the monster approaches, its roars growing louder, the walls begin to glow green and, seemingly, crack open…
…And then the camera cuts out. We see a blue screen with a message on it: "NO SIGNAL."
Interestingly, though, that's not where the video ends. We then cut to an image of that same NO SIGNAL screen displayed on a television set. The TV is on a small table, with a VCR beside it. Two houseplants flank the table, and a red light glows behind the whole setup.
It looks like a living space — although whether it's in the regular world or in the Backrooms remains to be seen. Whatever the case, the implication is clear: Someone found the footage and watched it on this TV.
We hear windchimes as the screen fades to black.
"home_27647.mov"
Naturally, there's an unlisted video linked in the description of "Found Footage #2": "home_27647.mov." It isn't given a date with regards to the timeline, but it was, like "Found Footage #2," uploaded on Aug. 21, 2022. Most of it is fairly unremarkable family recordings, indoors, outdoors, at home, possibly on vacation, and so on and so forth, with a few still family photographs interspersed throughout. Based on the appearance of several items seen in the footage — a silver-framed CRT television set, some taxis, etc. — and the fact that the .mov file format wasn't released for public use until 2001, the accepted interpretation is that the footage is meant to have been shot in the late '90s or early 2000s, and then digitized and compiled into the .mov file not too long after. (For the curious, .mov is the format that was used for QuickTime; although QuickTime is still around for Apple operating systems, support for Microsoft operating systems ceased in 2016.)
The most notable details are easy to miss, but they're key for understanding "Found Footage #2": One of the still images depicting a white family at home looks like it was taken in the same space as the split-level living room with the white banister seen towards the end of "Found Footage #2," while another shows the painting of the women in equestrian gear on the wall in the background.
Also, the number tagged onto the file name — 27647 — corresponds to the number by the nonprofit biological resource center the American Type Culture Collection, or ATCC, to a specific bacterium: Alkalihalobacillus alcalophilus. Just, y'know. Pointing that out, given how… important bacteria have been to the Kane Pixels Backroom universe so far.
"I Remember"
The next video also has no date given for the timeline; indeed, it might even exist outside of the timeline. Regardless, it's called "I Remember," and it was uploaded on Aug. 30, 2022. It's short and simple, and yet also not simple at all.
It's full of familiar imagery: Shots of a missing person poster (this one depicts someone named James Esmail), the Async facility, Async personnel in their PPE, the prototype first tested in 1982, and — curiously — images of the sea. While these visuals play, we hear a voice deliver the following monologue:
"I had a home once — a manor overlooking the sea. Upon the world, this was a vestige calling forward onto strangled ears. But when skies turned dark, the house was taken by the sea — a pillar, truncated, cast down to the sea bed with all the other forgotten things. But I remember: Fleeting shells, sinking ever slowly, folding downwards into themselves, forever tearing along the seams of the sky, until nothing remains except the eternal ghost. And you ask yourself: Could there ever be anything greater than this?"
It's worth pointing out here that the images also "fold downwards into themselves," so to speak — they appear mirrored and reflected back on themselves, as if we're looking at them through a kaleidoscope.
The final words: "You have always been here."
It's not clear who is speaking, or how this video fits into the greater narrative other than thematically… but maybe that's the point. Let's put a pin in it for now.
"Backrooms – Reunion"
The Dec. 8, 2022 upload, "Backrooms – Reunion," is one of biggest plot-related video of the bunch. Dated May 25, 1990, placing it about two and a half weeks after "Presentation," the main action sees Async opening back up the section of the Backrooms they'd previously closed off in "Report" — after, y'know, Marvin E. Leigh had his adventure with the bacteria monster. A team led by Clyde — the longhaired, bearded, bespectacled Async scientist also previously seen in "Report" — sets up shop at table set up right in front of the newly-reopened passage and send a rover in, looking for the Pitfall Room from the video "Pitfall." They call this space Room 14D.
After they locate Room 14D, a large team including Marv and Mark Blume head to it. Construction is begun on a walkway meant to connect the side of the room they're on safely with the other side, where the door we previously didn't see behind is located. While "Team A" works on construction, Marv, Blume, and a third researcher, Randall Tachi, split off to, as a title card tells us, "conduct an initial layout analysis of Room 14C" — the space adjacent to Room 14D. They're armed with a shotgun; they know, after all, that there's at least one hostile entity back there somewhere.
The space is different than Marv remembers it being; the walls are white drywall with black vinyl baseboards or trim, and the floors are smaller tiles. The dimensions seem different, too. Ceiling tiles are displaced, and the team wonders whether this is "their natural state," or whether "something moved them." During the course of their excursion, they also located what looks a map hand-drawn on the wall — a map of the very area they're trying to map out themselves. Blume attempts to radio back to Team A, but they find they're out of range.
As they continue traversing the space, a figure in a black jumpsuit leaps out of the shadows, tackling Blume and wrestling away the shotgun. Marv recognizes the figure as Peter Tench, and Tench, in turn, recognizes both Marv and Blume.
Tench is in a state, agitated and frantic. It emerges over the course of the standoff that a) Marv and the rest of the team thought Tench was dead; b) Async also told Tench's wife and children that he was dead; and c) that they even held a funeral for him.
Team A is finally able to get through on the radio, at which point Blume requests immediate assistance due to their being held at gunpoint "by a hostile." Team A. Tench then fires. Before he runs off, he begs Marv to go public with what he knows. "They need to know," he says as he goes.
For what it's worth, I think it's significant that Blume not only doesn't identify Tench as "the hostile," but actually uses the phrase "a hostile" in the first place. It others Tench; in fact, it's likely reasonable that Team A, upon hearing the phrase "a hostile," would think "the hostile" is the bacteria monster Marv previously encountered and would therefore come in, guns blazing and eliminating the problem of Peter Tench. I see this as Blume choosing a side — and that side is Async.
"_recording014"
We have three remaining videos for this batch, one of which is unlisted and included in the description of "Reunion." Uploaded on Dec. 8, 2022, it's called "_recording014" and dated May 8, 1990 — that is, the same day as "Presentation," which is also the day Peter Tench reappeared. We hear Clyde's side of a phone conversation between himself and Ivan Beck in which he relates what occurred that day: The contract negotiation was a success, signatures have been acquired, and the contract itself is expected to be executed next week.
But also, there's the unexpected arrival of Peter Tench. Clyde doesn't know who he is and says he's "definitely not on the project"; and Tench, for his part, didn't recognize Clyde or the Async control room. Clyde's final words are: "Wait, hold on — this isn't… him, is it?"
It's worth noting at this point that the only visual image in this video is a reversed and photo-negative clipping of a newspaper article. The headline reads, "FIERY WRECK BESIDE VINEYA[RD] LEAVES 1 DEAD." The implication is that Async staged the "fiery wreck" to fake Tench's death (he was meant to be the "1 dead") — that is, they covered up his disappearance. To what end isn't specified, but I can think of more than a few.
"Backrooms – Overflow"
Next, we have "Backrooms – Overflow," which was uploaded on Dec. 24, 2022. There's no timeline date given for this one, but we can piece together a roughly four-year window during which it might have occurred based on some details within it: A General Electric ad for audio cassettes, which features a promo that ran in late 1968 and early 1969; some voiceover seemingly referring to the Lend-Lease Agreement brokered between the United States and the then-Soviet Union in 1972; and, lastly a piece of paper seen within the video with a specific date on it, also in 1972. Ergo, this one likely takes place in 1972.
The video is short, but full of meaning: We see a beautiful night sky and landscapes at night. Then, some dials. A bright glow, similar to the glow we've seen before — the glow we see whenever Async opens up the Backrooms. A light on a control panel labeled OVERLOAD, lit up a bright, dangerous red. And, as the room begins to glow green, a bulletin board with papers pinned all over it — including one that clearly contains data from some kind of experiment, with a signature line at the bottom: It's dated Aug. 2, 1972, and it's signed "Ivan Beck, Advisor."
Worth noting: Although 1990 was NOT a leap year, 1972 was. In fact, 1972 is the longest year on record: In addition to the extra 24 hours added to the clock that year, there were also two leap seconds added to account for the difference between International Atomic Time (that is, precise time), and observed solar time (or imprecise time) — one on June 30 and one on Dec. 31.
We close out on the sky again — but this time, it's reflected in on itself, mirrored, refracted… just as the images were in "I Remember."
The seams of the sky have split.
This is the start of it all — the moment when the universe fractured.
"Backrooms – Damage Control"
Lastly, there's "Damage Control," which was uploaded on Jan. 30, 2023 and bears an in-universe date of May 26, 1990, setting it in the immediate aftermath of "Reunion."
Through grainy, black-and-white security footage, we see Tench's actions following his firing upon Mark Blume: He escapes through the Threshold, exiting the Backrooms and re-entering the Async facility, using the threat of the weapon to clear his way. Pursued by Async personnel, he runs through the various corridors and hallways of Async; he loses the weapon at some point off-camera, but is ultimately seen entering a large service elevator, whose doors close before those pursuing him can apprehend him.
The rest of the video — which, at more than 14 minutes total, is the longest of the bunch — is devoted to a statement made by an Async higher-up, debriefing the institute's full staff on the events of the previous 15 hours. Presented as voiceover set over images of the facility, the Complex, and footage recorded by Tench and others, the statement lays out the official line, according to Async:
On March 1, a team consisting of Peter Tench, Marvin Leigh, George Levy, and Ronald McCarthy entered the Backrooms/Complex to conduct "a routine layout analysis" — or, put plainly, they went in to map the place, essentially. Marv, Levy, and McCarthy lost track of Tench at around 12:25pm, at which point they returned to back through the Threshold. Several days of searching yielded no results, and as far as Async was concerned, Tench had simply vanished.
Notably, the date given here for the exploration differs from the one previously established by "Informational Video" — the date as it is in our own universe, wherein 1990 is not a leap year and contains no 29th day in February. Whether that means we're dealing with a different timeline or universe than we were in "Informational Video," whether it means Async is up to something and purposefully obscuring the date, or whether it means something else entirely isn't yet clear, but it's worth pointing out all the same.
In any event, the official line continues: It was determined that Tench's disappearance couldn't be disclosed to the public, so Async's security team "was forced to put together a more acceptable cause of death that would keep attention away from the institute and provide closure to the family" — that is, the institute fully admits to the coverup previously established in "_recording014", although they frame it as if their hands were tied and they had no other option than to do so.
Then, a surprise: On May 8, at around 5:30pm, Tench reappeared. According to Async, he was "moved to a secure room" within the facility, where he was examined by doctors and interviewed in an attempt to figure out what had happened to him. His footage was also reviewed, which provided the only possible answer: That Tench had been "instantaneously transported two months forward in time."
Although Tench's return was cause for celebration, there was a problem — namely that he was legally deceased, and because of the previously-engineered coverup, he couldn't just… be let loose into the world again. According to Async, Tench "understood" the issue and "was willing to cooperate" while the institute "looked for a way to reintegrate him without raising suspicion." During this time — about two weeks — he remained within the facility, while Async worked on a solution.
His mental condition rapidly deteriorated, however, and he became convinced both that he was stuck inside an illusion created by the Backrooms, and that Async meant to do him harm. And so, on May 22, when Async was attempting to transfer Tench to "a temporary above-ground residence," he broke free and escaped back through the Threshold using stolen credentials. He remained there until the events seen in "Reunion" and in the security footage of the previous 15 hours. Blume, although in critical condition, remains alive. Tench escaped, meanwhile, although luckily, no other employees were harmed, due to Dr. Kirk Maxwell having disarmed him during the course of the night.
Sadly, Async informs their employees that although Tench escaped the facility, he was found deceased midway down a nearby hill, having tripped and struck his head on a rock. The institute resolutely states, however, that Tench was deeply dedicated to Async's work, and that he would by no means want them to "[hinder] it in his name." They will, in the meantime, maintain the previously-established story surrounding Tench's first "death": That he "is, and has been deceased" since his initial disappearance.
Here's the thing, though: All we have to go on when it comes to the veracity of all of this is… Async's word.
And they are not, as we have learned, the most trustworthy of sources.
Indeed, in the final moments of the video, we see a series of images flash before us — one of which appears to be Peter Tench on a street somewhere, very much alive and out in the world.
We close on a telephone ringing, ringing, ringing, without ever being answered.
The Kane Pixels Backrooms Universe: A Revised Timeline And Summary
So, that's where we're at right now. Before we get into the many questions I have about the current state of the Kane Pixels Backrooms universe, let's revise our timeline, shall we? Here's how it all goes — a complete summary of the "Backrooms (Found Footage)" story thus far:
On or around August 2, 1972, an experiment pertaining to the study of the phenomenon that will eventually become known as the Backrooms is undertaken, advised by Ivan Beck. The precise nature of the experiment is not known, but the effects of it are immediate: The sky literally cracks open. This is the start of it all. ("Overflow.")
Notably, 1972 is both a leap year and the longest year on record by a full two seconds.
Sometime prior to 1982, early development of what will grow into Project KV31 begins. It is possibly a government project; at the very least, it has some government support. During this period, a prototype of the key Project KV31 device is designed and constructed. ("Backrooms – Prototype.")
On May 10, 1982, a test is conducted on the prototype of the Project KV31 device — what we will later learn is the Low-Proximity Magnetic Distortion System used to open the Backrooms — at Oak Ridge National Laboratory under the supervision of a Philip R. Heymann. It is unknown whether the test is considered a success or not, or what conclusions might be drawn from it. ("Backrooms – Prototype.")
Sometime prior to the late 1980s, the research organization calling itself Async builds a facility in an undisclosed location for the purpose of furthering the development of Project KV31 and studying the Backrooms. (Files seen in "Mar11_90_ARCHIVE.tar.") It is unknown whether Async has taken over the development of Project KV31 from the government since the 1982 prototype test; whether Async was previously working alongside the government scientists who developed the prototype; whether Project KV31 was always an Async-led project operating with support of the government; etc.
In April of 1988, Async takes their research public in a press conference — sort of. Ivan Beck, now the vice director of Async, does not announce anything about the Backrooms themselves, but states that Async has been developing a "Low-Proximity Magnetic Distortion System" with the aim of finding "a solution to current and future storage and residential needs" while "[saving] billions of dollars on property construction and management." It is clear that at this point, there is no active government involvement in Async's research, as they state that they require funding from the government in order to continue their work. They have been conducting tests — at least two so far — which they hope will garner enough interest for the funding to emerge. ("Backrooms – The Third Test.")
On July 2, 1988 at 3:17am, Async conducts the third test on their Low-Proximity Magnetic Distortion System. The results of the test haven't been released, but they don't seem to have achieved success yet: They've created the doorframe they hope to use access the Backrooms, and they've even managed to crack the door open, so to speak — but before the door, known as the Threshold, can fully open, it slams shut on them. ("Backrooms – The Third Test.")
On Oct. 17, 1989 at 5:04pm, Async conducts their sixth test on their Low-Proximity Magnetic Distortion System. At first, it looks like the system is overloading; orders are heard to "shut it down," that it's "not safe" — but then, something appears: Something that looks like it might be a map of the Backrooms. As the dust clears (literally), we see that the Threshold is properly open for the first time — that is, it's not just a glowing rectangle of light; we can see into the Backrooms, as we now know them to be. The test ends with the scientists entering the Backrooms for the first time. ("Backrooms – First Contact.")
*Simultaneously with Async's sixth test, the Loma Prieta earthquake hits the Central Coast of California, with the epicenter located on the San Andreas Fault System between Santa Cruz and San Jose, specifically in the Forest of Nisene Marks State Park in Santa Cruz County. The quake is huge; with a magnitude of 6.9, it causes 63 deaths and 3,757 injuries, along with $5.6 to 6 billion of damage is caused (equivalent to $11.7 to 12.5 billion now). The implication is that the test — and the opening of the Backrooms — caused the earthquake. It's also possible that the epicenter of the quake indicates the location of Async's facility. (Previously "collateral.mov", now "faultline.mov.") Note that this point has not be retconned; however, it is "no longer a part of the standard viewing experience," per Parsons.
In the years following the sixth test, the number of reported missing persons cases goes way, way up. Among the missing are: Nicholas Bolton, Margaret Watson, Janice White, an unnamed white man, and two-year-old Ellis White. The implication is that, with the door to the Backrooms now permanently open, all these missing people "noclipped" in and were never able to find their way back out. ("Backrooms – Missing Persons.")
On Feb. 3, 1990, Async conducts an exploration of the Backrooms, now known within the institute as "the Complex." During their exploration, they discover the remains of a man — presumably one of the missing people, possibly Nicholas Bolton. He, the floor he is sitting on, and the wall against which he is leaning are covered in some kind of organic matter, possibly "some kind of fungus," as the Async folks put it. It's a new development; they've never encountered anything like this before. It's not even clear whether they knew that regular people were getting lost in the Backrooms. ("Backrooms – Missing Persons.")
On Feb. 5, 1990, the Async Department of Biomedical Sciences conducts an autopsy on the remains located within the Backrooms/Complex two days prior. The subject, a John Doe, is identified as biologically male and between the ages of 18 and 21. The examiner estimates that the time of death was "five days ago," placing it around late January/early February. The cause of death is identified as malnutrition. The body has severe tissue damage, and, oddly, has seemingly not decayed at the same rate all over. The examiner identifies the fungus present in the remains as "a mutated strain of simple hay bacillus." The examiner delivers the report directly to Ivan Beck, inquiring as he does so about whether he might be told where, precisely, the remains were discovered. The examiner's employment may have later been terminated by Async as a result of his question. ("Backrooms – Autopsy Report.")
On Feb. 29, 1990, Async conducts another exploration of the Backrooms/Complex. Four researchers enter: Peter Tench, Marvin E. Leigh, George Levy, and Ronald McCarthy. Tench becomes separated from the others. As far as they are concerned, he has simply vanished. ("Backrooms – Informational Video.") Async subsequently covers up Tench's disappearance, staging a car wreck and informing Tench's family and coworkers that he has died. A funeral is held for him. ("_recording14.")
However, Tench's footage reveals that he is not dead.
He hears something — a crowd, music, perhaps — and turns down a hallway, but when he turns back, asking if his companions can hear it, there's some sort of glitch and suddenly, he's alone. He wanders the hallways, finding a few unusual rooms — one with some risers and something crumbled in the middle of the floor; a hallway wallpapered in a green, leafy print, with tools like wheelbarrows and a sledgehammer strewn around, and the façade of a barn — and then, finally, a door that looks like an exit door. When he steps through it, he finds himself in what looks like an Async observation or control room — but the lights are off and the room is empty of other people. When he speaks, the lights go red and an alarm sounds. ("Backrooms – Informational Video.")
Note that Feb. 29, 1990 is an impossible date, as 1990 was not a leap year.
Alternatively, this exploration occurs as described on March 1, 1990, rather than on Feb. 29. ("Backrooms – Damage Control.")
By March of 1990, Async has begun constructing an observation or control room within the Backrooms, directly on the other side of the Threshold. ("Backrooms – Motion Detected.")
On March 5, 1990, Async personnel set up seven cameras within the Backrooms at strategic points for monitoring purposes. The cameras, mounted on tripods, are motion- and sound-activated; they will begin recording "when motion or substantial noise is detected." The log of activity recorded that first night reveals nothing unusual until the early morning hours of March 6: At 1:06 am and 2:13 am, we hear some strange noises, but see nothing beyond the Backrooms themselves; then, at 3:53 am, we see something — perhaps black tendrils of fungus or bacteria — appear in the distance on Camera 5. ("Backrooms – Motion Detected.")
*In March of 1990 — possibly March 11 — numerous photos and files from Async's history and the development of the facility begin to be collected by an unknown person or persons; they will later be compiled into a TAR file in June of 1991. Note that this point may no longer be canon. See: June 1991. ("Mar11_90_ARCHIVE.tar.")
By May of 1990, construction on the control room within the Backrooms is complete. Entering the Backrooms through the Threshold now deposits Async personnel into this control room, which functions as a sort of vestibule between the Async facility and the rest of the Backrooms. After passing through this vestibule, personnel may enter the Backrooms proper. ("Backrooms – Pitfalls.")
On May 6, 1990, Async conducts another exploration of the Backrooms/Complex. A team of four comprised of Marvin E. Leigh from "Informational Video," Mark Blume, George Levy, and an unnamed person enters the Backrooms, with Marv documenting the exploration on camera. During this exploration, the team discovers a room they have never seen before, with a series of rectangular pits covering the entire floor. A platform with a door lies on the other side of the room. One team member is sent across the pit-filled floor to investigate the door; when he opens it, he requests that Marv cross as well to document whatever is on the other side of the door.
Marv loses his balance during the crossing and tumbles to a lower level of the Backrooms. He hears what sounds like a man yelling for help, and upon investigation, discovers another new section — one that, oddly, resembles a suburban neighborhood. When he enters one of the houses, however, he encounters a creature. Marv runs while the creature gives chase. He manages to escape, making it back to the hole he dropped through and grabbing a line his colleagues have been able to assemble for him in the meantime. He climbs up and out. ("Backrooms – Pitfalls.")
Following the May 6 excursion, numerous higher-ups within Async, including Kirk Maxwell, Anthony Dawkins, and Clyde (no last name given), view Marv's footage and learn of the existence of the creature for the first time. A phone call is made. The hallway leading to the area of the Backrooms housing the Pitfall Room — and, Async assumes, the creature, which is clearly dangerous — is boarded up to prevent further access and/or cover up the problem. Extra blast doors are also installed in the control room for added security. ("Backrooms – Report.")
On an unknown date, an unidentified car driving down an unidentified highway in an unidentified location vanishes. The implication is that it noclips into the Backrooms. ("9780415263573.")
On May 8, 1990, United States Secretary of Energy James David Watkins tours the Async facility and is given a presentation pitching the myriad ways "A-Space," as Async has termed the Backrooms/Complex for publicity purposes, might affordably solve a number of growing national and global issues. The goal of the tour, the presentation, and a meeting that follows both, is to negotiate and sign a contract which would secure government funding for Async's research.
Towards the end of the meeting, Peter Tench, disoriented, reappears in the vestibule between the Threshold and the rest of the Async facility, setting off the facility's alarms. From Async's perspective, Tench has reappeared after more than two months. From Tench's perspective, he has jumped more than two months into the future. ("Backrooms – Presentation"; "Backrooms – Informational Video.")
Later that night, Clyde calls Ivan Beck and informs him of the events of the day. The contract negotiation with Watkins was a success; signatures have been collected and the contract is expected to be executed the following week. However, Clyde does not know what to make of the reappearance of Peter Tench. Tench does not recognize the facility, nor does he know who Clyde is. Clyde puts two and two together while speaking to Beck and realizes who Tench is. ("_recording14.")
Sometime between May 8 and May 25, 1990, Peter Tench finds his way back into the Backrooms.
Async's official explanation is that, following Tench's reappearance, he remains in the Async facility, where he was examined by doctors and interviewed in order to determine what had happened to him; additionally, given that he is legally deceased, the problem of how to reintegrate him without raising suspicion must be solved before he is permitted to leave. Over a period of roughly two weeks, his mental state deteriorates. He believes he is still within an illusion created by the Backrooms, and that Async intends him harm. On May 22, when he is in the process of being transferred to a temporary above-ground residence, he escapes from Async personnel and uses stolen credentials to re-enter the Backrooms/Complex, where he proceeds to hide for the next three days. ("Backrooms – Damage Control.")
It is not clear whether this is the truth.
On May 25, 1990, the area of the Backrooms previously sealed off following the May 6 excursion is unsealed. A rover is piloted in with the goal of rediscovering the Pitfall Room, now termed Room 14D. Clyde oversees the operation from a temporary control center set up before the now-removed boards.
After Room 14D is successfully located, a team including Marvin E. Leigh and Mark Blume enter the Backrooms after the rover. While "Team A" begins construction on a walkway across the room, a second team comprised of Marvin, Mark Blume, and Randall Tachi begin mapping the layout of the adjacent Room 14C. They are armed, as insurance against the creature or creatures they now know to be present in the Backrooms.
While exploring, Blume is attacked by a man in a black jumpsuit, who wrestles his weapon away and holds him at gunpoint. Blume attempts to radio Team A for help without success.
Marv recognizes the man in the black jumpsuit as an extremely agitated Peter Tench. It comes out that Async made Tench out to be dead to his family and coworkers; Tench also learns that Async even went so far as to hold a funeral for him. Marv confirms much of this information.
Team A is eventually able to contact Blume via his radio. Blume requests assistance, saying they are being held at gunpoint by "a hostile." Tench fires at Blume and runs off, urging Marv to reveal what he knows to the public. ("Backrooms – Reunion.")
Tench, still carrying Blume's weapon, returns through the Threshold and re-enters the Async facility. He is disarmed by Kirk Maxwell at some point, but escapes to the surface via a freight elevator. Blume remains alive, although in critical condition.
Async claims Tench trips and falls while running through the hills outside the facility, fatally striking his head upon a rock. The decision is made to maintain the cover story previously established: That Tench died in an accident outside the facility following his initial disappearance several months prior.
However, security footage of a figure that appears to be Tench on a city street implies that he may, in fact, have succeeded in escaping, and that he is now at large in the world. ("Backrooms – Damage Control.")
On Jan. 10, 1991, the second season episode of The Simpsons titled "Bart Get Hits By A Car" airs. An unknown person records it on VHS. In the middle of the recording, the episode is interrupted by a Spanish-language advertisement for the cough suppressant Dimacol. This advertisement will not air until the year 2000. ("Simpsons.")
In June of 1991, the photos and files depicting Async's history and the development of the facility that may or may not have been collected starting in March of 1990 are compiled into a TAR archive. ("Mar11_90_ARCHIVE.tar.")
On July 4, 1991, a group of teenage filmmakers are shooting a horror film when their cameraman, Kane Pints, "noclips" into the Backrooms. He explores Level 0, is chased by a creature, jumps into Level 1, possibly sees Level 2, then finds a way back to Level 0. He is chased by the creature again and hides. While hiding, he finds a square hole in the ground. The creature finds him and grabs him, causing him to lose hold of the camera. The camera emerges from the Backrooms back into reality, falling from a great height and smashing into the ground. Kane remains in the Backrooms, although we do not otherwise see what becomes of him. ("Backrooms (Found Footage.)")
On Aug. 19, 1995, an unnamed young woman finds an entrance into the Backrooms in her garage and, while experimenting with it and recording her findings, falls through. She observes spaces filled with mutated furniture, a crashed car, and black fungus, eventually encountering the same creature that Kane did. She attempts to escape, but ends up trapped in a room with a dead end. As the creature closes in, the room begins to glow green and cracks appear in the walls, floor, and ceiling. The camera loses signal.
Sometime later, the young woman's footage is recovered by an unknown person. It is played on a television using a VHS player in a room that appears to resemble a standard living room. It may or may not be located in the Backrooms. ("Backrooms – Found Footage #2.")
On Sept. 23, 1996, Kane's footage is recovered by an unknown person. ("Backrooms (Found Footage.)")
In 2000, the advertisement for Dimacol previously seen interrupting the recording of The Simpsons episode "Bart Gets Hit By A Car" airs. ("Simpsons.")
In the late '90s and/or early 2000s, home video footage belonging to an unknown family is recorded and compiled into a .mov video file. The home seen in the footage resembles spaces explored by the unnamed young woman who noclipped into the Backrooms on August 19, 1995. ("home_27647.mov.")
In Jan. of 2022, an unknown person begins uploading footage of the Backrooms, Async's research, and the consequences of the organizations actions to YouTube, starting with Kane's footage from 1991. Their identity and motivations remain unknown. (Playlist: The Backrooms.)
On an unknown date, something, somewhere, recollects "a house taken by the sea" as the world kaleidescopes in on itself. ("I Remember.")
Questions; Or, Where Do We Go From Here?
So: That's where we're at so far. Whereas the previous batch of videos we looked at in our second exploration of the series seemed to arrive at the end of an arc, this batch has opened up a whole new one — so naturally, there are many, many more questions about the whole thing and where it might go this time 'round.
Here are the ones that I'm most preoccupied with:
WTF Happened To Peter Tench?
By "WTF happened to Peter Tench?", I mean what actually happened to him? I mean, sure, we know what Async says happened to him — but we also know that Async are not the most reliable of narrators, and that they're willing to bend and twist the story in order to suit their own needs.
For my part, I think their story is — as all good lies are — partially true. I buy the whole story up until the events following Tench's return; it lines up with everything we've already figured out ourselves. Furthermore, by admitting to some of the more nefarious pieces of the story — faking Tench's death to cover up his disappearance, for instance — Async attempts, and largely succeeds, to earn our trust: "See," they say, "we've made mistakes, and we're not proud of them, but we know that coming clean is the right thing to do. You can trust us; we have only your best interests at heart."
But everything after that? Again, I think there are seeds of truth there — I believe, for instance, that Tench did remain in the facility between May 8 and May 22, and even that he escaped back into the Backrooms himself, rather than having been put there by Async for… let's call it safekeeping. To what end? That, I'm not sure, but I think it's possible, and indeed believable, that he might have been attempting to return to his own time: If he jumped forward two months inside the Backrooms, maybe he could also jump back from there, too, thus preventing his nightmare of the present from ever happening.
But here's what I don't believe:
I don't think he had remained within the facility willingly. I don't think he "understood" the problem of reintegration and had agreed to "cooperate"; we saw how distraught he was about his family having been told he was dead in "Reunion," and we learned that he didn't know the full extent of the coverup.
And, to be perfectly honest, I don't think he just "suddenly" began spiraling due to his experiences within the Backrooms. I think Async may have had something to do with it — that they may have been performing unethical human experimentation on him, as evinced by the image of a syringe seen in the closing moments of "Damage Control."
(It's worth noting that other theories surrounding the syringe include that Async wasn't "transporting him to a temporary above-ground residence" when he escaped on May 22, too, though — but rather that they were going to euthanize him, and that he broke free literally to save his own life.)
I also have questions about why Async would cover up Tench's second disappearance again by insisting that he died again, when this time, they know he's out in the world… but I suppose we'll just have to wait and see how things unfold.
The knot is tangled, but it'll almost certainly come undone eventually.
Here's a thought: Maybe Peter Tench is the one that's uploading all of the videos within the "Backrooms (Found Footage)" universe. Maybe he's finally revealing Async for what they truly are.
What's The Connection Between "home_27647.mov" And "Found Footage #2"?
Here, I'm mostly thinking about the actual home we see in both videos — the one with the split-level living space with the white banister, and the room with the painting of the woman in equestrian gear. Is the home seen in both videos the same home? Or is it… something else?
Again, I can think of two primary possibilities: Either two copies of the home exist — one in the "regular world" (the Frontrooms, if you will) and one in the Backrooms — with one being something like a mirror of the other, or possibly with one mapped on top of the other; or, they're the same home, and we're seeing it at two different points in its progression.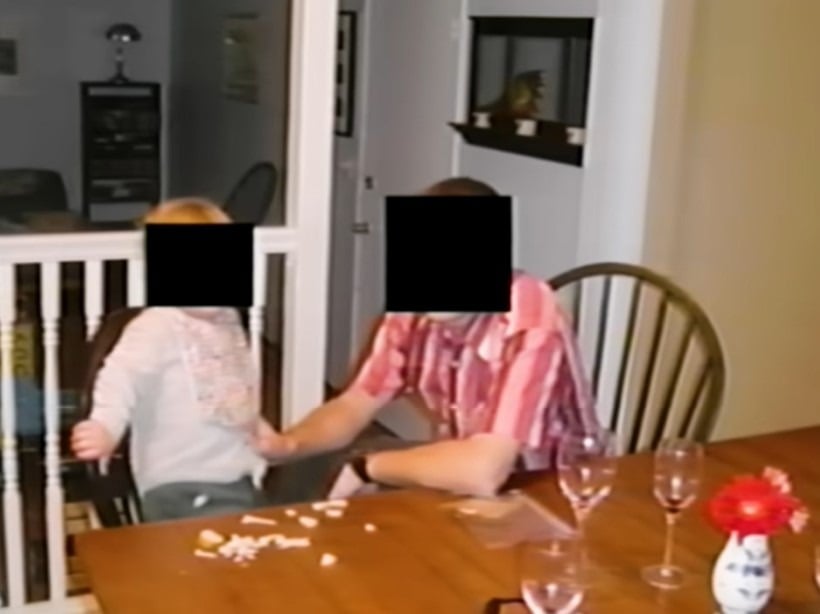 The second possibility is more intriguing to me. If it's the same home, what about this?: Maybe Async got as far as actually experimenting with creating residential space within "A-Space." Maybe they got as far as a trial family living in this A-Space residential area. Maybe the family in "home_27647.mov" is that family, shown living within their A-Space home. And maybe the trial went very, very wrong, with the home gradually being warped or reclaimed by the very nature of the Backrooms themselves — thus ending up the way we see it in "Found Footage #2."
Note that I've referred to this possibility as seeing the house at two different points in its progression — not at two different points in time. Why have I done that? Because A) we know that time doesn't work the same way in the Backrooms as it does in the regular world; and B) because chronologically, "Found Footage #2" likely occurs before "home_27647.mov." As such, referring to it as "different points in time" didn't seem quite accurate.
What's The Deal With "Overflow?"
I'll admit that "Overflow" is the one video in this batch that I don't quite know what to do with. I have both highly specific and extremely broad questions, the answers to which might totally change the game, depending on what they are.
First, the simplest question: Note that that in the paperwork signed by Ivan Beck we see pinned to the bulletin board in this video, he's listed as "ADVISOR." Although there are many things this word can mean, the one it brought to mind for me is that of an academic advisor — a faculty member whose role is to provide oversight for work otherwise spearheaded by a student. Given that by the time Async really gets to work, Beck is one of the highest-ranking people in the company, I have to ask:
Is all of Async's research founded on work or discoveries made not by Ivan Beck, but by someone Ivan Beck once advised? Or, put another way: Did Ivan Beck steal someone else's work and run with it?
Food for thought.
The bigger question, though, is what precisely this video means — for the entire Kane Pixels Backrooms universe. We know that the experiment occurring offscreen in this video changes things irreparably; the sky literally splits as a result of it. But as for what exactly that change is? Well, that, we don't yet know.
It could be the moment in which timelines or universes split, which in turn means that everything we've been seeing takes place in a different timeline or universe than the one we, the viewers, live in — one where Feb. 29, 1990 is an actual date.
It could be, as some have posited, indicative of a time loop: Maybe the glowing green room cracking apart at the end of "Found Footage #2" is evidence that the protagonist of that video was transported back to this moment, with her footage becoming the basis of everything else to come.
I don't think it's the moment the Backrooms where created, as Kane Parsons has previously said that the Backrooms were "found, not created." But then again, this is sci-fi; anything can happen, including a shift in established fact midway through.
Or it could be something entirely different. Again, we don't know — but hopefully, eventually, we will.
Because, really, the biggest question right now is this: Just how many timelines and universes are we dealing with here? Feb. 29, 1990; March 1, 1990; 1972; leap years; non-leap years; longest years… there are so many dates, and a growing number of discrepancies.
There's no way they're all accidents.
At this point, we are very much right in the middle of things; there's a long way to go yet for Async, the Backrooms, and everyone and everything tied up within it all. I expect uploads might be somewhat slower this year, as Parsons has noted within the community that he's been working on college applications — and, again, he's got that whole feature film debut thing on his plate, too.
But what's so remarkable about this series as a whole is that it's very clearly building up to something. There's a road map. Eventually, there will be a destination — but what it is and how we'll get there remain a mystery and a surprise.
For now, we're all just along for the ride — and what a ride it is.
***
Follow The Ghost In My Machine on Twitter @GhostMachine13 and on Facebook @TheGhostInMyMachine. And for more games, don't forget to check out Dangerous Games To Play In The Dark, available now from Chronicle Books!
[Images via KanePixels/YouTube (26)]