Previously: "Carnival Burgers."
Have you heard of the Backrooms? You'll wander in without realizing it, only to notice eventually that you're surrounded by nothing by yellow hallways. You can wander around if you like — but if you find yourself in the Backrooms, you may never make it out of there again.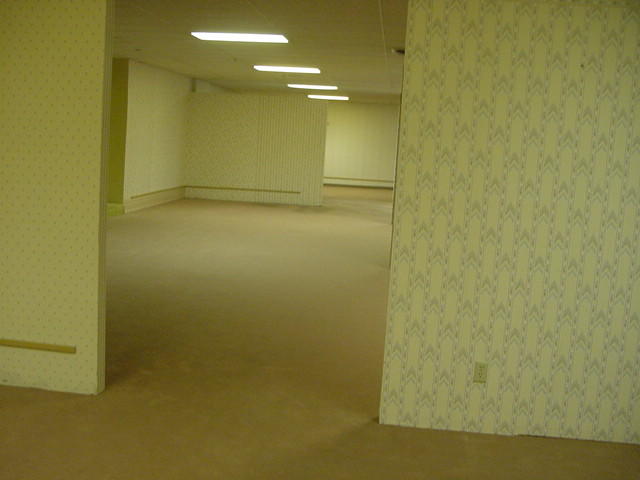 Or at least, that's what the stories say. The Backrooms don't exist, of course; they're a piece of internet lore. But they're an interesting idea, with tons of potential and an almost endless array of possibility. Little wonder that they've inspired so many stories, Photoshop projects, short films, video games, and more in recent years, right?
[For the curious, here's an explainer about what the Backrooms are — from soup to nuts, as they say. For information about the Kane Pixels "Backrooms (Found Footage)" series, head here.]
The Backrooms kicked off on 4chan's /x/ paranormal board back in 2018/2019, and since then, they've become a little SCP Foundation-like in that they've sort of developed as a large-scale collaborative fiction project. Admittedly, the stories and lore surrounding the Backrooms aren't centralized in a single wiki or location like the SCP Foundation's are — but there's something that feels quite similar about the whole thing to me.
[Like what you read? Check out Dangerous Games To Play In The Dark, available from Chronicle Books now!]
This particular entry into the lore of the Backrooms was published to the Creepypasta Wikia by user Claykid12345 in May of 2019, shortly after the true inception of the concept. It's simple, but its simplicity is one of the things that makes it so effective. It offers a bit of a snapshot into what the Backrooms can be like — that is, it's just one character's experience with the yellow, labyrinthine hallways that make up the eldritch location.
Oh, and before you ask if there's any way to guard yourself against an accidental trip into the Backrooms:
The answer, it seems, is no. It just happens — whether you want it to or not.
It was approximately 12:15 when I entered the Johnson County Community Health Clinic. I was there for an appointment I had set up weeks ago, just a routine checkup. It wasn't a new place for me; I had been there a couple times before. However, the place had an odd nostalgic feel to it, as if it were a location from my childhood or something, and I could never pinpoint exactly what this feeling was, or where it came from.
As I walked in, an overwhelming feeling of deja vu swept over me. The hum of the flickering fluorescent lights, the white tile flooring, the muted beige paint that colored the walls. I noticed that there was a TV mounted in the corner, a smaller flatscreen, that was playing a short PowerPoint slideshow on loop of ads and events that were being held by the clinic. I passed the empty waiting area — a small area of the main room with magazines, children's playthings and blue cushioned chairs — and approached the woman at the front desk. She was sitting in her blueish gray office chair, looking at a spreadsheet on the same Windows XP desktop they've had since 2008. There was a sign-in sheet on the counter in front of me.
"I have an appointment with Dr. Pebins?" I asked.
"What time?"
"12:30," I replied.
She began typing something into her keyboard.
"Ah, yes," she responded. "Gary Johnston?"
"Mhm."
"Yes, I'll tell the doctor. Please fill this out."
She handed me a clipboard which held a simple fill-out form. I walked back to the waiting area, took a seat, and began to fill out the form.
I was about halfway done with filling in my information, when I slumped back in my chair. I hadn't gotten much sleep the night prior, and I was exhausted. As I slumped back, I noticed something very peculiar — my head never hit the wall. In fact, it felt like it went IN. I got up, quite frightened, and looked at the wall.
***
Follow The Ghost In My Machine on Twitter @GhostMachine13 and on Facebook @TheGhostInMyMachine. And don't forget to check out Dangerous Games To Play In The Dark, available now from Chronicle Books!
[Photo via 4chan/Know Your Meme]