Previously: Petscop.
Today, a deep cut: The web series In The Dark, also often referred to as Louise Is Missing. I missed the Louise Paxton mystery when it was new; I'm not really sure how that happened, although it might have had something to do with the fact that when the videos first started appearing, I had just finished undergrad and had an astonishingly full summer before I started graduate school that fall. In any event, though, I continued to miss it, and keep missing it, and miss it again until fairly recently — although now that I've seen it, it ranks highly on my list of favorite YouTube series of all time. (CW: Stalking.)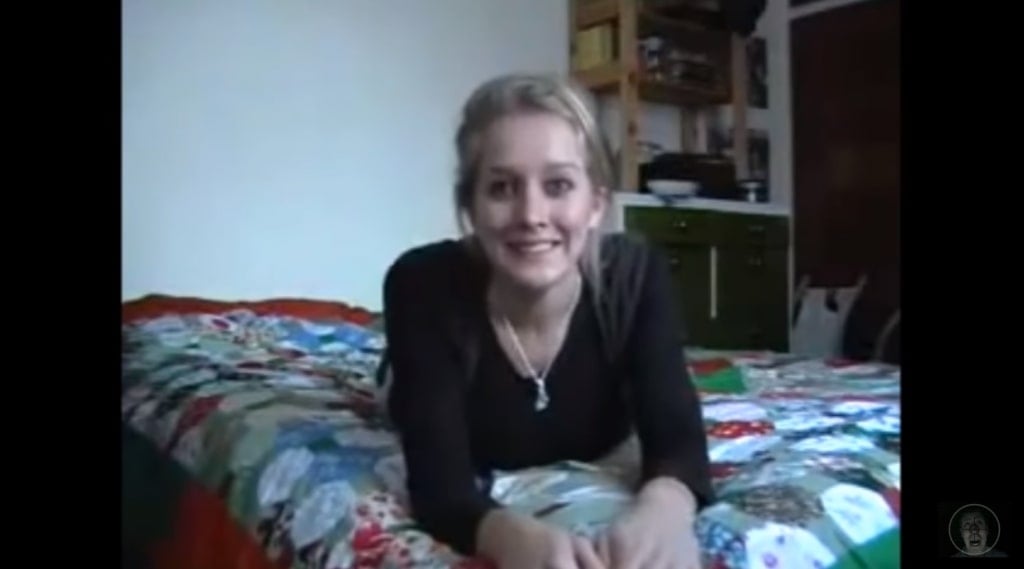 The setup is as follows:
Louise Paxton was 23 when she moved from Norwich, UK to London — specifically the South West London neighborhood of Clapham — in April of 2007. On July 1, 2007, she disappeared from her home and has been missing ever since. In the few months she had been living in London, she had become "the victim of a campaign of terror orchestrated by an unknown stalker," according to a website dedicated to finding her; it was believed that her disappearance had something to do with the stalking and harassment she had begun experiencing shortly after moving into her Clapham flat.
[Like what you read? Check out Dangerous Games To Play In The Dark, available from Chronicle Books now!]
It becomes clear to viewers pretty early on that Louise didn't have a stalker; she had a ghost. What's more, coming to the series in 2017 — a decade after its debut — audiences are much more familiar with what to look for in terms of determining both whether we're watching something like Paranormal Activity (as opposed to something more like Creep), and whether the whole thing is a hoax. (Incidentally, Paranormal Activity saw its first screening around the same time videos started appearing on the Louise Paxton YouTube channel, although it didn't receive a wider release until 2009.)
But what's so fascinating about this series to me is the moment it occupies in history: For a long time — several years, in fact — after the videos first appeared, a good many people really did believe that Louise Paxton was real, and that she did disappear. I look at it kind of like the Blair Witch Project of YouTube, which is what makes In The Dark so extraordinary.
Look To Your Forebears
When The Blair Witch Project was released in 1999, it covered a lot of new ground, both in the way it was made and in the way it was marketed. Indeed, its legacy really lies in the marketing more than anything else: Although viral marketing is so prevalent these days that most of us can spot it from a proverbial mile away, in 1999, the technique was new. We hadn't seen it before — or at least, not in this form.
In retrospect, The Blair Witch Project's marketing was the natural progression of a variety of techniques that had previously been used by a wide range of media — the Mercury Theatre's radio broadcast of War of the Worlds in 1938, the "What happened was true" tag that appeared at the beginning of The Texas Chain Saw Massacre in 1974, and so on and so forth. Blair Witch took these ideas and ran with them, making terrific use of a tool that was still developing at the time: The internet. The website, the "MISSING" posters, the online dialogue about the "missing students" and about the "mythology" of the Blair Witch (which, of course, was fakelore, not folklore), the pleas at the Sundance Film Festival, where the film premiered, for anyone with information to step forward — it all blurred the line between fact and fiction in a way that convinced a huge number of people that it was all real.
It was enormously effective; made for $60,000, The Blair Witch Project grossed close to $250 million worldwide, making it one of the most successful independent films of all time.
This, then, provides the context for In The Dark, which, I would argue, was similarly trail-blazing.
Welcome To YouTube
I know, I know: But what about Marble Hornets, you ask? The OG Slenderman series is often pointed to as the beginnings of the horror web series as we know it today — and in many ways, that's an accurate assessment. A huge number of the conventions that are now hallmarks of online, video-based horror were pioneered by Marble Hornets: The framework of a narrator character uploading found footage in order to get to the bottom of a mystery; the weird, experimental supplements published on the to the ark channel; tons of the specific Slenderman mythos conventions (the coughing, etc.); and so on and so forth.
(For what it's worth, The Wyoming Incident also used a few of these conventions prior to Marble Hornets — the first videos associated with it began circulating sometime in 2006 — although I'd argue that The Wyoming Incident is more of a straight-up ARG than a web series with ARG elements. The action in The Wyoming Incident didn't unfold in the videos; the videos were merely a small part of the larger narrative, which unfolded elsewhere on the internet.)
But Marble Hornets didn't come along until the summer of 2009 — a full two years after the Louise Paxton mystery hit YouTube. Indeed, the only notable series I can think of that predates In The Dark is Lonelygirl15, which debuted in June of 2006; however, that one tipped its hand quite quickly (or, perhaps more accurately, had its hand tipped for it): Although it ran for over two years, discussion of it being a hoax kicked up in August of 2006, with its creators confirming to the Los Angeles Times that it was fictional in September of 2006, just four months into its run.
Interestingly, there was no media-driven investigation or big reveal for what we would later know is called In The Dark. Two of its creators — writer and director Andrew Cull and actor Zoe Richards, who starred as Louise — did quietly confirm in 2010 that In The Dark was entirely fictional; in an interview with Gore Press promoting The Possession Of David O'Reilly (also known as The Torment), which Cull wrote and directed and in which Richards appeared, they were asked if they had worked together before, to which Cull answered, "Yes. Zoe was Louise Paxton in the internet series — finally, the secret's out!" Remarked Richards, "I still get hate mail" — presumably from folks who were angry at having been duped. But the series seems to have flown much further under the radar than Lonelygirl15 did.
I'd argue that this is likely because In The Dark is more believable than Lonelygirl15 is. It doesn't involve huge, shadowy organizations or a sci-fi-esque plot; indeed, so much of what Louise Paxton experienced are very real dangers that women often face, particularly (although certainly not only) when living alone and/or in a major metropolitan area: Intimidation, harassment, and stalking.
Louise Paxton's New Flat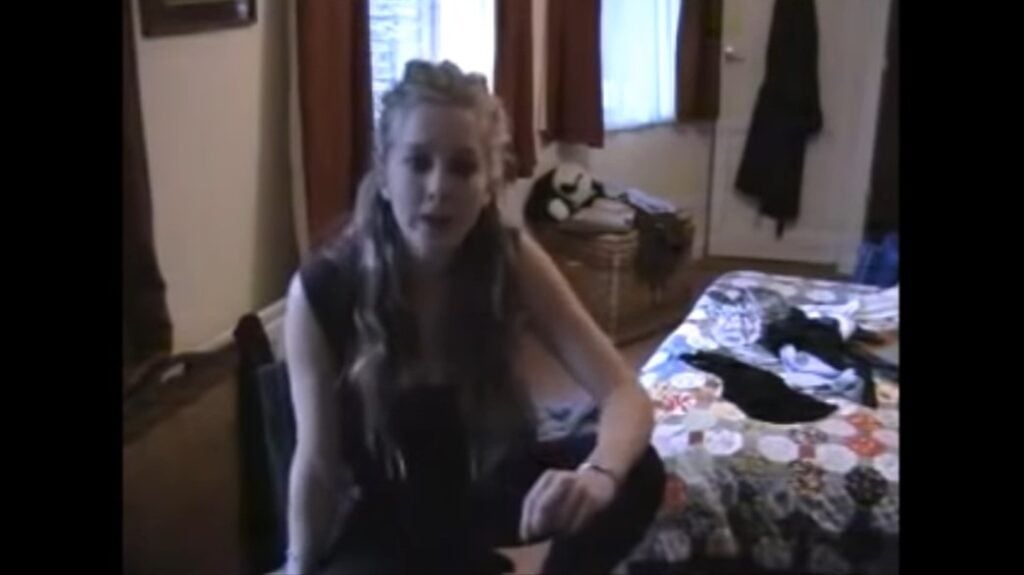 So: At what point does it become apparent that whatever Louise is dealing with, it's likely supernatural, rather than straight-up natural? It happens quicker than you might think.
The first five videos show nothing out of the ordinary; taking place between April 16 and April 23, 2007, they feature Louise leaving Norwich, arriving in London, showing viewers her new flat, and sharing a little bit about her backstory (it seems she went through a messy breakup, although she's adamant that the move was not just because of the breakup). She's admittedly a little grating in these first couple of videos; however, I found myself softening up to her after one or two videos, and then particularly after the videos she posted on April 27. These are the first two stalker videos, which she recorded and posted to "document an event which first started two nights ago," as she puts it. "It's Thursday night tonight — and on Tuesday night, an intruder came to my house."
This pair of videos is harrowing because of the context in which they exist. Around the time that Louise's story was unfolding, around 5 million people in the UK experienced stalking each year, according to the 2006 British Crime Survey; by 2009, the Home Office estimated that about one in five UK women, or about 20 percent, will experience stalking in their lifetime. (For men, the figure was one in 10.) In the United States, meanwhile, the 2006 National Crime Victimization Survey found that 3.4 million Americans age 18 or older were victims of stalking during a 12-month period; for women, the percentage of those who reported experience stalking was, as it was in the UK, 20 percent. (For men, it was 7.4 percent.)
These days — 10 years after In The Dark was released — women in the UK experience stalking at a rate of 20.9 percent, according to the 2016 Crime Survey for England and Wales. In the United States, being stalked online seems to have become more common than face-to-face stalking: In 2014, 26 percent of women between the ages of 18 and 24 reported having been stalked online, according to the Pew Research Center.
I think it's worth noting here that In The Dark subtly positions viewers as voyeurs. Louise isn't creating these videos for the general public, although they're accessible to everyone (unlisted videos wouldn't become a standard YouTube feature until 2010); she's making them for her friends and family back in Norwich. This means that viewers are assumed to be loved ones by Louise… but we're not. We're essentially randos creeping on her — not unlike the stalker she believes she's dealing with.
In any event, on April 29, Louise posted the video "All Quiet Now" — and I would argue that here is where we get the very first hint that something… else might be going on: In her messages for specific individuals, she tells a fellow named Dave, "I don't know why you haven't been able to get through on my mobile — I've not got any of your messages, so I've emailed you my landline number, so try me on that."
I don't know about you, but if I were a malevolent spirit stalking someone living alone, the first thing I'd do would be to start trying to limit that person's contact with other people. Specifically, I'd do it by messing with her technology and communication options. And that, I think, is what we're seeing in "All Quiet Now."
However, I realize that this idea is somewhat of a stretch; given what 2007 cell phone technology was like, Dave's inability to get through to Louise's mobile could very well just have been some sort of screw-up on the part of the cell phone company, service and network reach, and so on and so forth. With that in mind, I have a few other moments that help strengthen the case: First, there's the bit of "All Quiet Now" immediately following the message to Dave, which is addressed to Louise's best friend, Lizzie — there's a weird glitch in the video itself here, which suggests otherworld interference not unlike what we'd later see taken to the extreme in Marble Hornets; and then there's "Finders Keepers."
Escalating Problems
Posted on May 1, Louise shares "Finders Keepers" to show everyone a neat thing she found: A really old coin. It was on the floor at the foot of her bed, and it looks like it's from long, long ago — Louise estimates it's Victorian. She's not wrong; the date on the coin is 1900, and Queen Victoria's reign ended with her death at the beginning of 1901.
This is the exact moment I first thought, "It's not a stalker; that flat is haunted." Anyone who is well-versed in ghost stories knows that a strange, ancient object never just appears. It's never the result of simply having accidentally dislodged something from a nook or cranny while you were settling in, only to find it the next day. If an object like this coin shows up in your home, it's because something put it there. And not only is that something not human, it's probably not benevolent, either.
The next video, "Weird Cold Spot In My Bedroom," which was posted on May 4, just confirmed my theory. Louise doesn't talk about it in terms of anything paranormal or supernatural; in fact, she never discusses what's happening in her flat in these terms at all. The cold spot is just a weird occurrence, as far as she's concerned — and, to be fair, having lived in several old, drafty apartments and flats myself, both in the United States and in London, it's not even that odd. (Ask me about the time my boiler broke and I didn't have any heat in the middle of winter for months on end.) Indeed, Louise thought it was caused by the flat's heat malfunctioning, so she called the utility company about the issue. They sent her a thermometer so she could take measurements and provide more information to them.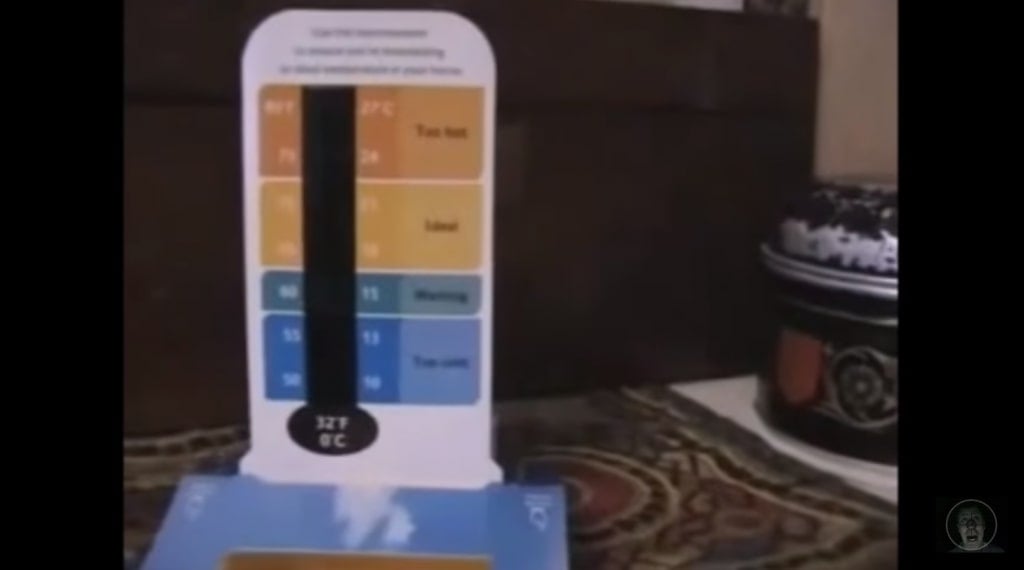 But, again, anyone who knows anything at all about the paranormal knows that the flat's temperature issues are significant: Cold spots are often said to be indicator that an entity of some sort is present. The theory is that, in order for a ghost or spirit to manifest, they need to draw energy from their environment — and in this case, energy equals heat. There are, of course, plenty of logical explanations for cold spots that have nothing to do with the paranormal; however, since ghosts are clearly real in the world of In The Dark, that's what we can assume is going on in Louise's flat.
So, when Louise not only observes that sometimes when she wakes up in the morning, one side of her bed is markedly colder than the other, but also shows us the temperature changing dramatically on an actual thermometer depending on which side of the bed she uses it on… well, that's when I think it becomes pretty clear that whatever Louise is dealing with, it's not a stalker. At its warmest, the thermometer reads 21 degrees C, or just shy of 70 degrees F; at its coldest, though, it reads nine degrees C, or about 48 degrees F — which, yeah, is really cold for the interior of a living space. For reference, according to the Housing Health and Safety Rating System, British Standards dictate that living rooms be maintained at a minimum of 21 degrees C and sleeping rooms at a minimum of 18 degrees C — so nine degrees is far, far below what Louise's bedroom should measure.
Louise Is Missing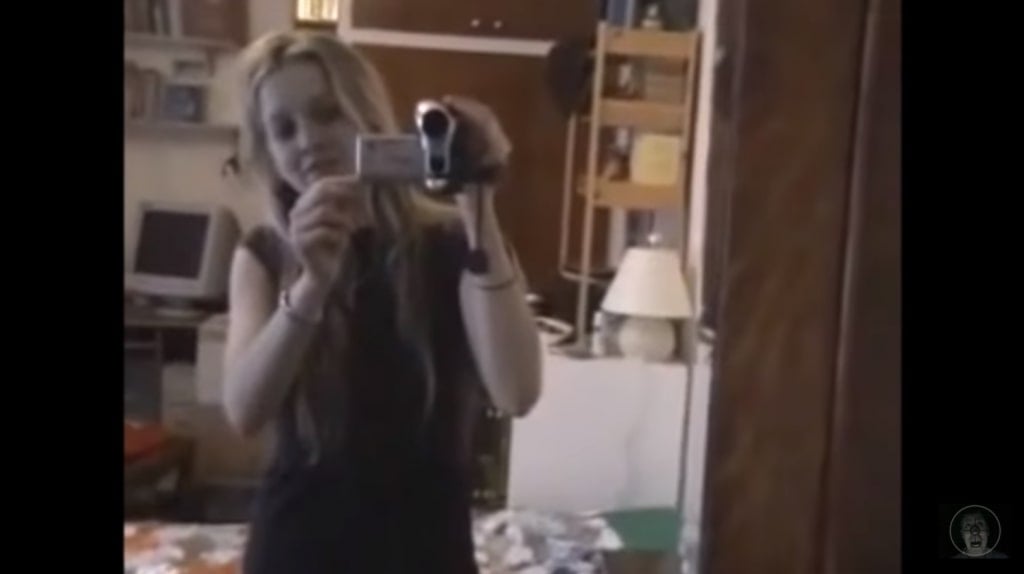 The snowball begins rolling down the hill at exponential speeds after that point, making it very, very clear that Louise's trouble is paranormal in nature — and, therefore, that the whole thing is really a hoax. But the beauty of this series is that even after it can no longer be denied that Louise is dealing with a malevolent entity, rather than a human, In The Dark nails it in terms of believability. Zoe Richards' performance as Louise Paxton is magnificent — it's so astonishingly natural that there's virtually no indication there's any acting going on at all. I also love that Louise isn't really using any kind of fancy technology to document what's going on; because of the era in which the series was made, all she has access to is a camcorder — not a smartphone equipped with ghost hunting apps, or even just a phone with a high-quality camera. (I still had a flip phone in 2007, and I'm sure I'm not alone — and anyway, the first iPhone wasn't released until June 29, 2007, just a few days before Louise's "disappearance.") The video quality isn't great, but it works so well here.
The result of the whole production is that Louise feels very real. What she experiences feels very real. And her disappearance feels very real — all of which makes In The Dark absolutely riveting.
The original videos are still live at the Louise Paxton YouTube channel, although be warned that they're not available to view in all countries, including the United States. This video, though, takes all of the individual videos and strings them together into one master video; it's about an hour and 38 minutes in total, making it about the length of a movie (skip the first minute and 30 seconds or so — it's a clumsy and grammatically incorrect lead-in that I don't believe was part of the original series). Also, the Louise Paxton website is still up and running — the "Diaries" section is useful for accessing the specific dates of each video and providing a timeline of events.
I only have one question that remains: Just what was living in Louise's flat with her, anyway?
***
Follow The Ghost In My Machine on Bluesky @GhostMachine13.bsky.social, Twitter @GhostMachine13, and Facebook @TheGhostInMyMachine. And for more games, don't forget to check out Dangerous Games To Play In The Dark, available now from Chronicle Books!
[Photos via Jambo The Gamer/YouTube (4)]