Previously: Haunted Hotels, Inns, B&Bs, and Airbnbs.
If you're making a trip to the Publix supermarket or the Home Depot at the Oxford Commons shopping center in Oxford, Alabama, there are easier — and safer — ways to get there than by crossing Hell's Gate Bridge. Heck, if you didn't know to look for it, you'd likely never even find it: Even though it lies not half a mile away from Oxford Commons, the small, broken-down bridge sits tucked away in the woods at a creek crossing no one dares use anymore. To be fair, you couldn't use it even if you wanted to; it's been blocked at either end with cement blocks and chain link fencing to prevent anyone from setting foot on it because it's literally falling apart. But "if you wanted to" is the key phrase there — no one truly wants to use Hell's Gate Bridge. It's too haunted for that.
"Hell's Gate Bridge" isn't its official name, of course; it's not even clear whether it has an official name. Located on Boiling Springs Road in Oxford, it bridges the banks of the Choccolocco Creek — or at least, it did once; it's been disused for at least a decade because of its terrible condition.
[Like what you read? Check out Dangerous Games To Play In The Dark, available from Chronicle Books now!]
A truss bridge — not unlike Emily's Bridge in Stowe, Vermont (albeit a different type of truss — Hell's Gate Bridge is a Pratt through truss, rather than a Howe truss) — Hell's Gate Bridge was built sometime around 1930; by 1992, however, it had decayed into "Poor" condition by 1992, according to an inspection from January of that year. Its superstructure, meanwhile, dropped from "Poor" to "Serious" in November of 2000.
The result is a seriously spooky-looking crossing — and, indeed, given its derelict stat, it's perhaps unsurprising that it plays host to a ghost story, too.
It's unclear when the legend originated, but it would have had to have been no earlier than the 1960s; the tale itself is set in the 1950s. Sometime during that decade — again, it's not specified when — a pair of young lovers driving across the bridge were said to have tragically careened off the structure, perishing in the waters of Choccolocco Creek below. But although the lovers may have died, they haven't moved on; it's said that if you drive to the bridge at night, park your car in the middle of it, and turn off all the vehicle's lights, you might end up with an additional passenger in your backseat. You might not see them, or hear them, or even know they're there — but if you look closely later on, you'll notice something about the seat: It will be wet — as if someone who had just emerged from the water had taken a seat there.
There's another story, too, though — one that accounts for the moniker "Hell's Gate Bridge." It's said that if you stop on the bridge while driving and look behind you, you won't see the entrance to the bridge on Boiling Springs Road; you'll see the fiery gates of Hell instead. Admittedly there doesn't seem to be much of a connection between this tale and that of the ill-fated lovers — but then again, maybe we just haven't put two and two together yet. Maybe that was why they lost control of their vehicle in the first place: Perhaps they glanced behind them and saw Hell itself, receiving such a fright that they accidentally drove straight off the bridge.
Again, we don't know much about where these stories came from or when they first arose. The car crash legend in particular seems suspect; as far as I know, there's no record of a car ever actually driving off the bridge, let alone of anyone dying as a result. But I do find it interesting that Hell's Gate Bridge's car crash legend bears more than a few similarities to another pervasive urban legend: That of the crybaby bridge.
Numerous so-called crybaby bridges exist across the United States. Each has their own backstory, but they all tend to involve terrible alleged tragedies that resulted in at least one death, thereby turning the bridge into the site of a haunting. These hauntings are also all generally said to manifest in pretty much the same way: If you park your car one of these crybaby bridges, the stories go, something strange will happen to either you or your vehicle. You might hear a baby crying in the distance, or a young mother wailing for her lost child; you might see the glow of a lantern as the ghostly mother searches for her young one; you might even spot footsteps or handprints on the windows, trunk, or hood of your car. Sometimes other actions must be taken beyond simply parking your car in order to inspire the spirits to make themselves known — scattering baby powder across the hood of your car, for example, or turning off the headlights.
The deadly car cash story pegged to Hell's Gate Bridge contains many of these same elements: A terrible tragedy; an untimely death; and an alleged haunting which reveals itself if you park your car on the bridge and turn off all the lights. True, there's no baby involved — but crybaby bridges don't always play host to literal babies. The Maude Hughes Road Bridge in Liberty Township, Ohio, for example, is said to replay the memory of a fatal lover's quarrel, night after night — or, if you prefer a different legend associated with the same spot, to play back a horrific train accident that happened nearby. Then there's Governor's Bridge near Annapolis, Maryland — one of the stories told about it states that a ghost car might come up from behind you while you're driving across it, only to vanish should you stop to look back. With all of this in mind, Hell's Gate Bridge is a likely candidate for inclusion in the crybaby bridge folkloric pantheon.
But although you can get close to Hell's Gate Bridge, you can't drive across it anymore. It's been closed for at least 10 years — although interestingly, it's not totally clear exactly when the closure occurred. According to the Anniston Star, records from Calhoun County show that the bridge was "an open and necessary route" until at least 2002 — date consistent with the last available inspection, which national bridge inventory database Bridge Reports notes also dates back to 2002. At the time, the bridge was already in such poor condition that the recommended course of action was to replace it entirely.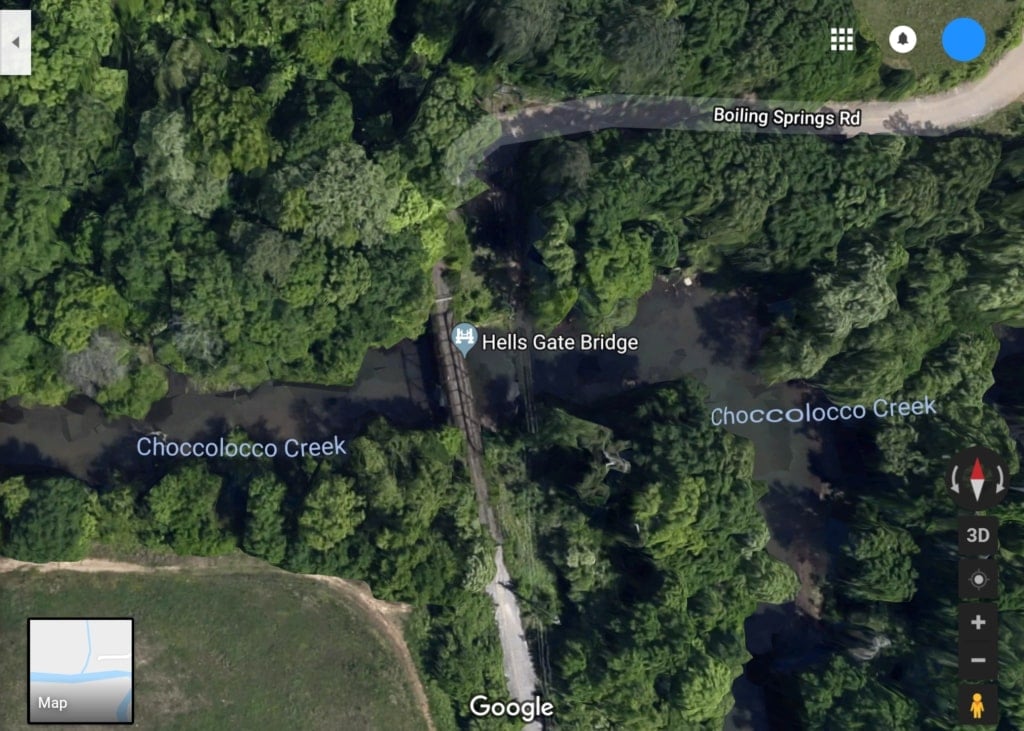 Meanwhile, according to the Oxford Paranormal Society, the structure was closed to traffic sometime around 2005 or 2006. I haven't been able to verify this closing date, but the bridge does seem to have definitely been blocked off by 2007 — that's the year in which the Oxford Paranormal Society conducted their investigation. (They failed to find anything, by the way; although they did capture a photo that might depict an orb during a follow-up investigation, it also could have simply been a dust particle.)
In any event, the bridge has been blocked to through-traffic for some time, and its future remains uncertain. It's definitely not needed anymore; these days, the function once served by Hell's Gate Bridge instead falls to a section of the Leon Smith Parkway immediately to the east. (The parkway is part of U.S. Highway 431, which was formed in 1930; the section of it north of I-20 was named for former mayor Leon Smith in 2005, possibly accounting for the closing date of Hell's Gate Bridge noted by the Oxford Paranormal Society.) The bridge's demolition was proposed in December of 2017, according to local Oxford news station WEAC TV 24; however, it's unclear whether the demolition has yet occurred, or whether it's even been confirmed.
You can find the bridge on Google Maps even now, though. All you have to do is search for "Hell's Gate Bridge, Oxford, Alabama." So, hey — maybe you can still stop by for a visit, even if you don't step onto the bridge itself.
If there are two lost souls trapped there for eternity, they could probably use some company.
***
Follow The Ghost In My Machine on Twitter @GhostMachine13 and on Facebook @TheGhostInMyMachine. And don't forget to check out Dangerous Games To Play In The Dark, available now from Chronicle Books!
[Photos via Bama girl Amy/YouTube; Screenshot/Google Maps]