Previously: "The Theater."
Among the many truly astounding things the Internet lets us do is travel the world without leaving the comforts of our own homes. While armchair traveling has existed for ages — atlases, globes, and plain old books have long afforded imaginative would-be adventurers the means with which to "visit" a huge variety of places, even if they'll never actually set foot on the soil there — the digital age has brought it to new heights.
That's what "Satellite Images," published to the Creepypasta Wikia by user SquidInk in 2013, gets at. Thanks to Google Maps and Street View, we can actually see what's going anywhere in the world in something close to real time — whether we're curious about people, places, or both.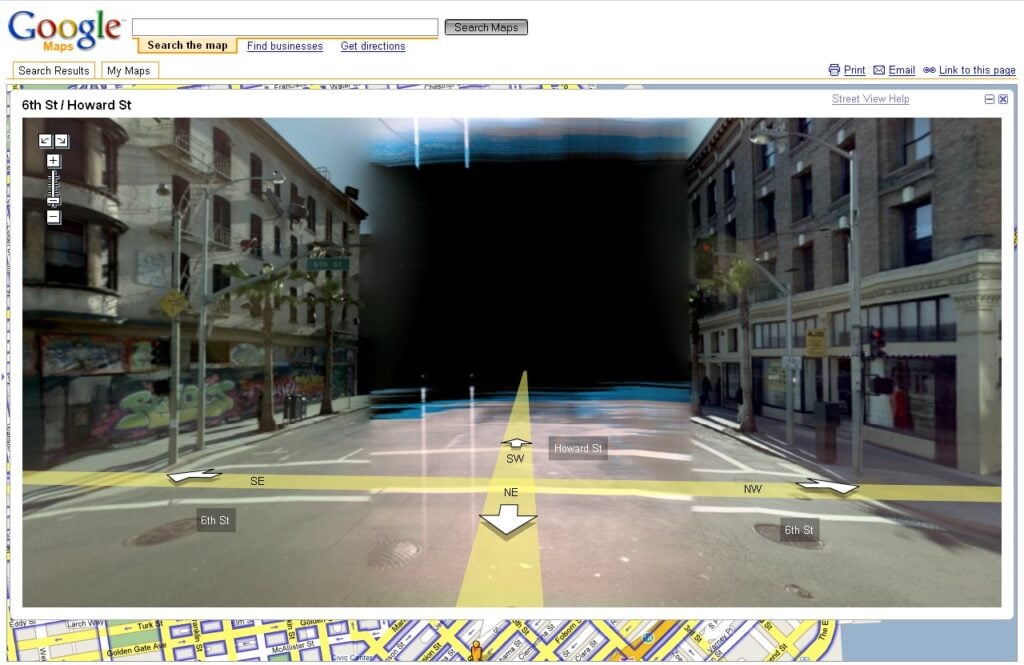 The trouble is, we don't often think about who those "people" might really be — and whether or not we should be watching them in the first place.
[Like what you read? Check out Dangerous Games To Play In The Dark, available from Chronicle Books now!]
A friend of mine showed me how to use Google Maps. I'm sure you've seen it. It lets you use satellite images to look at locations all over the world. A few years ago, I was in a car accident.
Since then, I really don't leave the house that often. It's difficult, and the idea of a seeing a car drive by me makes me feel lightheaded. I was fascinated by the fact that I could see all over the world, almost like being there. I could virtually walk down the streets, and it almost felt like I was really there.
I became instantly hooked. It gave me a real eye on the world. I could go to almost any major city, and I did. I'd seen streets in China, Japan, Germany, England… so many places. I'd even gone to tourist attractions like the Great Barrier Reef and Dracula's castle.
My favorite was to go to random places in major cities and see how many people and animals I could find. The faces of the people were always blurred to protect their privacy, but it was still enjoyable to see them out there, enjoying their life, walking like it was no big deal.
"She must have good taste," I laughed.
I zoomed in closer and noticed the grey bag she carried on a grey and purple shoulder strap. She was walking in a relaxed manner, one hand trailing the wall beside her. I bet if I could have seen her face, I would see that she was smiling. I began to feel a little sad. I let my hands fall onto the arms of my wheelchair and looked at her for a minute more. I wished that I could be there, walking so carefree with her. That wouldn't happen though, until I died. I was stuck in this chair.
I sighed and zoomed out of Tokyo. Enough of this for tonight. I turned off the computer and went to bed.
***
Follow The Ghost In My Machine on Twitter @GhostMachine13 and on Facebook @TheGhostInMyMachine. And don't forget to check out Dangerous Games To Play In The Dark, available now from Chronicle Books!
[Photo: stallio/Flickr]