Previously: "The Disappearance of Ashley, Kansas"
I'll confess that I've never been quite as enamored of "Anansi's Goatman Story" as a lot of the Internet is; it is, however, one of the more popular cryptid creepypastas, so I feel it deserves an entry here. It originated on 4chan's /x/ paranormal board, and though it could be better written, the idea of it taps rather effectively into the whole "monsters among us" trope (see also: John Carpenter's The Thing, the Twilight Zone episode "Monsters Are Due on Maple Street," Invasion of the Body Snatchers, etc.). If only the editor in me didn't want so badly to break out the red pen and go to town on it…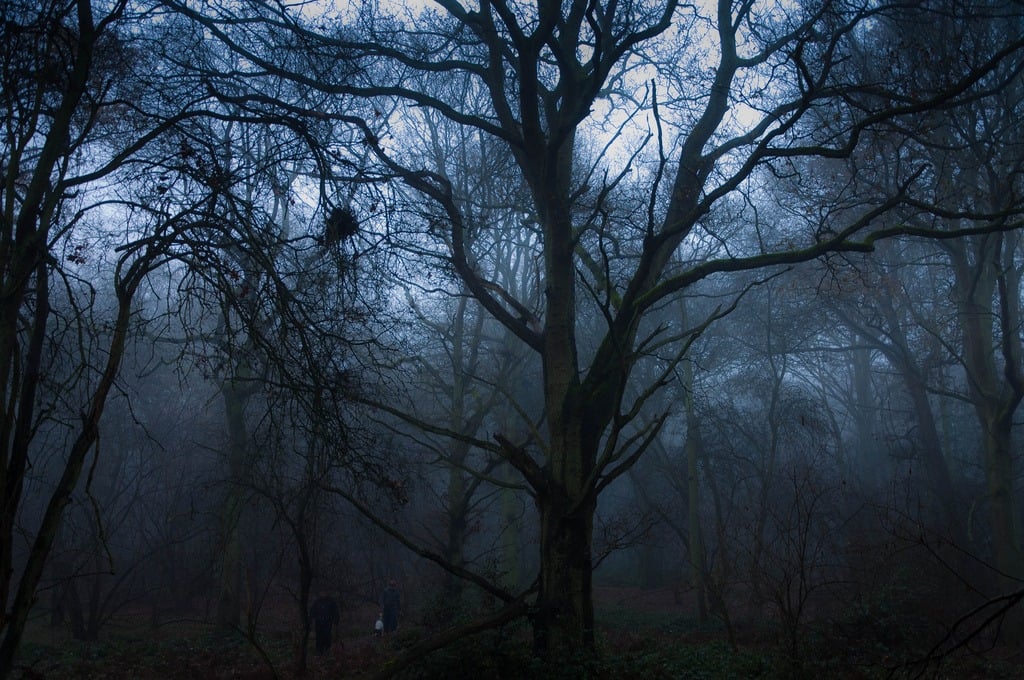 Also, for those unfamiliar with the term a cryptid is a creature or plant whose existence has been suggested, but not scientifically proven — think Bigfoot, the Loch Ness Monster, the Chupacabra, and so on.
[Like what you read? Check out Dangerous Games To Play In The Dark, available from Chronicle Books now!]
Here's my story:
>be 16
>be black and have family down in Alabama
>they farm and own a huge amount of land down in Huntsville
>uncle owns a big house and a bunch of trailers they put out in the woods for hunting or camping
>down south cousins suggest that we go out there to camp
>know I'm a city kid from Chicago so they tease the fuck out of me
>collect food, kill a pig and some chickens, and bring necessities to camp out for a few days
>we get to the camp and it's obvious something is weird
>air has this weird electric smell like right before a storm, like ozone
>we think nothing of it and unpack and go down to a little creek to swim for a few hours
>All of a sudden some older white guy and a white teenager come out of the bushes
>he has a shotgun in the crook of his arm and says hello and ask us what we're doing this far back in the woods
>tell him about my uncle, who he knows, and say we're camping out
>he tells us we need to be real careful out here and stick together there was a big animal in the woods
>His son, who is my age asks if he can stay and hang out with us
>he says OK
I'm going to stop greentexting because the story is fairly long and the format is harder to write in.
So we end up playing football. Dicking around with me, there's the white kid "Tanner", five of my cousins, and then four of their friends. In total, there were five girls and six boys. We all were around 15-17.
We ended up just dicking the day away. So, we head back to the camp and pulling out some stuff for a campfire, even though the trailers both had kitchenettes. Tanner says that his family's property sits up against my uncle's. He wants to run home and ask his dad if he can come out camping with us. My cousin Rooster says he's going to go with him since it's going to get dark soon. One of the girls also wants to tag along.
It's about 7 o'clock, and it's starting to get pretty dark. They take flashlights and take the trail toward Tan's property. The rest of us chill. We make smores, drink and kiss on the girls.
About thirty or forty minutes later, there's the smell of ozone again. You could smell it over the smell of the fire we had started. This really nasty, coppery smell like right after you've had a nosebleed and it's stopped. It wasn't exactly like dried blood, but it was that nasty metallic, back-of-your-throat smell.
***
Follow The Ghost In My Machine on Twitter @GhostMachine13 and on Facebook @TheGhostInMyMachine. And don't forget to check out Dangerous Games To Play In The Dark, available now from Chronicle Books!
[Photo via. It's also worth noting that the woods in this photograph (chosen for effect only) are incidentally in Stevenage, UK—the same town our ill-fated heroes are trying to get home to in "No Through Road."]