Previously: 19 Simple Ritual Games That Require Only Minimal Supplies.
Are you looking to improve your lot in life? Do you struggle with feeling like nothing ever goes your way? Do you long for guaranteed good fortune? If you answered yes to any of those questions, then you may be tempted to look into one — or more — of these ritual games you can play for luck.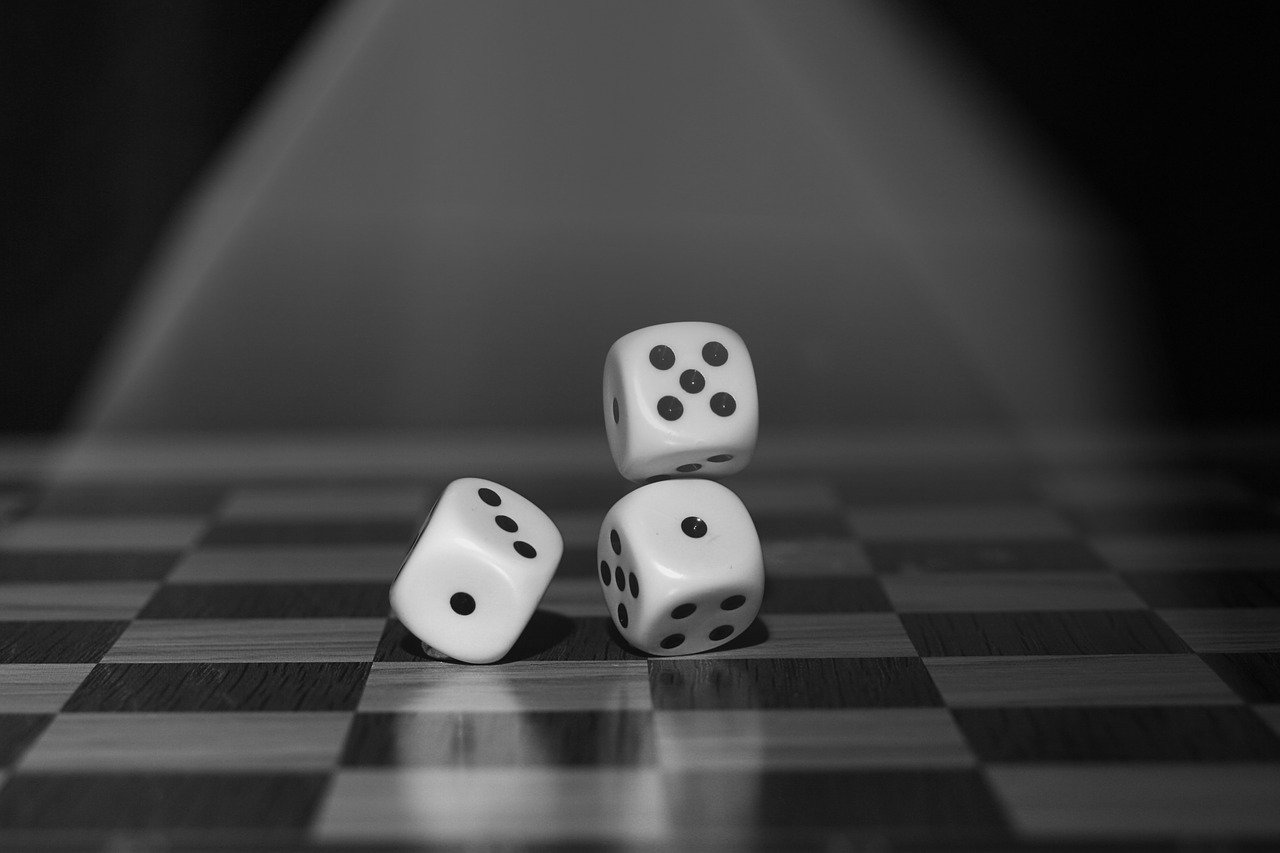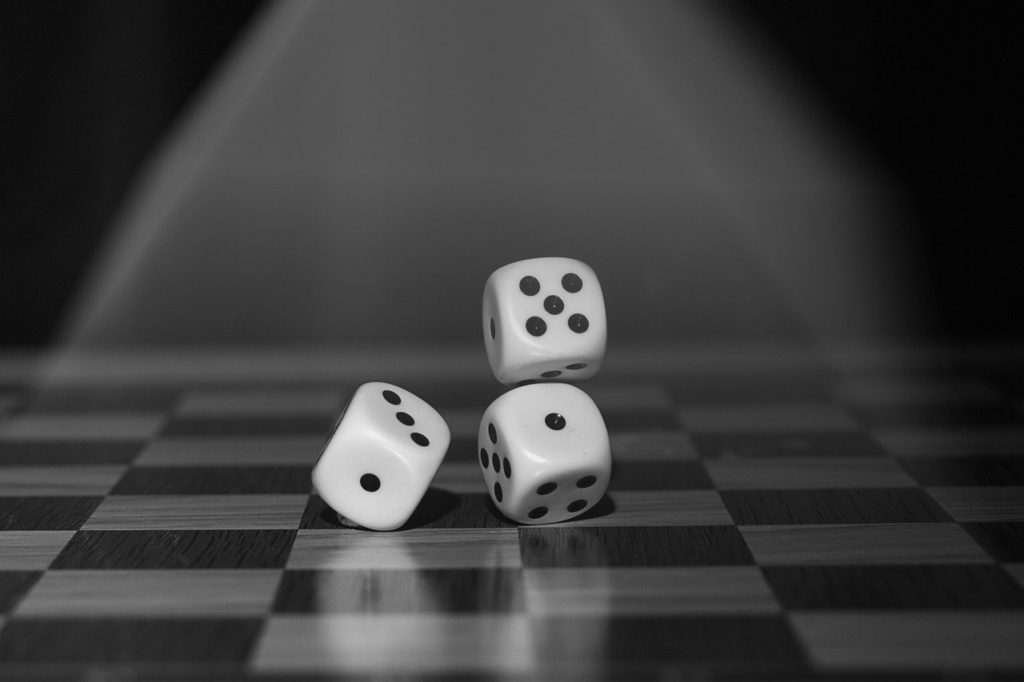 A word of advice, though: Don't. Luck is never guaranteed; sometimes, that's just the way the proverbial cookie crumbles. And besides, although the prizes of these games might be alluring, the price at which they come can be… steep.
Of course, most of these games are fiction — stories or legends to send a chill down your spine, not actually meant to be played and certainly not likely to work. At the same time, though, they open up a world of possibilities — the chance to wonder, what if?
[Like what you read? Check out Dangerous Games To Play In The Dark, available from Chronicle Books now!]
What would you do if your luck changed for the better?
What would you be willing to risk to become the master of your own fate?
And what would you do when the bill finally came due?
It's all food for thought — so, as always: Play at your own risk.
For General Luck
If all you seek is to improve your fortune in a sort of general sense, then the games in this section might interest you. They tend to be broad in scope, meaning their results are somewhat adaptable — if, that is, you win.
Winning, of course, is not guaranteed.
The Dark Reflection Ritual
When you think of ritual games played for luck, the Dark Reflection Ritual is kind of the quintessential option. Originally uploaded to the Creepypasta Wikia by user BishopStorm in 2013, it plays off of that old superstition surrounding broken mirrors and their relation to luck: Break one and you'll have seven years' bad luck and all that. Here, you're breaking the mirror on purpose and unleashing a full night of terrible luck upon yourself — but if you survive, you'll be graced with a period of good luck, a time when everything effortlessly seems to go your way.
The Dark Reflection Ritual is relatively flexible, all things considered; you can scale it based on how difficult you want it to be to play and based on how strong you want your resulting luck to be, should you win. If you want it to be a little safer to play and don't mind that the period of good luck following a successful game is on the shorter side or less intense, then play with a group — a large one. If you want to risk it all for a lengthy period of excellent fortune, however, play alone.
Just know that, the fewer players there are, the less likely you are to survive long enough to enjoy your prize.
Miss Fortune
Subtitled "A Date With Lady Luck," the Miss Fortune ritual comes to us via the r/ThreeKings subreddit from Redditor IkerRivercast — the same Redditor, it should be noted, behind rituals like One Step Ahead. It appeared online for the first time in 2017, it's somewhat more complicated than earlier games like the Dark Reflection Ritual; you'll need to follow some extremely specific instructions involving a photograph of someone you trust absolutely, chalk, candles, salt, a power object, and a whole lot of chants and invocations. However, the outcome of it remains somewhat similar to less detailed rituals: Per the original source, "If you have completed the ritual successfully, you should notice a positive change in your life; things that you noticed were difficult should become easier, and appearing friendly before others should be a breeze."
As before, however, the good fortune achieved through this ritual doesn't last forever — and this time, you'll have to perform one further action when you sense your luck is beginning to wane.
Although IkerRivercast has posted extant rituals before — namely, one that's sort of a combination of the Veronica game and the Game of the Scissors and the Book (that is, the game Veronica was allegedly playing when she met her unfortunate end) — most of the other rituals they've posted have not appeared on the internet prior to their publication of them. As such, it's likely that many of them are made up, as opposed to longstanding pieces of folklore.
Then again, longstanding pieces of folklore have to come from somewhere, right?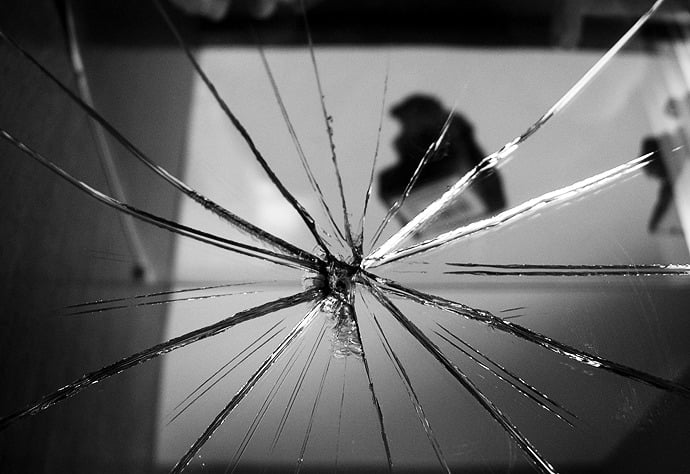 Oyayubi Sagashi
As is often the case with ritual games, there's some overlap here: Oyayubi Sagashi, or the Thumb Game, is both a game that allegedly transports you to another world, and one that can be played to improve your lot in life. Just make sure your hide-and-seek or scavenger hunt skills are up to snuff before you try it; that's what you have to do in order to win: Find a missing severed thumb in an alternate reality before time runs out.
In some sources (mainly English language ones ), Oyayubi Sagashi is noted as a wish-granting ritual, rather than one in which the prize for winning is simply general good fortune (in Japanese, sources tend to describe "a lucky event" occurring, should you find the thumb in time) — that is, while some consider it a game to play For General Luck, others might consider it a game that falls under the category of Wagering For Luck. It seems it can be played both ways, so do with that what you will.
Salt Magic
Okay, yes, so technically the Salt Magic Ritual, or Shiomajinai, is a game about wishes — but the way in which your wish must be formatted lands it squarely in the category of games played for luck: In order to play, you must format your wish — that is, what you want to get out of the game — as a statement about what you don't have. So, if you're looking to improve your luck, generally speaking, you'd format your Salt Magic Ritual wish as something like, "I don't have much luck."
Interestingly, though, you could also adjust how you play such that this game might fit in the next category — games to play For Specific Kinds Of Luck — as well: Try wishing for something like, "I don't have much luck in love" or "I don't have much luck at work" and see where that gets you.
This one is Japanese and dates back to roughly 2007, so it's been around for a while. Remember, too, though, that "majinai" doesn't just translate as "magic" — according to some translations, it's not too far from "noroi," or curse. Tread carefully.
For Specific Kinds Of Luck
Looking for a particular kind of luck? Wishing you had better fortune in a specific area of your life? This section is for you. The three games explored here cover luck in love, in gambles, and in the future.
It's been asked by readers before, by the way, what might happen if you play the second game in this section, then play another ritual game — either one included on this list, or one of the myriad others out there — and to be perfectly honest, it's not totally clear what the answer might be. In some cases, it might be simply a way to protect yourself. In others, however, it might be considered cheating — and cheating in these Most Dangerous of Games is typically not tolerated.
Be careful.
The Maiden's Gamble
Hoping to find luck and good fortune in your relationship? You might think about teaming up with your significant other and attempting the Maiden's Gamble together. Of course, that's assuming it's real; embedded within an r/NoSleep story written by Redditor GuyAwks in 2016, it likely isn't. Still, though — there's nothing stopping you from trying… except maybe the risks involved.
This game, you see, is about trust. One player must go and hide themselves away in a sort of pocket dimension for 24 hours while the other player attempts to avoid temptation—with the trick being that the "temptation" is presented in the form of an exact replica of Player One, except better in every way. If Player Two rejects that temptation and returns to release Player One at the appointed time, your relationship will be smooth sailing from here on out. But if Player Two succumbs to that temptation, then they'll get to live with their partner's double-but-better for the rest of their lives… while Player One remains stuck in the pocket dimension.
There are stories about what happens if Player Two fails the test. And they're not pretty.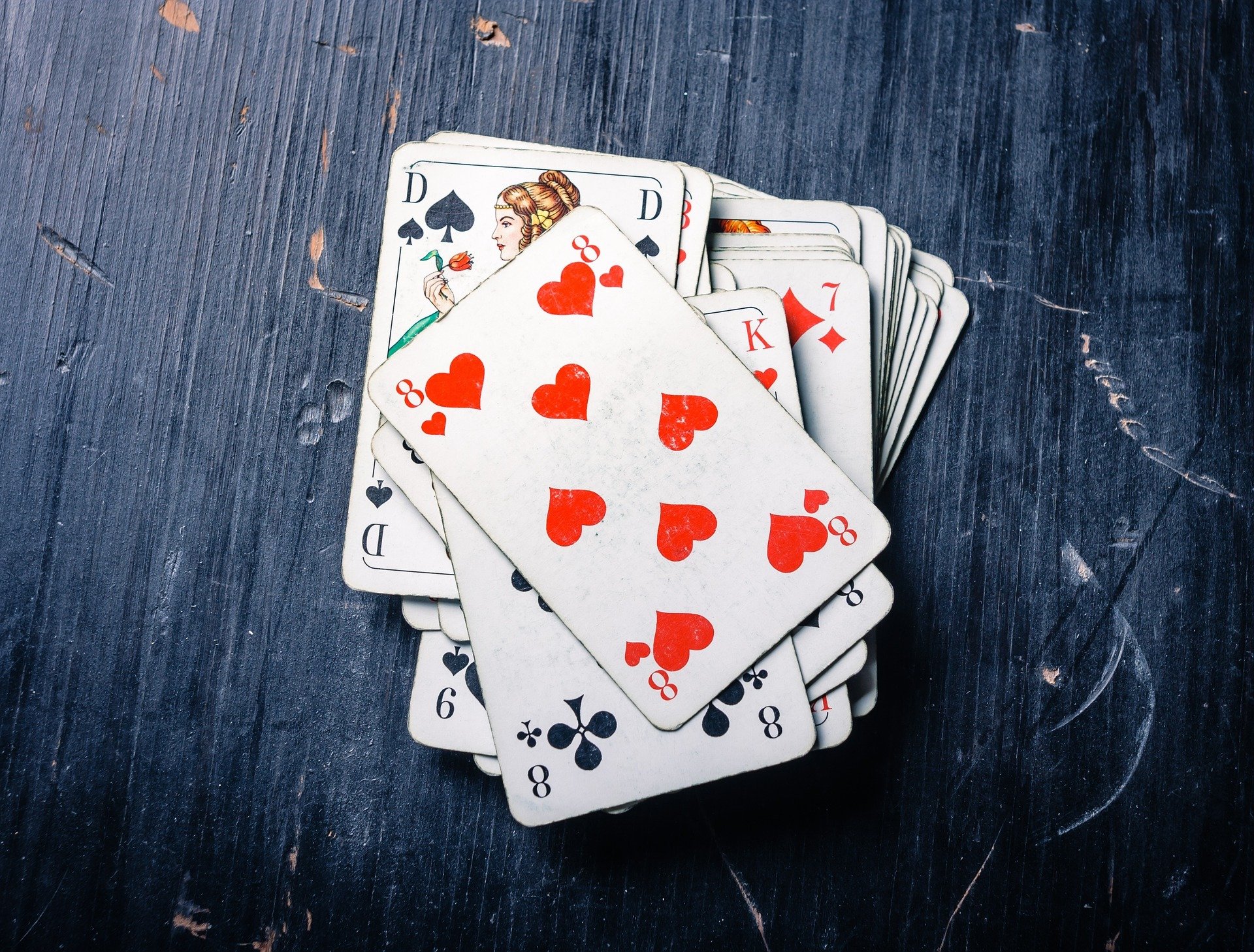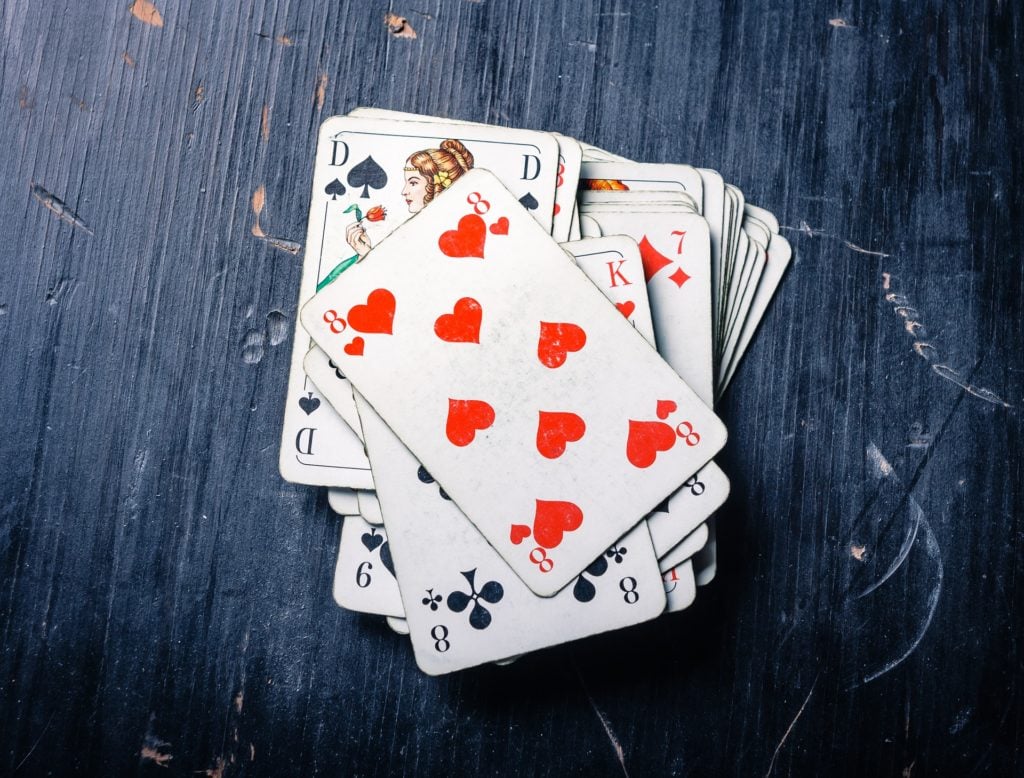 The Gambler's Game
Are you a betting person? Or someone who wishes they were a betting person? Or someone who wishes they were a betting person who knows the odds are usually in your favor? You can always try challenging the Gambler to his Game. Uploaded to the Creepypasta Wikia by user and head admin ClericofMadness in 2010, it's a game within a game — that is, it's a game that allows you to choose the game you actually challenge your supernatural foe to play. There's a strong preference for Blackjack, but any game will do.
If you win, you'll be granted with the power to win any gamble. There doesn't seem to be a limit as to how long this power lasts — but readers are cautioned to use it wisely and sparingly, so the implication is that abusing the power could have dire consequences for you.
If you lose… well, the original source implies strongly that the cost for losing is your hands. Literally.
Now, ask yourself: Does it seem worth it?
The Mailbox Game
To guarantee yourself the best future possible, find yourself a mailbox — just an ordinary mailbox — and get ready to send some mail. If you play the Mailbox Game correctly, you'll receive in return for your efforts a letter that tells you what to expect of your life in the future. It will be the most epically good fortune you can imagine — and, it's said, this fortune will always be true.
Then again, you… may want to steer clear of this game.
You see, according to the story in which it originally appeared, which was published at the Creepypasta Wikia by user HoodQuest in 2017, the Mailbox Game actually isn't a game that's meant to bring you luck or good fortune.
That's just what it's disguised as.
In reality, it's quite possibly more of a curse.
Don't say I didn't warn you.
Luck With A Price
To be fair, there's always a price — for luck, for good fortune, and for anything else you might win playing one of these dangerous games. The games in this section just have… more of a price than some of the others. A steeper one. In some cases, the steepest price possible.
Think carefully before you begin. Are you willing to risk it all — and then some?
A Small Radio
In some ways, A Small Radio, which was uploaded to the Creepypasta Wikia in 2013 by user MacaroniArtZombeh, is sort of like the Dark Reflection Ritual in reverse: Whereas Dark Reflection starts with you attempting to outrun bad luck in exchange for subsequent good luck, A Small Radio sees you first achieving good luck by following the ritual's extremely specific rules (for instance, this ritual must be played on Halloween; it can't be played at any other time) — and then running, and staying on the run, once your luck runs out.
It doesn't say how long you'll have to run… but the implication, I think, is for the rest of your life.
This is what I mean when I say that A Small Radio is a ritual for Luck With A Price: You'll only enjoy your luck for so long — but you'll be paying the price for it for, well… ever, basically.
Sounds fun, doesn't it?
Dragon's Luck
Dating back to 2014, when it was published to the Creepypasta Wikia by Chelsea.adams.524 — a prolific creepypasta writer whose other work includes the chilling "Happy Sun Daycare" — Dragon's Luck is a particular kind of ritual, and one that's quite rare: It's as selfless as it gets. You don't play it to bring luck to yourself; you play it to bring luck to someone else, and at great cost to yourself.
You have to be willing to sacrifice years off your own life in order to benefit someone else, with no strings attached.
The lack of strings is exceedingly important. This ritual should not be undertaken if your ultimate goal is to get something out of it for yourself. You cannot make it your aim to benefit someone else so that they may benefit you later on. That's not how it works — and if you play it that way, it's going to come back to bite you in ways you… really don't want to be bitten.
If you're true of heart, though, all you need to play this one is a glass of milk, an offering, a candle and something to light it with, a sharp object, and two space: A quiet room, and a room in which to sleep.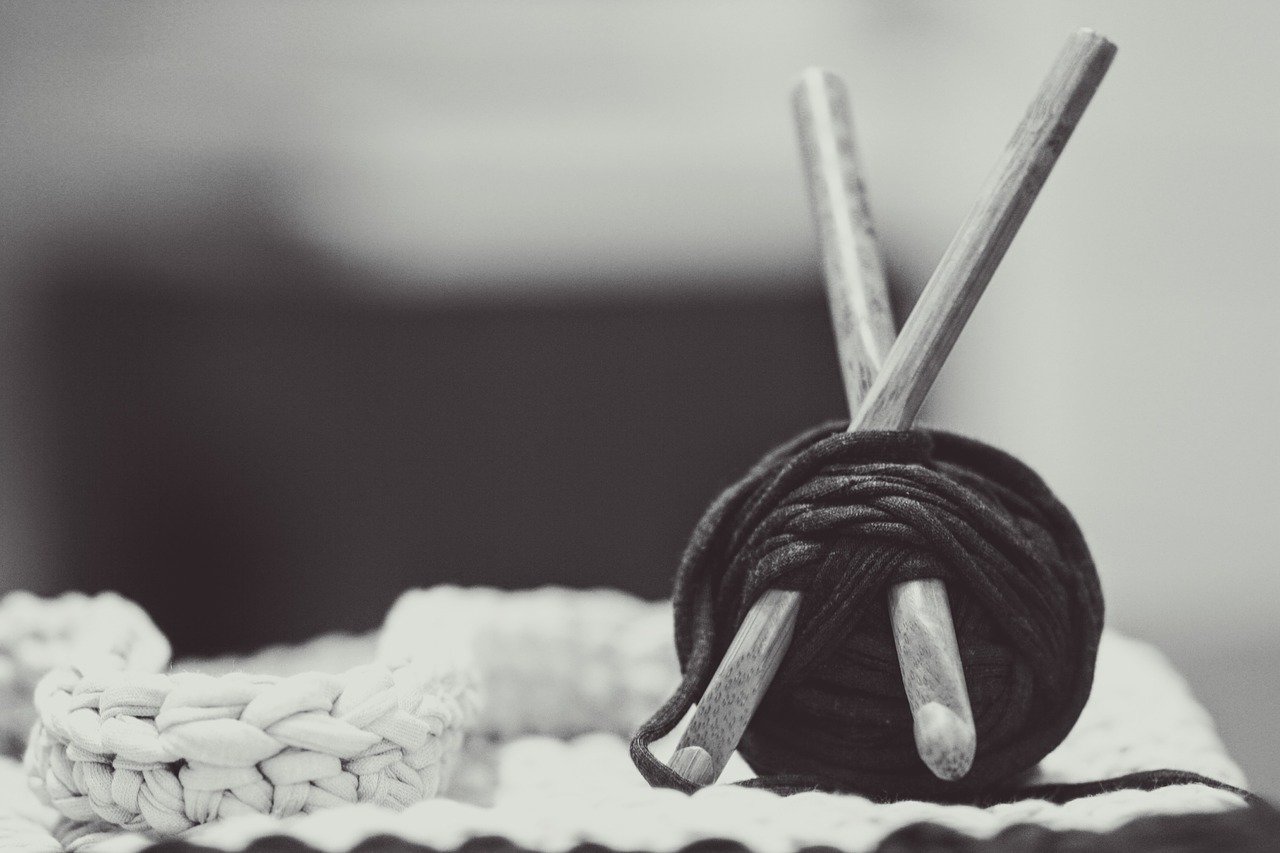 Luck Not Guaranteed
In some games, luck isn't a guaranteed prize, but rather, one possible prize you might win. As such, you probably wouldn't want to play the games in this section if the only prize you seek is luck — but if you're willing to be a little flexible, they might suit you just fine.
Knit Yourself Away
Do you knit? I do, a little; my projects tend to be few and far between, and the most complicated thing I've made is a pair of gloves (that is, not that complicated, all things considered), but from time to time — if I feel like having a new scarf or hat or something — I pick out some good-quality yarn, grab my needles, and get working.
Luckily, fairly basic skills like mine are all that are required for the r/ThreeKings ritual Knit Yourself Away. (Alas, I can't tell you who originally posted this one — they've deleted their account, and none of the methods I use to access archival material have preserved the name — but I can tell you that they seem to have made it up themself, and that they unleashed it onto the internet in 2019.) The ritual seems to seek the favor of the three Fates, Clotho, Lachesis, and Atropos, although it's perhaps worth noting that there's a slight difference: Whereas Lachesis typically measures out the length of the threads of each human's life — Clotho having spun the threads and Atropos poised to cut them when their time has come to an end — here, she's positioned as weaving cloth from Clotho's threads. Atropos, accordingly, cuts the cloth, not the threads.
Still, though: If you knit well, and if the entities you're reaching out to like your offering, then you may find yourself in one or more of several circumstances, including facing an increase of luck. (Other options include coming into some money, waking up to find your knitting finished for you, or suddenly developing masterful knitting skills yourself.)
But luck isn't guaranteed; should you succeed, it's just one possible outcome. And don't forget, too, that success isn't guaranteed, either — in which case you may find yourself on the receiving end of bad luck instead.
Taikatalvi
The Finnish folk ritual called Taikatalvi is a big change from many of the other ritual games we've looked at here at TGIMM in that it's actually quite soothing. Think of the metaphorical magic of the first snow of winter, make that magic literal, and you'll have a pretty good idea what I mean.
It is, however, also one of the more difficult ones to pull off: It requires a lot of supplies that may not be easily acquired, and you have to venture out into a very specific outdoor environment to play. If you do manage to do it successfully, though, you might, as one of your possible outcomes, find yourself in possession of six silver coins to be divided amongst all the players. If you have received these coins, and you maintain a hold of them always, luck will favor you when you need it the most. Don't allow them to leave your possession, though; if you do, you'll be dogged by bad luck instead.
But, as noted, that's just one of several possible outcomes. So, play this game knowing that you might end up with good luck at the end of it — but don't play it expressly to gain good luck. You might be disappointed if you do.
Best Of Luck
The writing on this 2014 Creepypasta Wikia submission is mediocre, but the ritual game titled Best Of Luck is interesting in that it lets you choose your outcome: After setting up several mirrors and performing a few other choice actions — which, yes, involve a thread (because what's a game about fate without some thread?) — you must decide what your own fate will be. You can choose to have excellent luck for one week followed by a lifetime of bad luck; you can choose to undergo a challenge like that detailed in the Dark Reflection Ritual, which, if you survive, will bestow upon you good fortune for the rest of your life; or, you can choose never to be affected by luck, good or bad, as long as you keep hold of an object gifted to you during the ritual.
This is what I mean by filing this one under Luck Not Guaranteed: First, there's the choice. And second, there are… a lot of variables at play here.
Be careful what you wish for.
Halloween Luck Ritual
An old folk ritual meant to be played on All Hallow's Eve, this one doesn't really have a name; it also doesn't necessarily grant you luck. Rather, it reveals to you what your luck will be in the coming year, implying that your fortune is somewhat fixed, rather than mutable.
Playing this one is as simple as playing Pin The Tail On The Donkey: Just set up three dishes — one with clean water, one with soap water, and one left completely empty — on a table, tie a scarf or something around your eyes, spin yourself around, and then find your way to the table and dunk your fingers into one of the dishes. If you hit the dish with clean water, you'll have good luck in the year to come; if you hit the dish with soapy water, your luck will be so-so; and if you hit the empty one, you'll have no luck at all.
Sorry about that, but I don't make the rules.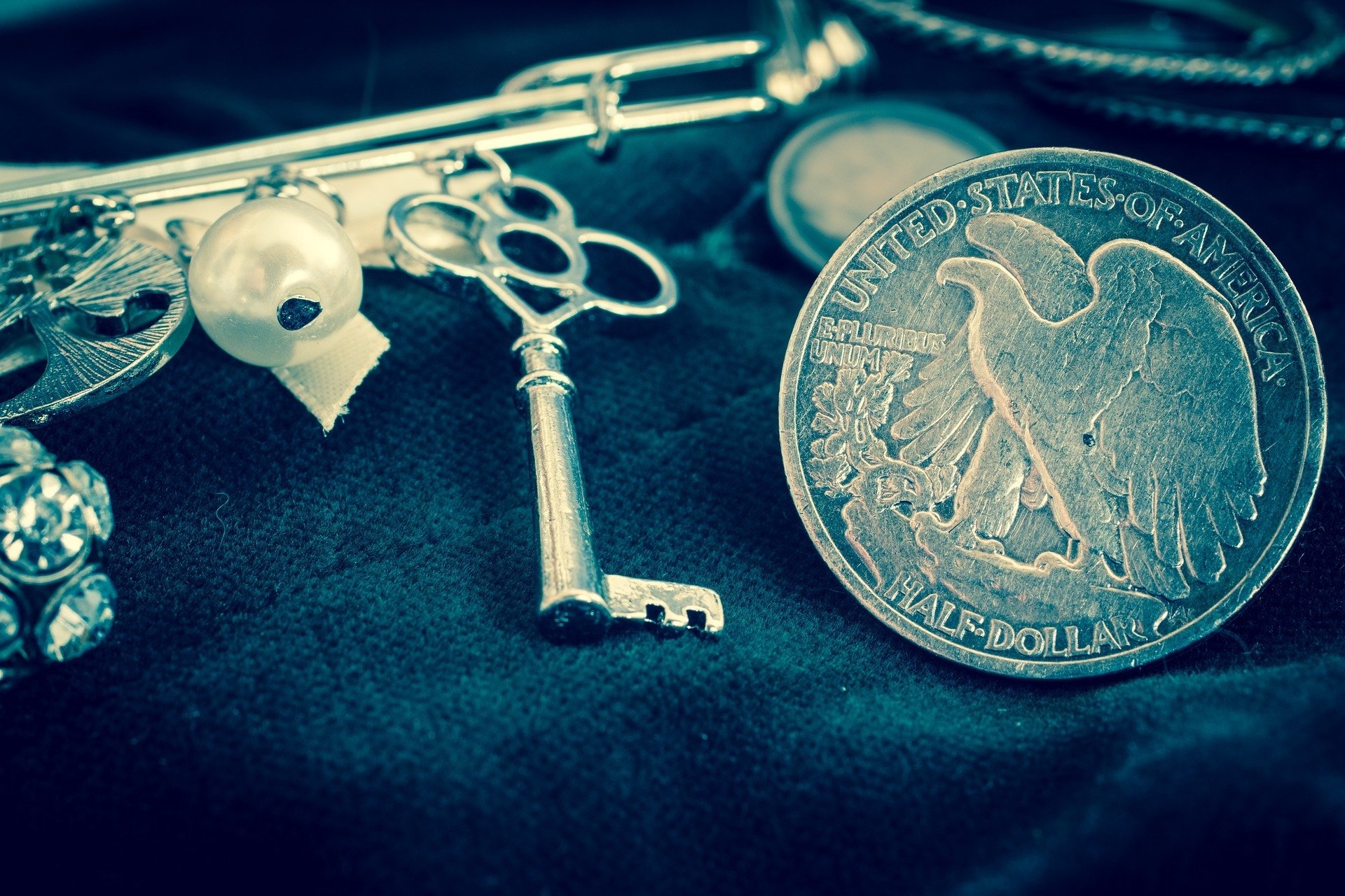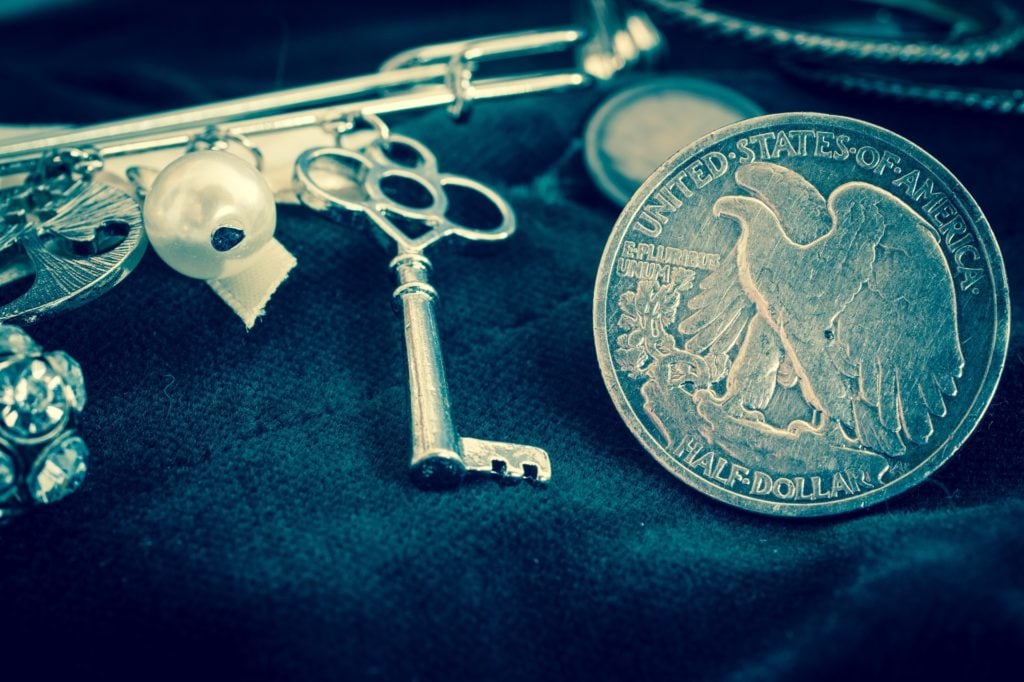 Wagering For Luck
Lastly, we have these: Games in which you wager for luck. These games aren't expressly geared towards providing their winners with the prize of luck; generally, players of them get to name their own prizes. But, should luck or good fortune be what you'd like to win, you can play these games to win it, so long as you remember to name it as your prize at the appropriate moment.
You do, however, have to name it in the context of a wager — that is, you're not just wishing for luck; you're betting for it. And if you lose that bet… well, luck won't be what you're receiving.
Ritual Of The Gambler
Not to be confused with the Gambler's Game, the Ritual of the Gambler, which arrived on the Creepypasta Wikia courtesy of user Steven XXXBXXX Hawin in 2018, lets you name your wager: Before you begin, you're to write what you're playing for down on a piece of paper. If you'd like your prize to be luck-related, then that's what you'll write down. Whether it's general luck or a particular kind of luck is up to you; be as specific as you can.
Then, you engage in a time-honored tradition: You flip a coin. If it lands on heads, you'll get your wish — in this case, whatever luck you wagered for. But if it lands on tails, then you'll receive the opposite of your wager — that is, you'll suffer bad luck of whatever variety you specified in your wish.
There's more, though. In this particular gambling ritual — which I imagine is made-up, but hey, you never know — you'll also eventually be caught by the Gambler and forced to join his collection, until another player later on makes the kind of wish that might set you free.
Also, whether this Gambler is the same Gambler as in the Gambler's Game remains… unknown.
Halloween Mirror Ritual
Perhaps "wager" isn't quite the right word to describe how luck or good fortune may be won as a prize in the Halloween Mirror Ritual; it's more something you can ask for, as long as you play successfully up to the point where you're given the opportunity to ask in the first place. This opportunity doesn't come until the very end of the game, though, so know that you'll be fighting an uphill battle to get there.
Although I suspect that this ritual is a fictional one, it is worth noting, as I did back when I first covered it in 2018, that it seems to play off of longstanding superstitions and folk traditions. I've repeated it several times now, but once upon time, particularly in Appalachia, it was thought that if you walked up the stairs backwards at night on Halloween, looking into a mirror as you went, you'd spot either the image of the person you were destined to marry reflected back at you, or a skull, signifying that you'd die before getting the chance to marry anyone. Here, a mirror is broken, then used as your main source of sight as you attempt to navigate your way around a space. If you succeed — and if an offering you've made is accepted — you can request good luck as your reward.
There are a lot of do's and don'ts, though. This one is not for the faint of heart.
The Dice Game
Like the Gambler's Game, the 2016 r/NoSleep entry known as the Dice Game allows you a certain amount of choice: A board game is required to play, and you get to choose which board game is used. But know, too, that this board game is not the game you will be playing. Your opponent just… likes a certain backdrop, it seems.
In any event, the Dice Game allows you to pick your wager, as well—so, if luck is on your mind, luck can be your wish. Know, too, though, that should you lose, your opponent's wager is the exact opposite—so if you wish for luck, and you lose, your opponent will make sure you're extraordinarily unlucky for the rest of your days.
Is that something you're willing to gamble on?
Lights Out
To be fair, Lights Out — an r/ThreeKings submission from 2017 — isn't a ritual game you can actually play. Not really. The instructions specifically omit the incantation required to kick the whole thing off; the idea is that you have to hunt it down yourself if you really want to play it — but, stepping outside the reality of the story for a moment, what it really means is that it doesn't exist, because the game is made-up.
It's still a fun read, though, so let's suspend our disbelief for a moment, shall we?
The object of the game is to make your way through an empty building, either turning all the lights in it to the on position or off position, depending on whether you decide to make yourself Player One or Player Two at the start. If you succeed, you'll be granted a wish or desire—which you can make for good fortune or luck, if you like. Interestingly, though, you're not just handed your wish on a silver platter, proverbial or otherwise; rather, winning the game sort of stacks the odds in your favor: You're meant to be on the lookout for opportunities in your life moving forwards which, if seized and utilized, will make your wish or desire a reality.
So, in that sense, Lights Out doesn't just allow you to wish or wager for luck; it actually does improve your luck on its own, in a manner of speaking — in service of whatever your wish might have been.
How meta, no?
So:
There you have it — 17 ways to harness luck.
But know this:
You'll have to be lucky already to pull them off.
Is it worth it to you?
Think hard, now.
Because once you begin — there's no backing out.
***
Follow on Twitter @GhostMachine13 and on Facebook @TheGhostInMyMachine. And for more games, don't forget to check out Dangerous Games To Play In The Dark, available now from Chronicle Books!
[Photos via 955169, schuetz-mediendesign, Pexels, A_Different_Perspective/Pixabay; ryanmcgilchrist/Flickr, available under a CC BY-SA 2.0 Creative Commons license]