Previously: The Binoculars Game.
Note: Please don't copy/paste or republish the text of this post on other websites without permission.
There's a story that goes along with the Veronica Game, or Nueve Veces Veronica (Nine Times Veronica), as it's known in Spanish. The story states that the titular Veronica was a teenage girl who played a supernatural game without treating it with the proper amount of respect — and that she died horribly as a result. After losing her life, she became Bloody Mary-like, appearing in mirrors to those who summon her… and those who, like she once did herself, disrespect the supernatural.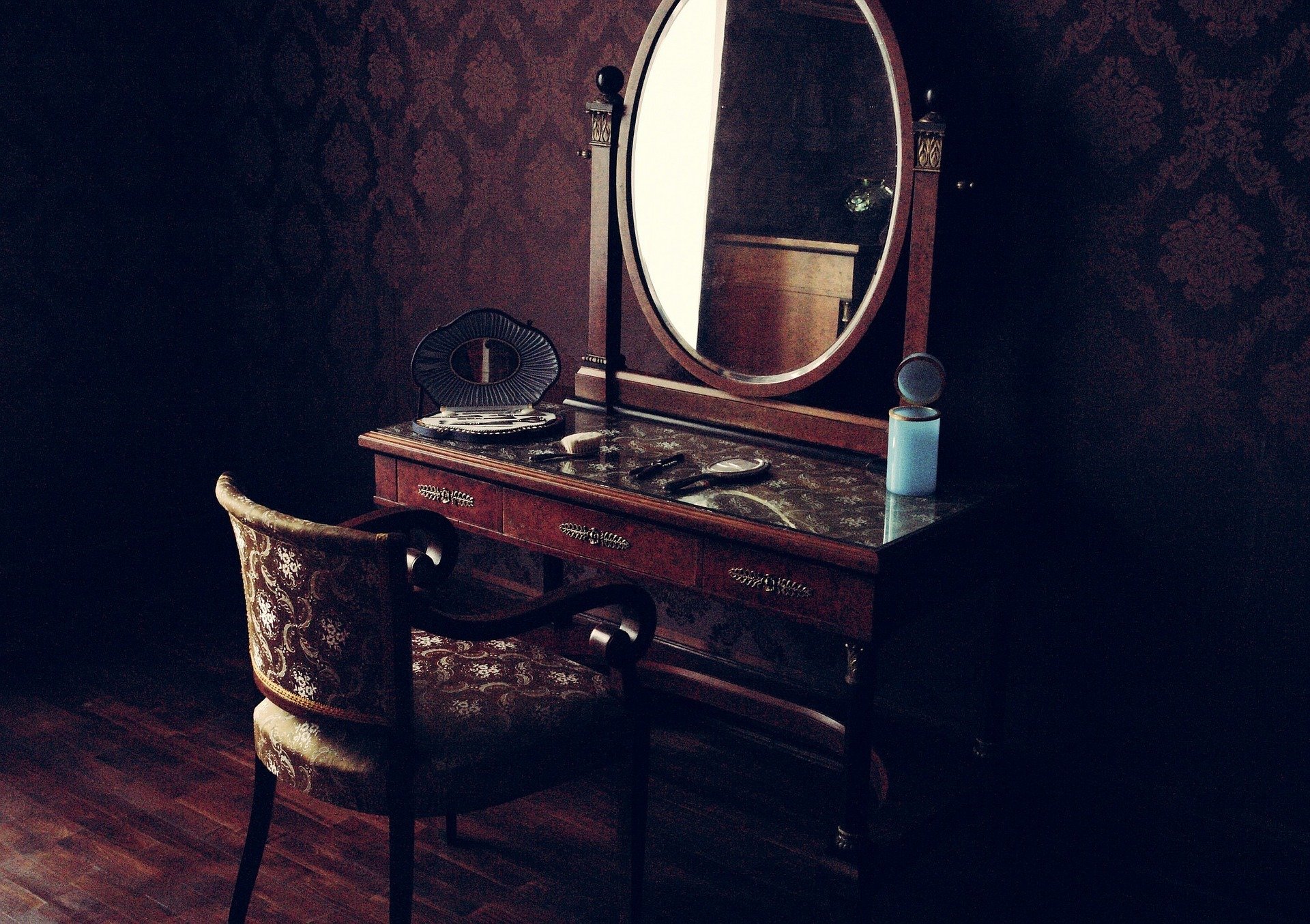 Although Mexico is sometimes cited as the Veronica urban legend's country of origin, my research suggests it's more likely to have originated in Spain, possibly in or around Madrid. Either way, though, it has apparently been around for a significant amount of time: One of the oldest mentions of it I've found online is in a newsgroup post that dates back to 1997, meaning the story has circulated for at least 20 years.
[Like what you read? Check out Dangerous Games To Play In The Dark, available from Chronicle Books now!]
That newsgroup post mentions several children recounting a story they referred to as "Veronica, the one of the Ouija": According to the children, Veronica had been "driven mad by spirits" while playing a Ouija-like game with a pair of scissors and subsequently "[buried] the scissors down her own throat." They went on to caution that Veronica will appear and kill you with her scissors if you play a paranormal game without taking it seriously — but also noted that you could simply summon her by standing before a mirror at a specific time and chanting her name.
Given the date of this post, I'm curious whether the Veronica legend might be connected to the Vallecas case, which occurred in 1990. It's possible it might have been inspired by that real-life incident — which, by the way, did inspire the 2017 Spanish film Veronica.
There is another game that has periodically been referred to as a version of the Veronica Game (here, for example, and here). This game involves the use of a book, a pair of scissors, and sometimes a red ribbon or thread; it is played in order to gain knowledge to which you might not otherwise have access.
That game is not the Veronica Game.
That is the game Veronica was allegedly playing when she met her untimely end.
Perhaps will explore this other game at some point in the future, but for now, let us focus on Veronica and her game.
As always, play at your own risk.
Players:
Requirements:
1 mirror.
A clock, watch, or other timekeeping device.
A quiet room.
A candle and matches or a lighter (optional, but recommended).
A sense of respect.
Instructions:
The Prelude:
Begin shortly before midnight.
Set up the mirror in the quiet room, if it is not already there. You may position it however you like (hanging on the wall, propped up on a tabletop, etc.); the only requirement is that it be upright and at a height at which you may comfortably look into it and see your own reflection gazing back at you.
If using, position the candle in front of the mirror. Alternately, you may hold the candle in your hands. Wherever you position it, it should be capable of illuminating your face when lit. (Do not light it yet.)
Close the door to the room. See that you aren't disturbed.
Turn off the lights.
Keep an eye on the clock.
At precisely midnight, proceed.
The Summoning:
If using the candle, light it.
Sit or stand before the mirror.
Look at yourself in the mirror.
Speak her name: Veronica.
Repeat it: Veronica.
Speak her name a total of nine times: Veronica.
Wait.
Look.
Wait.
If using the candle, extinguish it.
Turn on the lights.
Open the door.
Leave the room.
In The Days To Come:
Tread carefully. Be vigilant.
Whenever you are alone, listen carefully. If you hear any noises for which you cannot identify the source, vacate the premises immediately and seek out the company of other people.
Whenever you are in the dark, pay close attention. If you sense any movement for which you cannot identify the source, turn on the lights immediately. It is recommended that you also vacate the premises and seek out the company of other people. Keep a light on and nearby until you are able to do so.
Whenever you are near a mirror, stay alert. If you feel the temperature drop or notice the mirror fog up, vacate the premises immediately and seek out the company of other people.
There is no undoing this ritual once it has been performed.
She will be with you from now on.
Always.
Additional Notes:
Bystanders may be present in the room while the principal performs the ritual; however, they may not speak, make noise, or otherwise interfere in the proceedings. They may observe only.
Some variations of the game require the use of a more specific name repeated a different number of times. If the ritual achieves no results with the method described above, you may try again using the name "Veronica Jaja" instead of simply "Veronica," repeating it only three times instead of nine. Note, however, that your results may differ from those previously described, should you choose to employ this alternate method; the risks may be greater, your safety even more at risk.
Do NOT laugh, make jokes, or make light of the proceedings at ANY POINT during the course of the game.
Concerning "In The Days To Come":
If you're near a mirror and you notice it fog up, you might try something besides vacating the premises… if you're brave, that is.
You might try clearing the mirror's surface.
If you do so, you might then try looking into the mirror after it has been cleaned.
You might see some words — a message that has been scrawled across the mirror's surface: "I am Veronica." You will be unable to erase these words; it will be as if they had been written on the other side of the mirror, untouchable from your side of the surface.
But if you instead see a girl reflected in the mirror — a girl who isn't you, who stands there smiling at you, who grips a pair of sharp, sharp scissors in her hands — treat her with respect.
Do not antagonize her.
If you do, you'll find out exactly what she uses those scissors for.
***
Please don't copy or republish this post on other sites. Linking to it or sharing the URL is fine (and encouraged!), as is writing your own unique version of the game, but copying/pasting, republishing, or otherwise reproducing the text of this piece in its entirety or near-entirety on other websites without permission isn't.
***
Follow The Ghost In My Machine on Twitter @GhostMachine13 and on Facebook @TheGhostInMyMachine. And don't forget to check out Dangerous Games To Play In The Dark, available now from Chronicle Books!
[Photo via Sbringser/Pixabay]