Previously: Frequently Asked Questions, Vol. XIII.
It's been a hot second since our last FAQ, and we've had quite the influx of questions since the last one, so hey, guess what? It's time for volume 14 of our Most Dangerous Games Frequently Asked Questions series. As always, questions are drawn from the comments left on each individual game's page; if you have a question of your own about a particular game that hasn't been covered either by this volume or the Master FAQ, feel free to leave it as a comment on that game's page to put it in the running for inclusion in the next volume.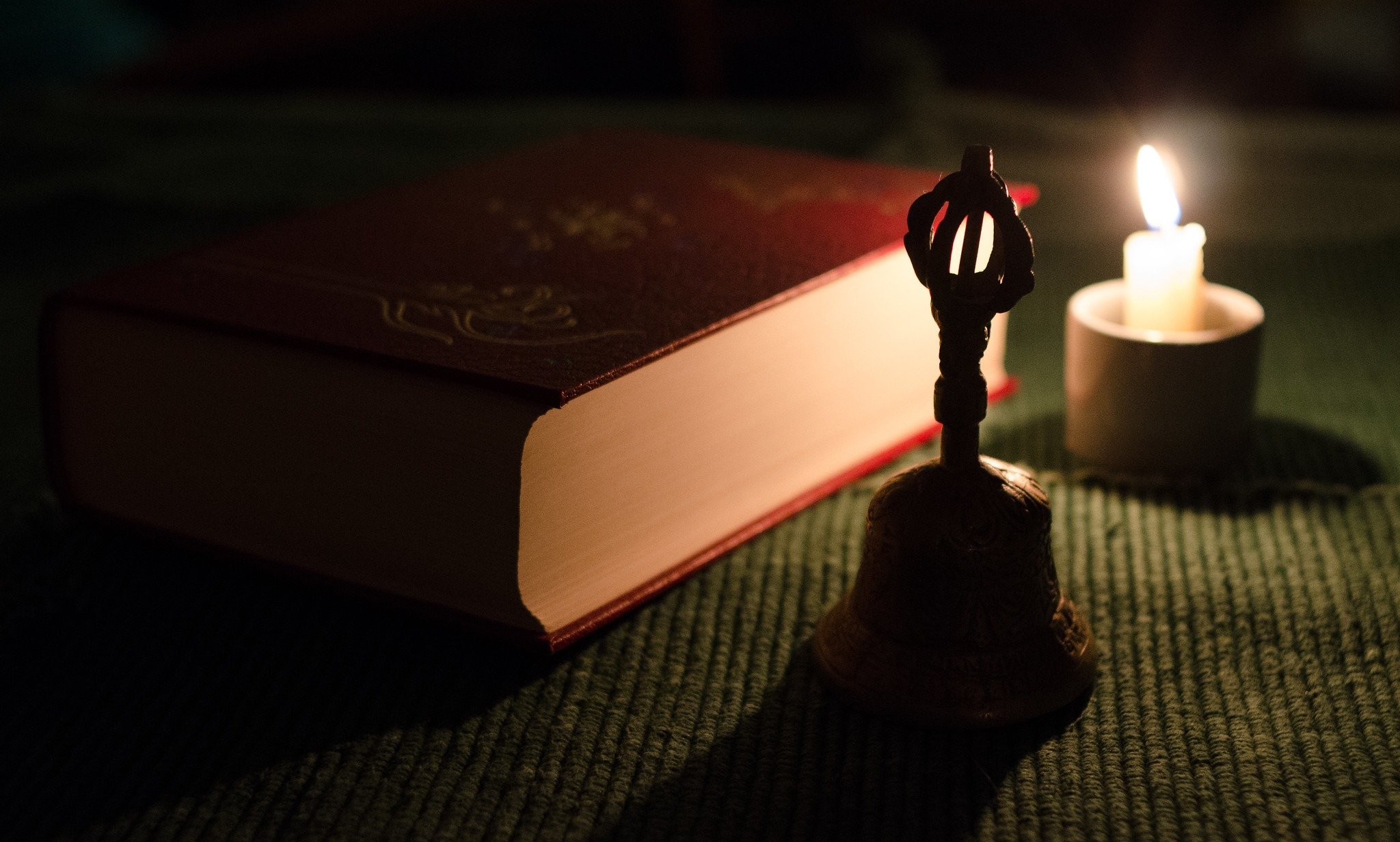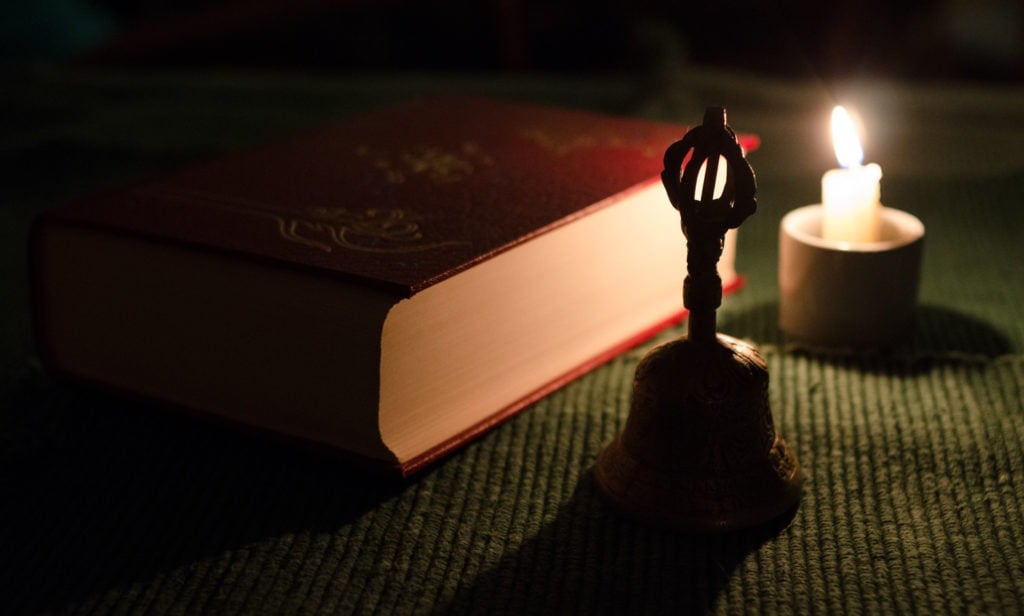 If you've only recently joined us here at TGIMM, note that I don't answer every question that gets posted. If the answer is obvious, or if it's already addressed in the rules of the game or Additional Notes section, then there's no need for an additional answer; also, I stopped answering questions along the lines of "What happens if I do [thing that is expressly against the rules of the game]" or "What exactly happens when [the Midnight Man catches you/you fail the ritual/a bad end is achieved]" some time ago, because A) the rules exist for a reason — if you're going to break them, then obviously nothing good is going to happen; and B) if the result of a bad end are vague, it's intentional from a writing perspective (when it comes to the horror genre, I am a firm believer in the power of the imagination; what we don't see is usually much scarier than what we do see).
[Like what you read? Check out Dangerous Games To Play In The Dark, available from Chronicle Books now!]  
Anyway, on with the show! As always, I'll add these answers to the Master FAQ as soon as I can.
Is the alarm really the ONLY safeguard? Can someone in the real world wake you up?
As specified by the rules, yes, the alarm clock is your only safeguard. You could try instructing someone in the real world to wake you up at the appropriate time (similarly to how The Three Kings works) — but people aren't always reliable. If you attempt to play with no alarm clock, choose whoever you ask to wake you up wisely — and make sure they know what to do if they're unable to wake you.
If I don't ascend the stairs in time (over 12 hours), does that mean I can't wake up forever? There is no way out?
Something like that, yes.
Can we use a mobile phone as the alarm?
Yep. Just make sure there's no danger of it running out of battery power while you're playing. You might want to leave it plugged in while you play.
Is there any chance that something that will try to kill you during this ritual?
There aren't any monsters or entities that will actively hunt you while playing, as far as I'm aware — but as in the Doors To Your Mind, your mind is not always your friend. Tread carefully; there are other ways for the darker areas of your mind to trap you or ensnare you. Make sure you ascend the staircase before the 12 hours are up.
Can you ask the Spirit of the Door for wishes or desires?
You can try, but be prepared for the possibility that you may not get them. The Spirit of the Door is more of an informational or knowledge-gathering entity, rather than a wish-granting one. You're not summoning a genie, after all.
Can you sell your soul to the devil?
Why on earth would you do that?
What happens if the spirit tries to open the door during the game?
I… suggest you run. Fast.
What do you mean by "abstain from alcohol or other substances for 24 hours?" Would one need to fast from food and water for 24 hours, or just other intoxicating agents?
No need to fast or avoiding eating or drinking; just avoid recreational substances — drugs, alcohol, etc. I'd also be careful about taking prescription or over-the-counter medicine prior to playing, though, so if you have medication you need to take regularly to maintain your own physical or mental health, you may want to skip this game. Don't stop taking your medication just to play it.
How will you know if your question was unacceptable?
You'll know. Typically, the questions that will be asked of you will have clear, correct answers — either factually correct or truthfully so. Know your facts, and don't lie.
What is the significance of the number four (or 44, or 444) in this ritual?
Unknown, precisely, but for what it's worth, the number four factors prominently in the tenants of many major religions, including Buddhism, Judaism, Christianity, Islam, and Taosim. Additionally, many natural phenomena occur in sets of four (the seasons, the classical elements, etc.). Meanwhile, the number 444 is a Harshad number — that is, it's a base 10 integer that's divisible by the sum of its digits (4 plus 4 plus 4 is 12; 444 divided by 12 is 37).
If the spirit starts hunting you when the candle goes out and you don't light it in time, could you put a circle of salt around yourself as well for extra protection?
Well, bear in mind that the creature could begin hunting you in two different situations — either in the waking world, or in the dream world. In the waking world, it's possible that a salt circle might protect you; however, it's also possible that it might not. Better to keep moving and prevent your correspondent/opponent from finding you at all than risk them finding you and finding your potential safeguard to be ineffectual.
In the dream world — in the library-labyrinth — you may not even be able to lay down a salt circle in the first place; it depends on whether your dream self has thought to bring some salt along for the ride. What's more, there's no guarantee that the same kinds of safeguards that work in the waking world, like salt circles, will be similarly effective in the dream world.
I wouldn't bank on salt in either case, if I were you. It seems like an awfully big risk to take.
What kind of spirit is Kokkuri-san? Is it good, evil, mischievous or something else?
It's best not to think of Kokkuri-san in terms of whether it's "good" or "bad"; the truth is that it's not wholly one or the other, but somewhere in between. "Mischievous" sounds about right, though. As noted in my introduction to the game, the word "kokkuri" is usually written these days with the characters 狐, 狗, and 狸 (ko, ku, and ri) — meaning "fox," "tengu," and "tanuki" — which has led to Kokkuri-being thought of as a kind of fox-dog-racoon spirit. Foxes have a reputation in Japanese folklore as tricksters and shapeshifters; tengu look sort of like dogs and are thought of as either gods or yokai; and tanuki — which are actually real — are thought of as mischievous creatures. More on foxes in Japanese folklore here, tengu here, and tanuki here.
Can I open both a door and a window together?
There's no need to; one or the other will suffice. Indeed, I'd be careful opening more than one egress — you might let something else in at the same time as you're welcoming in Kokkuri-san.
How long does the Apex remain after the 24 hours are up? And where does it go when it does leave?
Unknown. I… don't think it goes anywhere, necessarily; I think it lives in the forest. When the 24 hours are up, however, its hunting period ends, so I assume it goes back to wherever its lair is to rest. Best leave the forest immediately, though, in case it decides to hang around a little longer.
Do I need the skills of a lucid dreamer to play this game?
You do not need lucid dreaming skills to play. You're not sleeping in this game; you're doing something closer to guided meditation. The distinction is important.
If you use your phone to take the picture, do you just delete the picture, or do you just not use your phone?
Do NOT use your phone to display the photograph during the ritual. If you take the picture on your phone in preparation for the ritual, email it to yourself and print it out so you have a hard copy to use. Then delete the image file from your phone. Use the print-out during the ritual — and don't forget to burn it to ashes when you're done.
Can I do this game to see if there are any spirits or entities in my current home?
That's not really what this game is for. It doesn't tell you whether there's anything in a particular location; it tells you whether you yourself are sensitive to spirits in general, and whether you'd be likely to see or sense them in any given location. To see if there are any entities in a specific spot, try the Triple Mirror Game instead.
What could happen if you visualized any other place than your home? Like your school? Or some place you really dislike? Would you call more negative energy or put yourself into danger? Or would it not work? I guess the point of visualizing your home is that you feel most comfortable there and it's less dangerous, right?
Well, as noted in the rules, a "home" doesn't necessarily need to be a literal place that you lived; it just needs to be anywhere you felt "at home" — comfortable, secure, happy, etc. For example, if your actual house or apartment or what have you wasn't a place where you felt at home, but you absolutely felt at home at, say, your public library, then visualize the library.
However, do NOT visualize somewhere you really disliked. At best, the ritual won't work; at best, the ritual will be dangerous.
What if you see something that's not human, but is a domesticated animal, like a dog or a cat?
My sense is that this outcome is unlikely; however, you can think of domesticated animals like dogs or cats — particularly if they were once your own pet in life — as falling in the "human" category. (Perhaps "earthly" might be a better term.) If you see something that is definitely not of this earth, though — something otherworldly — then that's what you want to look out for. (Note, by the way, that some animal-shaped things are not animals in the human or earthly sense. These kinds of beings would fall in the not-human or otherworldly category.)
If I see someone I know from my daily life, but I feel something… off about them, does that fall into the "Not Human" category?
Maybe. They might not actually be the person you know; they might be something masquerading as that person. Listen to your gut. Trust your instincts. Tread carefully.
What if you still live in your childhood home and use it for the ritual? What happens if you're literally in the room where you see something non-human?
That's a good question; I'm not really sure. If you were going ton play this game using your childhood home, and you still live in that home, I would maybe try playing somewhere else — make sure you aren't physically in your home when you play. The outcome, I believe, is still the same — if you see something non-human, that's, uh, not necessarily a great sign—but I don't know that you'll necessarily be in any danger after you end the game and go home. Again, this game doesn't test whether there are any entities in the location you visualize; it tests whether you're sensitive to spirits in general.
A lot of that is conjecture, though. It might be safest just to wait to play the game until you've moved out — or to use a different "home." (See: A "home" is not necessarily the place you live in.)
How many times can you do this? Would it be possible to skip to multiple new worlds?
As many times as you like, presumably. Yes, you likely can skip to multiple new worlds; just know that you probably won't be able to find your way back to any of them after you leave — or to your original world.
If I travel to the other world, will my friends and family exist? Will my house still be there? Will all my belongings be where they were?
Not necessarily. They might be there. They might be there, but be slightly different. They might have once been there, but aren't there any longer. They might not be there. They might never have been there.
There's no saying, really. And once you've gone, you can't ever come back.
Don't undertake this game lightly.
If you do this ritual again once you've arrived in the other world, will it take you back to the one you started off in?
No. Again, there is no way to return to your original world after successfully playing this game. Do NOT play it unless you have no intention of returning home.
What does Veronica consider respectful treatment?
Just, y'know… don't be a jerk. Be polite; don't be rude; don't try to provoke her; don't treat her flippantly; etc. Don't treat the game flippantly, either; she'll know if you're not serious about it, and she'll know if you're mocking her. Thank her for her time. Don't make any demands of her. Deference is the watchword here.
What if you tried to summon someone you knew very well in life, but hated, in order to say you were sorry?
You can try, but I actually wouldn't recommend using this particular ritual for that purpose; you'll have better results with a loved one, and someone you hated when they were alive isn't really a loved one, even if you knew them quite well. The Shoebox Telephone might be a better choice for sending an apology to someone who has passed on.
Does it matter if there's a small picture on the cover of the book?
Actually, I think that might be okay; the rules only specify that there can't be any pictures inside the book. If you want to be extra safe, though, you might try removing the dust jacket from the book; often, hardcover books simply have plain covers underneath their dust jackets. As long as the book is hardcover and red and has no pictures inside — only words — you should be fine.
What if both flashlights break or if all the batteries die?
If you're well prepared, you shouldn't have to worry about that. If all of your flashlights and/or batteries fail, though, you're going to have a much harder time moving around your playing space quickly and efficiently — which means it's going to be much easier for whatever you've called upon to find you.
Should you keep salt nearby?
Maybe. There's no guarantee it will work, though.
What if you fall asleep?
Don't.
Is falling asleep more dangerous if you do it when your flashlights stop working?
Don't. Fall. Asleep.
Seriously. I mean it.
What if I laugh at the creature? It only says no negative emotions.
That's… not strictly true. I quote: "Do not respond. Do not react. Do not interrupt. Do not betray your feelings in any way, no matter what the creature tells you."
Don't laugh at the creature. "Do not respond," "do nor react," and "do not betray your feelings in any way" cover all forms of emotion, positive or negative. You want to remain as neutral as possible.
And how long do I have to wait to wake up if it's the wrong place or time? And if I'm not awake, what if I don't know how to wake myself up?
As far as I know, there's no time limit for waking up, per se — when you wake up, it will be 7am. If the clock says anything other than 7am, then you are not awake yet and still dreaming. No outside sources are permitted to wake you at the appropriate time (alarm clocks, friends, etc.), so you'll have to wake on your own. This is why it is suggested that you become skilled in lucid dreaming before attempting this game; if you are skilled in lucid dreaming, you should be able to wake yourself up. We've also covered lucid dreaming in another game (The White Kimono Game); head here and scroll down to the Additional Notes section for pointers and resources on the subject.
What if I'm given a different item from what is listed?
You won't. If you performed the ritual correctly, those are the only possible outcomes.
What if you have a bad dream before the six days of good dreams are up?
Again, you won't. If you performed the ritual correctly, and the outcome was such that one of the results is six days of good dreams, then you'll have six days of good dreams before your dreams return to normal—full stop.
Can I talk to the creature after it does/says everything it should?
No. Don't say anything to the creature other than what's specified in the instructions.
Is it ill-advised to leave the room if it's the wrong room/time?
Yes, it's ill-advised. Don't do that. If you "wake" and you're not in the room in which you fell asleep and it is not 7am, then you are not awake. You must wake yourself first.
What do you think would happen if we used a hand-held mirror? Is it just that it's too small? Is it that it can't stand on its own?
Yeah, the issue is that it won't be able to stand on its own. You could try to prop it up with something, but the danger of it falling down is very, very high; for that reason, it's not recommended that you do so. However, a small mirror like this one, which has a convertible handle that can be made into a stand, should work just fine.
Why is touching the mirror or opening your eyes an emergency?
Windows are generally safe as long as you're only looking through them from a safe distance away. If you get too close, something could reach out and pull you in.
You wouldn't want that to happen, now, would you?
Can you use a Polaroid camera and just lay the photos facedown after you take them so you don't look at them?
That should be fine, yes.
Can you draw a diagram of what the board should look like?
Sure! It should look something like this (minus the watermark):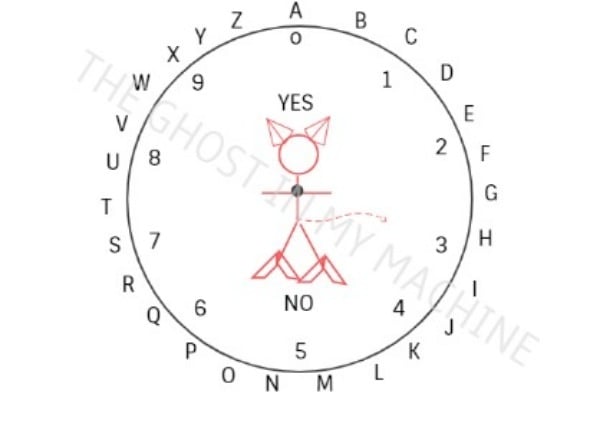 It's not terribly different from the kind of board you set up for the Compass Game.
Can we use any kind of tools to hold the needle over the flame?
No. Hold it between your fingers. No pain, no gain.
Can other people be in the room while you play this game if they're only watching, not playing themselves?
Maybe. But if they're only watching, they're only watching — they shouldn't speak or make noise, they should remain as still as possible, and they definitely shouldn't attempt to communicate with anyone who is playing the game. Also, there's no guarantee that anyone who is watching won't experience a few side effects afterwards due to being in close proximity of the game, even if they didn't strictly play.
What if we're the Copies?
What if, indeed.
***
Follow The Ghost In My Machine on Twitter @GhostMachine13 and on Facebook @TheGhostInMyMachine. And don't forget to check out Dangerous Games To Play In The Dark, available now from Chronicle Books!
[Photo via Tim Pierce/Flickr, available under a CC BY 2.0 Creative Commons license; Lucia Peters/The Ghost In My Machine]