Previously: A Ghost Story.
A few years ago, I put together a quick post sketching out a few ideas of what to do on Halloween. This year seems like a good time to update that post — and by "update," I mean take the basic format of it and go much, much further in depth about each idea. You might already have your plans in place; if you don't, though, maybe this will get your wheels turning.
[Like what you read? Check out Dangerous Games To Play In The Dark, available from Chronicle Books now!]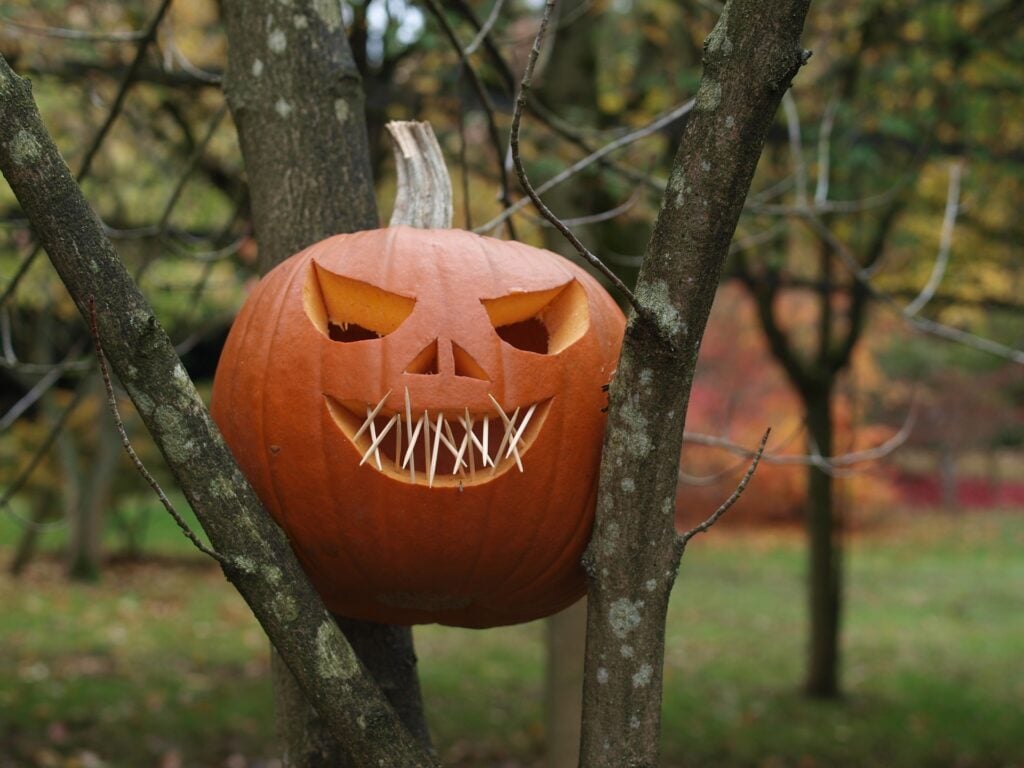 I don't usually go out on Halloween. Although I love the season as a whole and avail myself of every opportunity to do every possible spooky activity in the weeks (or, to be honest, months) leading up to the holiday, I tend to stay in on the night itself; this is largely because it's usually bananas out there, and I hate people, and I am too damn old to want to pretend that being in a bananas scene full of huge crowds is a thing I do not hate. Instead, I tend to hole up in my living with some pumpkin ale and a lot of other things to keep me occupied. As such, you'll notice that a lot of the things included on this list of what to do on Halloween are things you can enjoy from the comfort of your own home.
Some of them aren't, though. Some of them involve venturing out — although not to a standard Halloween shindig.
Either way, hopefully you'll find a few ideas here to keep you busy.
Let's get to it, shall we?
Play Something
What kind of game you play is up to you. You could go the more traditional route and opt for a spooky, scary, or otherwise horror-related video game, for example; to build off of my older list of games that are worth your time, here are a few more suggestions:
Slayaway Camp. A fun little puzzle game with an '80s slasher flick twist. I nabbed this one in a Humble Bundle at the beginning of October and I'm enjoying it immensely. (Available on: Steam, Google Play, iTunes App Store.)
Stories Untold. Released back in February, Stories Untold is a wonderful example of exactly how creative your storytelling can get in an interactive medium. My favorite of the four interconnected vignettes is The House Abandon, but that might just be because I have a soft spot for text games. Fans of Stranger Things will likely enjoy this one. (Available on: Steam.)
The Letter. I haven't actually started this one yet, but I did pick it up on Steam during the Halloween sale; word on the street is that it's good. It's a horror visual novel, so if you liked the Zero Escape series, you might think about checking this one out. (Available on: Steam.)
The Survey. A first-person haunted house story. The monster isn't who you think it is. (Available on: Steam.)
Sara Is Missing. Sara is missing. You're trying to find her. All you have is your phone… but there's something weird going on with it. This one isn't perfect, but it's interesting; for that reason, despite its flaws, I think it's worth checking out. Although it's available on PC and Mac, I'd recommend one of the phone versions — it's much more engrossing when you're playing it on a mobile device. If you liked the movies The Den or Unfriended, you may like Sara Is Missing. (Available on: itch.io, Google Play, iTunes App Store.)
Inside. The second game from Playdead, the developers behind the excellent Limbo. Lots of familiar tropes are present, ranging from zombies-as-social-commentary to long-haired ghost girls; beautiful and creepy and thought-provoking. (Available on: PlayStation 4, XBOX One, Steam, others.)
Her Story. Did Hannah Smith murder her husband? There's a mystery here. You have to unravel it by piecing together Hannah's video testimony. Don't be afraid to dig deep. (Available on: Steam, Google Play, iTunes App Store.)
Tattletail. Y'all already know my thoughts on this one (in short: I loved it), but it's worth a second plug here. If you've always thought Furbies were up to no good, this one's for you. (Available on: Steam.)
Danganronpa V3: Killing Harmony. I find the Danganronpa franchise problematic for a lot of different reasons, but good gravy, do I still love it. (Here's your reminder that you can love something and still be critical of it.) This is the third main game in the series; these three main games also exist alongside a shooter and a few mobile games. Picture Battle Royale or The Hunger Games crossed with Saw and Clue and you'll have a pretty good idea of what to expect from the franchise. (Available on: PlayStation 4, PlayStation Vita, Steam.)
The Uncle Who Works For Nintendo. A sort of choose-your-own-adventure browser game. In my notes for an essay about this game that I never ended up writing, I wrote, "The things that we perceive as safe made unsafe: That's what horror is." It's worth it to work through all six endings; if you need some help unearthing them all, this guide might be useful. (Available on: Browser.)
Or, if you're looking for something a little more… visceral, there are plenty of suggestions here. You know the kind of games I'm talking about — the ones that aren't games so much as exercises in tempting fate. If you're ready to get a start tonight, try A Small Radio — this is the last time you'll get the chance to try it for a whole year. If you want something to do directly on Halloween, try this one. For something lower risk, try Concentrate or the Shoebox Telephone — although it's worth remembering that "lower risk" doesn't necessarily mean "safe."
Read Something
Disclosure: This section contains affiliate links, which means that The Ghost In My Machine may receive a portion of sales from items purchased. Thoughts and opinions about each item remain my own — I never recommend anything unless I feel there's a really, really good reason to!
When it comes to books, my suggestions from last year still stand; for ghosts and haunted houses, head here, and for serial killers, unreliable narrators, and short stories, head here. (Fun fact: You by Caroline Kepnes is coming to TV soon!) But I've got a few more suggestions based on what I've read over the past year, too, so here are a few more options:
Scream: Chilling Adventures in the Science of Fear, by Margee Kerr. I mentioned this one in this year's post about haunts to go to during the Halloween season, so consider this a double endorsement — it's just that good. Kerr examines the things that scare us and why from a sociological perspective, covering everything ranging from physical thrills to psychological experiences. Highly recommended.
His Bloody Project: Documents Related to the Case of Roderick Macrae, by Graeme Macrae Burnet. In this novel, which was shortlisted for the Man Booker Prize in 2016, it's clear that Roderick Macrae is responsible for the 1869 triple murder for which he is arrested. What's less clear is why he did it — and it's that question which the documents related to the case attempt to unravel. Fascinating and creatively told.
A Sudden Light, by Garth Stein. Both a ghost story and a tale featuring an unreliable… well, not narrator, but definitely character. Characters, really — there are many. If you're a fan of Shirley Jackson's We Have Always Lived In The Castle, you'll probably like A Sudden Light.
Universal Harvester, by John Darnell. What happens when the movies you rent from the local video store don't have what they're supposed to have on them? Universal Harvester is what happens.
Night Film, by Marisha Pessl. A dead woman. A reclusive cult filmmaker. A journalist. A mystery wrapped in a mystery wrapped in a mystery.
The New Uncanny, ed. by Sarah Eyre and Ra Page. In 1919, Freud defined "the uncanny" as "the familiar made strange." Each of the stories in this short story collection take that definition a step further, bringing it into the modern era. With pieces by Christopher Priest (The Prestige), Frank Cottrell Boyce (a frequent collaborator with filmmaker Michael Winterbottom), and Gerard Woodward (I'll Go To Bed At Noon), it's full of a unique kind of dread.
It, by Stephen King. Now's as good a time as any to re-read this classic — or to read it for the first time, if you've never read it before.
But books aren't the only things to read this time of year. If you're looking for something else — something more immediate — you might try these:
The Claverhouse Emails. A series of bizarre stories. They're connected, although it's not always clear how. It's also not clear how true the stories are: They might be fiction… or, they might not.
The "Search and Rescue" saga. This series from NoSleep sadly lacks resolution — but it's a fascinating read. If you ever find a staircase just sitting in the middle of the forest… stay away.
"Butcherface" and "Correspondence." I followed these two series when they were first published on NoSleep — around six years ago now, which is forever in internet time — and they're still as fascinating now as they were then. Along with "Penpal," they made up what will always be for me the golden age of NoSleep.
The Holders. "In any city, in any country, there's a mental institution or halfway house you can try any of these in. There were 2538 of these Objects, but 2000 were lost. The remaining 538 must never come together. Ever."
"The Spire in the Woods." From Library of Shadows. Chilling and horrifying and sad.
Listen To Something
I've made podcast recommendations a few times before, so head here and here to check those out — and to add to the list, consider the following:
Faculty of Horror. Some of the smartest horror film criticism out there. Recommended episodes: The Cabin in the Woods, Fright Night and The Lost Boys, Audition, The Babadook and Goodnight Mommy, and The Texas Chain Saw Massacre.
Inside Psycho. A six-part deep dive into the making of Psycho, presented by Wondery. It's incredibly unique in how it's done — it feels immediate in a way that most history and film history podcasts don't usually. The first episode focuses solely on Ed Gein — who inspired not just Tobe Hooper's The Texas Chain Saw Massacre, but also the novel Hitchcock's film adapted — and it's A plus.
Inside The Exorcist. The folks behind Inside Psycho give the same treatment to The Exorcist. More thoughts here.
Polybius Conspiracy. A seven-part series investigating the Polybius legend — including an account from a man who swears up, down, left, and right that he was abducted by men in suits as a result of playing the game. Presented by Radiotopia's Showcase. More thoughts here.
Rabbits. From the folks who brought us The Black Tapes Podcast and Tanis. Not perfect, but interesting. More thoughts here, and some other recommended media if you dig this one here.
Watch Something
Older recommendations can be found here, although be warned that some of them may no longer be available for streaming. More recent recommendations below:
On Netflix:
Stranger Things, season two. Hot off the presses!
Tales of Halloween. I wasn't expecting much when I loaded up this Halloween-themed anthology film back in September, but boy is it a lot of fun. It's campy and funny and kind of gross at some points, but it's also got some solid twists on established tropes. I was particularly fond of the segment titled "Trick." If you're looking for fun horror — stuff that's kind of in the Tucker and Dale vs. Evil realm — give this one a shot.
The Invitation. The setup for this dinner party horror tale sounds pretty typical, but the film itself is anything but. It delves into cults and hivemind thinking, as well as addressing how little we really know about the people around us, even if we think we're as familiar with them as we are with ourselves. Really excellent.
The Eyes of My Mother. In some ways, this one reminded me of Lucky McKee's May; stylistically, they're very different films, but thematically, they address a lot of the same things — loneliness, how our past shapes our present, and so on. It's slow-paced, so if that's not your thing, you might want to skip this one; if you're into the slow burn, though, it's worth a look.
Gerald's Game. I haven't actually seen this recent Stephen King adaptation myself yet, but word on the street is that it's good. Really good. (I've been hearing that this one might be triggering for some people, though, so proceed with caution.)
It Follows. Critically acclaimed indie darling from 2014.
On Amazon Prime:
I've only recently realized that Amazon Prime generally has better horror offerings than Netflix does, so I've seen comparatively fewer of what's available on this particular platform; I'm gradually working my way through my list, though. More Prime suggestions here, including classics like Suspiria.
The Blackcoat's Daughter. If you've seen I Am The Pretty Thing That Lives In The House on Netflix, you may like this one; it was also directed by Oz Perkins (who, fun fact, is Anthony Perkins' son — speaking of Psycho). I figured out the twist before it came, but it's an interesting film that plays with nonlinear narratives; the performances from Kiernan Shipka, Lucy Boynton, and Emma Roberts are all solid.
The Innkeepers. To be fair, I actually didn't enjoy The Innkeepers as much as I thought I was going to. I loved House of the Devil — I'm not usually into satanic/occult films, but I dug this one so much — so my thinking going into The Innkeepers was that if Ti West could make me love a genre I wasn't super into, I couldn't wait to see what he'd do with a genre that's definitely my jam… and yet, somehow, The Innkeepers didn't really do it for me. It's still worth seeing for the haunted house (well, hotel, in this case) fans in the audience, though.
Them. Did you like The Strangers? You'll definitely like Them — or, as this French-Romanian film was known when it was first released, Ils.
The Girl With All The Gifts. I haven't seen this one yet, but it comes highly recommended as a thoughtful and terrifying riff on the zombie genre.
Hell House, LLC. This one is far from perfect, and there are some particularly significant plot holes surrounding the ending — but I actually really enjoyed this found footage flick, possibly because I dig high-octane haunted attractions.
The Witch. Critically acclaimed indie darling from 2016.
Lore, season one. Love the podcast? Here's the show!
On YouTube:
In The Dark/Louise Is Missing. Ancient in internet time — this one is from 2007 — it's fascinating to watch as a proto-version of how horror web series would develop over the years. (Stay tuned for more thoughts about/a deeper analysis of this one in the coming weeks.)
2h32. Current hit. Very nonlinear. If you dig weird, experimental storytelling, this one is for you.
The West Records. Found footage done right.
This House Has People In It. There's so much to uncover here, so be prepared to work for it. (Here's some help if you need it.)
Catch up on some classics. I devoured Marble Hornets when it was first released, but somehow I never quite got into the other two major Slender Man series of the time, EverymanHYBRID and Tribe Twelve. I've recently been working on remedying that fact, though, and I'm glad I did; I'm knee deep in EverymanHYBRID right now and I'm loving it. If you can push through the first six or so episodes, it picks up steam real fast.
Do Something
Go to an actual haunted location. Here are 15 you can visit legally. Here are 23 more ideas, most of which you can visit legally. Here are some places you can stay overnight.
Go on a ghost hunt. This might help. Same with this. Or, download a ghost hunting app and explore your home or another nearby location.
Call some weird phone numbers and see what happens.
Buy something (allegedly) haunted on eBay.
Happy Halloween, gang. Be safe, have fun, and stay spooky.
***
Follow The Ghost In My Machine on Twitter @GhostMachine13 and on Facebook @TheGhostInMyMachine. And don't forget to check out Dangerous Games To Play In The Dark, available now from Chronicle Books!
[Photos via artyangel, dokumol, Sanaya2017, Skitterphoto, Free-Photos, Hans/Pixabay]