Previously: 'Rabbits.'
If you're reading this right now, odds are you're familiar with the urban legend known as Polybius. It's one of the most enduring urban legends of the digital age; however, perhaps the most interesting element of the tale is this: We still don't really know whether Polybius was real. Signs point to no, but even some of the most rigorous examinations of the legend have been unable to confirm or refute key pieces of the whole thing. That uncertainty is what fuels the new podcast The Polybius Conspiracy — although what The Polybius Conspiracy, created and superbly researched by Jon Frechette and Todd Luoto, has that most other investigations of the legend I've seen do not is an alleged victim: A man named Bobby who grew up and still resides in the Portland, Ore. area — and who swears that he was abducted by men in suits after playing an unmarked video game cabinet that appeared in his favorite local arcade in October of 1981.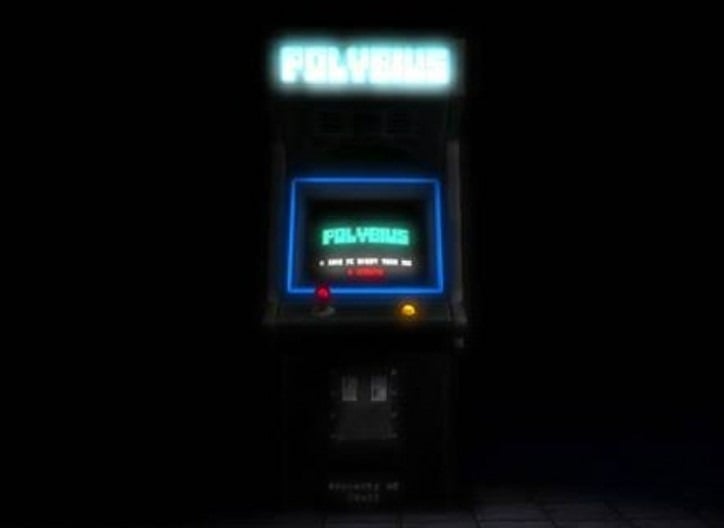 Bobby is the lynchpin around which the first episode of The Polybius Conspiracy, which is part of Radiotopia's Showcase program, hinges. Although he apparently runs an occasional walking tour in Portland as an effort to get to the bottom of what he says he experienced as a teenager, I haven't been able to dig up any information about it. (Although to be honest, it would be understandable if Bobby made it a point to keep a low profile and minimize his digital footprint.) But to hear him tell it, Polybius — which most people (including myself) consider to be a myth, something fun and spooky to pass around, but not anything of great seriousness or import — isn't a story. Says Bobby, "This ruined my life."
[Like what you read? Check out Dangerous Games To Play In The Dark, available from Chronicle Books now!]
I won't go over the history of the myth again here — that's been done elsewhere, many times, by me and a good number of others — but I'll note that The Polybius Conspiracy grounds itself firmly in what we do and don't know about this maybe-real-maybe-fake game. Historian and journalist Joe Streckert and writer, historian, and arcade collector Catherine DeSpira both lend their considerable knowledge to Frechette and Luoto's investigation; Portland locals who have spent a substantial amount of time and resources debunking Polybius as a myth, they really, really know their stuff.
But then there's Bobby. Bobby, who says that one day in 1981, shortly before Halloween, he found an all-black cabinet on the floor of the now-defunct Portland arcade Coin Kingdom. Bobby, who says he started to feel ill after playing the game for too long. Bobby, who says that he was taken from his home in the night by strange people after he finished playing the game.
Bobby, who was found by the Tillamook State Forest — some 60 miles away from his home — the day after this alleged event.
It's the contrast between these two points of view — that of the skeptics, and that of the believers — that keeps the story of Polybius alive, and it's here that The Polybius Conspiracy's investigative work really shines.
According to the podcast, it apparently wasn't odd for unmarked cabinets to occasionally appear at Coin Kingdom; developers would sometimes send out prototypes of new games in cabinets that lacked art. This one, though, was different: According to Bobby's account, the controls for it used a dial, not the more standard joystick, and what's more, the controls weren't intuitive — it took Bobby, generally quite proficient in gaming, a while to get the hang of it.
And after some time playing the game, he began to feel unwell. He describes his eyes starting to hurt and feeling "like things were popping lose in my head." Eventually, the screen went black, at which point he found himself fending off invisible enemies. When he finally lost his last in-game life, he went home, suffering from a monster of a headache, and crashed almost immediately.
These symptoms are consistent with those said to have plagued players of Polybius: Headaches, nausea, sleep disruptions, nightmares, and depression. But the other element of the Polybius myth — that men believed to be government operatives could, from time to time, be seen collecting data from the games' cabinets — isn't quite the same in Bobby's account. He describes not witnessing strange people collecting data from the machine, but being abducted by strange people — three of them — after which he blacked out. He woke up in what he later learned was the Tillamook State Forest. He says a boy led him out — a boy who was in terrible physical condition, and who has never been located. And Bobby has been trying to make sense of what happened to him ever since.
Bobby's story sounds unbelievable. It sounds like one of those things that, as weird as they are, could have plenty of rational explanations. And to be fair, there are plenty of rational explanations in this case; from sleep paralysis to sleepwalking to the fantasy prone personality trait, there are a wide number of well-researched conditions and phenomena that line up with experiences like the one Bobby describes. Not that I'm not saying Bobby's experiences necessarily resulted from any of these conditions — diagnosing people on the internet is not helpful (and for what it's worth, Bobby rejects the idea of it having been sleep paralysis or sleep walking) — but I do think it's useful for the wider context of the story to remember that science can often explain what seems to be unexplainable.
But Bobby has been telling his account for over 30 years. No one has believed him in that time — but he's also never wavered from it. And as Jon Frechette notes, no concrete evidence has ever emerged that contradicts it, either.
It's… thought-provoking, at the very least.
The Polybius Conspiracy presents the big picture even-handedly: On the one hand, there's Bobby's story; and then on the other, there's also the information and analysis from people like Joe Streckert, Catherine DeSpira, and others. The investigation is digging deep into both sides, and the push-and-pull between them is making for fascinating listening.
Me? Personally, I still fall on the side of Polybius being a myth. I think it's likely that it arose out of the fact that a few kids did suffer ill effects playing video games at arcades around the time Polybius was said to have appeared, combined with the knowledge of actual government programs like MK-ULTRA: Put the two things together, and you've got the makings of one terrifying legend that's at least partially based in truth. And I also can't ignore Polybius' namesake — a Greek historian known for pushing the importance of fact-checking. That's the kind of nod that, to me, indicates not only that the story is made up, but that its creator wanted us to know it was made up.
But that's just me.
I'll be interested to see where The Polybius Conspiracy's investigation goes. Who knows? Maybe I'll change my mind.
I mean, I probably won't… but I could.
Catch The Polybius Conspiracy over at Radiotopia. The first episode is out now; six more are yet to come. Stay tuned!
(EDIT 11/13: The plot thickens. Here's an interesting development.)
***
Follow The Ghost In My Machine on Twitter @GhostMachine13 and on Facebook @TheGhostInMyMachine. And don't forget to check out Dangerous Games To Play In The Dark, available now from Chronicle Books!
[Photos via theNerdPatrol/Flickr; DocAtRS/Wikimedia Commons]