Previously: Retro-Style Horror Games That Will Scratch That Vintage Itch.
I don't know about you, but when it comes to my horror gaming habits, I find myself increasingly less likely to reach for big studio, triple A titles than I am for indie fare — and wouldn't you know it? There are loads of eerie, strange, and downright scary horror games on Itch.io, many of which are available to play for whatever you want to pay for them — including the low, low price of zero dollars. The next time you're in the mood for something scary, do yourself a favor and boot up one (or more!) of these free Itch.io horror video games. You'll be glad you did.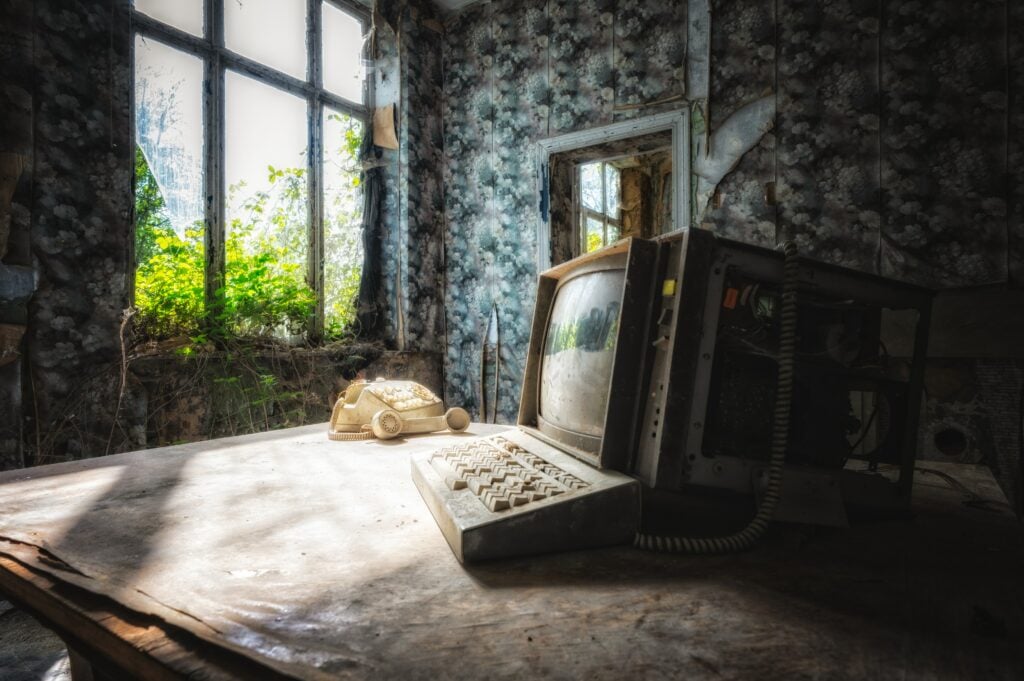 One of the big reasons I tend to reach for indie games more often than big studio releases is that I often find them to be more creative, whether in form, story, gameplay, or all of the above. And that's exactly what Itch.io is for: Launched in 2013, it provides a terrific platform for independent developers and smaller studios to get their work out into the world for wider audiences to play.
[Like what you read? Check out Dangerous Games To Play In The Dark, available from Chronicle Books now!]
Here, you'll find everything from slick, modern horror experiences to retro-inspired pieces; you'll find not only first- and third-person perspective games, but also ones that… aren't quite either; and you'll find both straightforward narratives and things that mess with your perception a bit.
Need some specific recommendations? Here are 27 (well, 30, technically, but a few of them are grouped under the same item number) free Itch.io horror games, all of which I've played and all of which I've enjoyed. They're arranged by length, so whether you're looking for something bite-sized or a bit heftier, you should be able to find something to keep you occupied here; additionally, a few of the larger ones were later developed into even longer games, so I've included links to where you can purchase those when applicable, too. (If you like the shorter versions, do consider supporting the developers and shelling out for the full-length ones!)
Also, note that while these are all playable for free, please do consider spending a couple of bucks on them. Funding for creatives is harder to come by than it really should be, and the only way creators can keep creating — the only way they can keep providing you with fun stuff for you to engage with — is if they're paid for their work. Directly supporting the folks who make the work you enjoy is a great way to make sure that that actually happens — which means more stuff for you to play later on! Everybody wins!
Ready for a few scares? Here we go!
5-10 Minute

Games
Descend
There's not much to this eerie little game; it's a first-person exploration where you, well, descend, traveling deeper and deeper through more and more improbable environments. Created by Ompuco for the Haunted PS1 Wretched Weekend jam in 2020, it's a bite-sized little dose of weirdness that instills a sense of being unsettled. How deep will you go?
Please Answer Carefully
Do you like surveys? Then try answering this one from developer litrouke. It starts out innocuously enough… but there's something brewing there below the surface. CWs for this one include stalking and implied intimate partner violence, so if that's not your jam, you might want to skip this one.
Play Please Answer Carefully here.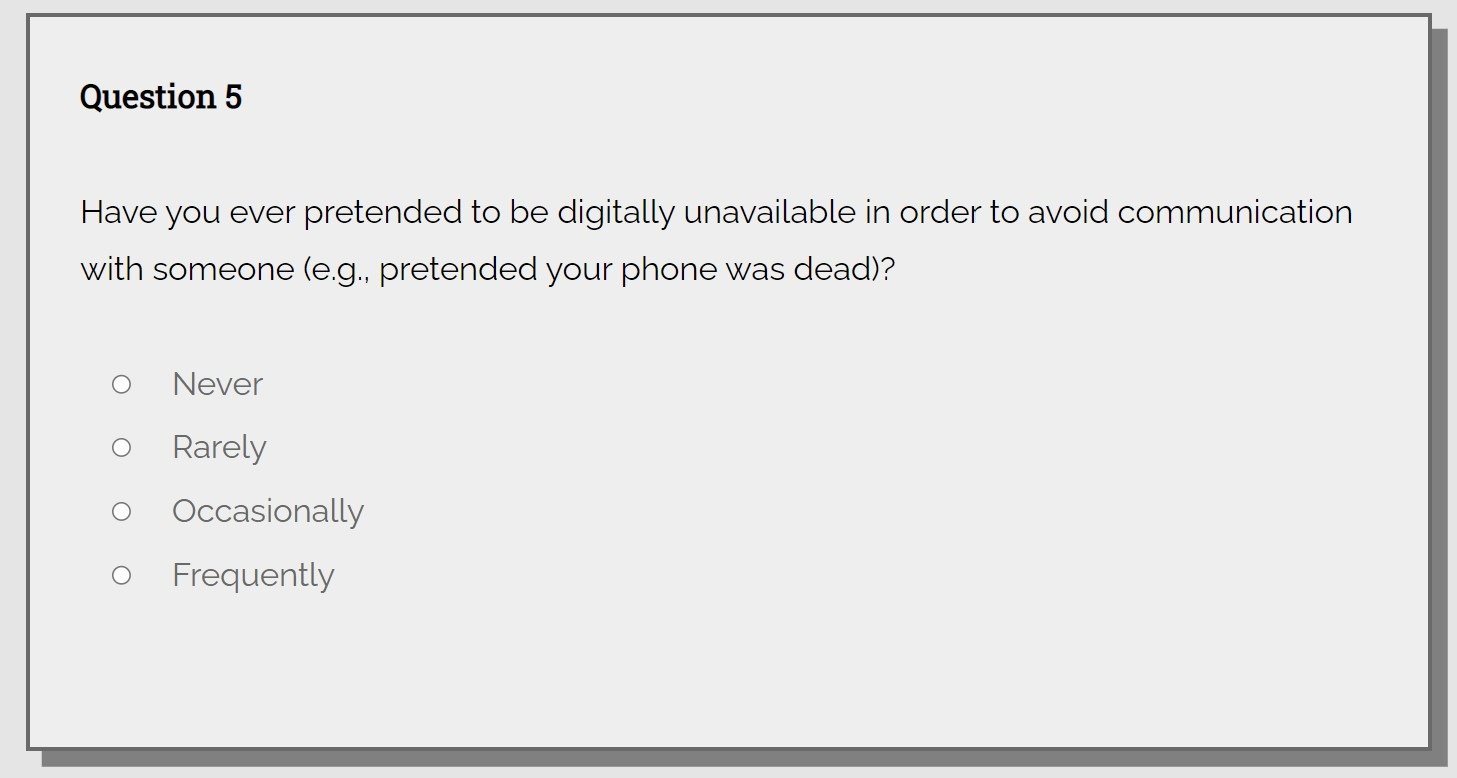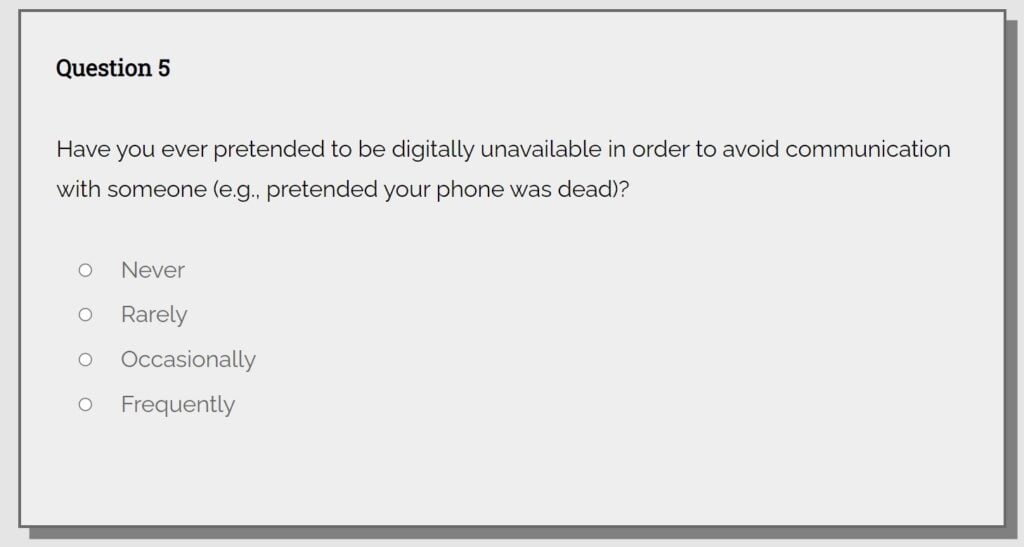 How To Make A Cup Of Tea
This little gem is weird, funny, and, beneath its somewhat cartoonish exterior, very, very unsettling. A short experience that zeroes in on the horrors of repetition, it was built by a team of three indie developers as an entry for the 2020 Game Maker's Tool Kit jam. Now: How about a nice cuppa?
Play How To Make A Cup Of Tea here.
Maple County
If you're into The Mandela Catalog, you'll probably dig this pick from Thorne Baker. An analog horror experience that (mostly) takes the form of a training video, it puts you in the position of defender of humanity against certain… threats. Can you identify them? Will you know how to respond when you do? You'll have to play and find out. This one gets its nightmare fuel qualities from a classic sense of the uncanny — that is, the familiar made strange.
You'll know what I mean when you see it.
September 1999
If this Itch.io horror game looks familiar, it's probably because it had a brief viral moment back in 2018. And there's good reason for that; it's an unsettling little experiment in analog horror that can vary wildly depending on how you play it.
From Toni Kortelahti working under the title of DEMAKE98, September 1999 puts players behind the camera in an odd house with something… questionable going on inside it. The game spans from Sept. 18 to Sept. 30 — but it's also only five minutes and 30 seconds long, so you're only seeing short clips from those days.
Also, what those clips are depends on whether you choose to move or explore or not. As Kortelahti told Bloody Disgusting back in October of 2018, "If you choose to stand still for the 5 minutes and 30 seconds, it's just a tape of someone filming at walls. If you move around, it's something entirely different."
How brave are you feeling?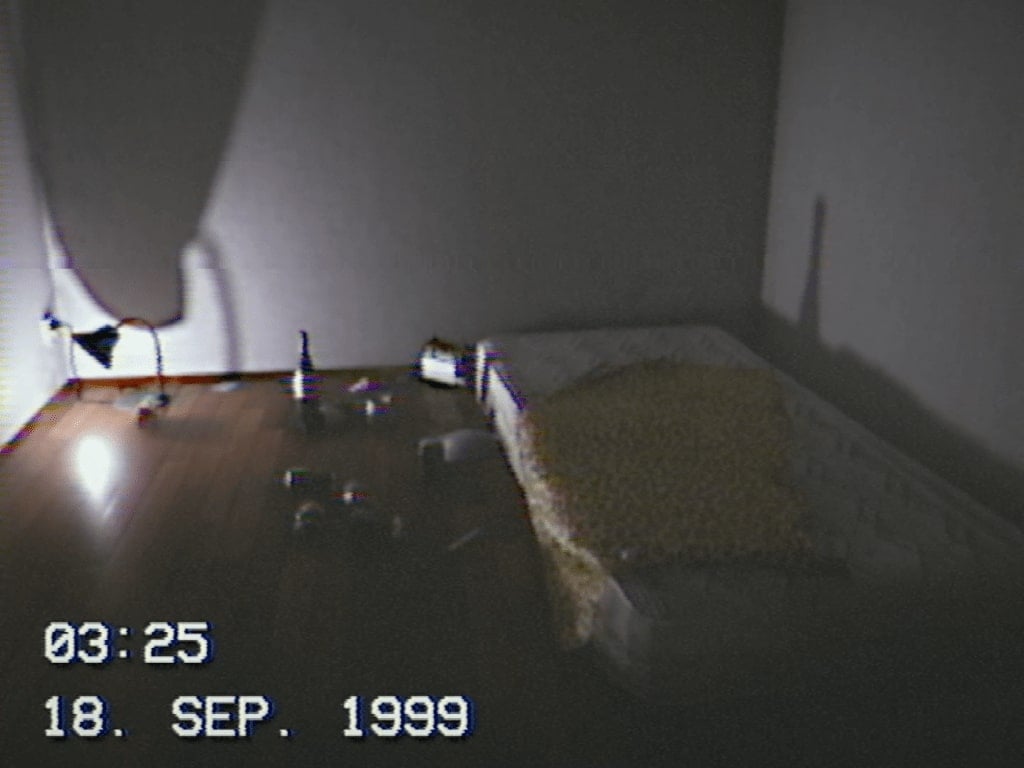 Slide In The Woods
You're in the woods. There's a slide — a playground slide, like the kind you probably rode down a lot as a child. But the more times you go down this slide, the strange things get, until finally… well. To say more would be to give too much away,
Like How To Make A Cup Of Tea, this pick from Jonny's Games banks on the horrors of repetition… and then Goes Somewhere Else. Somewhere you probably don't want to be.
Be careful where you slide.
Urbex
Remember the mannequin sequence in Nightmare House 2? Well, if you think on that part of the game with fondness, you should probably check out Urbex. As its title might imply, you're positioned as an intrepid urban explorer making your way through some kind of warehouse-type building in an industrial area of town — but getting out is proving to be much harder than getting in.
You'll probably finish your first playthrough in about five minutes… but if you feel like sticking around and taking another trip through this horrifying location, there's a secret scene to unearth, too.
Death Trips
In 2018, indie developer Alberto Navarro challenged himself to make Death Trips in two days and put it up for download, just for fun. Then, unexpectedly, it went viral — and by 2020, it had been downloaded a whopping 100,000 times. (A pretty astonishing figure for any game, let alone a free Itch.io horror game!) I'm not sure what the figure is like these days, but it's, uh… probably quite high!
This one places you down in an old hotel where there may or may not be a serial killer on the loose. Will you be able to survive? You'll have to play and see.
Just… be prepared to be surprised. That's all I'll say.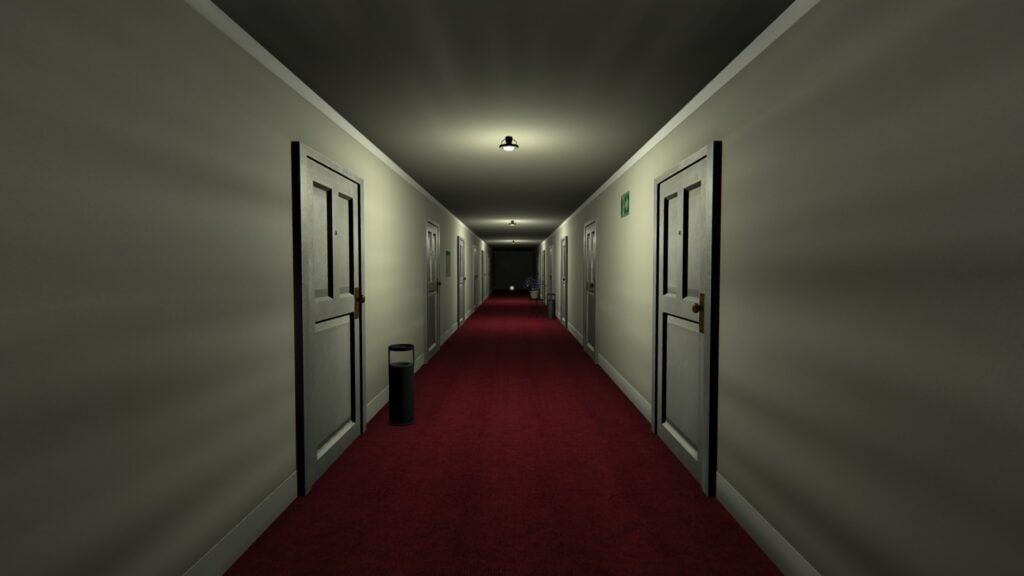 15-30 Minute Games
Security Booth
POV: It's 1996, and you've just started a new job. You're operating the security booth at the entrance to some kind of… facility. The facility belongs to a company called Nova Nexus, and whatever they're doing inside is… not really your business.
Your business is to assess the cars coming into the facility. You're to talk to each driver, see if their name is on the list of employees, and then choose to either open the gate and let them in, or deny them entry and send them along their way.
But that whole thing about whatever Nova Nexus is doing not really being your business? It… may actually be more your business than you've been led to believe.
I thoroughly enjoyed this one; there's a lot of storytelling going on in tiny visual details you might miss the first time round, so it stands up to replay. On that note: Despite the compact nature of this little game, there is more than one ending to be found. And if you want more, developer Kyle Horwood also released a director's cut version of the game; it's available on both Itch.io and Steam for about $5.
Perfection
How far would you go to become your best self? Never Better — a mysterious company that's just as shady as it sounds — is willing to help you do just that. All you have to do is answer a few questions about yourself, install freaky-looking (and possibly permanent) headset on your skull and Never Better will take care of the rest.
Unfortunately, "the rest" might be… kind of a nightmare. And not just figuratively.
What makes Perfection unique is that it's as much a personality test as it is a psychological horror game: The answers you choose (and don't choose) and the things you do (and don't do) affect what unfolds, so the game will be a different experience for everyone. Form-wise, it's kind of an endless hallway-type setting with an Aperture Science feel — so if you're a fan of P.T., Portal, or both, you'll probably dig this weird, quirky, and eerie little game.
Wrong Floor
I've only ever gotten stuck in an inoperable elevator once, but it was… not a fun experience. Even so, though, it wasn't nearly as bad as what happens to the nameless first-person protagonist (that's you, player!) of Wrong Floor. After briefly getting trapped between floors, the elevator in question here drops down suddenly to a floor in a not-so-great apartment building that… seems like it shouldn't exist. It's dark; it's desolate; and it's uninhabited.
…Or is it?
Full of creeping dread, indie developer N4bA's spine-tingling little experience will have you looking over your shoulder and jumping at shadows the next time you find yourself in a dark room.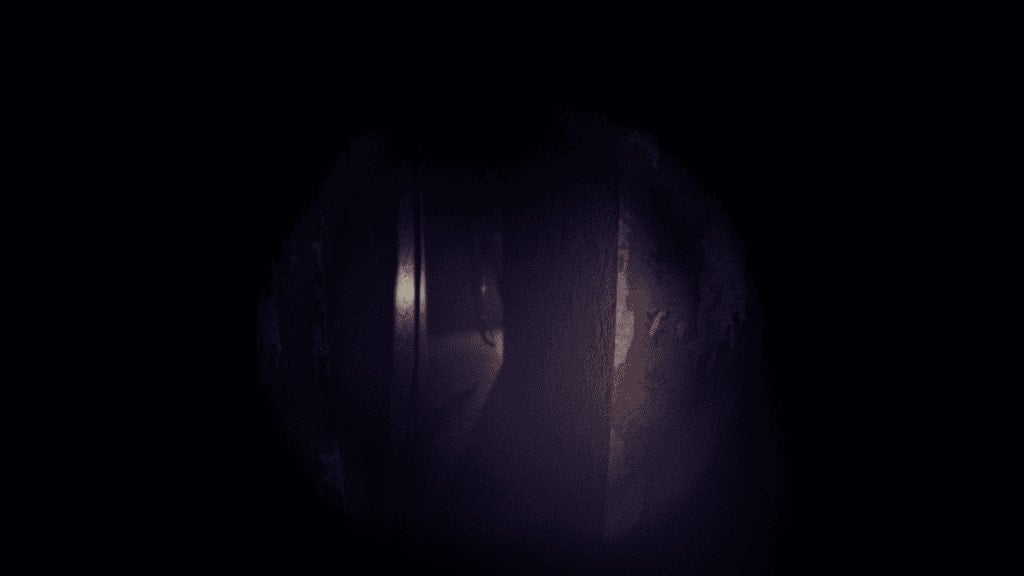 The Open House
I recommended this delightfully macabre little browser game from Corpse Pile around Halloween last year, and I still can't stop thinking about it, so here's another plug for it. Here's what I wrote about it then:
"In it, you'll find yourself testing out a virtual open house system for Northtree Real Estate The property in question is 15615 Hollow Oak Lane, a beautiful and spacious three-bed, two-and-a-half-bath home in a new suburban development. Built in 2019, the home itself is 2,388 square feet; it stands on a lot of 6,542 square feet, and includes a two-car garage, hardwood floors, central air condition, and a… secret. A not-so-nice one."
It's a short and eerie little experience, fun and dreadful and full of delicious shivers.
Bleakshore
Reminiscent of Dear Esther, this beautiful walking simulator will kick you right in the feels — but in a good way. You've gone to Bleakshore to look for your missing partner, Orla. As you wander the lonely landscape, you find the bits and pieces that make up your relationship — the things that paint your history together.
Where is Orla?
You have to find her.
And only when you do will you experience resolution.
Just… know going in that where you think this game is going, probably isn't where it's actually going. It's a different kind of experience than, say, Wrong Floor or Security Booth; heartfelt and loving, it's a reminder that horror doesn't have to leave you with chills. It can be warm, too.
No Players Online
I previously recommended this Itch.io horror game in TGIMM's What To Do On Halloween roundup for 2020 — and I'm recommending here again, because it's truly a delight.
Back then, I described it as "basically a creepypasta about a cursed video game told through an actual video game," which is still probably the most accurate way I can put it. To elaborate a little more: If you've ever wondered what happens to the abandoned servers of a dead MMO, No Players Online posits one possibility. Is it realistic? No — but it sure is fascinating, and more than a little terrifying.
The less you know about this one going in, the better.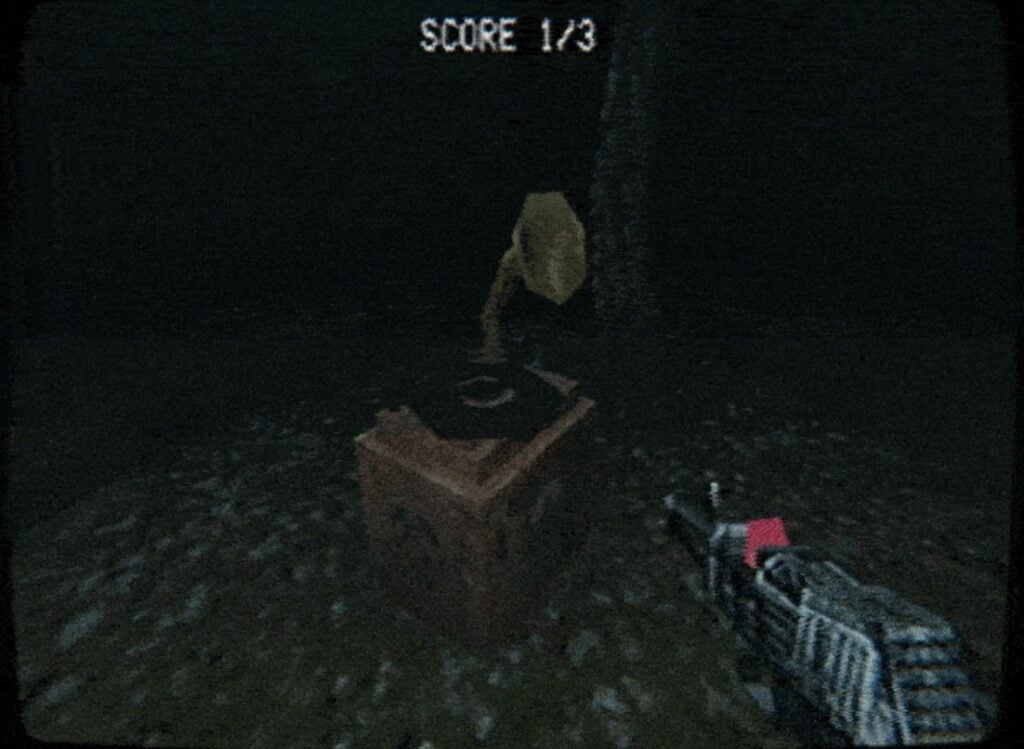 Contemp
Have you ever been tempted to go find an abandoned house somewhere in the woods and explore it? Well, good news: With Contemp, you can do so from the safety of your own home. What's more, you don't just get to explore an abandoned house; you get to explore an abandoned house where… something clearly happened. And that something has left its mark on the place — and in more ways than one.
A short and chilly little exploration, Contemp is more about experiencing a certain kind of atmosphere than anything else — there isn't much puzzle-solving; there's no combat; and all you're really doing is walking, for the most part. But that doesn't mean it's boring; there's lots to see here, and tons of detail.
If you liked Resident Evil: Biohazard — particularly the early parts of the game — I have a feeling you'll dig Contemp, too; it has a similar feel.
Shiver
It's somewhat rare to find a point-and-click adventure/puzzle-solving horror game these days, but as someone who adored this kind of game in the '90s (Shivers! Are You Afraid Of The Dark: The Tale Of Orpheo's Curse! The Seventh Guest!), I found Graham Hutchison's Shiver (unrelated to the just-mentioned Shivers series) to be a glorious throwback that celebrates the best of the tradition.
It's 1992, and you're on your way to visit your ailing father when you crash your vehicle near a national park — the dark, forest-y type, not the canyon- or desert-type. You need to find help — it's snowing, and in the off-season, there isn't anyone nearby to give you aid — but it turns out, of course, that even if there aren't any people around right now, you aren't alone. There's an old mine nearby, and an abandoned re-development project, and, of course, a monster. Given that you're on rails the whole time here, Shiver is still surprisingly heart-pounding.
The Building 71 Incident
Like September 1999, Scary Cube's The Building 71 Incident is a first-person VHS horror game that puts the player the behind the camera and uses the device's lens literally — that is, the camera's lens is the literal and figurative lens through which we view the events of the game. Those events center around an abandoned building at a university in the south of Brazil which was closed down and condemned in the late '90s due to what was named as a gas leak.
Spoiler alert: It wasn't a gas leak. The building, it turns out, was the site of cult activity — and as you explore, you'll need to unravel exactly what happened there.
But here's the thing: We know going into it that you won't survive — or at least, once you enter the building, we know you won't come out of it. The game tells up front that although the footage was recovered, the person who recorded it wasn't.
And that's you.
I'm sorry.
Play The Building 71 Incident here.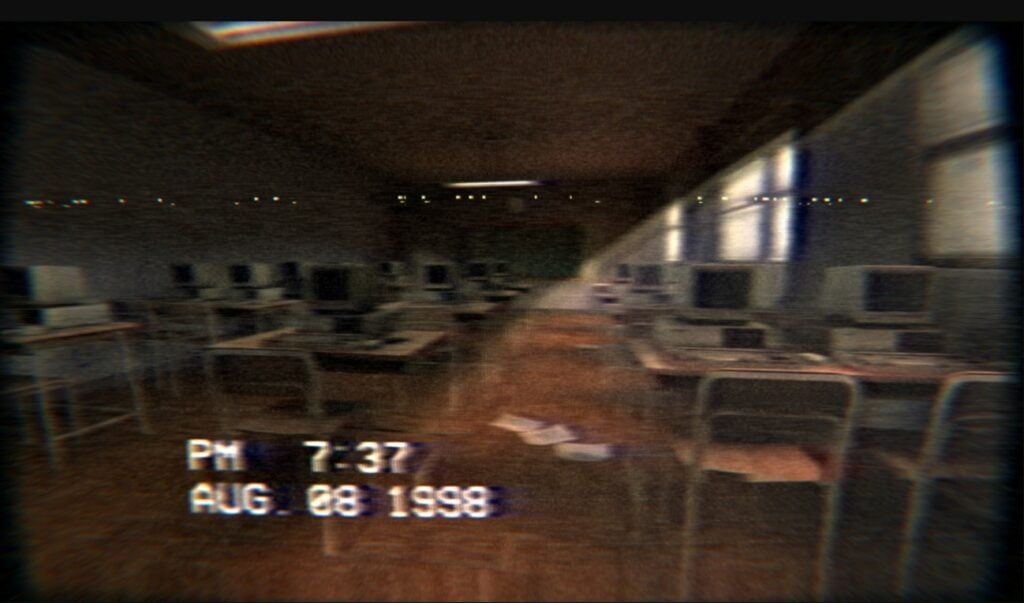 The FeedVid series
From developer Varun Ramesh, these two free Itch.io horror games are standalone, yet undeniably a set. They both involve exploring some of the… darker corners of the internet; if you're a fan of the Welcome To The Game series, you might also enjoy FeedVid.
FeedVid Live is the longer of the two games; clocking in at around 15 to 30 minutes, it's essentially a text adventure game with a video component. It takes the form of a Twitch-esque livestream—but instead of a video game, this game horrifyingly visceral. Can you help the unwitting player trapped in this… unfortunate location escape? (Note that this one is a bit Saw-like in nature, so if that's not your jam, you may want to skip it.)
Meanwhile, the original FeedVid is both shorter at 10 minutes in length and less brutal than FeedVid Live. Situated within a YouTube-like app, it sees you trying to solve the mystery of a series of odd videos that keep popping in your feed… and to help whoever's posting them survive, as well.
Play FeedVid Live here and FeedVid here.
Invitationem
Like Shiver, Julien Bartholini's Invitationem is a good old fashioned point-and-click puzzle-solving game — with quite a few highly effective scares along the way.
Set in 1991, it sees you taking the role of a stranded motorist who, while searching for help in the middle of a stormy night, stumbles upon an opulent house in the woods that… isn't all that it seems. Per Bartholini, it's something of a love letter to classic horror cinema, featuring many of the tropes that run throughout a particular type of genre film. With tons of terrific surprises and reveals, it's a nice compact piece of storytelling that'll send chills up and down your spine. Thoroughly enjoyable!
Human
The setup for Human, created by indie developer Spektral Studios for the 2016 Halloween Jam, will look familiar to anyone who's seen The Thing or is otherwise interested in arctic horror: Something has gone wrong at a research station in Alaska, and you're there to figure out exactly what happened. But what unfolds is something of a surprise: You're not stalked by monsters or anything like that… but reality is not quite what it seems.
In some ways, this game is a horror maze all dressed up — but it's a really neat and unusual experience, with some tricky puzzles to solve if you're to have any hope of navigating your way out of this situation.
There are some Well To Hell vibes here, by the way, in the event that you've always sort of loved that particular legend. Also, CW for implied suicide in this one.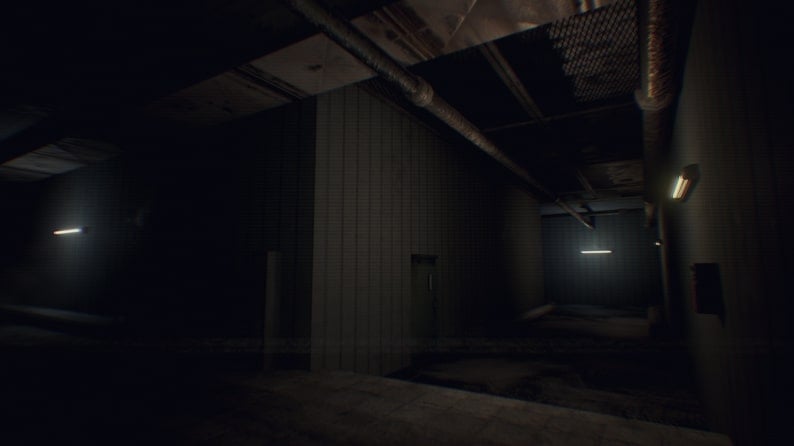 Regular Home Renovation Simulator
Substandardshrimp's Regular Home Renovation Simulator poses the question, what if House Flipper, but extremely cursed? Like House Flipper, Regular Home Renovation Simulator sees you flipping a small yet charming home in a leafy, suburban neighborhood. Like House Flipper, Regular Home Renovation Simulator instructs you to clean floors, lay flooring, adjust paintings, patch holes, and fix sockets.
The sockets are really important.
No, seriously.
The sockets are really important.
Pay attention to the sockets.
Regular Home Renovation Simulator isn't just a slightly off home renovation simulator. There's a story here, of course, and it has to do with the darker side of house flipping. There's a point to the mode you unlock after you finish the 20-minute-long main campaign, too, by the way — but I won't say what it is. It'll spoil it.
Play Regular Home Renovation Simulator here.
It's Not Me, It's My Basement
An Arcade Kitten creation, the RPG Maker game It's Not Me, It's My Basement looks sweet on the surface — but don't be fooled by its candy-colored palette.
There's something lurking in Embry's basement, you see — both literally and figuratively. Embry has to keep them fed, or else terrible things will happen.
And they have to do it on their own. There's no one else around to help. Embry's parents… well, they're not totally sure what happened to them, but it definitely has something to do with the thing in the basement.
Or at least, that's what Embry thinks. Again: They're not totally sure.
They're not totally sure about much. But they think that if they can just get through the day, then everything will be fine.
It's Not Me, It's My Basement is a deeply personal story about more than just literal monsters. If you're looking for something quiet and resonant, give this one a shot.
Play It's Not Me, It's My Basement here.
Longer Time Investments
(Don't) Open Your Eyes
This pick from developer Via is a visual novel that takes place with your eyes closed. (Yes, even though it's a… visual novel.) You can choose to open your eyes at various points — or not. It's up to you. Just… be sure that you won't disappoint anyone with your choice — least of all the ASMR monster that seems to be occupying your bedroom with you.
Depending on how you play it, this Itch.io horror game can actually be quite short. But if you stick with it, it… unspools in some fascinating ways.
The next time you fall asleep… be careful if you hear someone telling you to open your eyes.
Play (Don't) Open Your Eyes here.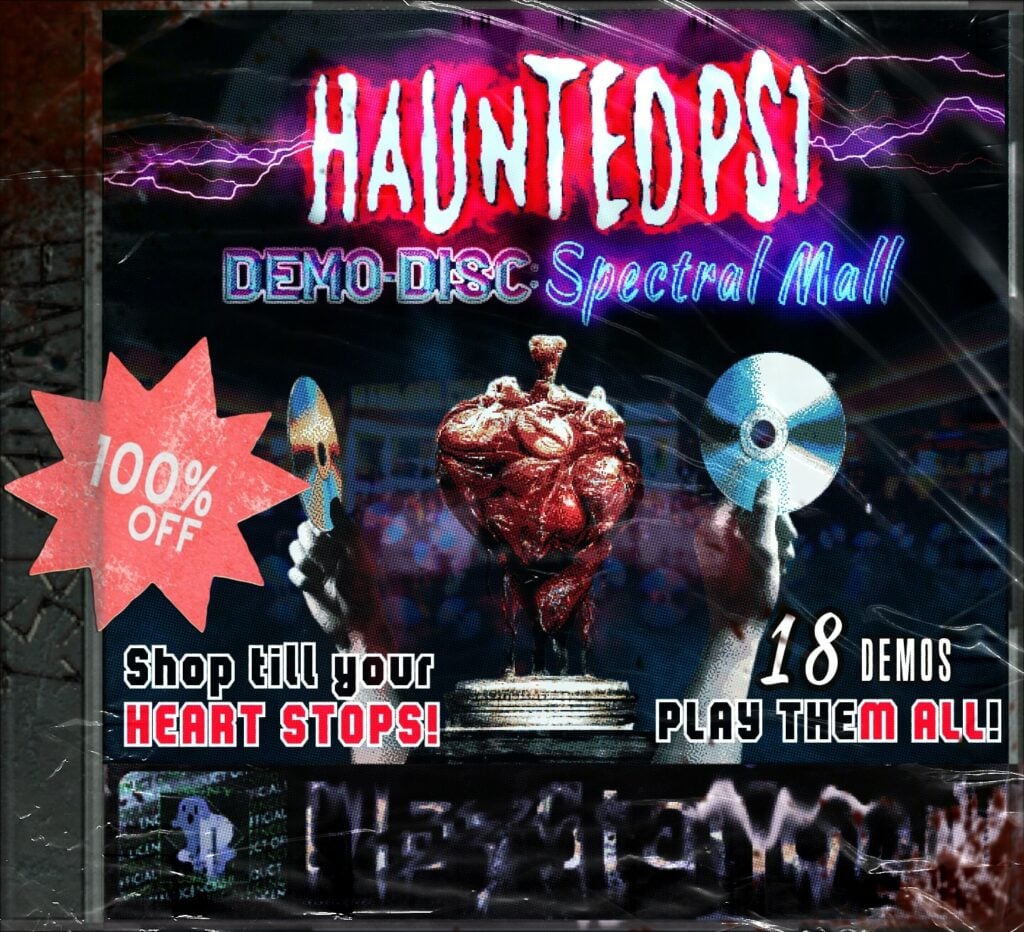 The Haunted PS1 Demo Discs Series
For the past few years, the Haunted PS1 collective has been putting out "demo discs" — collections of short, retro-style horror games, some of which actually are demos for longer games and some of which are standalone experiences all on their own. These demo discs are delightful, so if you're looking for what's basically a buffet of nostalgic horror, these three options will keep you busy for hours.
The first collection came out in 2020; standouts for me include Tasty Ramen, In Somnio, and Heartworm. The 2021 edition featured a fun framing device in addition to the actual games — you start out in a town that looks a little like Silent Hill and then go into a museum from which all of the games can be accessed. Favorites from this collection for me include The Janitor Bleeds, Walk, Risu, and The Drowning Machine (CW: suicide for that last one). And then in 2022, we got not just a framing device, but a framing device that's a game in and of itself: You're trapped in a dead (haunted?) mall and need to find a way out. Standouts from this edition include Northstar Courier (also available individually here), Gob, Mothered, and Dead Letter Department.
I'll be honest in that I found less to keep me interested in the 2020 edition — but I think that's likely because I actually encountered the 2021 edition first, which is much more ambitious in scope. 2022's collection took that even further, and the end result is truly electric. But they're all still worth giving a try — and if you like what you see there, consider supporting the developers individually, as well!
Play them here: 2020 Demo Disc; 2021 Demo Disc; 2022 Demo Disc.
Happy's Humble Burger Barn
Honestly, Happy's Humble Burger Barn might be my favorite out of all of the games on this list. On the surface, it looks like a job sim — you work at a run-down fast food restaurant, flipping burgers and filling orders for a slightly unsettling set of clientele. But as the roughly hour-long game goes on, things take a… bit of a turn.
I don't really think I should say more than that. But believe you me when I say that this one is excellent.
The free version of Happy's Humble Burger Barn is actually an early version of a game that was later fully developed; the complete version is also available on Itch.io for around $20, as well as on Steam.
But this early version? It's still worth playing. I laughed; I jumped; I yelled "WHAT THE…?" at my computer repeatedly. A good time, all in all!
Play Happy's Humble Burger Barn here.
From Next Door
This one, meanwhile, is probably my second favorite of the bunch. Developed by Space Zeta for the 2016 Pixel Horror Jam, this RPG Maker-style horror is strong on story with excellent writing. To be fair, that's kind of the hallmark of RPG Maker horror games — good storytelling relayed through good writing — but this one is particularly effective.
Drawing its inspiration from Junji Ito and the Silent Hill franchise, among others, From Next Door centers around a young woman, Nami, who has just moved into a new house under some troubling circumstances. The story takes place largely within a single location — the house in question — with a heavy emphasis on the uncanny (that is, the familiar strange). It turns out there's a reason Nami was able to get a house this big at such a low price… a price which ultimately may not be worth it.
About an hour in length, this one also features multiple endings, depending on the actions you take. If you've played and enjoyed the Strange Men series, you'll probably dig this eerie little story.
Sara Is Missing
Another one I recommended some time ago — way back in 2018, in fact — the Itch.io horror game Sara Is Missing remains a piece of work I still think about with a somewhat surprising degree of frequency.
Here's what I wrote about it several years ago:
"It's essentially the video game equivalent of a found footage movie, except that instead of a reel of film or an SD card, you've found someone's phone — and it's up to you to dig through what's on said phone in order to figure out what happened to Sara. … Was she involved in a cult? Is her phone possessed? Who the heck is this guy who keeps calling the phone looking for her? There are a lot of mysteries to unravel here, and it's a ton of fun to do so."
At the time, this kind of game — one that was framed within a mobile device, seeing the player sort through the contents of someone else's phone in order to find out what happened to them—was much less common than it is now; indeed, I'd argue that Sara Is Missing and its spiritual successor, Simulacra, walked so that games like the FeedVid series seen further up here could run. Sara Is Missing does have some flaws, but it's still a super interesting experience and definitely worth a playthrough.
***
Follow The Ghost In My Machine on Twitter @GhostMachine13 and on Facebook @TheGhostInMyMachine. And for more games, don't forget to check out Dangerous Games To Play In The Dark, available now from Chronicle Books!
[Photos via Peter Herrmann/Unsplash; litrouke, 98demake, Forameuss, N4bA, papercookies, Scary Cube, spektralstudios, The Haunted PS1/Itch.io]