Note: This gift guide has been UPDATED for 2021! Hoorah!
Time to dust off a rarity for TGIMM: A holiday gift guide. But! A holiday gift guide for spooky people. If you have a spooky person or two in your life — or if you, yourself, are a spooky person who is looking forward to gifting yourself something lovely this year — this spooky gift guide is for you. It is full of things to read, things to look at, things to wear, things to decorate your home, and things to otherwise enjoy, all of which make excellent gifts for any and all people who enjoy just a little bit of darkness in their day-to-day life. Even during the holiday season.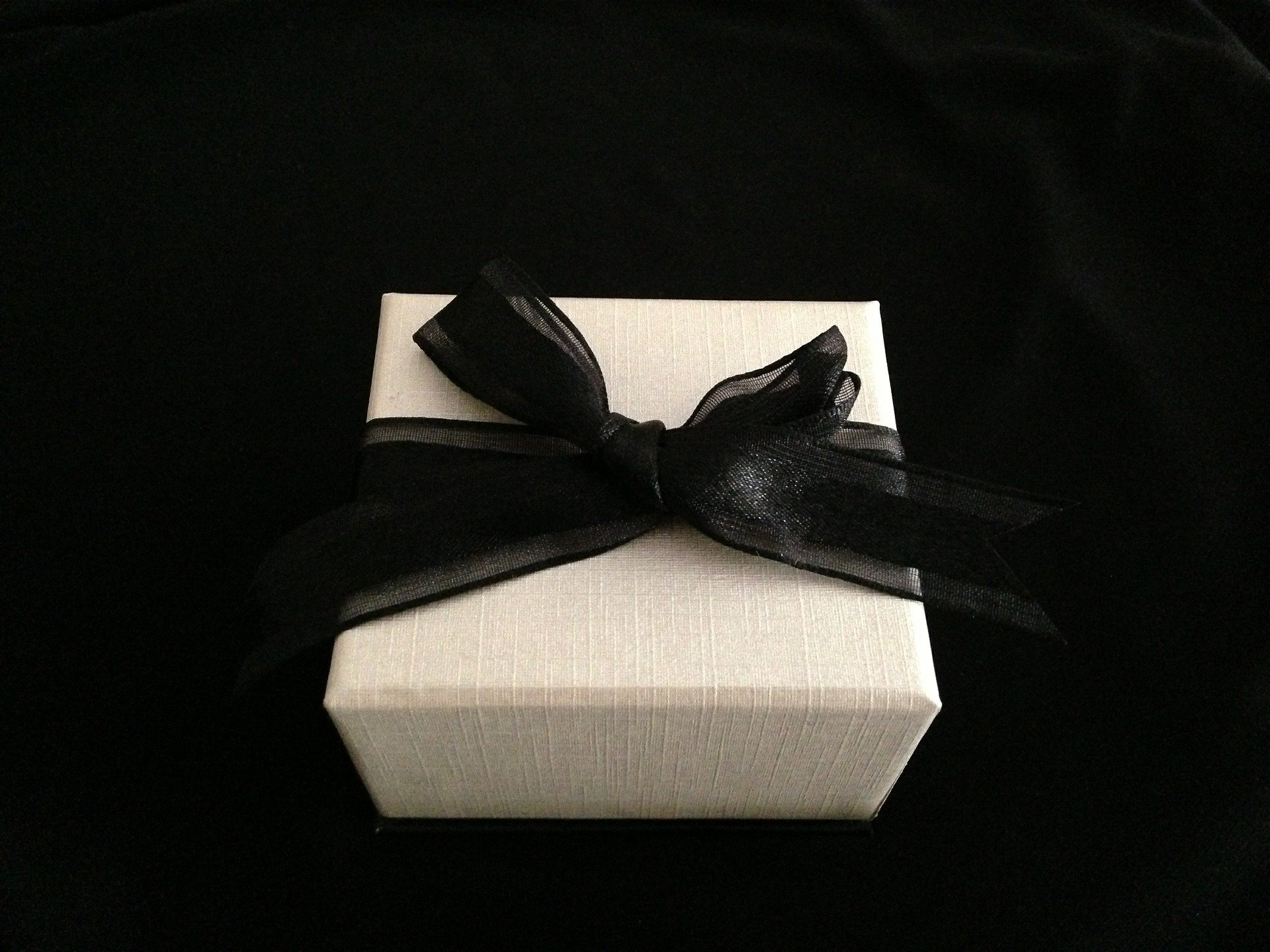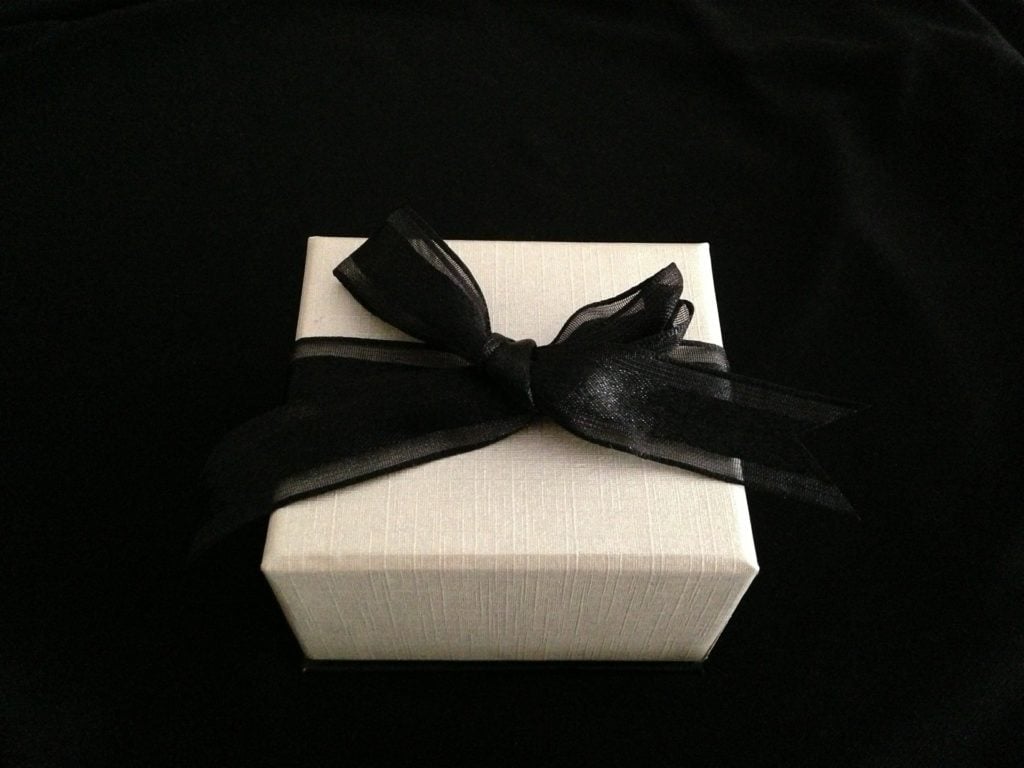 Why a gift guide, when that is not usually what we do here at TGIMM? The last two years have been… rough. Things will likely continue to be rough. And sometimes, looking at fun things, considering who in your life would be most delighted by those fun things, and perhaps delighting yourself with those fun things can make things feel a little less horrific. There's something to suit every budget here, from the "I have a couple of bucks to surprise someone I love and that's about it" to the "I'm doing pretty okay, actually"; additionally, many of the picks are made by independent artists and vendors, so you'll be giving your support to some terrific folks in the process.
[Like what you read? Check out Dangerous Games To Play In The Dark, available from Chronicle Books now!]
(On that note, though, remember, too, that independent artists and vendors typically run small — frequently just one-person — operations; accordingly, order early, have patience, and be kind. Everyone's running on fumes at this point, and a little kindness goes a long, long way, particularly at this time of year. Oh, and for what it's worth, none of the things on here are affiliate links or anything; they're just here because I genuinely enjoy them, and I think probably at least a few of you will, too.)
So, hey. If you like your holidays a little spooky, here are some things to add to your shopping list. Happy holidays, folks — from my ghostly little heart to yours.
Venus In The Blind Spot and Remina by Junji Ito
For English-speaking manga fans, these two English translations of horror master Junji Ito's work are a real treat. Released in August of 2020, Venus In The Blind Spot functions as a sort of "greatest hits" volume; it includes classic Junji Ito works like "The Human Chair," "The Enigma Of Amigara Fault," and of course the titular tale, "Venus In The Blind Spot." Remina, meanwhile, came out on Dec. 15, 2020; it represents one of Ito's rare sci-fi stories. The hardcovers are both beautiful volumes — and Venus In The Blind Spot also includes a number of full-color pages, which, uh… well, let's just say that it brings a whole new level of horror to Ito's illustrations. You can read a previews of Venus In The Blind Spot and Remina over at VIZ.
Get them here: Amazon, $20.51 and $18.08.
Tales From The Stitch Crochet Horror Dolls
Perfect for any horror fan, these handmade crochet Hoodoo dolls bring the characters of both classic and modern horror cinema hits to fuzzy, adorable life. They run $80 to $130 CAD apiece; the stock is constantly changing (they are handmade, after all!), but as of this writing, you can grab such characters as Mr. Simms from Tales From The Hood for CAD$100, Sam from Trick 'r Treat for CAD$80, and Mary Sanderson from Hocus Pocus for CAD$130. (Also, note that prices are in Canadian dollars, as our friendly neighborhood Stitchkeeper is based in Canada.)
Get them here: Tales From The Stitch, CAD$80-$130.
My Little Occult Book Club by Steven Rhodes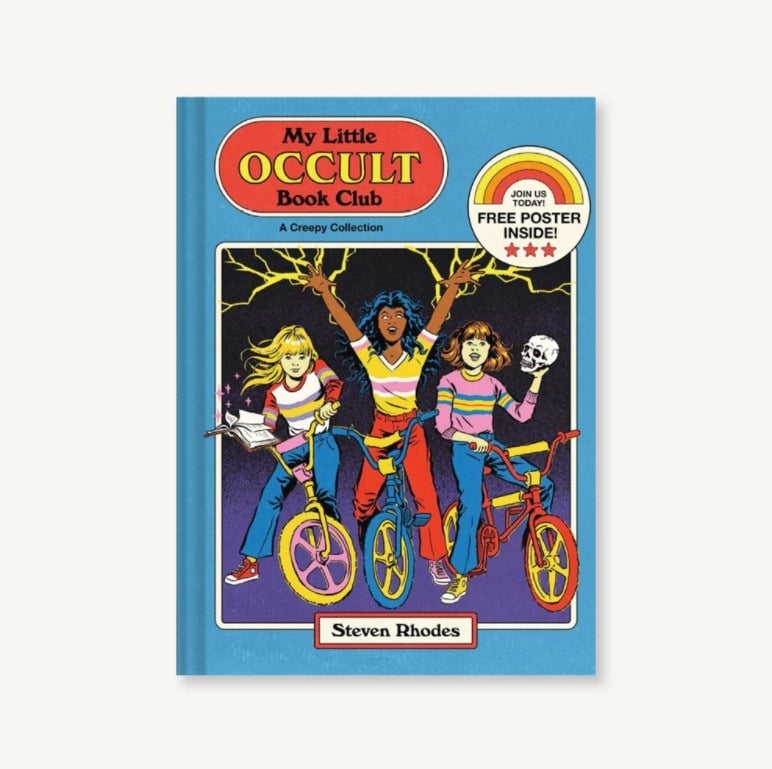 Australian artist and graphic designer Steven Rhodes' specialty is parody book covers done in the style of children's books from the '70s and '80s featuring some… let's call it less than wholesome subject matter. The juxtaposition of the form with the content is just delightful, so if you, too, find yourself giggling every time you look at his illustration of the Easy Bake Coven or the picture detailing How To Care For Your Hell Hound, why not pick up a book full of these images? It's a coffee table book like no other.
(P.S. If you like Rhodes' work, you can also get T-shirts, sweatshirts, and other apparel emblazoned with it at his Threadless shop, or get a few prints of your favorite designs to hang on your walls from his Society6 store. )
Get it here: Amazon, $12.79.
Spooky Embroidery Art
If Tales From The Stitch's crochet works of art didn't already convince you that the intersection in the Venn diagram of crafty people and spooky people is truly spectacular, then please check out the plethora of folks creating terrifically spooky embroidery art. Australia-based Etsy shop Stab And Stitch's Samara/Sadako-inspired piece is a personal favorite of mine; it's terrifically creative and clever in its use of the embroidery hoop as the frame through which the infamous Ringu ghost climbs to suck others into her curse. Meanwhile, Stitches Of Anarchy in the UK has everything from Haunted Mansion-themed pieces for the spooky Disney fan to beautiful, lacy bats.
Get them here: Stab And Stitch, $30.30; Stitches Of Anarchy, $46.27.
Bones Coffee Sample Pack
Spooky people deserve spooky coffee — and that is exactly what Bones Coffee Company delivers. With flavors ranging from Bananas Foster (bananas, rum, and vanilla) to Mint Invaders (mint chocolate chip ice cream), along with a number of specialty roasts and single-origin options, there's a little something here for every kind of coffee drinker there is; what's more, each bag comes in a bag adorned with delightfully skeletal artwork.
Sample packs — which, naturally, make excellent gifts (source: me; I was gifted one for my birthday this year, and it was glorious) — include four-ounce bags of five different flavors; depending on your favorite coffee drinker's tastes, you can choose between the World Tour Single-Origin pack, the Bones' Favorite Flavors pack, or a build-your-own pack.
Get it here: Bones Coffee Company, $29.99.
Rue Morgue Magazine Subscription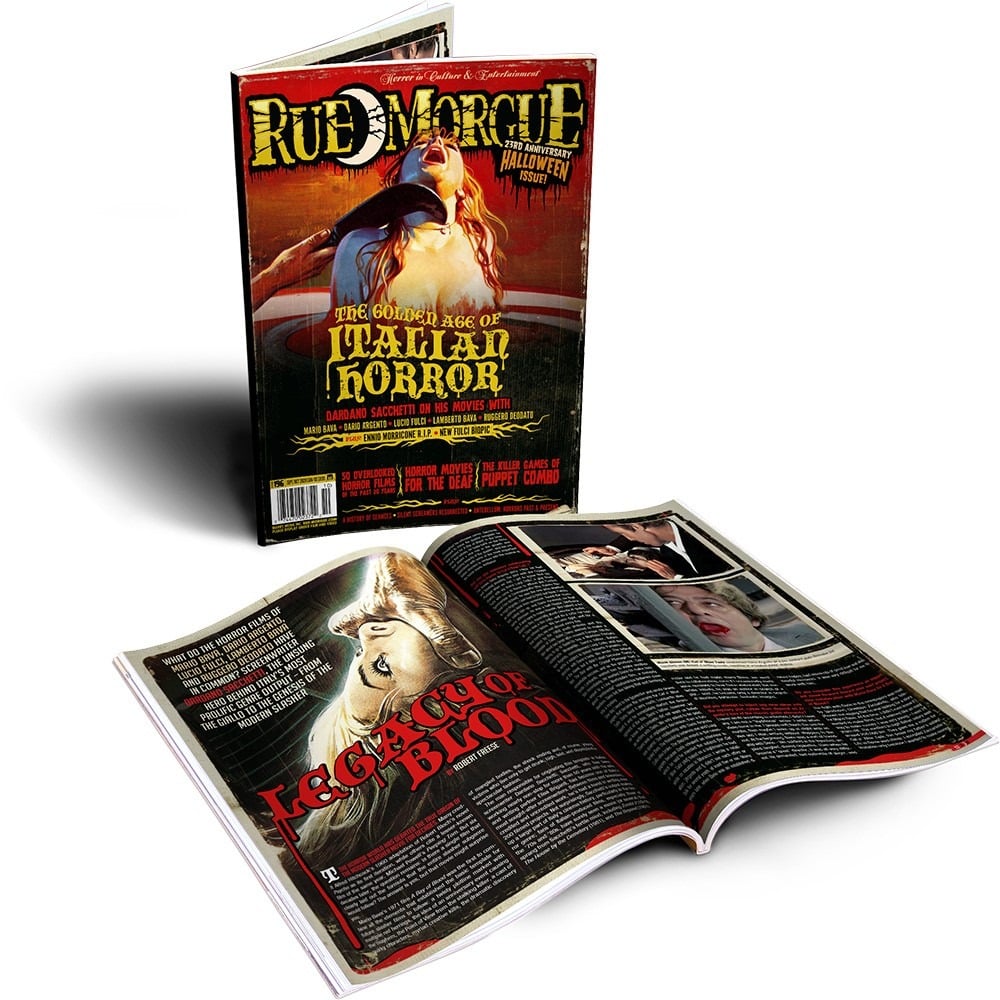 There are a lot of horror magazines out there. Many of them are very, very good. Rue Morgue is my favorite. With Andrea Subissati steering the (ghost) ship as Executive Editor, it's full of the kinds of in-depth features about what's going on in the world of horror cinema I seek out the most. It is great. Seriously.
Gift subscriptions start at $59.95 for one year and go up to $105.95 for two years; you can also grab individual issues, back issues, rarities, themed multi-packs, and more in the Rue Morgue Shoppe.
Get it here: Rue Morgue, $59.99+ for gift subscriptions, $9.95 and up for individual issues.
Skull Lamp
I won't lie: This lamp from Welsh artisan shop The Blackened Teeth is pricey enough that I'm not really sure I love anyone enough to get it for them as a gift. (Not even myself.) But if you have money to burn, and you're looking for a gift for the spook who otherwise has everything, you could do worse than this. I mean, look at it. It's glorious. The last order for everything from The Blackened Teeth to arrive in time for the 2021 holidays is Dec. 8, so plan accordingly.
Get it here: The Blackened Teeth, $121.
Anything And Everything From Fright Rags
Seriously, everything.
If you or your favorite spooky person is a cinephile who also loves a good graphic T-shirt, Fright Rags is the place to go. The list of titles and franchises represented among the collection's offerings is massive, ranging from the very old to the very new and everything in between — and hey, if T-shirts aren't what you're looking for, there are plenty of other gear options, too, including hats, socks, and more. I'm partial to the older horror options, like this Elvira baseball tee ($38) and this Welcome To Twin Peaks tee ($28), but that's just me; if your tastes skew more modern, there's lots to choose from there, too.
Get it here: Fright Rags, prices vary.
"The Lottery" Poster
Litographs' products make great gifts for bookworms; their gimmick is that the text — often the full text — of the works from which they get their inspiration is printed directly on the item. Originally, they made their name with posters, but now you can get a whole range of bookish items from them, including apparel, puzzles, and more.
I still like the posters the best, though. This one features the Shirley Jackson short story "The Lottery," but other good picks include Oscar Wilde's The Picture Of Dorian Gray, Grimm's Fairy Tales, and Robert Louis Stevenson's The Strange Case Of Dr. Jekyll And Mr. Hyde.
Get it here: Litographs, $19 to $29 depending on the size.
Cursed Objects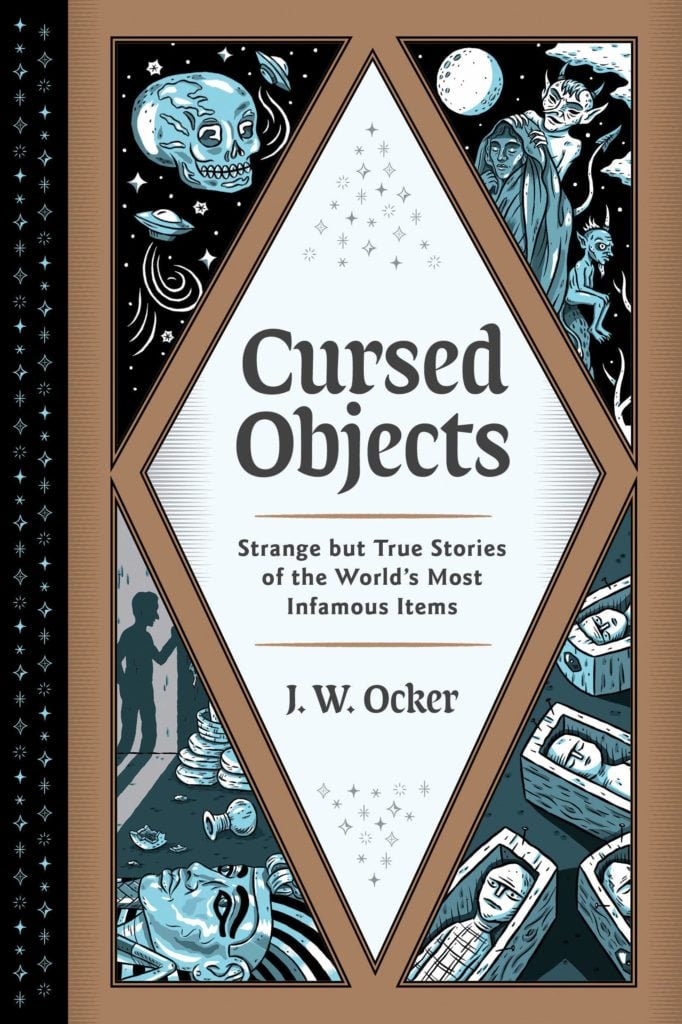 So much of our history is told through the objects we leave behind — and sometimes, those objects are super, super weird, which means the history they tell, too, is super, super weird. It's this particular brand of historical weirdness that you'll find detailed throughout Cursed Objects with a keen eye and, perhaps incongruously, warmth and humor. Divided into six sections — one on (allegedly) cursed objects kept under glass, one on those found in graveyards, one on those found or secured in attics, and one on those cursed literally in stone, along with sections on the business of cursed objects and one exploring why some objects that seem like they should be cursed, aren't — J.W. Ocker will take you not only around the world, but into its darkest, dustiest corners to explore what these strange and mysterious objects can tell us about ourselves. It's tons of fun; if you dug Dangerous Games To Play In The Dark (see below), you'll probably like this one, too.
Get it here: Amazon, $11.46.
Beauty of Horror Coloring Books
Okay, yes, I realize the adult coloring book boom has slowed down somewhat compared to a few years ago — but if the past couple of years have taught us nothing else, it's that having a coloring book or two around can go a long way towards soothing the unsettled, stuck-at-home-until-the-end-of-time soul. And for the naturally ghoulish among us, Alan Roberts' Beauty Of Horror series is a top pick, full of creepy, kooky, gorgeous images to color in at your leisure. These days, there are tons of options to choose from; the main series has five books in it, but then there are also additions like the Tricks And Treats Halloween special and the delightfully interactive Haunt This Journal, too. They're all priced between around $10 and $15, so grab a couple if you're feeling extra colorful.
Get them here: Amazon, $10 to $15.
Poe And Raven Enamel Pin Set
From Out Of Print Clothing comes an adorable little pair of enamel pins — one featuring Edgar Allan Poe's troubled visage, and the other, the titular corvid from one of his most famous works. Although I do not own this particular pin set, I do have an, uh, overlarge collection of T-shirts from Out Of Print, so I can absolutely vouch for the quality of the store's offerings. Speaking of, if you're looking for something wearable that isn't a pin, Out Of Print's "Spooky" section has shirts, tote bags, socks, and more featuring not just "The Raven," but also titles ranging from Dracula to The Gashlycrumb Tinies and from Frankenstein to Bunnicula.
Get it here: Out Of Print Clothing, $18.
Spooky Throw Blankets
Creepy Co. — which also runs a fun and free horror hotline you can call whenever you like! — is, like Fright Rags, one of the best purveyors of horror-themed apparel and décor out there. What sets them apart is general demeanor; Creepy Co. tends to be a little more off-beat than Fright Rags. For example, in addition to classic horror movie gear, you'll find Hawaiian shirts with a spooky secret, knit sweaters festooned with giant images of those plastic vampire teeth every dollar store on the face of the planet sells, and plush versions of the Necronomicon to cuddle up with at night.
Their selection of spooky throw blankets is particularly good, including both options that look like giant covers of your favorite kids' horror books and ones that resemble huge VHS boxes for cinema classics like Halloween and Creepshow. I'm quite attached to this Scary Stories To Tell In The Dark blanket, which also has frontispiece for the book on the back side—which means you get not just the Stephen Gammell cover of the first volume of the series, but also a gigantic illustration of Harold, to boot.
Get them here: Creepy Co., $34.99.
Anatomica: The Exquisite and Unsettling Art of Human Anatomy by Joanna Ebenstein
I've already pointed this volume out once before — it was in 2020's list of Read Something picks in our What To Do On Halloween: Stay-At-Home Edition roundup — but I'm boosting it again, because it's just that good. Anatomica is one of my favorite reads of the year; if the spooky people in your life are spooky in a nerdy, academic, but also super metal sort of way, this look at anatomical art from the 16th through the 20th century is not to be missed.
Get it here: Amazon, $20.80.
Yokai Enamel Pins
Do you have a yokai lover in your life? Gift them an adorable enamel pin from Yokai Parade. Run by Lili Chin, Linda Lombardi, and Zack Davisson, Yokai Parade's offerings are beautifully rendered and just so stinkin' cute. My own personal favorites include the kasa obake and kitsune pins, but each and every one is a winner.
Get them here: Etsy, $12.
Scream Factory Special Editions
If there's a hole in your favorite horror fan's Blu-ray collection, Scream Factory will almost certainly be able to fill it. I know, I know — I personally have not purchased a DVD in literal years, but given that a specific title's streamability is never guaranteed, it can't hurt to own your top picks. Besides, really good releases are collectible in and of themselves—and that's especially true of Scream Factory's limited editions. For example, their Prince Of Darkness bundle ($58.99 includes not just the movie, but also a limited edition poster featuring the original theatrical artwork and a 7″ vinyl of the soudntrack. Or, if you, too, were absolutely Here For It when the Babadook became an unintentional LGBTQ+ icon, try the LGBTQ Pride edition of the film ($15.99) bearing that most memorable of creatures' names.
Get them here: Shout! Factory's Scream Factory section, prices vary.
Frankenstein Writing Gloves
I have been gifted two different Storiarts products over the years — both scarves — and I love them dearly. Like Litographs, Storiarts is known for printing the texts of books and other works on their products. I covet these fingerless Frankenstein gloves, so that's what I'm including here; there's plenty more to choose from, though, including some terrific options featuring Macbeth, Dracula, and "The Raven."
Get them here: Storiarts, $28.
Dangerous Games To Play In The Dark by Lucia Peters
Sorry. Shameless self-promotion. But hey, BuzzFeed thinks it is a Great Gift Under $15, so why not pick up a copy for the thrill-seeker in your life? It's available a ton of places, so whether you're an Amazon shopper or an independent bookseller one, you should be able to get a hold of it pretty easily — in English or in German!
Get it here: Amazon, $11.70.
Void Merch… Uh… Merch
Writer Jordan Shiveley's one-liners are some of the funniest I've ever read — and if they appeal to me, they will almost certainly also appeal to you, Gentle Readers. Shiveley's merch line, Void Merch, is full of endlessly customizable apparel options featuring these one-liners, so if they make you and your spookiest pals laugh as much as they do me, hie thee hither and pick up a shirt or two. I'm partial to the "My body is a temple" one, but I will admit that I also drawn to such picks as "Leave them at the bottom of the grave they dug for you" and "Big Witch Energy." Also, while you're at it, give Shiveley a follow on Twitter — the account is Dread Singles (@hottestsingles), and although the content has moved away a little bit from the funny-spooky "HOT SINGLES IN YOUR AREA" tweets that used to make up the bulk of the feed, it's still lots of fun.
Get it here: Void Merch, $22 to $36 depending on the customization options you choose.
Horror VHS Tape Lamps
I believe I've observed a few times that I am not so much into Old Things in general, but specifically Old Things Made Into New Things — and for that reason, these upcycled lamps made from old VHS tapes just tick all the right boxes for me. Made by a Ukraine-based independent shop called VHSBrightNight, they're available in a huge array of varieties; I'm partial to this Heathers one, but you can grab anything from Carrie to Get Out.
Get it here: VHSBrightNight, $31.97.
Universal Studios Halloween Horror Nights Gear
Following this year's return for HHN, the Universal Studios online shop has a variety of spectacular HHN gear available in it. If you've got a friend who's ecstatic about the return of this iconic Halloween event, why not spring for a retro marquee mug featuring the event's most notable figures? or a Bride of Frankenstein action figure? Or a goes-with-anything ringer tee?
Get them here: Universal Studios Halloween Horror Nights Shop, prices vary.
Shudder Subscription
It is distinctly possible that any spooky person in your life already has a subscription to Shudder. If they don't have one, though, now's the perfect time to gift them one. After all, what with the whole not-really-going-anywhere thing we've still got going on right now, what better way to fill your time could there be than movies, movies, and more movies?
It's worth noting that Shudder doesn't currently offer an actual gift option; however, you can pre-pay for a year for $56.99, or just go month-to-month and tell your recipient how many months you're covering the cost. More info on subscription costs can be found here.
Get it here: Shudder.com.
Spooky Art
Admittedly, it can sometimes be difficult to buy art for other people — but if you have a good idea of what your pals like, or even if you have an idea of what they might find amusing or enjoyable, a piece of original art or a print might be just the thing. Plus, you can support the scads and scads of wonderful artists, many who operate independently, currently working in the spooky arena while you shop, and that's always a good thing.
Lots of the folks in this roundup of spooky artists either have stores or accept commissions; additionally, I've recently been enjoying the work of the following artists:
And that's all she wrote! Obviously this is far from an exhaustive list; it might, though, give you some ideas. Or at least that's my hope. It's my hope, too, that this season has at least a spark of joy for each of you as the year draws to a close.
Be kind to each other, and be kind to yourselves. Stay spooky, friends.
[Photo via KathleenWoodhouse/Pixabay.]