Previously: Krampus.
Type: MO (Malevolent Object)
Period/location of origin: 2004, southern United States. However, subject's roots go back several decades earlier; additionally, subject may further embellish or fabricate both its period and location of origin in an attempt to attract targets. For example, subject may suggest that it and its associated "traditions" are considerably older than they actually are, or that it hails from an area much further north than its true place of origin.
Appearance: Subject, known as "the Elf on the Shelf," appears to be a small, humanoid doll designed to look like a so-called "Christmas elf." It may have various skin, hair, and eye colors, and may be of any gender; however, it is always dressed in the same fashion: A red, one-piece jumpsuit adorned with a white collar, white gloves, and a red, pointed hat with white trim. Subject's limbs are flexible and may be posed in a variety of ways.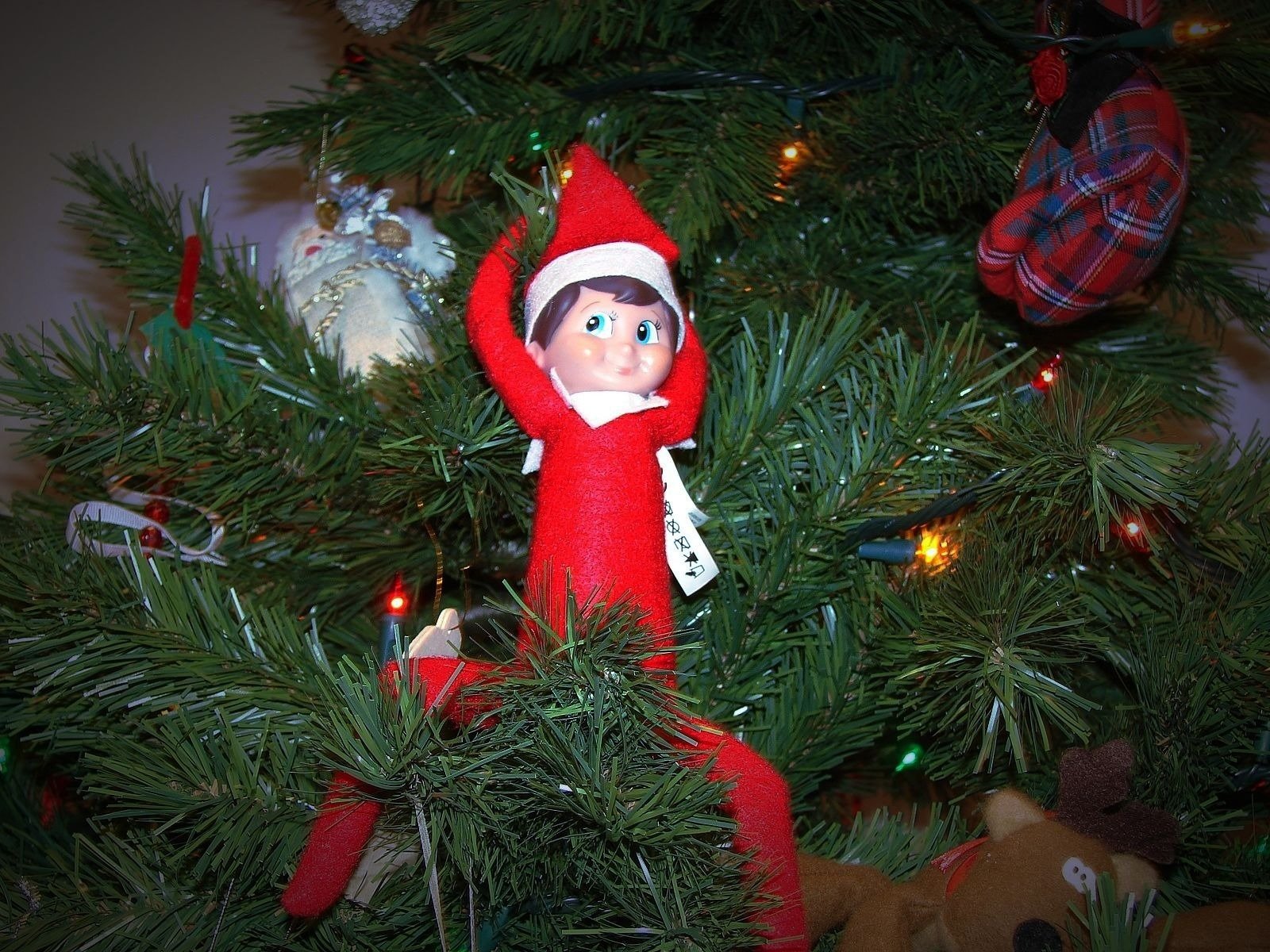 [Like what you read? Check out Dangerous Games To Play In The Dark, available from Chronicle Books now!]
Modus operandi: Subject initially portrays itself to potential targets — typically families with small children who celebrate Christmas — as "a Christmas tradition." (The implication is that this tradition has existed for generations upon generations; however, in actuality it has existed for, at most, two to three generations.) Presented as a set featuring both subject itself and an accompanying storybook, subject displays itself in both brick-and-mortar stores and e-retailers; children under the age of eight in particular find subject especially attractive, and may therefore be harnessed by subject as a means of infiltrating targets' home.
(There is only so much cajoling, whining, and/or screaming the typical parent can endure before breaking down and just getting their child the stupid doll, already. This is not the parents' fault; subject is both wily and relentless.)
To children, subject positions itself as a living, breathing "scout elf" in the employment of one "Santa Claus" whose job is to observe children and families in the days and weeks leading up to Dec. 25. Every night, subject claims to "fly" back "home" to the North Pole through the use of vague and undefined magic in order to report the behavior it has witnessed to "Santa." By doing so, it aids "Santa" in assessing whether each child should be placed on the "Naughty" list or the "Nice" list — and, by extension, whether each child is deserving of material gifts on Christmas day.
Subject also promises to relay any messages children may have for "Santa" directly to him; all they must do is whisper to subject what they wish it to pass along. Subject encourages these messages to remain strictly consumerist in nature — requests for specific gifts, etc.
Subject claims that the source of its "magic" is being adopted, named, and loved by a child. However, the true source of subject's "magic" remains unknown; indeed, subject's "magic" may not be magic at all, but something rather more nefarious. Regardless as to the "magic's" source, however, subject stipulates that children are, under no circumstances, ever to touch subject. If they do, subject claims its "magic" will vanish, leaving it cold and inert.
Subject vanishes after Christmas day, telling children it must return to the North Pole until the following year.
To parents, subject positions itself as an inanimate object which may be used to create some "holiday magic" for their children, as well as a method of encouraging good behavior throughout the holiday season. Subject instructs parents to reposition it in new locations — including but not limited to shelves — and in new poses each night after their children have gone to bed in order to create the illusion that subject has flown to the North Pole to give its nightly report to "Santa" and returned again for the next day's work. Once begun, parents must continue this activity until Christmas day, at which point subject may be put away until the following year.
Once subject has successfully gained entry to target's home, subject's reign of terror begins.
In children, subject fosters a sense of stress and paranoia consistent with the effects of living in a surveillance state. Children may also display fanatical devotion to subject at the expense of the health or wellbeing of themselves and/or others. In households with more than one child, children may be encouraged to report — or, in severe cases, manufacture and report — "bad" behavior displayed by other children in an effort to portray themselves as "better."
In parents, subject fosters a sense of pressure and resentment consistent with the effects of living with severe perfectionism. They feel they cannot forget to move subject even once, let alone cease to move subject entirely; to do so would "ruin Christmas." Parents may also feel an overwhelming need to best other parents in holiday preparations, intensifying the "keeping up with the Joneses" effect to catastrophic levels.
Subject's only goal is to sow as much chaos and discord as possible.
Containment: The key to subject's containment lies in subject's pathological concern about the touch of children: All one must do to neutralize subject is allow it to be manhandled by a child. It is also possible that positioning subject in… extreme scenes and situations may go some way towards limiting subject's power.
Additional notes: Subject bears some resemblance to the "knee-hugger elf" toys that were popular in U.S.-occupied Japan in the 1950s and 1960s. It is possible that subject has modeled its own appearance after these "knee-hugger elves."
In its original form, subject was simply an elf-shaped ornament named "Fisbee" which was hung annually on the Christmas tree of the Varnadore family in Oak Ridge, Tennessee sometime prior to the 1970s. In 1974, subject arrived at the home of Carol Aebersold, a former Varnadore who was now grown with children of her own. Subject's modus operandi was established at this time.
In 2004, Aebersold and her daughter, Chanda Bell, wrote the story now found in the storybook that accompanies all instances of subject. In 2005, they brought aboard Aebersold's other daughter, Christa Pitts, and artist Coë Steinwart, created the book about subject, and self-published it. For several years, Abersold, Bell, and Pitts sold kits featuring the books and subject independently; then, in 2007, the kits achieved widespread attention when a well-known celebrity was photographed with one in hand.
Subject has spread its reach further each year since.
It is not known whether subject's growing grasp over the Christmas season is preventable… or whether it is too far along to halt.
Recommendation: Should one encounter subject in the wild, immediately place subject in the hands of the nearest child.
Or just pose and photograph it doing something inappropriate.
Either should work.
Resources:
The Strange And Sweet History Of The Elf On The Shelf.
Un-Designing Knee-Hugger Elves: Class, Multi-Culturalism, and the Globaliazation of Christmas Kitsch.
Who's The Boss? The Elf On The Shelf And The Normalization Of Surveillance.
I'm So Over The Elf On The Shelf, But My Kids Aren't — Now What?
You're A Creepy One, Elf On The Shelf.
***
Follow The Ghost In My Machine on Twitter @GhostMachine13 and on Facebook @TheGhostInMyMachine. And don't forget to check out Dangerous Games To Play In The Dark, available now from Chronicle Books!
[Photo via An Errant Knight/Wikimedia Commons, available under a CC BY-SA 4.0 Creative Commons license. Remixed by Lucia Peters.]