Previously: The Uncanny Horror Of Vintage Halloween Costumes.
This post has been updated.
I will freely admit that I am really, really bad at social media. I'm slightly too old to be considered digitally native to it, and I've never been very good at making conversation with people I don't know very well, so as a result, I tend to lurk more than anything else. I have found, however, that running TGIMM's social media channels is slightly easier than running ones under my own name, thanks to the fact that there's a clear theme I can use to govern my activities: Spooky things. And that theme has, in turn, led me to one of my favorite things about social media: Artists who make spooky art and post it to social media.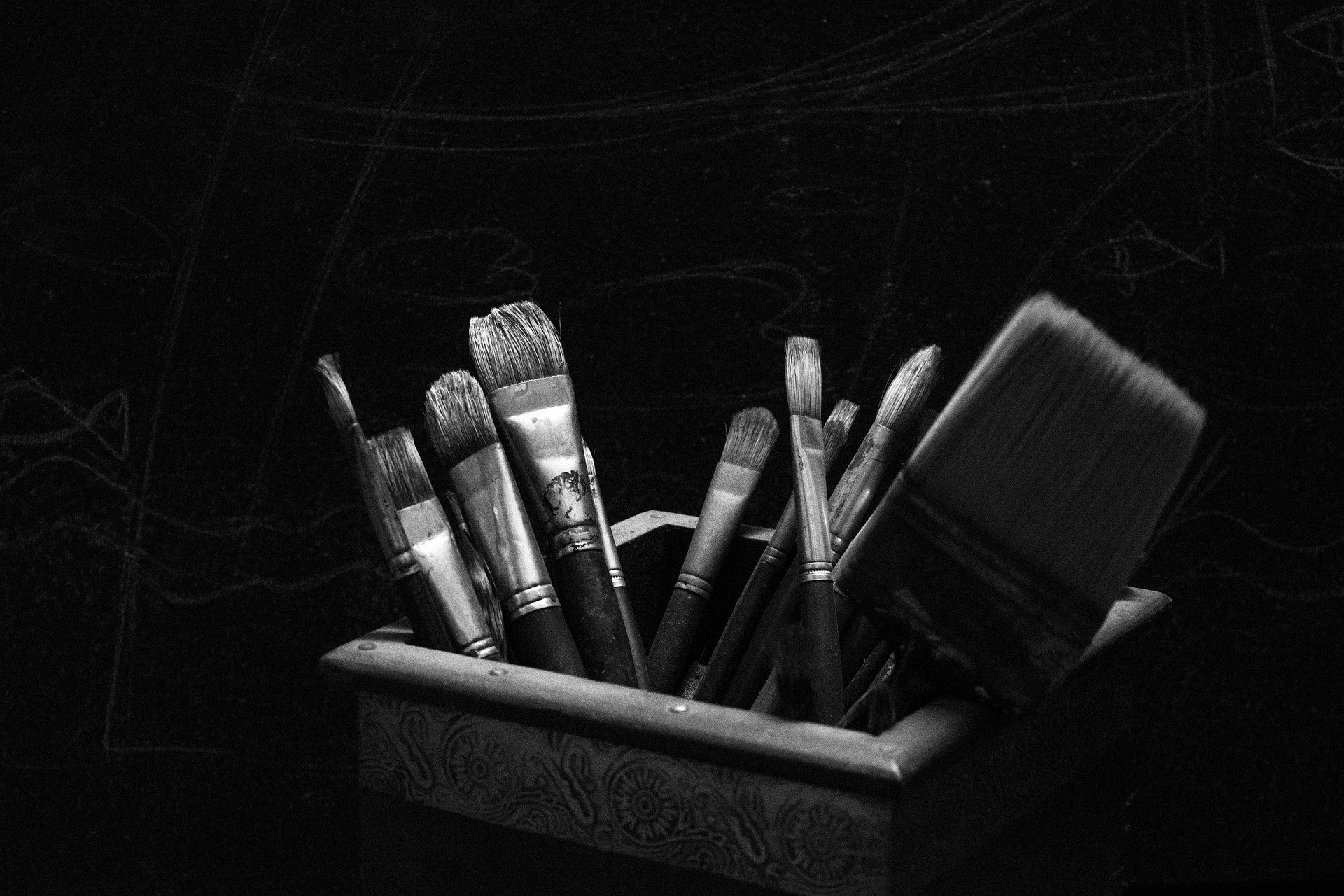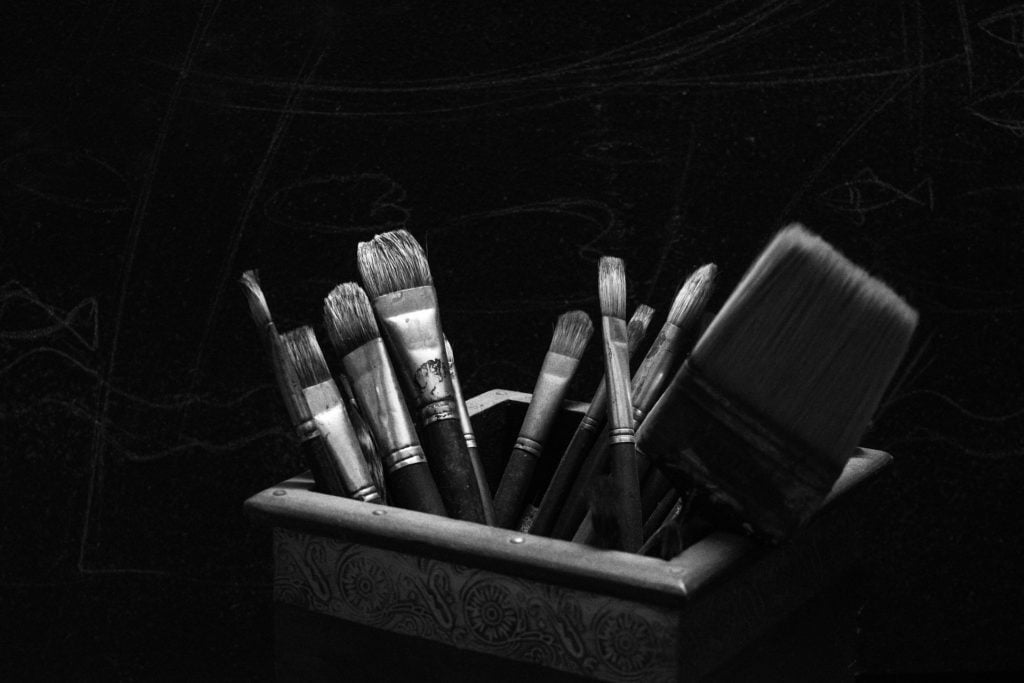 If you know where to look, social media is full of amazing, eerie, and beautiful works of art created by incredibly talented people. They work in a variety of mediums; they have a variety of styles; and they come from a variety of backgrounds. What they all have in common, though, is that their work inspires chills — the good kind of chills, the kind that happens when you experience a well-told story. Because that's what they are, all of these pieces by all of these incredible artists: They're stories — ghost stories, monster stories, horror stories, told clearly and succinctly. Sometimes, a picture really is worth a thousand words, and I couldn't be happier to have my Twitter feed full of them.
[Like what you read? Check out Dangerous Games To Play In The Dark, available now!]
Since we're deep in the middle of Halloween season, now seems like a good time to share some of these incredible artists. Their work is good for any time of year, of course, but there's no time like spook season to gaze at some delightfully unsettling images for a spell, is there? So here. Take a look. There are links to Twitter feeds and Instagram pages, Patreon campaigns and online stores, websites and video sharing services. Follow them to see a wealth of art — each and every creator and creation truly spectacular. Support them by throwing a few bucks their way if you can; many of them are even open for commissions.
Who's ready for a good story or two?
1. Coffee (ghostgods)
Los Angeles-based artist Coffee, who primarily goes by the handle ghostgods online, works in a number of different mediums; on their profile, you can take a look at their illustrations, comics, and pixel art, all in one place. Per their bio, their art is "inspired by horror movies, religion and mythology, and those weird TV shows you watched as a kid when you should have been asleep." Everything is great, but my personal favorites are the single illustrations that tend to make their way to Coffee's Twitter and Instagram pages; they're often accompanied by a few sentences which, when combined with the images, tell delightfully spooky short stories.
Twitter: @_ghostgods
Instagram: @ghostgods
Patreon: ghostgods
2. Skelehime (Nico)
If you're in the Raven Man tier of TGIMM's Patreon campaign, you might recognize skelehime, aka Nico; I've featured some of her comics in the "TGIMM's Collection Of Curated Curiosities" newsletter a few times. What I like about her work is the way so much of it appeals to our sense of nostalgia: Many of her comics tap into common fixtures of childhood and subsequently cast these things in a new and terrifying light.
Twitter: @skelehime
Instagram: @skelehime
Patreon: skelehime
3. Trevor Henderson
Based in Toronto, Trevor Henderson is one of my favorite artists working in the "found footage" space. Like Coffee, Henderson attaches a few sentences to each of his pieces that makes the whole thing into a spooky short story; unlike Coffee, though, the pieces are designed to look like images captured on camera in some way, shape, or form. I love it. Like most of the artists on this list, though, there's more to Henderson's work than just that aspect of it; check out his portfolio or his book, Odd Noises In Empty Rooms, for more.
Twitter: @slimyswampghost
Instagram: @trevorhenderson
Patreon: Trevor Henderson
4. louceph (Lou)
Lou's work looks at once like found footage and like richly-colored drawings, the combination of which yields some truly beautiful and terrifying monsters. In addition to still images, she also makes short little animations — and these ones in particular always do for me in a big way. As is the case with a lot of the artists you'll find here, there's usually a story of some sort paired with Lou's pieces; I think what I like so much about this kind of work is that a sentence or two of context really make the pieces land.
Twitter: @louceph
Instagram: @louceph
Ko-fi: louceph
5. David Romero
Freelance artist and animator David Romero's feed is full of a combination of original work and work inspired by some of the greats of horror cinema (his take on Toshio from The Grudge is particularly terrific). Also, if, for some reason, you didn't think Teletubbies were creepy yet… you do now.
Twitter: @CinemamindDavid
Vimeo: David Romero
ArtStation: Cinemamind
6. Jenna Barton (Dappermouth)
On her Patreon page, Jenna Barton describes the subjects of her illustrations and writing "mysterious animals and liminal spaces, both familiar and unfamiliar." It's an apt description; her pieces are full of animals, but although the might look like, say, the foxes, falcons, and horses with which you're familiar, they… aren't quite that. Barton's work isn't quite as overtly creepy as some of the other artists seen here; however, if you really stop to think about it for a minute… the spookiness is there. Waiting. Lurking just below the surface.
Twitter: @dappermouth_art
Instagram: @dappermouth
Patreon: Dappermouth
7. Pam Wishbow
Pam did the art for Dangerous Games To Play In The Dark, and, folks, I cannot tell you how much I adore it. Her work has a sort of… layered quality to it that feels absolutely right for the book. Her great love, as she puts it on her website, is "to set moods and inlay my work with symbols and shapes that create a weight and shared feeling" — something which she definitely accomplishes. She also makes beautifully designed divination decks, screen-printed spirit boards, jewelry, and other assorted curiosities and sells them via Etsy, by the way; I highly recommend checking out her store.
Twitter: @pamwishbow
Instagram: @pamwishbow
Patreon: Pam Wishbow
8. Shimamoto
There's a sort of cinematic feel to Shimamoto's ( シマモト) work; I could almost see them being concept art for particularly epic films or video games. The landscapes are huge and darkly majestic, often juxtaposed with tiny, human-shaped figures that really draw attention to how small we are in the grand scheme of things. Their Instagram page is particularly interesting, taking advantage of the tiled format in which images are displayed on the platform to create larger images out of many small ones.
Instagram: @shimamoto_art
ArtStation: Shimamoto
9. Fyyaa
Fyyaa's primary work is a collection of webcomics collectively published under the title Nocturne at Line Webtoons. If you're into Junji Ito, you'll probably dig Nocturne quite a bit; according to this Q&A (made to celebrate Nocturne reaching 100k subscribers — congratulations!) Ito counts among the comic and artist's inspirations.
Twitter: @fyyaa123
Instagram: @fyyaa123
Patreon: Fyyaa
10. John Green (JRGDrawing)
John "JRGDrawing" Green's llustrations always look kind lush to me — deep and dark and rich, in addition to, y'know, horrifying (in a good way). He also does a lot of pop culture horror illustration; his recent takes on characters from Silent Hill and It have been magnificent.
Twitter: @jrgdrawing
Instagram: @jrgdrawing
Redbubble: JRGDRAWING
11. Brian Coldrick
Like skelehime, Brian Coldrick will be familiar to people who subscribe to the Raven Man tier at TGIMM's Patreon page: I've featured his work — specifically his wonderful web comic Behind You — in the newsletter available at that tier. Behind You looks kind of like what I imagine New Yorker comics would look like if they were, y'know, spooky; they're single-panel and feature brief captions to tell a complete story with terrific economy. Many of the Behind You illustrations also move — and the movement often adds a second or third layer to what looks on the surface to be quite a simple story.
But it's pretty much never as simple as it seems.
Twitter: @SlothHoffman
Instagram: @slothhoffman
Patreon: Behind You
12. scum skull
scum skull's illustrations look almost… fuzzy to me? And also sort of like they're photo-negative. There are lots of creatures and trees here rendered in black and white here, and I love all of them. Some of the creatures remind me of the skeleton horse creatures that factor prominently in the Welsh holiday tradition of Mari Lwyd. They're all wonderfully weird.
Twitter: @SpookyAh
Instagram: @scum_skull_lol
13. Emily Carroll
If you're not following everything Emily Carroll has ever done, you're doing it wrong — and also truly missing out. Carroll went viral in 2010 when she first posted His Face All Red online; a terrific piece of storytelling, it reads like a murder ballad in web comic form. Since then, she's continued to produce tons of truly spectacular work, including a book, Through The Woods, which was published in 2014. If you like your horror dressed up as a fairy tale — or your fairy tales dressed up as horror stories — Carroll's work is for you.
Twitter: @emilyterrible
14. Claudia Rinofner (polterink)
Another artist that's made her way into TGIMM's Patreon-exclusive newsletter, Claudia Rinofner, who is based in Austria, draws a lot of things, among them Sortatitious, a (now-concluded) delightful little web comic that played off of doubt — specifically the doubt that arises when we remind ourselves that there can't really be a monster under our beds, but, uh, maybe we'd better keep our toes tucked safely under the blankets, just in case. It's got a tongue-in-cheek quality I find enormously appealing — and I won't lie: I absolutely still sprint up the stairs at night after I've turned out all the lights when I'm alone in the house, just in case there's something with a lot of eyes and extra arms, or legs, or tentacles lurking in the darkness.
She does lots of other things, too, though, so check out her work here:
Twitter: @polterink
Instagram: @polterink
15. Dood (CSPstuff)
Spanish artist Dood works both in color and in black-and-white, but I won't lie: It's the black-and-white stuff that resonates the most with me. The clean, sharp lines in these illustrations make for some truly unsettling images that stick with you in a big, big way.
Twitter: @CSPstuff
Tumblr: ddoodler
Gumroad: cspstuff
16. Morrighan Corbel
For art that scratches that folk-horror itch, head to Morrighan Corbel's work. Her pieces have a fantastical, Arthur Rackham-esque feel to them that I love — and her Folklore Thursday project has been fantastic: She's creating work all year long inspired by the #FolkloreThursday hashtag on Twitter (which, by the way, is also a lot of fun and definitely worth following). Funny how there's so much horror in folklore — and so much folklore in horror — isn't it?
Twitter: @MorrighanCorbel
Instagram: @morrighancorbel
17. Marc C Green
Marc C Green specializes in what he calls "haunted landscapes"; he also does his fair share of creatures, though. Like this one. Kind of makes you want to not fall asleep tonight, am I right?
Twitter: @owillowwaly
Instagram: @owillow_waly
***
Follow The Ghost In My Machine on Twitter @GhostMachine13 and on Facebook @TheGhostInMyMachine. And don't forget to check out Dangerous Games To Play In The Dark, available now from Chronicle Books!
[Photo via suvajit/Pixabay]