Previously: A History Of Halloween Haunted Attractions.
Some of our most popular features here at TGIMM focus on creepy phone numbers, particularly the ones you can actually call. But these phone numbers, thrilling though they are, represent only the latest iteration of telephone-based horror. Without the horror phone number hotlines of the 1980s, it's doubtful that any of these newer spooky numbers would exist at all.
[Like what you read? Check out Dangerous Games To Play In The Dark, available from Chronicle Books now!]
Horror hotlines generally tended to be 900 numbers — that is, premium-rate telephone numbers that charged by the minute. Although 900 numbers were first introduced in the United States in 1971, the first one didn't go into use until 1977, when then-President Jimmy Carter took phone calls live for two hours during an "Ask President Carter" radio event.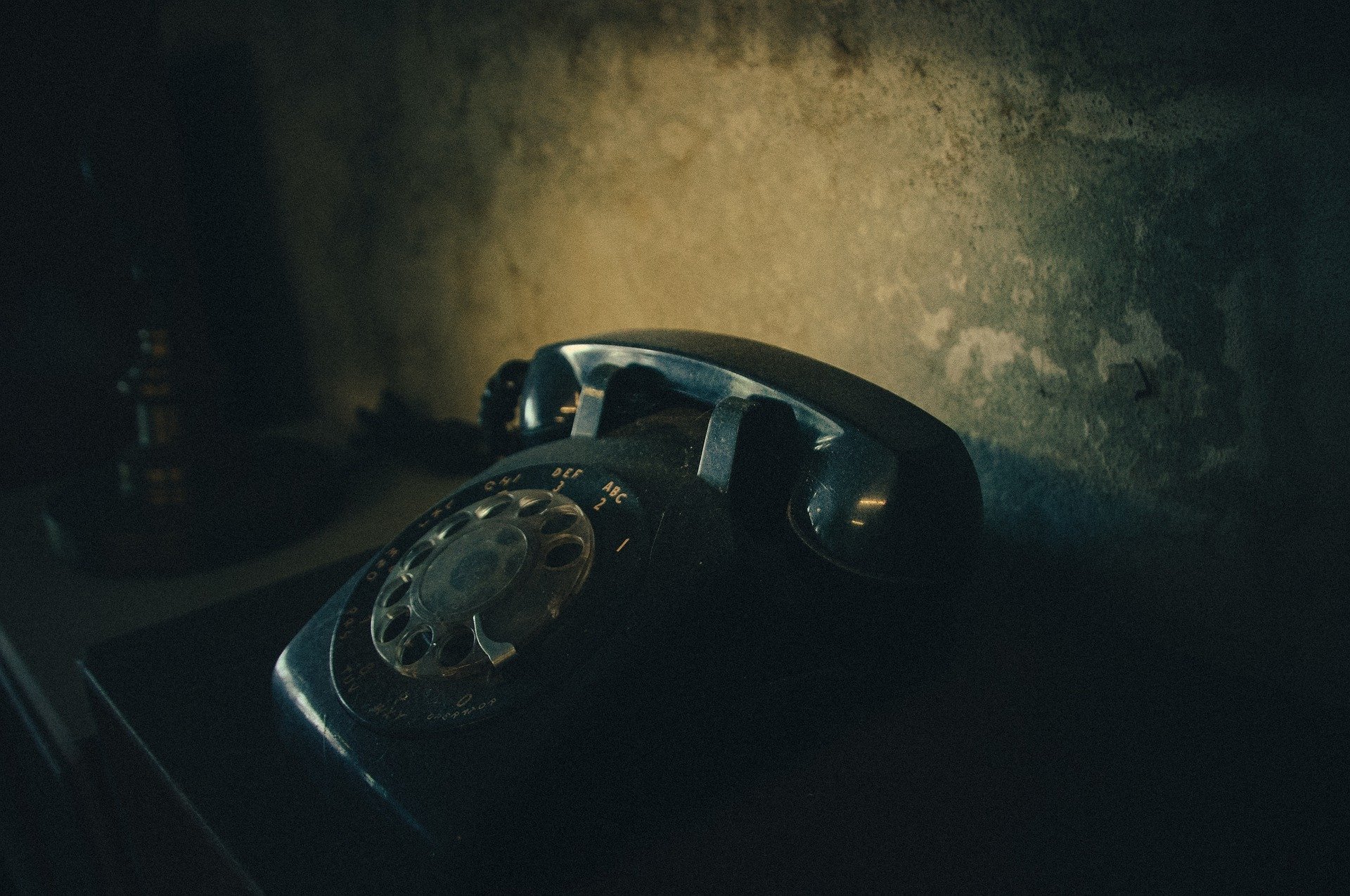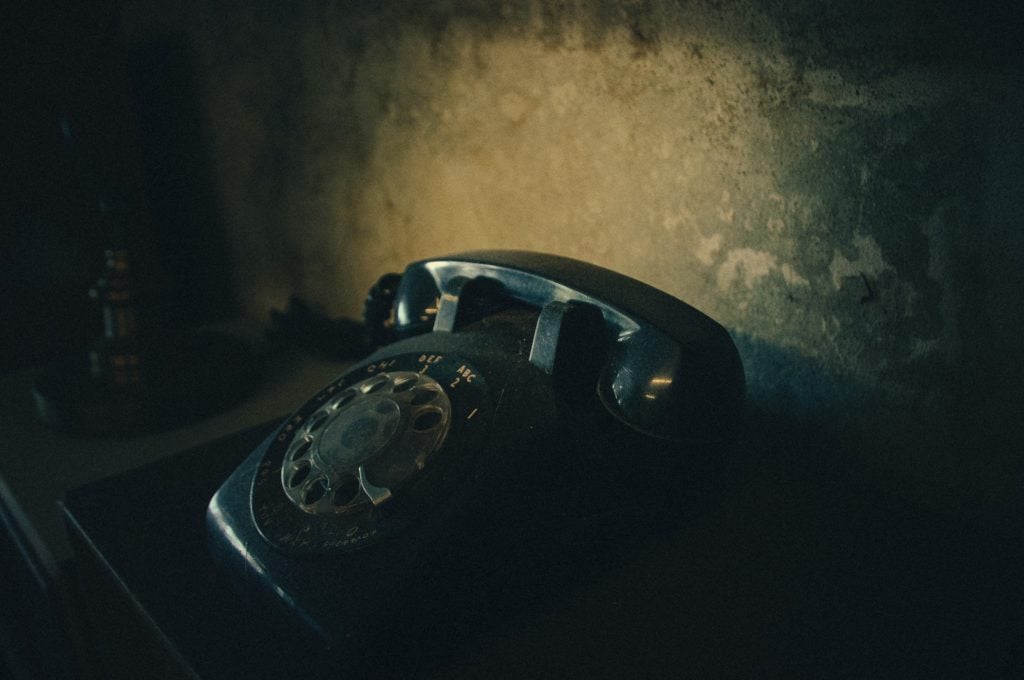 You'll notice that pretty much all of the numbers listed here, however, didn't kick up until the late 1980s. That's because it didn't become truly profitable for the average person to run a 900 number until 1987. That year, AT&T launched a national program that allowed the folks who supplied the audio content callers heard when they dialed 900 numbers to make money off of the whole venture — and with prices set at up to $2 for the first minute and smaller yet still substantial sums for each additional minute, people quickly realized they could make a killing this way.
However, increased regulation in the mid-'90s led to the tapering off of 900 numbers, particularly for novelty purposes. Numbers aimed at kids in particular started vanishing due to these newly-implemented rules — and with good reason. Although most of the ads for these numbers, which appeared on television, did instruct kids under 18 to ask for their parents' permission before calling, many didn't, resulting in exorbitant phone bills and irate adults. In order to curb the issue, the FTC made it illegal in 1993 to advertise 900 numbers to children under the age of 12 unless they belonged to "bona fide educational services."
But before then, some truly spectacular — and spectacularly cheesy — horror-themed 900 numbers made the rounds. They're very different in tone from today's spooky numbers (which are largely implemented using VoIP services), leaning more towards campiness and fun than bone-chilling fear. If you wanted to hear a spooky story told to you by your favorite horror movie villain, a horror hotline could make that happen. If you wanted to hear bad jokes starring monsters, a horror hotline could give you that, too. A few were even interactive, although you had to have a push button, touch tone phone to use them.
So, hey. Let's go on a retro journey through a selection of 12 horror hotlines accessible during the 1980s. If you're my age or older, it'll be a spooky walk down memory lane. If you're younger than that, feel free to laugh at us Olds for what we thought was super advanced technology at the time. It's all in good fun — and what's Halloween for if not fun?
1-900-660-UGLY (1-900-660-8459)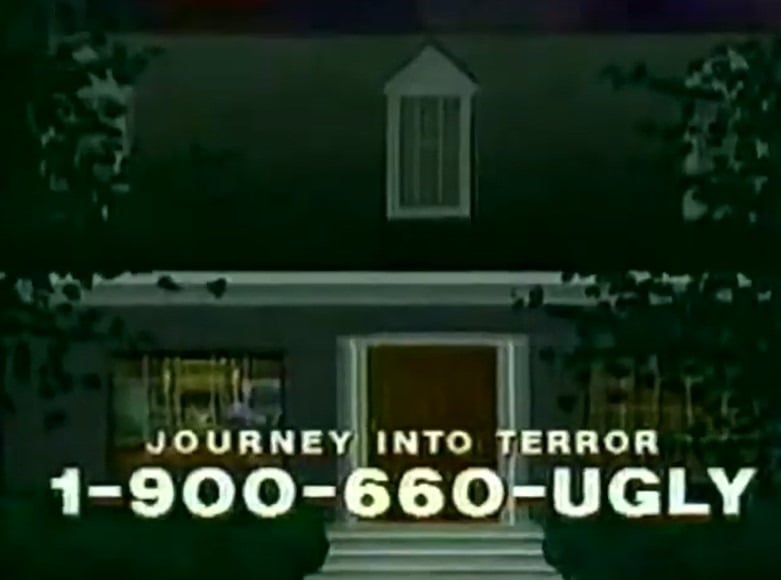 It's not totally clear from its 30-second TV spot what, precisely, 1-900-660-UGLY, aka "Journey Into Terror," was; it sounds like you might have heard a short, scary story told to you over the phone after dialing the number, but honestly, I'm not at all sure whether that was actually the case. I haven't been able to dig up much else about the whole thing — but also, I'm perfectly content knowing nothing about it and just marveling over the ad. I mean, look at that thing. It looks like the kind of thing your average eight-year-old could slap together on the family computer (or, I guess, tablet) in about 10 minutes today. It's terrible and I love it.
1-900-909-DARE (1-900-909-3273)
In 1989 (or in 1988, if you lived in the UK), a wacky little horror film called 976-EVIL arrived in cinemas. It took the idea of the '80s horror hotline and asked, what if calling said hotline opened up an avenue for Satan to possess you? (976, by the way, was the precursor to the 900 area code.) Directed by Robert Englund — yes, Freddy Krueger himself — and co-written by Brian Helgeland, who would go on to win the Oscar for Best Adapted Screenplay in 1997 for L.A. Confidential, it was, uh, not well received (from the Washington Post's review: "976-EVIL is so slow and ludicrous, it could just as well have been called "Dial M for Monotony") — but, as Dinosaur Dracula noted in September as part of the site's long-running "Classic Creepy Commercials" feature, it did spawn an actual horror hotline: 1-900-909-DARE, which, much like the hotline in the film itself, imparted to you a "horror-scope" every time you called. (I guess the actual 976-EVIL number wasn't available.) Per Dino Drac, "every single shot" in the ad was, hilariously, yanked directly from 976-EVIL. Talk about doing it on the cheap.
1-900-490-DEAD (1-900-490-3323)
1-900-490-DEAD might best be described as "the zombie hotline": If you called it circa 1987, you'd get to hear the undead shambling towards you on the other end. The gimmick for this one is that you wouldn't always be listening to a simple recording; at random, callers would sometimes be connected with a live zombie — or at least, someone playing a live zombie. You'd think a conversation with the undead might not be super interesting — there are only so many groans and moans most zombies are capable of making—but if your correspondent was anything like the fella in the ad, it might be more of an adventure than you'd imagine.
Also, this is A-plus ad copy:
"THE PHONE ZOMBIES ARE VERY, VERY DEAD — BUT THEY'RE NOT IN THEIR GRAVES, AND THEY'RE NOT WALKING THE NIGHT. THEY'RE IN THE PHONE LINES, AND THEY'VE GOT YOUR NUMBEEEEER!!!!!!!!"
10/10, would definitely call. Yes, even at a rate of two dollars per call.
Freddy Krueger's Hotline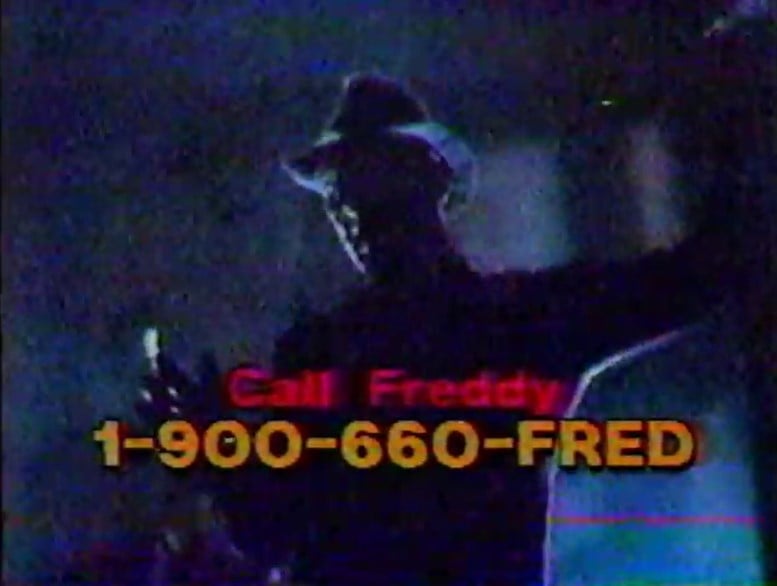 When the first Nightmare On Elm Street film was released in 1984, no one expected it to become a huge hit, but boy, did it ever. Four of its many, many sequels were released virtually back to back between 1985 and 1989, with two more following in 1991 and 1994 — and, starting in about 1987, and continuing at least through 1992, numerous hotlines allowing you to call Freddy Krueger were in operation to promote each successive film.
So far, I've identified three different phone numbers — 1-900-660-FRED, 1-900-909-FRED, and 1-900-860-4FRED — although there could well have been more numbers that I just haven't been able to hunt down yet. Interestingly, though, you didn't always get the same thing every time you called: According to some accounts, you'd hear Freddy tell you a spooky story, while according to others, you'd participate in a sort of trivia challenge hosted by Ol' Razor Fingers himself. One iteration also featured the "talk to a live ghoul" (in this case, Freddy himself) gimmick that 1-900-490-DEAD did.
Curious about those scary stories? Listen to 45 minutes' worth of them here. You're welcome.
Grandpa Munster's Junior Vampires Of America Club Hotline (1-900-909-4300)
The original run of The Munsters may have been in the 1960s, but the spooky TV family has made a few comebacks in the years since. The characters also appeared independently from time to time — including between 1987 and 1989, when Grandpa Munster as played by Al Lewis hosted TBS' Super Scary Saturday movie block. At about that same time, Grandpa Munster launched the Junior Vampires Of America Club — which, naturally, had a hotline associated with it.
Calling 1-900-909-4300 would, according to Grandpa himself, allow you to "hear all about [Grandpa's] monster friends, learn how to get a free vampire patch, and [hear] a list of special vampire tricks and secrets." I would argue that the "free" vampire patch wasn't actually free — calls were, of course, $2 for the first minute and 45 cents for each minute after — but hey, at least you didn't have to shell out anything additional for it beyond what you paid for the phone call, right?
1-900-660-FEAR (1-900-660-3327)
Titled "Tales Of Terror," 1-900-66-FEAR did pretty much what it says on the tin: If you dialed it, you would be treated to a tale of terror told to you over the phone — for the low, low price of $1.50 for the first minute and 35 cents for each additional minute after that. (Which, to be fair, is a steal compared to most of the other horror hotlines in operation at the time; it was a whole 50 cents cheaper for minute number one, and then 10 cents cheaper for each minute afterwards!)
I don't know a ton about this particular scary story hotline, but it looks like it may have been pretty local; according to the vintage television-focused website and database Fuzzy Memories, it aired on local channels in Chicago in 1988. Anyone from Chicago remember seeing this ad around that time?
Creep Phone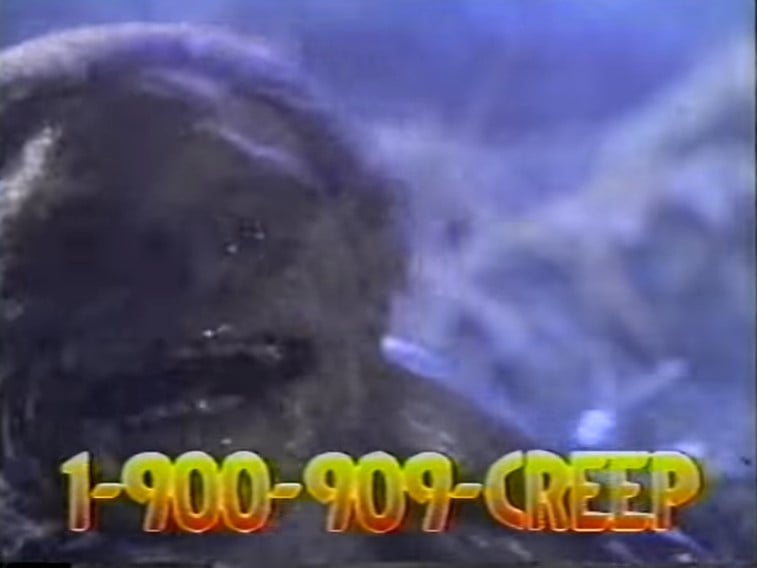 At least two phone numbers in use in the 1980s called themselves Creep Phone. One, which used the number 1-900-490-CREEP (1-900-490-27337), boasted conversations with "real ghosts and zombies," while the other, which could be found at 1-900-909-CREEP (1-900-909-27337), claimed to "put you in touch with the baddest of the bad." The two ads have dramatically different feels to them, as well: The first looks like a walk through a homegrown haunted house, while the second, as Dino Drac points out, is comprised entirely of clips from the 1986 movie Troll. (Troll is very bad, but it is also amazing.)
I'm not totally sure whether the 490 Creep Phone number and the 909 Creep Phone number are related or not. Based on the fact that they both use the same name and the differences in the commercials themselves, my initial assumption was that 490-CREEP was an earlier incarnation of 909-CREEP; however, copyright dates visible in the ads reveal that they both numbers were active in the same year (1988). They may, like 1-900-660-FEAR, been local numbers for different areas which coincidentally leaned into the same theme, but alas, that's just a theory.
The Monster Jokes Hotline (1-900-909-2233)
A company called Teleline operating out of Los Angeles during the '80s ran a number of somewhat generic spooky hotlines — generic in that they didn't capitalize on a "vanity" phone number and weren't associated with a particular brand or IP. Some of the numbers, like 1-900-909-3344, told spook stories; meanwhile, others, like 1-900-909-2233, told excruciatingly bad monster jokes. An example.
"What's a vampire's favorite sport? CASKETBALL!"
Yep.
The ads for Teleline's spooky numbers were similar in format; they all consisted of a close-up on a puppet's face as it talked at you for around 30 seconds. The implication seems to have been that, when you called these numbers, you'd be speaking (or, y'know, listening, because they were all presumably pre-recorded) to the puppet in the ad. In the case of the monster jokes hotline, the puppet was a skeleton with a voice reminiscent of the Crypt Keeper's.
Hilariously, the monster jokes hotline number was also the Call He-Man number earlier in the '80s, during the height of Masters of the Universe's reign on television. I guess this is what Skeletor gets up to on his days off.
Save Michael Myers' Next Victim (1-900-860-0700)
Halloween 5 may have been retconned out of the franchise's continuity now — and Halloweens number four and five were never particularly well-regarded in the first place — but man, did the 1989 release have one heck of a promo attached to it: At the end of the TV spots, a little box appeared beneath the film's title instructing you to "SAVE MICHAEL'S NEXT VICTIM" by calling the phone number 1-900-860-0700.
What ensued, should you be brave enough to dial (and choke down the "$2 for the first minute, $1 for each additional minute" fees associated with the number), was a sort of Choose Your Own Adventure story in which the caller would attempt to make the right choices to guide Michael Myers' next victim to safety. According to the website Nightmare Nostalgia, "the voice on the other end" of the call (which, I presume, was pre-recorded) "would give you a variety of places that could be found in [Halloween 5], like the Tower Farm or the Children's Clinic to send Michael's prey for safety." You had to be careful, though; apparently "any of these Haddonfield hot spots could just be a death trap." I'd expect nothing less from the Shape.
1-900-909-EVIL (1-900-3845)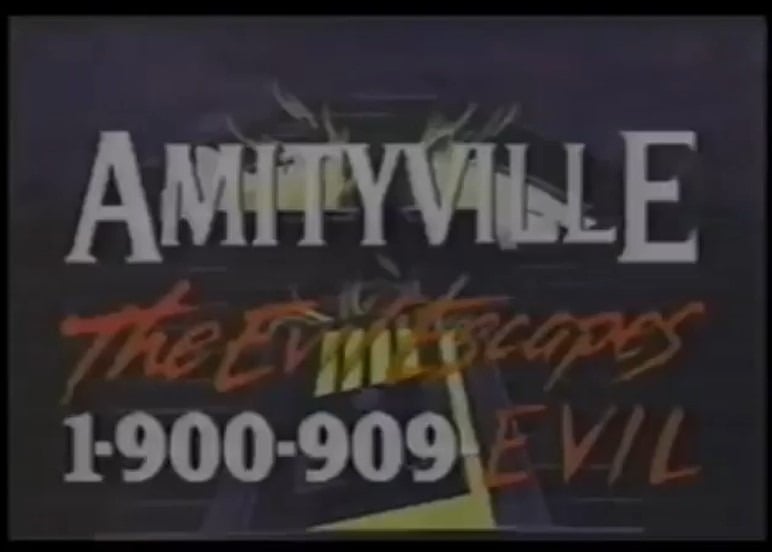 By the time the fourth — yes, fourth — installment of the maybe-true-but-probably-mostly-fictional Amityville Horror franchise, Amityville 4: The Evil Escapes, was released, the property was no longer what it once had been; unlike the previous three films, all received theatrical releases, this one went straight to TV in 1989. To be fair, it probably shouldn't even exist at all; the allegedly haunted house at the center of the franchise, after all, had been destroyed in the previous installment, so exactly how it managed to reappear, still standing, in Amityville 4 was quite the mystery.
Still, though, points to The Evil Escapes for its use of a hotline, 1-900-909-EVIL, to promote the film. I have no idea what happened when you called it; my guess is that it fell under the "more often, it's clips from albums, books, movies about to be released — undisguised hypes billed to Barnum's born-every-minute suckers" heading identified in a Los Angeles Times article about the scourge of 900 numbers published a few months after Amityville 4's airdate. Regardless, the best part of the whole thing is the jab at Freddy Krueger and his hotline at the end of the ad. Them's fightin' words.
The UFO Hotline (1-900-909-UFOS)
I have so many questions about the UFO Hotline. Who is running it? How precisely does a pre-recorded message manage to contain "up-to-the-minute UFO sightings and extraterrestrial contacts?" Does the person in charge of the hotline believe in UFOs, aliens, and extraterrestrial encounters, or are they more of the P.T. Barnum school of thought? ARE THEY PART OF THE COVERUP?
I have no answers to any of these questions. But at least the ad is funny.
1-877-77-CREEP (1-877-77-27332)
This one is more of a bonus than anything else, as it is not, in fact, an '80s horror hotline.
It is a modern horror hotline.
It works.
And you can call it right now.
Launched by Creepy Company, purveyors of delightful, horror-themed apparel, accessories, and more (I covet literally every T-shirt they sell — seriously, every single one) dialing 1-877-77-CREEP (1-877-77-27337) will bring you to a chillingly retro phone tree, where you'll be able to, for example, hear terrifying tales, listen to thematically appropriate music, get your ASMR on, and hear some truly awful (but also superb) spooky dad jokes.
The best part? Unlike the horror hotlines of yore, this one will not cost your entire paycheck to access. In fact, it is FREE TO CALL. It's a great way to kill a few minutes; I had lots of fun calling it and poking around its spooky little menu; and I suspect that you'll probably enjoy it too, Gentle Readers.
Have fun, kids. Just, y'know… be careful who you call.
You never know who might phone you back.
***
Follow The Ghost In My Machine on Twitter @GhostMachine13 and on Facebook @TheGhostInMyMachine. And don't forget to check out Dangerous Games To Play In The Dark, available now from Chronicle Books!
[Photo via vietnikon99/Pixabay]