Previously: "New Year, New You."
Today, a classic video game creepypasta: "Jvk1166z.esp," aka the Morrowind creepypasta. It bears a lot in common with many other video game creepypastas that arrived on the internet at about that same time; the character of the Assassin, for example, reminds me a bit of the Ticket Taker in "The Theater" and the titular character of "The Princess," while the odd behavior of the NPCs brings to mind "Ben Drowned."
[Like what you read? Check out Dangerous Games To Play In The Dark, available from Chronicle Books now!]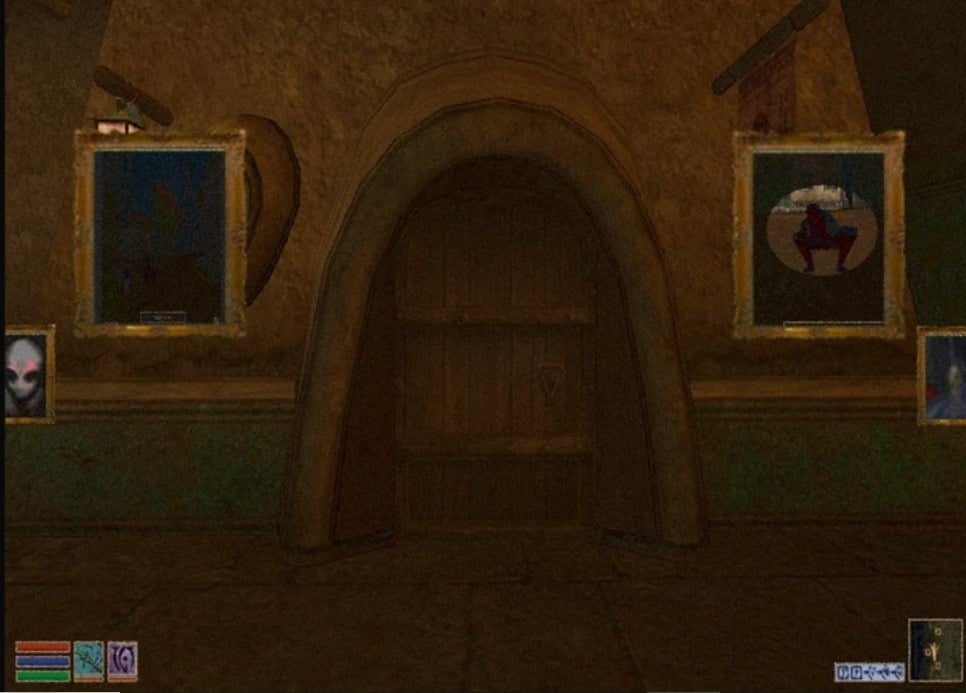 I say "at about that same time" because I'm not sure precisely when "Jvk1166z.esp" first came into being, but I suspect it dates back to around 2010. The earliest reproductions of the text I found date back to the fall of that year — Oct. 7 here, on a site geared towards reproducing "the best creepypastas I have found throughout many nights on many forums!", per its own description, and Sept. 6 at Inu's Creepy Stuff (now Creepy + Pasta, where the Morrowind story was re-uploaded in September of 2012). Both "The Theater" and "Ben Drowned" also date back to 2010, while "The Princess" came online in 2011. So, my point is, they're all contemporaries of each other and therefore share some common DNA.
That said, though, the timing is a little interesting when it comes to "Jvk1166z.esp" specifically. Morrowind was, after all, an old game by that point, having been released in 2002; even the next installment of the Elder Scrolls series, Oblivion, was a few years old, with a release date of 2007. But Skyrim, the fifth (and, arguably, the most notable entry) in the series was still about a year away from release — it didn't hit PC or consoles until November of 2011 — which means that "Jvk1166z.esp" arrived during the lull between major Elder Scrolls releases. In that context, it seems like it might function both as a nostalgia trip for those with fond memories of playing Morrowind in their youth and as a way to make the wait for Skyrim a little more bearable.
In any event, the pasta might be considered unfinished by today's standards; I think it's still worth a read, though, if anything because it captures perfectly the style of a particular era of creepypasta — the earlier, rougher years, long before polished writing and major network adaptations came to characterize the genre.
Boot up your DOSbox; it's time to get playing.
Some people might recall some momentary buzz caused a couple of years ago by a particularly odd Morrowind mod. The file name was jvk1166z.esp. It was never posted on any of the larger Elder Scrolls communities, usually just smaller boards and role-playing groups. I know in a few cases rather than being posted, it was sent via PM or email to a 'chosen few.' It was only up for a few days, to the best of my knowledge.
It caused a buzz because it was a virus, or seemed to be. If you tried to load the game with the mod active, it would hang at the initial load screen for a full hour and then crash to the desktop. If you let it get that far, your install of Morrowind, along with any save files you had, would become completely corrupted. Nobody could figure out what the mod was trying to do, since it couldn't be opened in the Construction Set. Eventually, warnings were distributed not to use it if you found it, and things died down.
About a year later, in a mod board I used to frequent, someone popped up with the mod again. He said he was PMed by a lurker who deleted his account immediately after sending. He also said that the person advised him to try playing the mod through DOSbox. For some reason, this worked… sort of. The game was a bit laggy, and you couldn't get into Options, Load Game, the console, or really anything else, other than the game itself. The QuickSave and QuickLoad hotbuttons worked, but that was it. And the QuickSave file seemed to be just part of the game file, so you couldn't get at it anymore. Some speculated that the changed game used an older graphics renderer, making DOSbox necessary, but it didn't LOOK any different.
This part I can speak about from personal experience. When you start a new game in JVK (as the board came to call it), once you left the starting bit in the Census Office and came into the game proper, the first thing you notice is that the 'prophecy has been severed' box pops up. This is because every single NPC having to do with the main quest is dead, with the sole exception of Yagrum Bagarn, the last of the Dwemer. Their corpses never despawn, so you can go check on all of them. In effect, you begin in a world that is doomed to start with.
***
Follow The Ghost In My Machine on Twitter @GhostMachine13 and on Facebook @TheGhostInMyMachine. And don't forget to check out Dangerous Games To Play In The Dark, available now from Chronicle Books!
[Photo via Creepypasta Wikia]