Previously: Petscop.
(CW: Mentions of child abuse, gore, CP, Hitler, and Charles Manson. No detailed descriptions, though.)
Okay, gang. We're finally doing it.
We're going to talk about alleged Deep Web horror video game Sad Satan.
It's been several years since Sad Satan first began making the rounds, and even now, there are scores of unanswered questions about it floating around out there. But I'll be honest: The contents of the game itself actually aren't all that interesting to me. And, now that the fervor has died down, I'm not even really terribly interested in examining it as an unsolved internet mystery.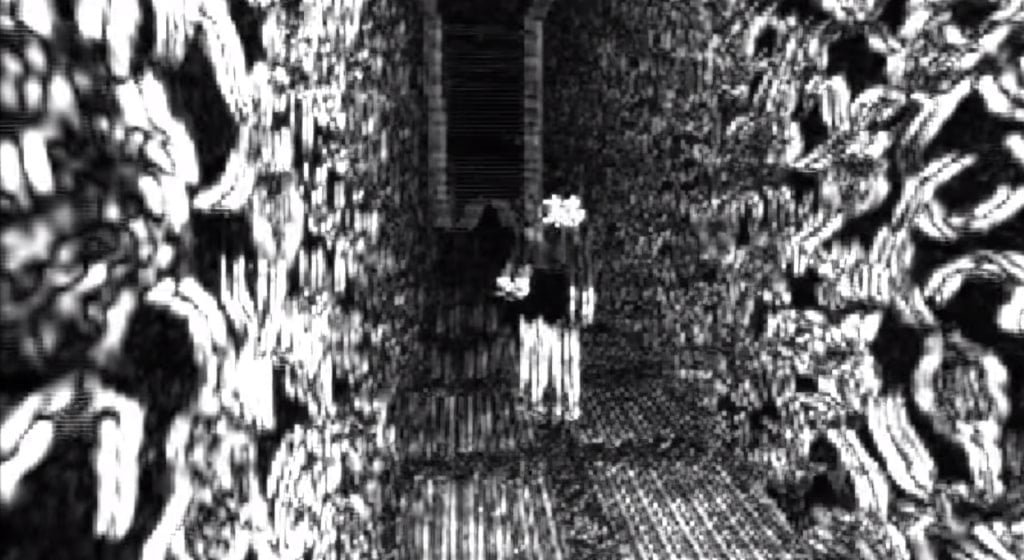 What I am interested in depends on reading the whole situation in a very specific way: As, essentially, a creepypasta. And in that respect, I'm incredibly interested in how it fits into the evolution of video game creepypastas, particularly those that feature video-based storytelling elements. If we look at "BEN DROWNED" as the beginning of this kind of pasta and Petscop as the latest example of it, how we get from one to the other is fascinating — and I think Sad Satan occupies an important spot in the timeline between the two.
[Like what you read? Check out Dangerous Games To Play In The Dark, available from Chronicle Books now!]
We do need to cover a lot of ground before we get to that, though, so let's take it one step at a time. First up: What is Sad Satan, anyhow?
It Came From The Deep Web
On June 25, 2015, a YouTube channel going by the name Obscure Horror Corner uploaded a video titled "Sad Satan – Deep Web Horror Game – Part 1." As the title implied, the video would turn out to be the first in a series; ultimately, OHC uploaded five videos total. At the time of this writing, all of the Sad Satan videos are lacking descriptions; however, the first video, at least, was originally published with one — one which revealed quite the origin story. It read as follows:
"Found this game on a deep web link and any information on it will be greatly appreciated. Downloaded it a month or so ago and started playing recently. I call it Sad Satan because the download was called that, there isn't actually a title screen or anything else to suggest a name so I'm just calling it that. Strange feel to the game and there doesn't seem to be any aim. I just wandered around and got teleported into different sections. Nothing really happened but it has an odd feeling about it and kinda freaks me out. There is more to come on this, I have a few more videos recorded and the game just keeps getting more bizarre. I don't think I finished the game but I did delete it because it was getting a bit strange, and a note pad file that went along with the game kept appearing on my desktop each time I played the game with some gibberish messages."
The description concluded with a .onion link and instructions for those who wanted to play the game for themselves to use Tor to download it. (According to archives of the page accessed via the Wayback Machine, this description still existed as of July 4, 2015; however, it had disappeared by July 18.)
The video wasn't long, as far Let's Play videos go; it clocked in at just under 12 minutes. But it was… odd. The game it depicted appeared to be a first-person walking simulator; it led the player through an inscrutable maze, occasionally throwing seemingly random images up before allowing the player to progress. The soundscape was eerie, consisting of creepy music, backmasking, and audio clips from famous, real life figures. Four more videos followed this first one in quick succession, appearing on YouTube on June 27, June 30, July 3, and July 4 respectively.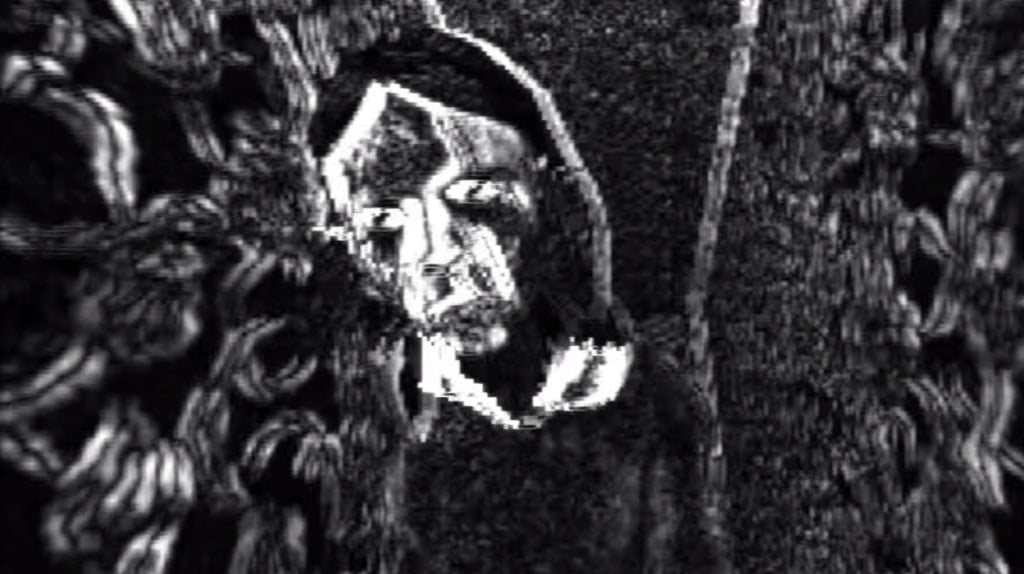 From what the videos showed us, Sad Satan is… honestly not a great game. It's basically a mishmash of stereotypically creepy stuff — music and other recordings played backwards, out-of-context screaming, malformed NPC models, and a world so distorted it's often difficult to tell if the player character is actually moving at all. There are speeches from Hitler scattered throughout it; the 1987 interview Charles Manson gave to NBC is liberally sampled; and so on and so forth. But although it's generally believed that the game is, as a whole, some sort of statement on child abuse, it seems to me largely to be an example of style over substance. That's not to say that it isn't creepy; it is. It's really, really unsettling. (There are few things I find as disturbing as the screaming heard emanating from that wacky-looking little girl in the second video.) But, as a whole, it's not terribly cohesive, and its statement on child abuse doesn't seem to move beyond simply, "it's bad." The message doesn't really go any deeper than that.
Ultimately, Sad Satan's draw — the reason so many people wanted to find it and play it for themselves — is that it was just so dang weird.
On July 1, Kotaku published a piece by Patricia Hernandez (now the site's deputy editor) that is largely responsible for bringing Sad Satan into the mainstream. Hernandez spoke with the YouTuber who ran Obscure Horror Corner — a guy named Jamie — and revealed more of the game's lore: Said Jamie to Hernandez, "I don't use the deep web too often, but a month or two ago a subscriber sent me a link and said they found something creepy and knew that I would be interested, which of course I was. I did a malware check and other virus stuff on the file and it seemed OK, so I just shot ahead with it."
What's more, Hernandez got in touch with the OHC subscriber who allegedly sent Jamie Sad Satan to begin with. Said the subscriber, who chose to remain anonymous, "I first found out about the game on a deep web forum. It's like an all-purpose site, all your usual forums can be found there (tech help, reviews, fitness, things like that), plus some original content." The download link for Sad Satan was one such piece of original content, although the subscriber wasn't sure whether the person who posted it created it or was jus passing it along. However, he assumed the poster — who signed his post "ZK" — had created it.
The subscriber, by the way, also told Hernandez that he hadn't played Sad Satan himself. He couldn't get it to run on his computer, he said.
Writing for Mic on July 7, Jack Smith IV further identified Jamie as Irish YouTuber Jamie Farrell. According to Mic, Farrell maintained that he didn't know who created the game, nor was he himself the creator. "I honestly have no idea what could be behind the game, if it's an ARG or something else," said Farrell. "I wouldn't really rule anything out at this stage and just hope that someone who sees the videos might be able to shed some more light on the game."
And then it all got even weirder.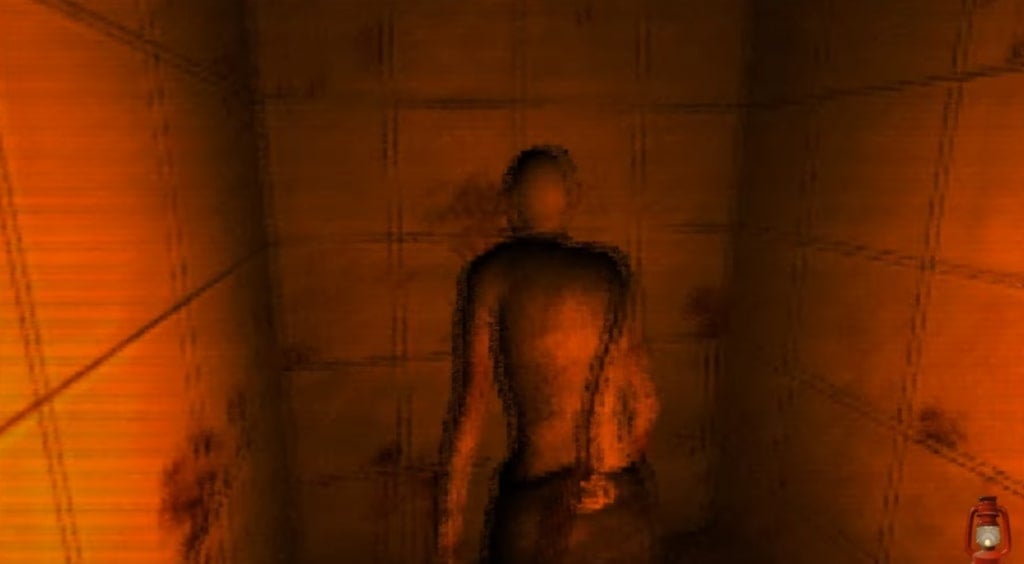 Redditors began banding together to solve the puzzle of Sad Satan, starting with a thread on r/CreepyGaming before expanding to a new subreddit created specifically for the game, r/SadSatan — and on July 5, just a day after the fifth Sad Satan video arrived on OHC, it was discovered that the .onion link included in the first video's original introduction wasn't real. In fact, it could never have been real; it included the numeral 9, which isn't valid for base32 .onion links. Then, two days later, a post on 4chan's /x/ board proclaimed, "What you've seen on YouTube isn't right. Don't believe that coward Obscure Horror Corner. He did not show you what was truly in the game." The post was signed "ZK," and included a link to a Sad Satan executable.
The game contained in the executable is now usually referred to as the "clone." It looked like the Sad Satan depicted in Farrell's videos; indeed, as YouTuber Reitanna Seishin (remember her?) pointed out, the game's data included four image files seen in the original videos: One of Jimmy Saville and Margaret Thatcher, one of Rolf Harris, one of the personification of Lady Justice, and one of Tsutomu Miyazaki. (Saville and Harris were each convicted of sexual offenses towards teens and/or children, while Miyazaki was a serial killer who targeted young girls.) However, there were also several additional files: Four gore images and one image of CP. The "clone" was also riddled with malware and viruses, causing extensive issues for those who downloaded and installed it.
The folks of r/SadSatan later took it upon themselves to scrub the "clone" of all the bad stuff, inputting creepy but less questionable images where the gore and CP had been and removing the viruses and malware; their hope was that folks looking to download the game would find their version of the clone instead, thus saving them all the trouble the 4chan "clone" could bring.
Okay, But What IS It, Really?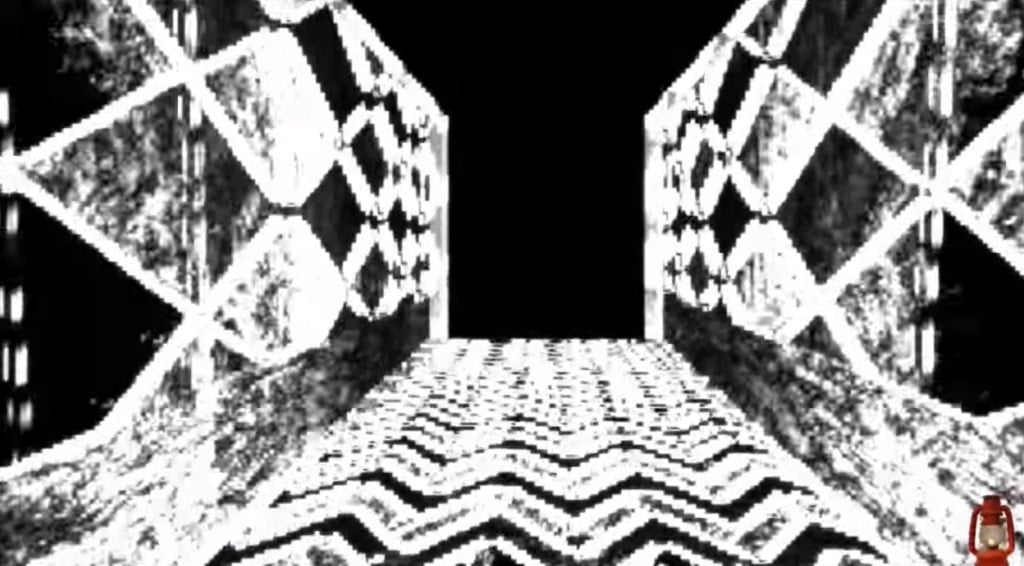 Here's the thing with Sad Satan: Virtually nothing about either it or its backstory is verifiable — and that is what makes me think it's basically a video game creepypasta, as opposed to an actual horror game that was originally distributed via the Deep Web.
I mean, think about it: All we know about Sad Satan is what other people have told us about it — but we have no way of knowing whether they've told the truth. We don't know if Farrell actually found the game on the Deep Web; we just know that he told us he did. Since the link he provided was a fake one, we can't confirm that that's where he got it.
We don't know that a subscriber actually sent Sad Satan to Farrell in the first place, either. Yes, Hernandez did correspond with the alleged subscriber, but it's equally possible that the subscriber could be someone in league with Farrell, or even Farrell himself.
We don't know that the game Farrell played really did cause a Notepad file to keep appearing on his desktop every time he played; we haven't seen it ourselves, and we never will, either (he told Kotaku that he doesn't have any screenshots of the file). Also, for what it's worth, this whole "adding and changing files" thing is a convention we've seen before in games like imscared, which first appeared online in 2012.
Other things we don't know include, but are not limited to: Whether the person who posted the "clone" of Sad Satan on 4chan was actually ZK, or whether they were just an opportunist who decided to appropriate the fad for nefarious purposes; whether the "clone" was actually the original version of Sad Satan or not; whether ZK is or isn't Farrell himself; or, whether the game seen in the videos posted to YouTube on Obscure Horror Corner actually exists at all.
To me — and, again, I have no way of proving this, so take it with a grain of salt — the biggest indication that Farrell may have created the game himself and posted it to YouTube intending for it to become something like "BEN DROWNED" has to do with the fake .onion link. It's possible — likely, even, I would argue — that the inclusion of the fake .onion link was intended to lend credibility to the backstory of where Farrell originally found Sad Satan. However, he may not have counted on viewers being savvy enough to be able to spot that the link was fake — which, of course, is exactly what happened once the story began to take off.
When the falseness of the link was discovered, it forced him to come up with an explanation for why he included it in the first place. Indeed, Kotaku's Patricia Hernandez contacted him again to check up on what was going on with the whole thing, at which point she added an update to her original article: "[Farrell] now says he gave the wrong link because the real one had, he claims, also included 'gore pictures' and [CP] along with the game. 'I didn't feel comfortable giving out a link for something like that.' He did not share that link with me."
Around this time, the original description on OHC's first Sad Satan video was also removed.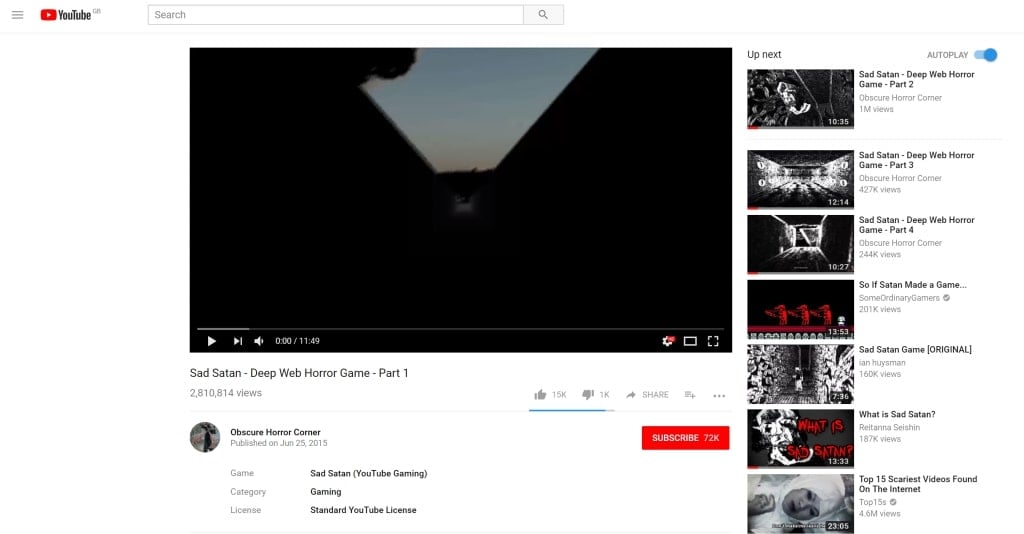 Trouble is, on July 1, Farrell had noted in a thread on the r/SadSatan subreddit that the game did not, in fact, include gore or CP — a discrepancy in his story that's hard to overlook. What was to be gained by telling us there was no gore or CP in the game and including a link to download it, only to later tell us that actually, there was gore and CP in it, so the link he originally included was fake? It just doesn't add up. What's more, even if his reason for obfuscating Sad Satan's origins did have something to do with questionable and/or illegal content within the game itself, why go to the bother of creating a false link in the first place? It seems… dubious, to say the least.
And that's what makes me think that the .onion link was introduced specifically to make the story seem more real, but just ultimately ended up biting Farrell in the arse.
Also worth noting: We're fairly certain Sad Satan — or at least, the 4chan "clone" of it — was made using Terror Engine. Originally launched in March of 2014 by Sean Toman of ZeoWorks, Terror Engine is a Unity-based engine that allows users to build their own horror games, no coding required. An updated version, Terror Engine: Reborn, arrived just a few months later in October of 2014, so it's likely that Sad Satan was created using this newer version. The most recent version, Terror Engine: Reborn V2.5a, arrived in March of 2017
The evidence in favor of at least one of the several versions of Sad Satan that may or may not exist having been created with Terror Engine becomes clear when you look at the game data associated with each program. Redditor white_noiz made a detailed comparison of the files and folders located in the Sad Satan download and in Terror Engine—and found that they're identical in may places, strongly supporting the idea that the former was made with the latter. Plus, the draw of Terror Engine is that users don't need to have any programming knowledge in order to create their own games with it. In that respect, it's kind of in the same vein as RPG Maker or GameMaker, although obviously the aesthetics and gameplay style is entirely different — and, knowing that pretty much anyone could use it to make anything they want… well, if you were going to manufacture a video game creepypasta told entirely through gameplay footage, Terror Engine would be an attractive means to secure that end.
(This isn't to say that games made using engines that don't require coding experience can't be good; obviously they can. But the accessibility of the engines matter, I think, when the end game isn't necessarily the game in and of itself — which is what I suspect is going on with Sad Satan.)
And, of course, Farrell himself has disappeared. The Sad Satan videos were the last things he posted to the Obscure Horror Corner YouTube channel; he hasn't tweeted since July 8, 2015; and his last Reddit post is dated Oct. 1, 2015. No further information from him has been forthcoming — and it probably never will be, either. The story fell apart, and the person telling it to us has subsequently vanished. We're on our own. And what I think that means is, it's all just a story.
Which brings me to the bit about this whole shebang I actually find the most interesting: How Sad Satan fits into the grand scheme of gaming pastas — particularly those told either in part or entirely through YouTube videos. So, let's take a look, shall we?
The Evolution Of Video Game Creepypastas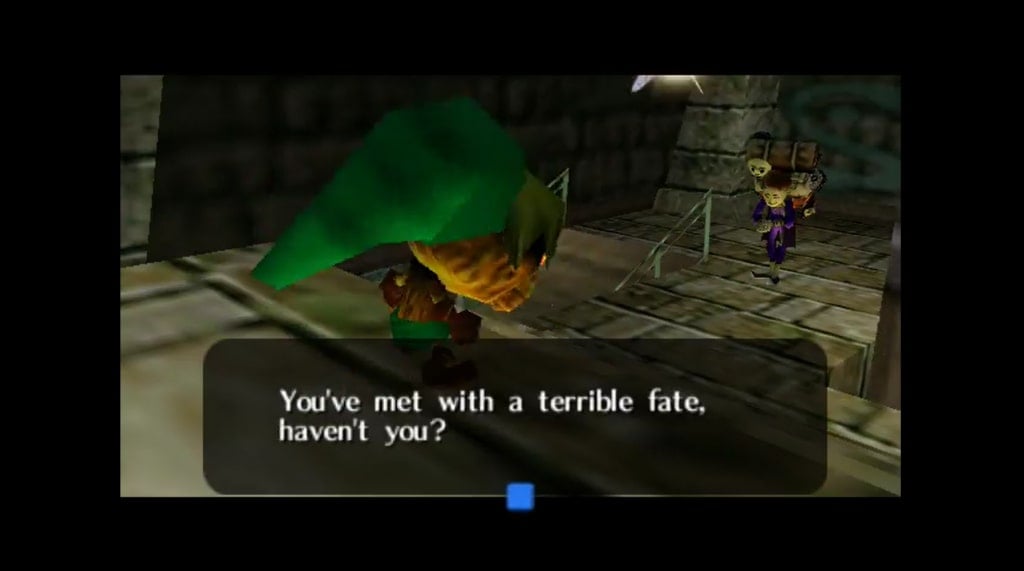 "BEN DROWNED," which centered around an allegedly haunted N64 cartridge of The Legend Of Zelda: Majora's Mask, first hit the internet in the fall of 2010. On Sept. 7, of that year, 4chan user Jadusable — now known to be writer and media personality Alex Hall, who was in college at the time — posted a thread to 4chan's /x/ board about some odd experiences he'd been having playing a copy of Majora's Mask he had picked up recently at a garage sale. According to Jadusable, the game's NPCs and environments weren't behaving as they should; the text and music were both distorted; that dang Elegy of Emptiness statue kept following him all over the place; and, apparently, he shouldn't have done… any of the stuff he'd done. It later became apparent that the cartridge was seemingly haunted by the spirit of a boy named Ben who had died by drowning — and that Ben was determined to have Jadusable suffer the same fate.
But we didn't have to take Jadusable's word for it. He had also recorded some videos of what he said he was experiencing in the game — and he had posted them to YouTube for all of us to see.
Seven years later, a YouTube channel purporting to show an unfinished PlayStation game called Petscop began uploading gameplay videos. The story here is perhaps less straightforward than it was for "BEN DROWNED"; we know our narrator is named Paul, and that he's recording these videos so he can prove to a friend that this weirdo game he found actually exists. But as each video goes on, it becomes apparent there's something deeper at work — something that may ultimately reveal something terrible about Paul's own life. (I've already written at length about Petscop, so instead of recapping it all here, I'll point you to that piece for some in-depth discussion about the whole thing.)
Sad Satan stands out from these two gaming stories in two major ways: Whereas "BEN DROWNED" and Petscop both present a narrative for their storytellers — that is, we follow Jadusable and Paul along their journeys as they work their ways through their respective games — Sad Satan is, beyond its basic origin story, virtually narrative-free; and, while the games at the centers of "BEN DROWNED" and Petscop are unique in that Jadusable and Paul seem to have the only available copies of them, Sad Satan presents itself as something anyone could download and play.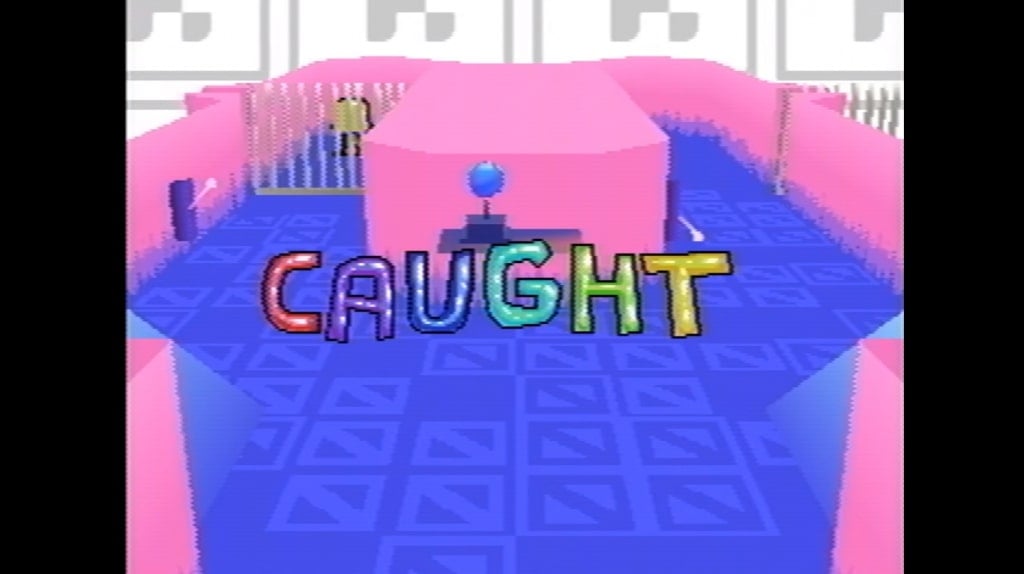 Those differences, I think, are ultimately what made Sad Satan falter where the other two soared. I also think, however, that each point matters for unique reasons all their own.
It's true that what really made "BEN DROWNED" special was the videos Alex Hall made depicting the alleged haunted game. According to an interview Hall gave to retro gaming website Arcade Attack, he made them "using Project 64's emulator software and a ROM of Majora's Mask, then using really obscure gameshark debugging codes to essentially manipulate almost every aspect of the game"—and it's thanks to them that the story reached a whole new level of freaky. Indeed, leaving aside the unfinished ARG that started up after the original haunted cartridge arc, "BEN DROWNED" was the pioneer for a particular subgenre of video game creepypasta: Pastas not just about video games, but also featuring auxiliary media that actually showed the video games being played. It also remains the most notable example of this variety of video game pasta.
Still, though — the videos were grounded in the narrative Hall had posted to 4chan. Without the written part of the story, the videos meant nothing; the 4chan thread gave them their raison d'etre. The narrative is what made the videos so successful — and, indeed, I'd argue that after "BEN DROWNED," we didn't see anything as ambitious, involved, or successful in the subgenre until Petscop, which began in 2017 and is still ongoing today.
Petscop is obviously more video-heavy than "BEN DROWNED" was. In fact, while the videos in "BEN DROWNED" were supplemental to the written story, pretty much the opposite is true for Petscop: The videos are the story. Instead of adding a little bit of bonus content to a story posted as a piece of writing to, say, 4chan or Reddit, they're the primary vehicle for the tale. However, that doesn't mean the story doesn't have a narrative; on the contrary, it's got a sense of narrative that's at least as strong as the one "BEN DROWNED" gained from its 4chan posts. It's just communicated in a different way: It's in Paul's commentary as he plays the game.
YouTube Let's Plays tend to come in two varieties: One in which the YouTuber provides commentary as they play, which may or may not feature a face cam showing their physical reactions; and one in which there is no commentary or face cams whatsoever. Personally, I tend to prefer the second variety; it lets me watch video games the way I watch movies in that it leaves me room to think my own thoughts about what I'm seeing as I go. Commentary videos are useful for when you want to get a sense of what other people think about a game — but usually I like to have a crack at it on my own first.
That said, though, commentary can incredibly useful as a narrative device, which is how Petscop uses it. The experience is a little different in Petscop than it is in "BEN DROWNED" because of the difference in the assumed audience: Whereas Jadusable wrote with the reader specifically in mind — that is, anyone who was reading his story was its intended audience — with Petscop, Paul has a particular person for whom he's making the videos. That person is not us; we're flies on the wall, which means we often need to do more detective work to figure out what he means as he references people, events, and relationships with which his intended audience is familiar, but with which we, a bunch of randos creeping on some guy, are not. But Paul's commentary still serves as a driving narrative: Like Jadusable, he's on a journey with this game, and we're following along with him in live time. Indeed, as others have commented, it's in the two most recent Petscop videos, parts 11 and 12, that it becomes clear the whole thing is about Paul himself and his family's story.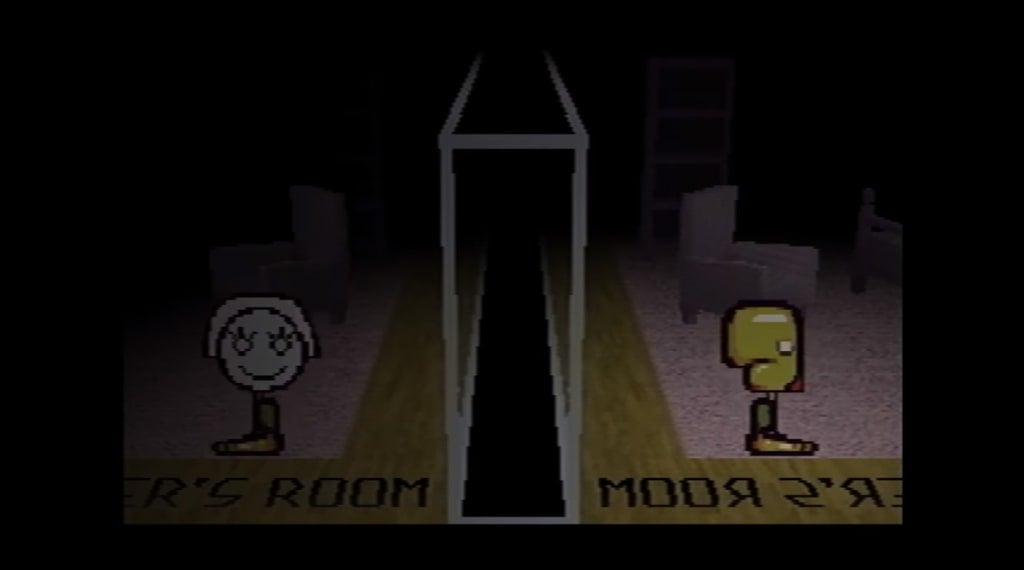 Sad Satan, however, is a different beast from both "BEN DROWNED" and Petscop: It doesn't have a written narrative like "BEN DROWNED" did, but since it's formatted as a commentary-free Let's Play, we don't get a sense of narrative through the person who's meant to be playing the game, either. All we get is, "Hey, I found this weird game on the Deep Web" and some gameplay footage — that's all.
In some ways, this is admirable: It might be viewed as an ambitious form of video game creepypasta storytelling — one which isn't narrative-driven, but which encourages viewers to dig deep into the content of the game, thereby almost becoming a part of the story themselves. The problem is, you still need a basic setup to explain the game's existence — and, in order for the whole thing to be successful, that setup needs to be one that holds up. Sad Satan's didn't, collapsing as soon as people realized the .onion link was false. And, as Hannah Barton observed at the Daily Dot in October of 2015, it proved difficult for viewers to stay invested in the game once its origin story — the thing which was largely responsible for interest in the game in the first place — was called into question.
In this sense, Sad Satan occupies the area between "BEN DROWNED" and Petscop. It got as far as jettisoning the written word as an accompaniment to the story; however, it didn't fill the gap with anything, as Petscop later would with its Let's Play commentary. And that, I think, is ultimately why it failed.
Which brings us to the next issue: The matter of the availability of each story's game. Interestingly, I think this is actually what Sad Satan could have used to fill the gap it lost by getting rid of the narrative — but although we did eventually get something that sort of did that (the "clone), we don't know that it was meant to be part of the overall narrative in the first place; at best, it was a clumsy patch to fix a glaring plot hole, and at worst, it was a malicious attempt by someone unrelated to the whole thing to exploit interest in the game and cause chaos. Either way, though, it obviously didn't work, so we're still left struggling with what to do with this weird little tale.
But I'm getting ahead of myself. Let's back up a little.
Both "BEN DROWNED" and Petscop present their respective games as one-of-a-kind items.. Given how Jadusable acquired his copy of Majora's Mask (at a garage sale) and its appearance (grey, label-less, with the word "Majora" handwritten directly on it in black permanent marker), it's clear that it's meant to be a bootlegged or hacked copy — that is, it's the only copy like it in existence. The idea of the story wasn't that all copies of the game Majora's Mask were affected; it was Jadusable's copy specifically. Meanwhile, in Petscop, Paul introduces the titular game simply as "the game I found"; later, though, we learn that it's an unfinished game — meaning there's no way to acquire any commercially-released copies (because they just don't exist). Whatever Paul's got in his hot little hands, it's likely one of a kind.
The upshot in both stories is this: You can't buy or download either of these games just anywhere — which puts us, the readers and viewers, at the mercy of our storytellers: They're the only sources of information about these games we have.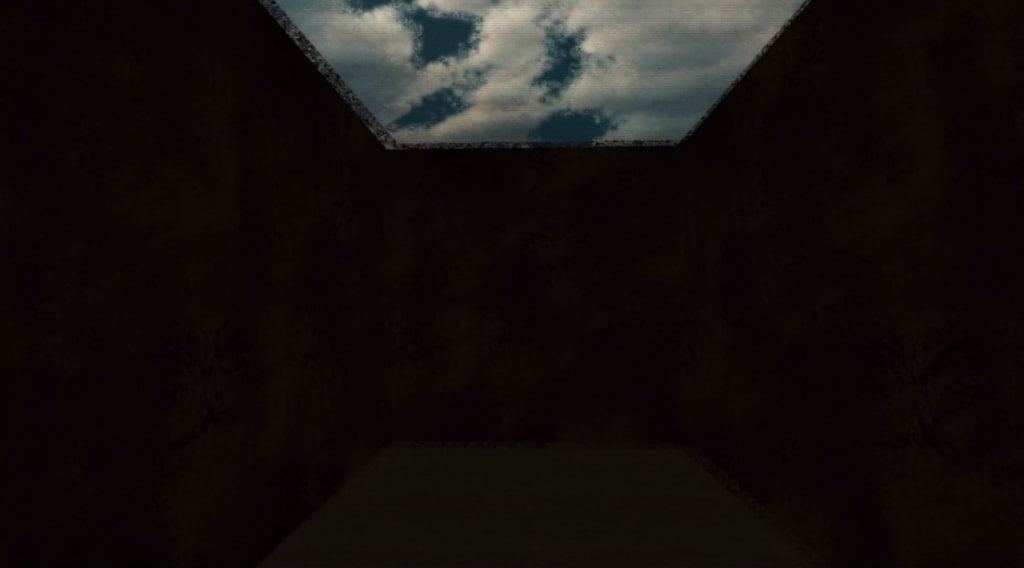 Sad Satan, however, is presented the opposite way — as something anyone can download. It might be tough to get, true; however, it's not impossible. It's widely accessible to anyone who knows how to get it — that is, to anyone who knows how to use a Tor browser. And I think that implied accessibility is ultimately what did Sad Satan in: Because it seemed possible to play, everyone wanted to play it — but if the game didn't really exist, or existed in an unfinished or incomplete form used only to create the videos purporting to depict it, there was no way to make that happen. It caused the whole thing to collapse in on itself, and, well… here we are: With a half-finished creepypasta of enormous promise that somehow just didn't quite get there.
But that doesn't mean the whole thing is a failure. What I see with Sad Satan is this: "BEN DROWNED" set the traditions that would become the hallmarks of this type of creepypasta; Sad Satan broke with those traditions; and then Petscop came back to them — but only after having learned from where Sad Satan had been. To me, Sad Satan is the stepping stone that led from the origins of the subgenre to where it's ended up now — and for that reason, I think it's an essential part of the evolution of video game creepypastas, even if it wasn't entirely successful on its own.
Of course, it's entirely possible that I'm wrong. Maybe Sad Satan really did come from the Deep Web. Maybe it's not a storytelling experiment after all. Maybe there's something out there that I'm not seeing. But absent any other information about Sad Satan, this is where I'm at with it right now.
And besides, isn't the way we process things like this almost more interesting than the things themselves?
I certainly think so.
And if you're still with me, I'm willing to bet you think so, too.
Recommended resources:
Obscure Horror Corner's original Sad Satan videos.
SomeOrdinaryGamers' gameplay footage of the "clone." (CW: CP, gore. It's been pixelated out, but Mutahar's reactions to seeing it are pretty intense.)
BLINDSTARK's gameplay footage of the "clean" version.
***
Follow The Ghost In My Machine on Twitter @GhostMachine13 and on Facebook @TheGhostInMyMachine. And don't forget to check out Dangerous Games To Play In The Dark, available now from Chronicle Books!
[Photos via Obscure Horror Corner (6); Alex Hall; Petscop/YouTube]