Previously: Truly Excellent Podcasts About Horror Movies.
Some might say that found footage as a genre is played out. That may be — but you know what? I still love a good found footage horror film or mockumentary. When they're done well, there's something about them that just grabs me; I think it has to do with the immediacy of the storytelling — the idea that you're experiencing everything right alongside the characters at the exact same moments they are. So, if you're looking for something to watch this Halloween season — or at any time of year — here: Have a list of 19 found footage horror films and mockumentaries I've seen and loved. Maybe you'll dig a few of them, too. From ghosts to monsters and from exorcisms to inexplicable crimes, there's a wealth of riches to choose from.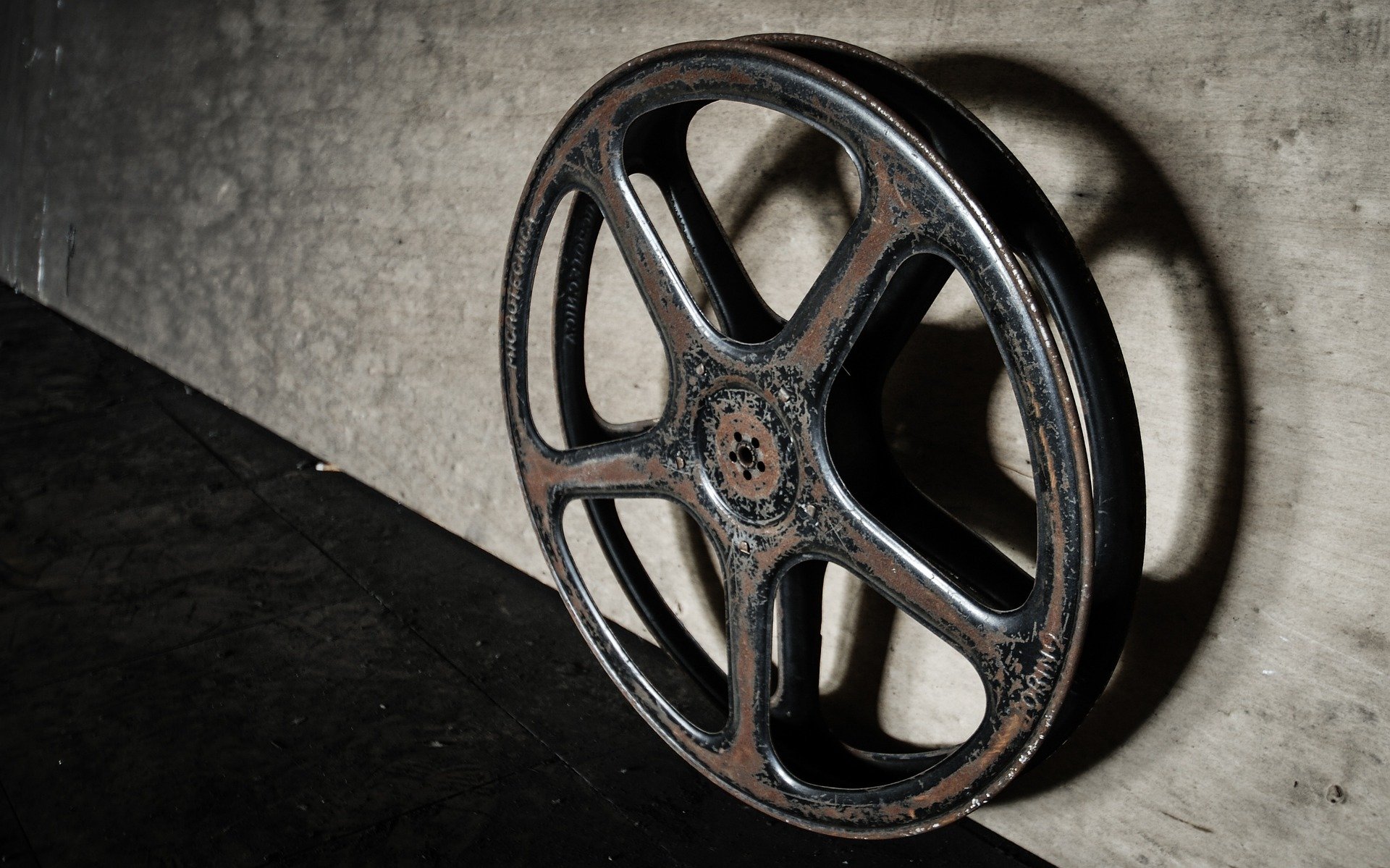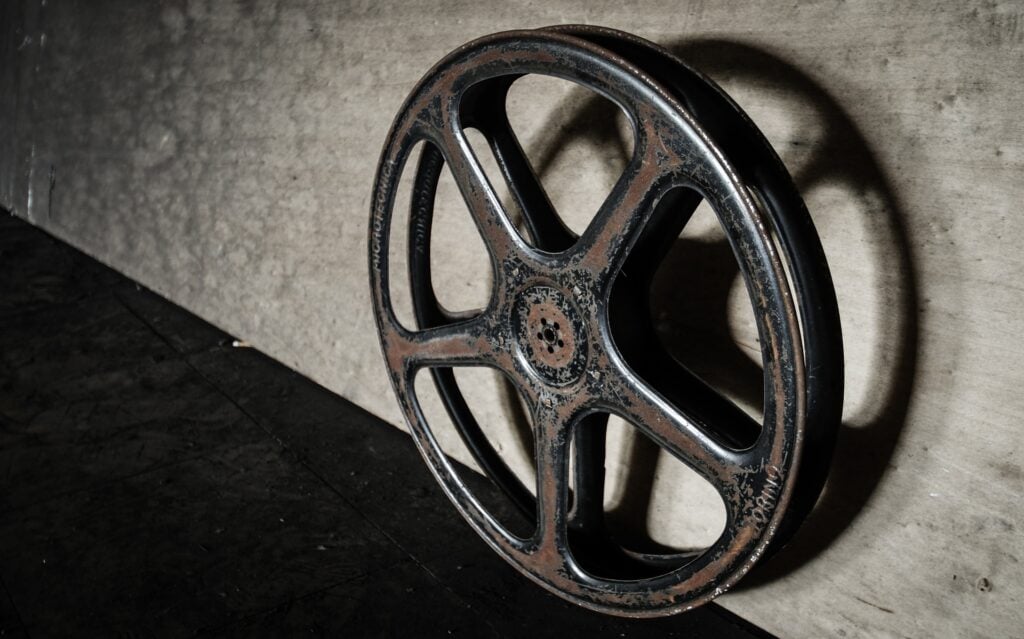 Although 1980's Cannibal Holocaust is widely accepted as the first found footage horror film as we understand the term and technique, there's no denying which film popularized it: 1999's The Blair Witch Project, which also bears the distinction of being a game changer for what's now known as viral marketing. Since then, numerous horror films and franchises have utilized found footage and mockumentary techniques, from the Paranormal Activity series to the Unfriended films.
[Like what you read? Check out Dangerous Games To Play In The Dark, available from Chronicle Books now!]
Here, I'm focusing on films that may not have gotten quite as much attention, but which are definitely still worth your time. Are they all "under the radar?" Not exactly; many of them are frequently discussed within the horror community, and there are likely at least a few here that you're already familiar with. But others might be new to you — or if they're not, then maybe now is a good time to revisit them. They're largely available to rent or stream from the comfort of your own home.
Whether you like to watch your scary movies with the lights on or off, get ready to suspend your disbelief.
Gonjiam: Haunted Asylum (2018)
Let's start with my favorite: Gonjiam: Haunted Asylum, a South Korean film I watched for the first time last year after seeing a lot of chatter about it on horror Twitter — and y'all, it blew. Me. Away.
The premise will sound fairly standard to anyone who's even passingly familiar with found footage horror: A group of aspiring ghost hunters/filmmakers travel to an allegedly haunted former psychiatric hospital to investigate, document their findings, and — they hope — launch themselves into the stratosphere of fame. To wit, much of the activity they initially experience has actually been engineered by them themselves; soon, though, they realize they've bitten off a bit more than they can chew, with disastrous results.
But Gonjiam: Haunted Asylum updates the format for the modern age; our erstwhile team of would-be ghost hunters are shooting not a film or a television series, but conducting a livestream event for their web series. What's more, the flick is chock full of genuinely unsettling moments (if you've seen it, you can 100 percent hear this picture) — and the ways its twists and turns unfold is nothing short of masterful. If you're particularly into ghost stories and haunted location tales, I cannot recommend this one enough; I loved it.
For the curious, Gonjiam was a real place; however, it's no longer standing, having been demolished in May of 2018. Additionally, the interiors seen in Gonjiam: Haunted Asylum weren't actually shot at the former hospital, despite the fact that it was still standing at the time of production: Unable to acquire permission to shoot on the property, the filmmakers instead recreated its ground plan as closely as possible within the National Maritime High School in Busan. Impressive, no?
Watch the trailer.
Stream it on Tubi and Shudder, or rent it on Amazon Prime or YouTube.
The Den (2013)
Before there was Unfriended, there was The Den — a film about a sociology graduate student who hopes to write her thesis on the titular Den, a fictional, webcam-based social network that functions similarly to Chatroulette or Omegle, only to find her life unraveling after an odd encounter on the platform and a subsequent hack of her computer. Where it goes after that is… complicated, although I will say that if you dig the Welcome To The Game video game series, you'll probably find The Den similarly up your proverbial alley. An early example of found footage wherein the storytelling happens entirely within the frame of a computer screen, The Den laid the groundwork for numerous films utilizing that same frame — from the aforementioned Unfriended series to the more recent Searching. (More on that one in a bit.)
In the event that Chatroulette and Omegle were either before or after your time, they both initially launched in 2009, although Omegle's video capabilities weren't added until 2010. Regardless, at the time The Den was in production, both of these platforms were in their heydays. Usage dropped off considerably in the middle 2010s, although they've both seen increased popularity again over the past year or two.
Watch the trailer.
Rent it on Amazon Prime or YouTube, or watch it here.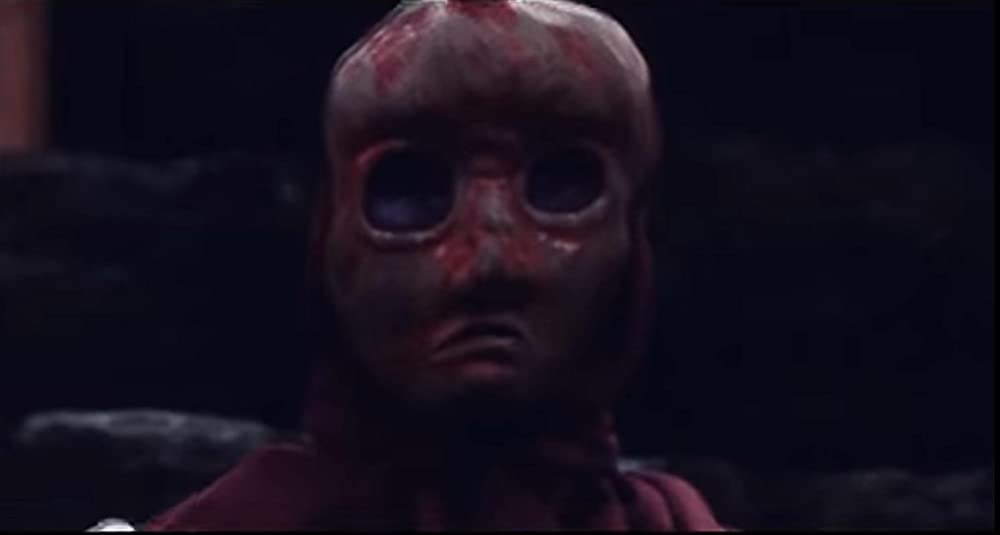 Noroi: The Curse (2005)
I've got a soft spot for J-horror, found footage, and weird paranormal stories, so it should be no surprise that Noroi: The Curse — which combines all three — became a favorite of mine after the first watch. Taking the form of an abandoned documentary a famed paranormal researcher was working on before his mysterious disappearance, it features both found footage and mockumentary conventions to great effect. It's a slow burn — but there are numerous layers to uncover, and where it ultimately goes is well worth the journey.
Noroi was the first Kōji Shiraishi film I'd ever seen; having now gotten a few more under my belt, though, I can state with confidence that I am a fan. He doesn't give you everything served up on a plate — you often have to work for it — but for that reason, I find his films incredibly engaging. I think hat I like the most about his work, though, is that it often pushes the envelope with it's trying to do — and although it's not always entirely successful, it is always interesting to watch.
Noroi, or ノロイ, is, in fact, a Japanese word that translates to "curse"—the kind that features prominently in Japanese horror, creepypasta, and so on. For more, take a listen to this episode of the Kowabana podcast on noroi.
Watch the trailer.
Stream it on Shudder, or watch it here.
As Above, So Below (2014)
Do you like spaces and locations that… don't behave the way they should? Then As Above, So Below should absolutely go on your To Watch list. It follows a team of… well, treasure hunters, for lack of a better word, as they venture into the Paris catacombs to find the mythical philosopher's stone and end up lost in more ways than one.
I'll admit it: I avoided watching As Above, So Below for ages because I'd mostly only heard negative things about it. I'll also admit that written summaries of the major plot points make it sound kind of laughable. But in recent years, it's become clear that the negative response to it at the time of its release was, as Brad Miska put it at Bloody Disgusting in 2018, largely a result of found footage fatigue.
And you know what? When I did finally take the plunge and watch it, I was delighted by it. Maybe it's because my expectations were low, but what sounds silly in summarized form actually lands quite well on screen; the camera and editing tricks and general movie magic involved in constructing the mercurial physical environment are thrilling to watch, making for a compelling piece of storytelling full of twists and turns.
Watch the trailer.
Stream it on Amazon Prime, or rent it on YouTube.
The Dark Tapes (2016)
Are you a sucker for anthology films? Does the V/H/S series do it for you? If yes, then The Dark Tapes might be worth checking out. A found footage anthology film, it doesn't necessarily break any new ground, but it does do what it does well.
It consists of four primary segments and two short wraparound scenes — although one of the segments also functions as part of the wraparound scenario, unfolding in chunks over the course of the film, rather than being told all in one go like the other three segments. What's fun about them all, though is that they each ostensibly fit into specific horror subgenres — "To Catch A Demon" is a science-gone-wrong tale; "The Hunters And The Hunted" looks like a Paranormal Activity-style haunted house story; "Cam Girls" fills the demonic/satanic slot; and "Amanda's Revenge" feels a lot like an alien abduction tale to me — though they're not always as straightforward as they might seem. NOTE, though that there are flashing lights in the segments "Cam Girls" and "Amanda's Revenge"; additionally, CW for sexual assault in "Amanda's Revenge."
As for what theses "dark tapes" actually are — why they exist, who collected them, why they've been cut together here — well, the film doesn't really try to explain itself on that front… but it's kind of fine. I don't necessarily think it needs to. It's a fun watch, and a solid anthology.
It doesn't try to explain itself, really.
Watch the trailer.
Stream it on Tubi.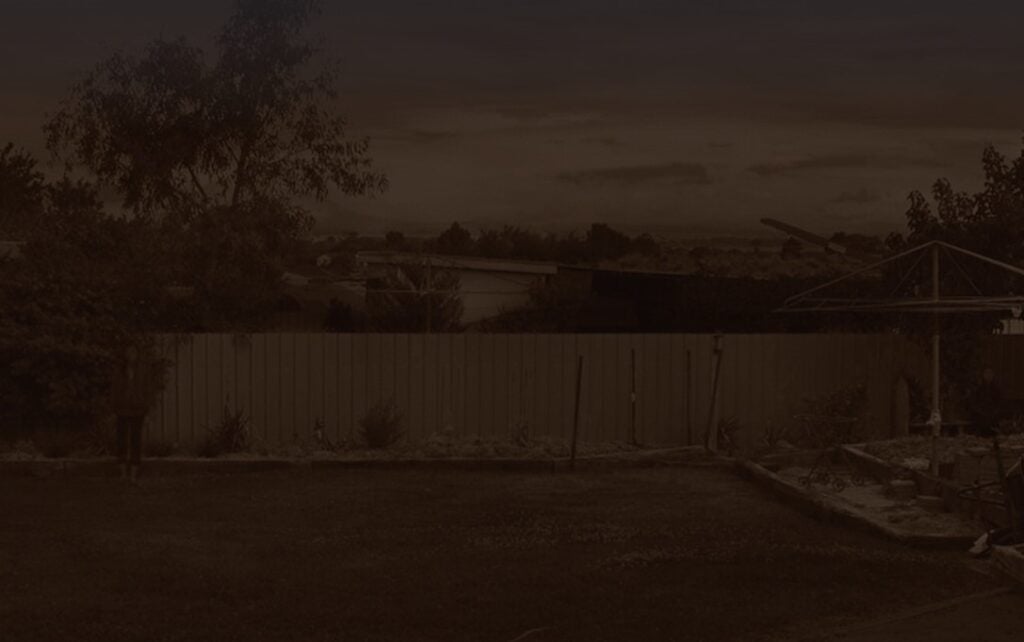 Lake Mungo (2008)
Framed as a mockumentary, Lake Mungo is a portrait of a grieving family. 16-year-old Alice Palmer is dead — drowned while swimming in Ararat, Australia — leaving behind her mother, father, and brother to pick up the pieces of their lives. But as they try to sort through what may have been going on in Alice's life before she died, it begins to seem as if they're haunted by Alice. And not just the memory of her, either — it seems as if her literal ghost is still hanging around the family's home.
Lake Mungo is a difficult watch. It's enormously upsetting for a number of reasons; I was an emotional train wreck by the end of it. But this is a testament to its effectiveness: It's not just spooky; it's an extraordinarily meaningful examination of grief and loss, and how we cope with it.
Pro tip: Don't skip the end credits. They're important.
Watch the trailer.
Stream it on Tubi, or rent it on YouTube or Amazon Prime.
The Borderlands/Final Prayer (2013)
Found footage gone folk horror with a healthy slug of exorcist action, The Borderlands — released in the U.S. as Final Prayer — may feel familiar to anyone who's well versed in any of those three genres. Indeed, the setup is one we've seen before: Three people of varying degrees of skepticism and religiosity are sent to an ancient church in the English countryside to investigate odd goings-on, eventually arriving at the conclusion that an exorcism is necessary. But, as is often the case with good genre films, it not only hits all the right beats and executes the conventions well, it also does something… a little different once you get to a key point in the story.
Remember what I said about As Above, So Below? About how it was a good one to watch if you like spaces that don't behave as they should? That recommendation also applies to The Borderlands.
Some might argue that this one doesn't break much new ground, and in some ways, that's true. But what it does, it does well — and if you stick with it to the end, you'll see some things you might not be used to seeing in these sorts of stories.
Watch the trailer.
Stream it on Tubi, or rent it on Amazon or YouTube.
Behind The Mask: The Rise Of Leslie Vernon (2006)
An underrated gem, Behind The Mask is simultaneously a raucous sendup of slasher flicks and an exemplary entry to the genre. Set within a world where the iconic slashers that have populated our cinema screens for decades are real, the film sees us tagging along with a documentary crew as they follow Leslie Vernon, a man who is angling to become a slasher-style creation in his own right.
If you've ever had any practical questions about how, exactly, the killers in slasher films get themselves into fighting form — literally — well, Leslie has all the answers: He takes the crew through his training regimen, including how he develops his slasher persona's mythos, what his workouts are like, how he chooses his victims and final girl, and more.
It's tongue-in-cheek, with a wink-wink-nod-nod sense of humor — until we get to the third act. That's when we move from slasher-focused mockumentary to actual slasher film, with spectacular results. If you love a good referential horror flick, definitely check this one out; it's well-known as a cult film these days, but I still don't think it's gotten nearly the amount of attention it really deserves.
Watch the trailer.
Stream it on Shudder, or rent it on Amazon Prime or YouTube.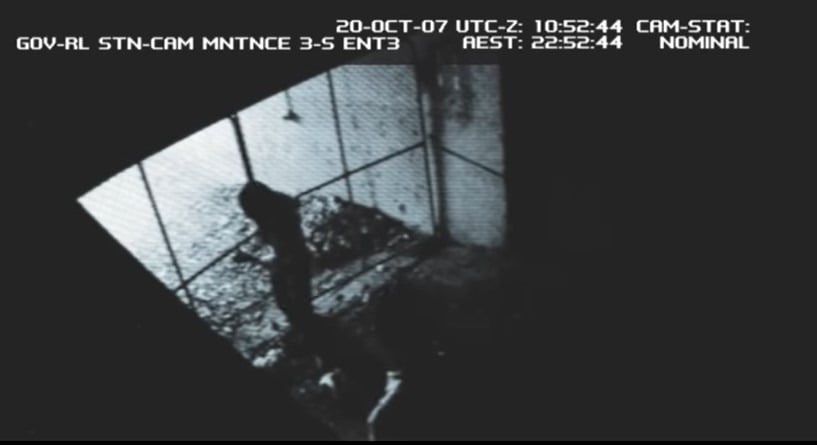 The Tunnel (2011)
Australian subterranean creature feature The Tunnel displays excellent use of the idea that what you don't see in horror is often much more effective than what you do see. Centered around an investigative journalist and her team — producer, camera operator, and audio engineer — who venture down into the network of abandoned train tunnels beneath Sydney in an effort to figure out why, exactly, the government suddenly and without warning abandoned a plan to recycle millions of liters of water present in the tunnels as a means of alleviating drought conditions, it's also an excellent example of why it's sometimes better to let sleeping dogs lie.
Or sleeping… things.
Humanoid things that are definitely not actually human.
Like a number of films on this list, this one blends found footage conventions with a mockumentary frame; although the journalist and her team did initially intend to make a documentary about what they believed to be a government cover-up, their footage, along with some talking-head interviews, is ultimately used to create a very different documentary-style narrative — one about what happened to them beneath Sydney's surface.
Watch the trailer.
Occult (2009)
Like Noroi, Occult comes to us from filmmaker Kōji Shiraishi. Also like Noroi, it's framed as a documentary about an unusual occurrence and the events that unfold afterwards — in this case, the sudden and unexplained stabbing of several people at a resort, after which the perpetrator dies by suicide. His remains are never found. But unlike Noroi, Occult goes truly meta: Shiraishi himself — or at least, a fictionalized version of him, as played by himself — is the one leading the documentary crew as they follow the life of a survivor of the initial attack, who now claims to bear witness to a series of what he terms "miracles" on a regular basis.
Occult is a lot weirder than Noroi, particularly in the final few minutes; as such, it may not be everyone's proverbial cup of tea. If cosmic horror is your thing, though, it's an interesting take — and it's unsettling enough that it'll probably stick with you for a while. It did for me, that's for sure.
Also, if the survivor — Eno — looks familiar to you, you may have seen him on Tokyo Midnight Diner/Midnight Diner: Tokyo Stories on Netflix.
Watch the trailer.
Stream it here.
Searching (2018)
By far the slickest of the bunch, Searching also represents some of the furthest evolution of found footage on the big screen thus far: It's a sophisticated "computer screen film," as this variety of found footage is now termed, masterfully cut together into a tight hour and 40 minutes that'll keep you on the edge of your seat.
Searching follows a father in San Jose, California as he, uh, searches for his missing teenage daughter. But he does it in a way that only a modern parent can: By digging into her digital life, trying to get a feel for a side of her that she never shared with him when she was around. The film is probably better classified as a thriller than straight-up horror, but I consider thrillers and horror to be adjacent at the very least — even flip sides of the same coin — and, folks, this one is gripping.
A second Searching film is on the way, although it won't be a direct sequel; the filmmakers have said that it'll follow a new set of characters. I'd be willing to bet that we might see at least a cameo appearance from one or more of the first Searching's key characters.
Watch the trailer.
Stream it on Amazon Prime or rent it YouTube.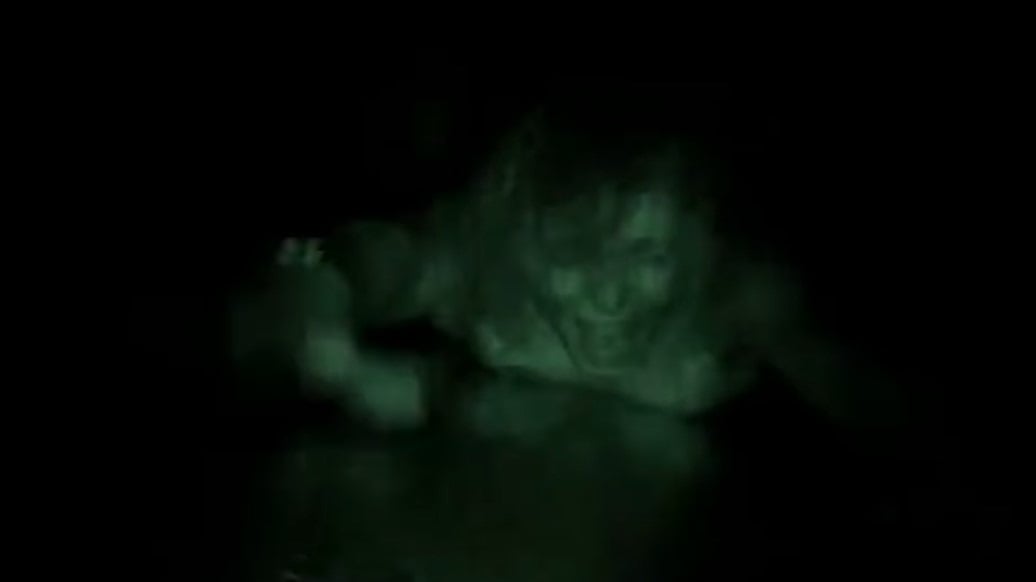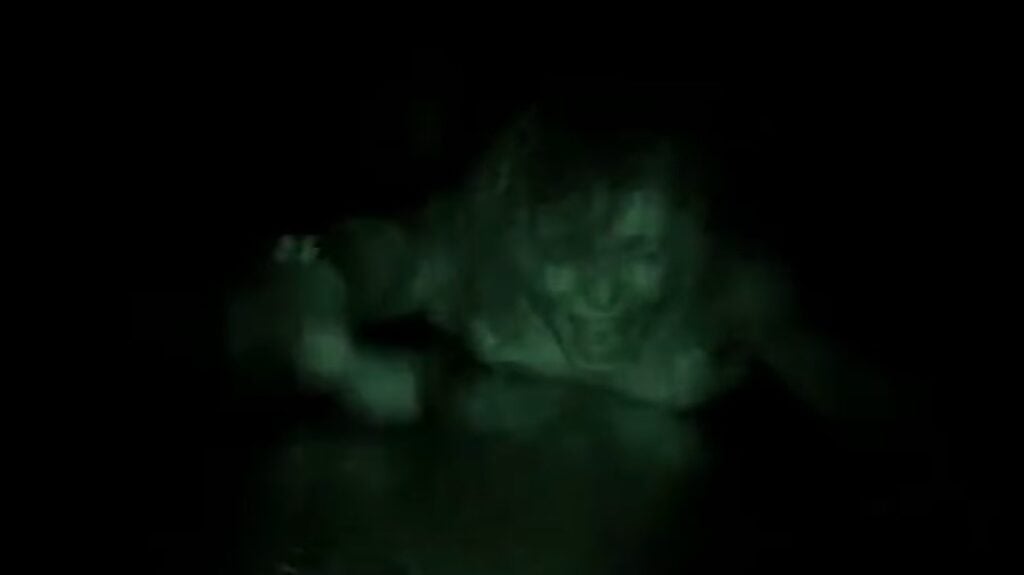 Rec (2007)
If you've somehow made it this far without seeing the original Rec, it's perhaps time to remedy that fact. Taking place within the course of a night in an apartment building in Barcelona, it seems at first that a virus has taken hold of the inhabitants and might be turning them into aggressive, zombie-like beings (fast, rage-fueled 28 Days Later-style zombies, rather than Romero-style slow, rotting zombies) — but that's just the beginning.
There's more there to uncover, if you look hard enough.
And if you can survive, of course.
Rec spawned numerous sequels and an American remake, Quarantine (which — fun fact! — was made by As Above, So Below writer and director John Erick Dowdle) — but the original remains the best of the bunch, an effective and satisfying watch that's high on tension and has some excellent payoff.
Watch the trailer.
Stream it on Crackle, or rent it on Amazon Prime or YouTube.
The Taking Of Deborah Logan (2014)
I originally saw The Taking Of Deborah Logan around the time that I first saw The Den, so I tend to think of them together, although they're very different films.
The Taking Of Deborah Logan begins as a student documentary project about living with Alzheimer's. But it soon becomes apparent that Deborah — the Alzheimer's patient at the center of the project — might have more going on than illness; she might, in fact, be possessed. The film walks the line between those two extreme skillfully; it's full of poignant moments, as well as outright scares. Although it never received a theatrical release, it's well worth your time.
Watch the trailer.
Stream it on Shudder, Amazon Prime, and Tubi, or rent it on YouTube.
The Hell House LLC Trilogy (2015, 2018, and 2019)
The Hell House LLC trilogy is, in many ways, the epitome of a low-budget found footage series, with all the pros and cons that go along with it — and yet, although I'd argue that none of the films is necessarily good (there's a lot of bad acting in them, especially in the third installment), I still kind of love them. The plotting is solid, the scares are well-executed, and, well, I'm a sucker for many of the elements at play in these three films: Haunted locations, haunted attractions, scares that hide more than they show you, twists and turns, and of course the whole found footage aspect.
The story kicks off in the first film with a team of New York theatre folk who venture slightly out of the city for the Halloween season to put together a haunted attraction at an old, abandoned hotel. (This element also resonates with me, as I myself was once a New York theatre person.) Alas, it turns out that the old, abandoned hotel is old and abandoned for a reason: It's super, super haunted. Chaos, death, and destruction ensues, culminating in a disaster occurring on the attraction's opening night — and now, through a combination of found footage shot by the theatre company as they put together their attraction, news reports, and talking head interviews, a documentary team is attempting to figure out what exactly happened that night.
The two followups, Hell House LLC II: The Abbadon Hotel and Hell House LLC III: Lake Of Fire, dive ever deeper into the mythology, and by the end of the third film, most of the questions raised throughout the entire trilogy have been answered. This is one of those rare cases where the answers are actually quite satisfying, though, so although I would normally prefer some things left unanswered, the series hangs together quite well. Despite the individual films' failings, I can't help but enjoy them all — both on their own and as a whole.
Watch the trailers: I – II – III
Stream Hell House LLC on Amazon Prime, and Hell House LLC II and Hell House LLC III on Shudder. II and III are also available to rent on Amazon Prime.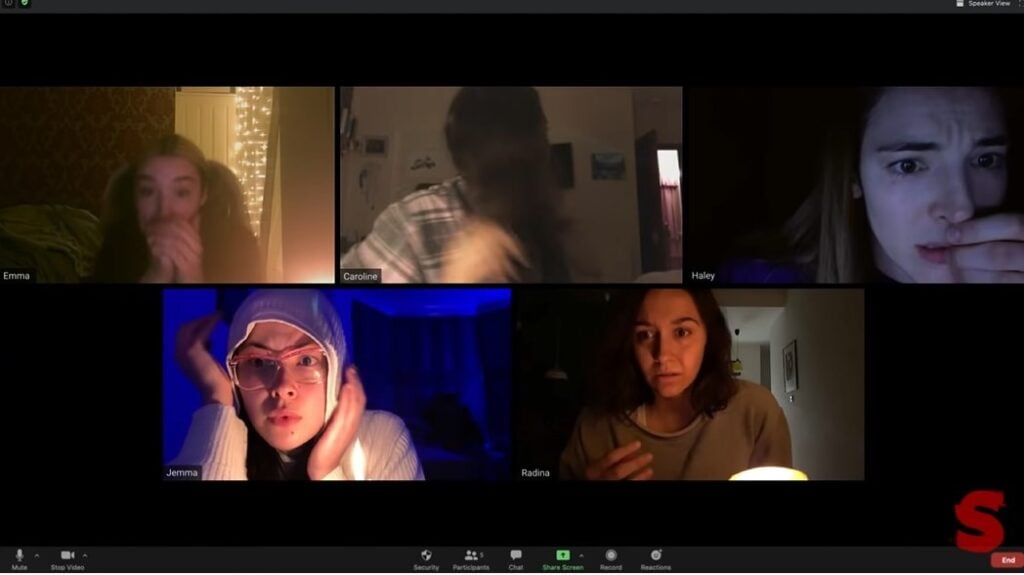 Host (2020)
Okay, y'all probably don't need me to tell you about Host at this point — it made a huge splash as the "Zoom horror movie" shot during the long lockdown and quarantine of 2020 — but it's worth including here, because it's, y'know, very much worth watching. It's relatable, it's clever, it's spooky, and, true to form, it's a tight 56 minutes — just four minutes shy of the 60-minute meeting limit for free users of Zoom.
In case you need a refresher, the film centers around a group of friends who, like so many of us, have been finding new and interesting ways to hang out with friends while locking down without actually being in the same location together. On the night Host takes place, the activity they're planning on partaking in is a séance — held over Zoom.
Things… do not go as planned.
It's great. Just… trust me on this.
Watch the trailer.
Stream it on Shudder.
The Last Exorcism (2010)
Like As Above, So Below, I avoided The Last Exorcism for a long time. And also like As Above, So Below, I was pleasantly surprised by it when I did finally watch it. I think I was maybe suffering from exorcism movie fatigue at the time of its release — hence my avoidance of it — but now, more than a decade on, I'm kind of kicking myself for not having seen it sooner.
The frame is familiar: A duo of filmmakers have been following a reverend dedicated to debunking possession and exorcisms, often by performing fake exorcisms on people who falsely claim to be possessed. When the reverend the filmmakers travel to the home of a farmer whose daughter appears to be possessed, the situation at first appears to be more of the same.
Then it… goes places.
This is one of those stories where nothing is really quite what it seems, and by the end, all hell breaks loose — literally and figuratively. Oh, and if you remember that viral ad campaign that made the rounds on Chatroulette way back when — the one that starts with a young woman looking like she's about to remove her top, only to have her eyes roll back in her head and turn into a demon — this is the film it was advertising.
Watch the trailer.
Stream it on Amazon Prime or rent it on YouTube.
Trollhunter (2010)
If you like the idea of a found footage film centered on people tracking something like Bigfoot, but aren't actually that into Bigfoot himself, Trollhunter might be exactly what you're looking for. As the title might imply, the cryptid at the center of the film is a troll — and since it's a Norwegian film, it's an extremely specific variety of troll. Not one with dayglow hair, that's for sure.
The thing is, the fictional filmmakers shooting the footage that makes up Trollhunter don't initially start out looking for trolls; they're planning on making a documentary about a suspected bear poacher. Things, uh… don't quite turn out the way they're expecting.
Trollhunter is a rollicking good time — and for more reasons than one: There's quite a bit of humor in this one along with the scares, so if you like your horror with punctuated with laughter, give this one a try.
Also, fun fact: Writer/director André Øvredal would later go on to direct The Autopsy Of Jane Doe (which is terrific, if you haven't seen it) and the Scary Stories To Tell In The Dark movie.
Watch the trailer.
Rent it on Amazon Prime or YouTube.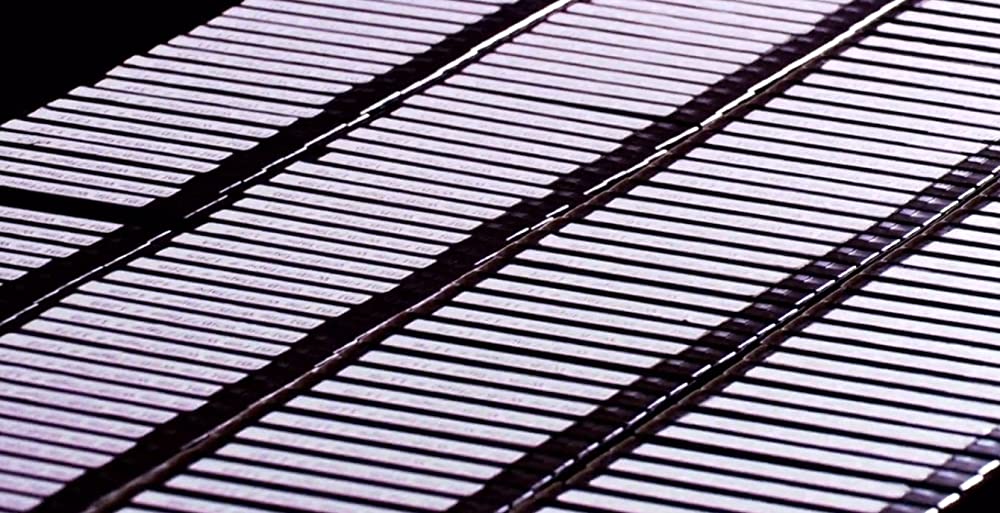 The Poughkeepsie Tapes (2007)
Before John Erick Dowdle made As Above, So Below and Quarantine, he made The Poughkeepsie Tapes — but although the film was screened at the Tribeca Film Festival in May of 2007 and slated for a 2008 release, it ended up never actually hitting cinemas. It languished for years, eventually receiving only a limited VOD release in 2014 and, finally, a DVD release in 2017. (I managed to find a streamer for it years ago, although I'm not sure I still have the source for it; given the year I watched it, it must have been the cut screened at Tribeca.)
It's never been totally clear why it was yanked from 2008 schedule, but it's been suggested it's because of its brutality — and, certainly, The Poughkeepsie Tapes isn't for everyone. (CW for sexual assault, abuse, abduction, self-harm, and suicide for this one.) The titular tapes — some 800 of them — are, within the framework of a documentary-style lens, purportedly evidence/trophies of a notorious serial killer; they're found after a police raid on a house in Poughkeepsie, New York, thus sparking a long investigation and hunt for the killer.
It's… a lot. But it is horrifying, if that's what you like to get out of your… horror films. Tread carefully, though. Make sure you're ready for this one before you watch it.
Watch the trailer.
Stream it on PlutoTV and Shudder.
The Collingswood Story (2002)
Update: The Collingswood Story is available to stream on Amazon Prime now! Find it here.
In some ways, The Collingswood Story feels like a precursor to Host — one so ahead of its time it was made almost 20 years prior. These days, the premise sounds staid: A young couple attempt to keep a long-distance relationship going while one of them is away at university via video chatting, only for them to realize gradually that the university student's rented room is in a house that once played host to a terrible tragedy. Add one psychic medium, a horrific cult, and a couple of ghosts, and you've got yourself The Collingswood Story — and a wide variety of other found footage/computer screen films, to boot.
But here's the thing: In 2002, when the film was made, video chatting was far from the norm; what's more, that was still the case by the time the film finally played the festival circuit in 2006. So, although The Collingswood Story looks and sounds like a '90s sitcom at times — particularly in the first 20 minutes or so — it's absolutely worth seeing as a historical artifact: As Grant Ridner put it at GQ earlier this year, "any screenlife completist should make an effort to track down The Collingswood Story, if only to appreciate how far webcam technology has come in two decades."
The Collingswood Story is very difficult to come by. I first heard about it on an episode of the podcast The Evolution Of Horror, and after looking in vain for it on and off for a considerable period of time, I've only very recently managed to find a source for it. It was just released on Blu-ray this past August, but the run was limited, and I've no idea if any more will be made available. Still, though — if you can find it, give it a shot.
Watch the trailer.
Update: Stream it on Amazon Prime.
***
Follow The Ghost In My Machine on Twitter @GhostMachine13 and on Facebook @TheGhostInMyMachine. And for more games, don't forget to check out Dangerous Games To Play In The Dark, available now from Chronicle Books!
[Photos via thomashendele/Pixabay; screenshots from Noroi: The Curse, Lake Mungo, The Tunnel, Rec, Host, and The Poughkeepsie Tapes.]