Previously: Mike The Headless Chicken.
If you search for "Ong's Hat" on Wikipedia, you'll find not one, but two different articles. That's because when we talk about Ong's Hat, we talk about two different things: We talk about the place itself, located deep within the Pine Barrens of New Jersey; and we talk about… well, the second thing we talk about is sort of nested, as well. On the one hand, we talk about a vast conspiracy, and a strange institute conducting odd experiments, and the possibility of dimensional travel through something dubbed "the Egg" — and on the other, we talk about a collaborative fiction project of which the conspiracy, the institute, the experiments, and the Egg were all story elements, and which is often cited as a notable proto-alternate reality game.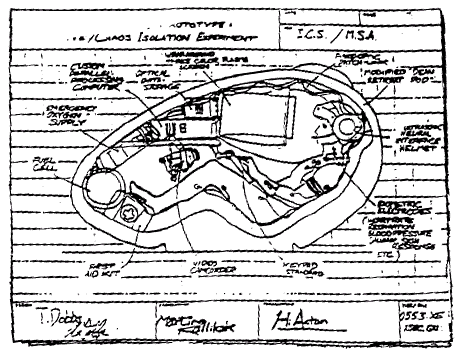 What we talk about when we talk about Ong's Hat is… complicated.
But let's try to do it anyway.
We'll start with Ong's Hat, the place. Whether or not it was ever a fully-fledged town is up for debate — in 1936, writer Henry Charlton Beck described it in Forgotten Towns Of Southern New Jersey as having once been a pretty happening place, only to write in 1944's Jersey Genesis that everything he had previously written about Ong's Hat he now knew to be false — but it's usually called a "ghost town" in Pemberton Township, New Jersey; there's nothing there now, although a road that bears its name still runs between Magnolia and Ridge Roads in the Brendan T. Byrne State Forest.
[Like what you read? Check out Dangerous Games To Play In The Dark, available from Chronicle Books now!]
So, who is Ong and what's the deal with his hat? The answer to the first part of the question is pretty simple: Ong is usually identified as Jacob Ong, a colonizer whose family arrived in the area sometime during the 17th century.
As for the hat — well, it… may not have originally been a hat at all. The phrase "Ong's Hat" may be a corruption of "Ong's Hut," referring to a hut built as a temporary overnight shelter by the Ongs on their way from the shore to Burlington County during the 1600s. This possibility was raised in a letter to the editor published in the New York Times on June 30, 1968; in it, a Ross K. Cook of East Orange, New Jersey, who claimed to be a descendent of the Ong family, sought to correct "an old and erroneous fable" that had recently been repeated in the paper.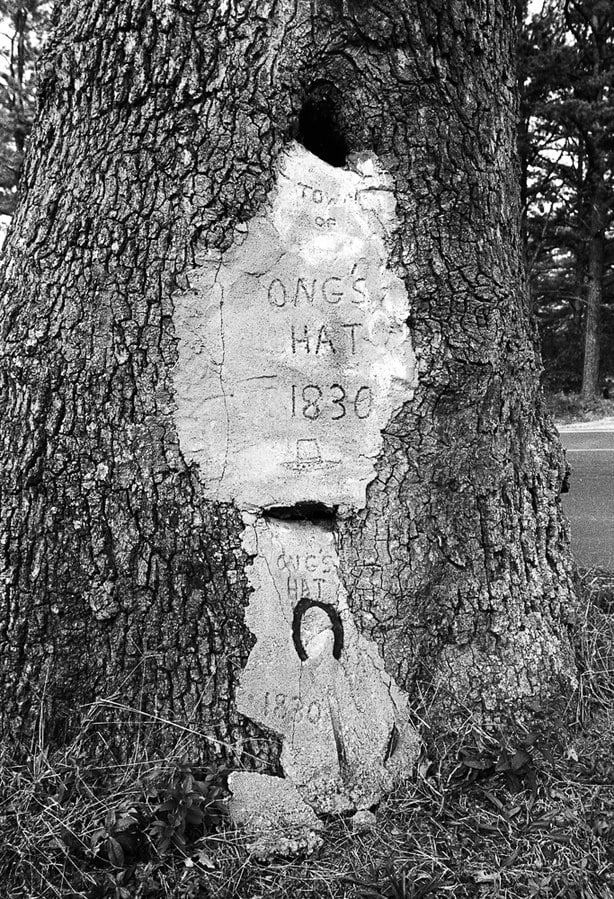 "As a member of the Ong family, I would like to say that the town of Ong's Hat is a misnomer," Cook wrote. He continued:
"The Ongs were Quakers and settled in Little Egg Harbor, Burlington County, NJ, early in the 17th century. They were down at the shore and had to take their grain up to Burlington to be ground by bagging it and slinging the bags over the backs of their horses. Half way to Burlington, they stopped overnight to break the journey and built a small shelter at what is now Ong's Hat, but was actually called Ong's Hut."
But other explanations for the name "Ong's Hat" exist, as well, though they're all mostly legend — and, in many cases, variations on the same legend. According to these tales, a man named Jacob Ong, who was a particularly snappy dresser, habitually wore a very fine silk hat; one night, however, someone — sometimes said to have been a jealous lover, other times simply an irritated dance partner — grabbed the hat in a fit of anger and stomped it flat. Ong, upset at this unfortunate turn of events, then took the hat and flung it up into the air, where it snagged in the branches of a tree. Stuck tight, it remained there for some years, serving as a sort of unofficial marker of the town's location. Ergo: Ong's Hat.
I've also seen mention of the possibility that a local tavern owner used the symbol of a hat to denote his establishment, either by drawing it on a sign or throwing a hat in a tree himself, but the details on this version of the tale are vague.
None of these stories, of course, has been proven to be true; they're all likely folklore.
It's also perhaps worth noting that, as far as I know, Cook's claim has never been independently verified. That doesn't mean it isn't true, of course — just that all we have to go on is his word that it is.
But there is still some history to be found here. The location itself was established by 1778; we know this because a map of Hessian settlements in the area has "Ong's" marked clearly on it, just southeast of New Mill. And the historical record supports the existence of Jacob Ong, too: We know that the Ong family came over to the Massachusetts Bay Colony from Bristol, England in 1631, and that later on, parts of the family arrived in New Jersey. The Jacob Ong in question — who is just one of several Jacobs to have been born into the Ong family — was born sometime around 1672; then, in 1700, he bought 100 acres of land in the area that would later become known as Ong's Hat.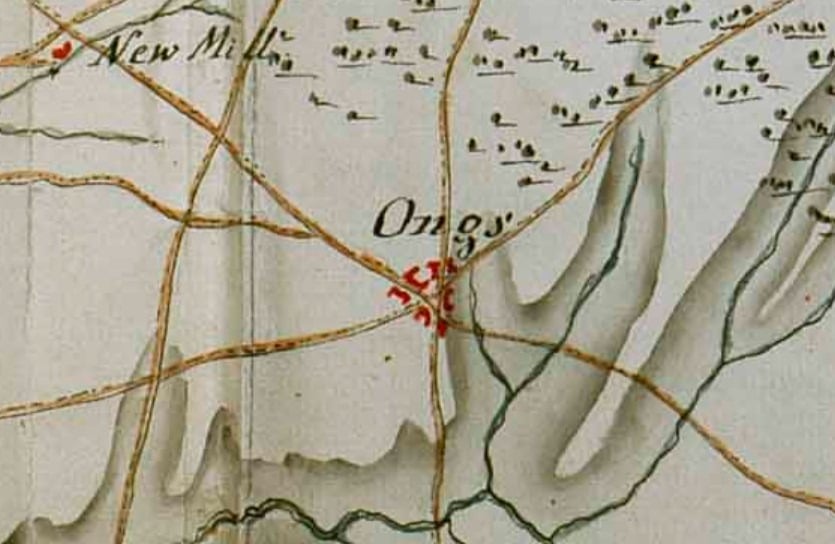 But Ong's Hat wouldn't be much more than a mild oddity with an unusual name — a random clearing in the woods now that may or may not have been either a hut or small town at some point in the past — if it weren't for the Incunabula Papers. And that's where we get into all the other things we talk about when we talk about Ong's Hat.
You see, the site said to have once belonged to Ong's Hat is also said to have belonged to a jazz musician named Wali Ford (or Fard, as it's sometimes rendered). In 1978, Ford is said to have bought the land, 200 acres of it, on which he established the Moorish Science Ashram. But once a number of scientists — some who had, it was said, spent time at institutes as illustrious as Princeton University — arrived, the ashram become something… more. It became the Institute for Chaos Studies — which, about a decade into its tenure, developed a device they called the Egg which, although not its intended purpose, seemed to facilitate dimensional travel. With it, humans could, it seemed, visit an alternate Earth.
Or at least, that's what some papers, pamphlets, and other assorted pieces of writing that began circulating in the late 1980s would have you believe. Initially available through the mail — as in, if you spotted an ad for them and you wanted to know more, you'd write to a certain address and receive the documents in return — before making their way to bulletin boards and other early internet gathering spots, these pieces of writing together make up what Joseph Matheny, one of Ong's Hat's/the Incunabula Papers' key architects, calls "an early attempt to utilize the internet as a fluid medium for storytelling across multiple media platforms" and "an interdisciplinary avant garde media art project." Because although it overlaps with some actual history and science (which is one of the things that made it so believable), that's what it is: A piece of storytelling. It's fiction. The Moorish Science Ashram, the Institute for Chaos Studies, the Egg… none of that exists.
Ong's Hat and the Incunabula Papers are what we tend to think of now as an ARG — an alternate reality game. Indeed, although the first major modern ARG is usually identified as 2001's The Beast, a tie-in with the film AI: Artificial Intelligence, Ong's Hat is just often pointed to as one of the major precursors to The Beast — a key project that made The Beast possible.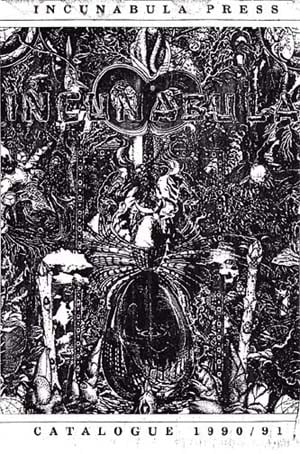 And yet, for years — decades, even— an awful lot of people thought it was all real. Folks would go legend tripping to Ong's Hat, the place, in search of Ong's Hat, the weird interdimensional mystery, hoping to find the remains of the ashram and the Institute or evidence of the Egg. They would gather online and discuss their findings, or lack thereof. And eventually, some additional stories emerged from people who claimed to have grown up in Ong's Hat, or to have survived the ashram or the Institute.
Many of these stories, of course, were created by people other than Matheny and his co-collaborator, Nick Herbert. And that's where some of the problems inherent in the project become apparent: In many ways Ong's Hat and the Incunabula Papers can also be viewed as a case study — as a warning — of what happens when an ARG or fictional storytelling project gets away from its creators. After things started to get… let's call it a little too close for comfort, Matheny and Herbert pulled the plug, announcing in 2001 that "the Ong's Hat Project has now concluded." The announcement concluded with a post-script reading, "This is not a joke."
Some people, though, think it still is going — that the announcement was just another part of the game. Or, in some cases, that it wasn't ever a game in the first place, but something horrifyingly real. And for those who are still knee deep in the whole thing… well, it's going to be hard to convince them otherwise.
After all, from their perspective, you could be a part of the conspiracy — someone sent to lead them astray, to get them off the trail because maybe they're getting too close to the truth.
So maybe they just need to look harder.
Further Reading:
"A Hat, A Hut, Or A Tavern: The Tale Of Ong's Hat" by Ben Ruset. Ben Ruset has run a website focused on the New Jersey Pine Barrens called, appropriately, NJPineBarrens.com, for years. Naturally, that means he's addressed the story (or, perhaps more accurately, stories) surrounding Ong's Hat — and for pure history, his article "A Hat, A Hut, Or A Tavern" is the place to go (it's where I learned about the historical Jacob Ong). It aims for accuracy, rather than sensationalism, and his sources are vetted and cited. Start here; before you can dive into Ong's Hat, the fiction project, you need have at least some grounding in the reality of Ong's Hat, the place.
"Ong's Hat: Piney Ghost Town Or Gateway to Another Dimension?" at WeirdNJ. For a folkloric retelling of the stories of Ong's Hat, head to Weird New Jersey. It covers all aspects of the topic, from the tossing-a-hat-up-in-a-tree origin story for the name through the Institute of Chaos Studies and the Egg — but the tone is very different from that of "A Hat, A Hut, Or A Tavern": Although it does acknowledge the possibility that the Incunabula bits of the tale are "pure fantasy" and "a hoax that many have come to accept as real," it tends more towards the "suspend your disbelief; while you're here, it's all true" angle.
Decoder Ring Podcast: The Incunabula Papers. This episode of the Slate podcast Decoder Ring, which originally dropped around Halloween in 2018, is how I first heard about Ong's Hat. As its title might suggest, it's focused more on the Incunabula aspect, rather than on the "how Ong's Hat got its name" aspect — and it is rich with detail and sources, including an exhaustive interview with Joseph Matheny. Host Willa Paskin has done some truly terrific reporting for this piece, and it's all laid out in a cogent, accessible narrative. In fact, I'd argue that if you consume only one piece of media about Ong's Hat, it should be this one.
(Decoder Ring is terrific in general, by the way; it's not a spooky podcast, but its focus is weird cultural mysteries, which — as is the case with Ong's Hat — sometimes turn out to be spooky. There are currently three seasons totaling about 30 episodes, with more on the way. More here. )
Unfortunately, there doesn't seem to be a transcript for this episode (which actually surprises me — Slate is usually pretty good about providing transcripts in order to make their podcasts as accessible as possible), so alas, if you either can't or don't listen to podcasts, you may be out of luck here. But in that case, check out the next option:
"Ong's Hat: The Early Internet Conspiracy Game That Got Too Real" by Jed Oelbaum. At around the same time the Decoder Ring episode was in the works, Jed Oelbaum was also reporting on the story for Gizmodo. This piece, published in February of 2019 — about four months after the podcast episode dropped — is similarly in-depth (so if you want to hear from Matheny himself, here's another good place to go), although the structure and the angle are slightly different. Gizmodo's piece starts at the end before going back to the beginning, and it deals a little more with Ong's Hat, the place, before going into Ong's Hat, the Incunabula saga; furthermore, while Slate examined Ong's Hat in relation to the evolution of the internet and ARGs, Gizmodo's piece digs a little more into the conspiracy theory aspect, and why it would be irresponsible at best to launch something like Ong's Hat today.
Both are great pieces of reporting, though, so check out both if you can; again, though, if you either can't or don't listen to podcasts, Gizmodo's piece is a written article.
"Why Did The Scientists In This Remote Cabin Disappear?" on YouTube. Aaaaand if you prefer your storytelling in video form, here's a pretty thorough one from YouTuber Thoughty2, who describes himself as a "gatekeeper of useless facts." Just, y'know, so we have all our bases covered. It's about 18 minutes long.
"This Is Not A Game: Rise Of The ARG" in GamesTM. Issue number 135 of the now-defunct UK gaming magazine GamesTM, published in May of 2013, included an in-depth feature on ARGs. Both tracking the history and analyzing what makes an ARG, well, an ARG, the feature includes soundbytes from Joseph Matheny and positions Ong's Hat as the first ARG — even prior to The Beast. There's no byline assigned to the article, alas, but if you're interested in dipping your toes into the ARG waters, it's an excellent place to start. Matheny has made the article available as a scanned PDF on his website.
"Alternate Reality Games Could Still Take Over the World (And Your Life)" by Jess Zimmerman. Meanwhile, over at Atlas Obscura, Jess Zimmerman reported a piece in 2015 that also looked at the history of ARGs — but then took a slightly different tack than some of the other pieces on this list: It examined where they sometimes fail, and what might be in store for them in the future. Because that's the thing with ARGs; our cultural landscape is fairly saturated with them now, and the trouble with ARGs is that once you know about them, it becomes harder to convince people they're real when they're not. It doesn't call out Ong's Hat by name, but it's good context to have, especially with regards to when Ong's Hat ended and why.
This Is Not A Game: A Guide To Alternate Reality Gaming by Dave Szulborski. If you're looking for a full-length work on ARGs, this book will get the job done. Divided into three parts, it talks first about what actually makes an ARG — the theory of these kinds of games, if you will—before diving into the history of ARGs, where it highlights notable games from the past; then, lastly, it discusses how to play ARGs, and even run them, if that's your jam. There's a section dedicated to Ong's Hat in the "ARG Pre-History" chapter in section two, found here. The book itself can be found here.
Legend-Tripping Online: Supernatural Folklore And The Search For Ong's Hat by Michael Kinsella. And for a full-length work on Ong's Hat specifically, well, this is literally the book on the subject. Michael Kinsella examines Incunabula through the lens not just of folklore, but of digital folklore — an area in which you've probably noticed I have a particular interest myself. A passage from the preface that resonates for me:
"Legend-telling online operates slightly differently than when performed in face-to-face situations, since computer-mediated communication permits tellers to instantly present various kinds of 'evidence' and to hypertextually connect their accounts to other legends to form vast legend complexes. And when people become immersed in these complexes, they may participate in an online form of legend-tripping."
You can preview the volume via Google Books here; it's available for purchase at Amazon, Bookshop.org, and all the other usual suspects. For a thorough review of the book, head here.
Incunabula.org. This is the official online archive for Ong's Hat/Incunabula, run by Joseph Matheny. Navigating it isn't super easy — the design is… not great — but anything you might want to know about the project, you'll find here, if you dig for it.
Ong's Hat: The Beginning. All of the Ong's Hat/Incunabula documents are also available in e-book form for free here, also courtesy of Matheny. If you'd rather access it in a browser, head here.
Unfiction and ARGNet. Want to know more about how to actually play ARGs? These two resources will get you started. Unfiction is unfortunately defunct now, and has been for some time — along with the Unforums, which were once the place to go to connect with other ARG players and enthusiasts. But it's still worth poking around; there are still some useful tools to be found there, such as a glossary for commonly-encountered ARG terms. ARGNet, meanwhile, is a news source that stays on top of games that are currently running — so if you want to find a specific game to dive into, you should be able to dig one up there.
Or, check out…
Trust Aleph. If you listened to the Decoder Ring episode on the Incunabula Papers, you may have noticed some… oddities scattered throughout it. But they're not just for added color or texture — the episode itself is actually a trailhead for a mini-ARG hidden within it. This "resource," therefore, is more of a hint on where to go in order to keep up with the game, if you're interested in solving it. Aleph might look like a mattress company… but it's actually something very different. Just sayin'.
And A Few More Things For Those Interested In ARGs:
The Institute, a 2013 documentary on the Jejune Institute ARG mentioned in the Atlas Obscura article. I spotted it on Netflix years ago; it's now available to stream on Amazon Prime and Tubi.
The Rabbits podcast, a 2017 podcast from the folks behind The Black Tapes, Tanis, and a whole host of other spinoffs. I personally found it a little less fulfilling than, say, The Black Tapes, but it's still an interesting listen.
Filmmaker Adam Butcher's work. I'm talking particularly here about "Internet Story" and "What Happened To Crow 64?" — the former being a video about a game, and the latter being a video that is part of a game. The Crow 64 saga is ongoing, so that's another place to go if you want to actually dive in and play an ARG.
And everything at this link here. I put this list of games, movies, stories, books, and activities together when Rabbits came out — but I think most of what's on it will appeal to folks who are interested in Ong's Hat, too.
Have fun, kids.
Just… don't dig too deep, you hear?
***
Follow The Ghost In My Machine on Twitter @GhostMachine13 and on Facebook @TheGhostInMyMachine. And don't forget to check out Dangerous Games To Play In The Dark, available now from Chronicle Books!
[Photos via Incunabula (1, 2), Rtsanderson/Wikimedia Commons, West Jersey History.]