Previously: The Black Volga.
(CW: Child loss, homicide, infanticide, suicide.)
Type: UL (Unexplained Location).
Period/location of origin: Various, the United States. Subject's appearance sometimes suggests an 18th or 19th century period of origin, although this has not definitively been proven to be the case. Additionally, subject may be found in a wide array of regions within the United States, including New England, the Midwest, the Mid-Atlantic, and the South.
Appearance: Subject, known as a Crybaby Bridge, is not necessarily singular; there is more than one version of subject in the world.
Subject is commonly encountered as a truss bridge — a variety of bridge frequently built in the United States during the 18th and 19th centuries which is characterized by the composition of its load-bearing structures. Specifically, these structures are formed from a series of triangles, called trusses, which make for a particularly rigid and sturdy construction.
[Like what you read? Check out Dangerous Games To Play In The Dark, available from Chronicle Books now!]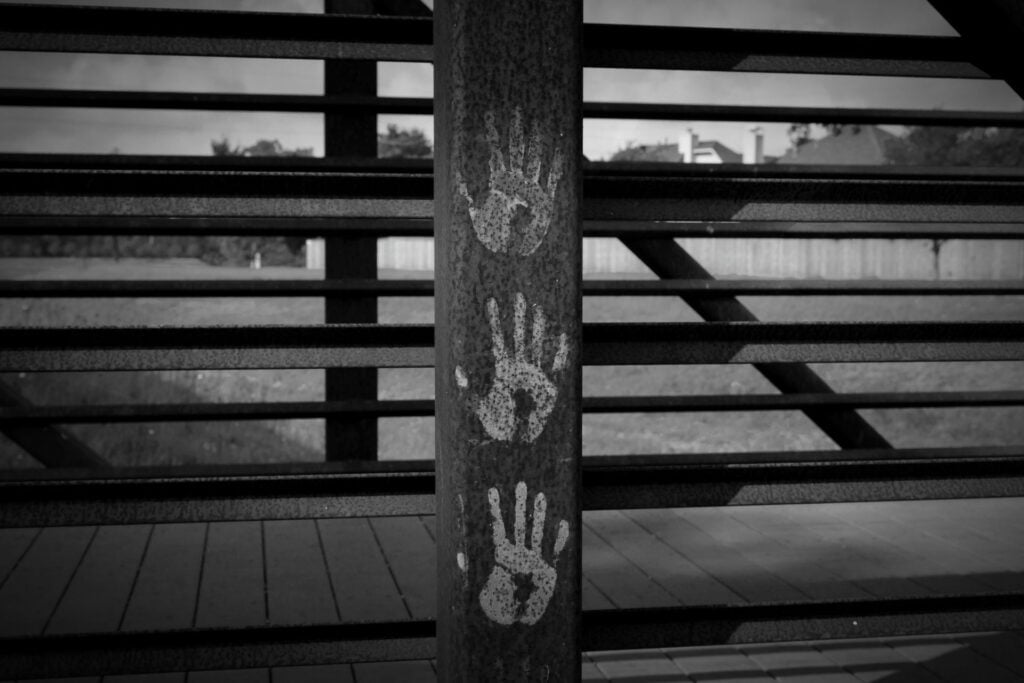 However, subject may have many forms and take on many appearances.
Subject may be a truss bridge, or not. Subject may be a covered bridge, or not. Subject may be a footbridge, or not. Subject may span a river or other running body of water, or not.
What subject always is, is a bridge.
An old bridge.
A bridge with history.
Modus operandi: Subject's modus operandi may vary from version to version, but it is common for subject's activities to begin with the spreading of a story or legend associated with the bridge in question. The story may tell of the death of a young woman and her child; or, it may tell of the death of the child, but not the young woman; or, it may tell of the death of a bus full of children; or, it may tell of the death of a car full of teenagers; or, it may tell of something else entirely. No matter the details, the story always involves at least one death occurring at, on, or near subject. Subject is subsequently said to be haunted as a result of the death or deaths.
These stories are not typically supported by the historical record (although the ideas around which the stories are centered may have some basis in fact) — and yet, they spread anyway, from person to person, from storyteller to storyteller, achieving a quality not unlike that of a virus. This is, in fact, how subject attracts targets: Potential targets who hear the story self-select in, becoming full targets of their own accord.
Crucially, the story associated with subject will conclude with two key elements: A description of some sort of mysterious or otherworldly activity targets may experience while visiting subject, and a set of instructions targets must follow in order to experience this activity. These instructions may, for instance, order targets to travel to subject in a car at night, park the car right at the center of subject, put the car in neutral, and kill the engine; they may charge targets with traveling to subject in a car, parking the car at the center of subject, turning on the headlights, and killing the engine; or, they may simply tell targets to travel to subject at night however they wish, sit quietly in the darkness, and wait.
Once a target has been acquired, target will go to subject on their own steam, either alone or with other companions, and follow the instructions laid out by subject's story. Again, however, precisely what target may experience, should they follow these instructions correctly, varies from subject to subject. Two occurrences seem to be the most prevalent: At some locations, target may simply hear the wail of a child drifting up out of the darkness. At others, however — particularly locations whose stories instruct target to park their car in neutral at the center of subject — target may feel their car move, slowly, as if pushed by someone or something unseen. Should targets who experience this activity later examine the front or rear of their car, they may find very small handprints pressed onto the bumper or hood.
Once target's experience has concluded, they may return home safely. They will experience no ill effects as a result of their visit to subject.
Precisely what subject hopes to accomplish by bringing targets to itself is unknown. It does not harm targets; indeed, in some cases, it appears to want to help targets (i.e. in cases in which target experience the independent movement of their car — the belief is that the force moving the car is pushing it to safety, either off a structure perceived to be unsafe or out of the path of other vehicles).
Perhaps subject is simply lonely and desires the company.
Containment: None required.
Additional notes: Regarding the various stories/legends through which subject attracts its targets: The details of and variations between these versions are worth noting.
In the first version of the story, the young woman and her child may have been killed either as the result of an accident, or due to intentional actions undertaken by the young woman or a third party. In the second, the child may have been killed due to accident or misadventure; however, more commonly, the young woman is said to have been deliberately responsible for the child's death herself. In both the first and second versions, the young woman is typically an unwed mother, with the death or deaths inextricably connected to the societal expectations and attitudes of shame surrounding young women having children out of wedlock prevalent during the era in which the story is said to take place. Additionally, in these two versions, the child's father often refuses to take responsibility for his own part in the situation; he then either murders the mother and child himself, or else abandons them, which in turn leads to the young woman killing the child and/or dying by suicide.
In the third version, the school bus may have been driven off the bridge intentionally by the driver, or it may have veered out of control by accident. In the fourth, the collision is typically accidental.
These last two versions — particularly the school bus variation — have also been associated with several "ghost tracks" legends present throughout the United States. The most widely-cited location for this legend is San Antonio, Texas, although it is far from the only site associated with a ghost tracks legend. (As of this writing, this Encyclopaedia has yet to complete an entry for this or any other set of ghost tracks, but may attempt to do so in the future.)
As previously noted, subject is not singular, but rather plural. A brief selection of subjects includes the following:
(Note, though, that many more bridges that may be classified as subject exist throughout the United States than just these few.)
How the various versions of subject may be connected or related to each other remains unknown, but suggests something… curious:
It suggests, perhaps, a network.
Whether the network is run by one central entity or figure, or by individual entities or figures corresponding to each bridge in the network remains to be seen.
Recommendation: Find one, if you like. Visit it, if you dare.
Reports are welcome.
Resources:
Indiana Folklore Collection: Crybaby Bridge.
Weeping Waters: Legendary Crybaby Bridges In America.
Troubled Waterways: Origins Of The Crybaby Bridge Legend.
***
Follow The Ghost In My Machine on Twitter @GhostMachine13 and on Facebook @TheGhostInMyMachine. And don't forget to check out Dangerous Games To Play In The Dark, available now from Chronicle Books!
[Photo via Thoxuan99/Pixabay, remixed by Lucia Peters.]