Previously: The Chair Of Death.
(CW: Kidnapping, murder, body horror.)
Type: PV (Phantom Vehicle).
Period/location of origin: 1960s-70s, Poland. Later, during the 1970s and '80s, talk of subject spread to other areas comprising what was at the time the Eastern or Soviet Bloc, including Russia (then the Union of Soviet Socialist Republics), Ukraine, Hungary, and Mongolia.
Appearance: Subject, known as "Czarna Wołga" ("the Black Volga") appears to be a GAZ Volga executive vehicle — typically either the GAZ-21 model, which was produced in three series in the Soviet Union between 1956 and 1970, or the GAZ-24 model, which was produced between 1970 and 1985. Subject is most commonly described as black, although occasional reports have identified it as red. It may or may have white curtains on the windows, white tires, and/or missing license plates. It is generally only seen on the roads at night.
Precisely who or what may be driving subject is unknown. (See also: Modus operandi.)
[Like what you read? Check out Dangerous Games To Play In The Dark, available from Chronicle Books now!]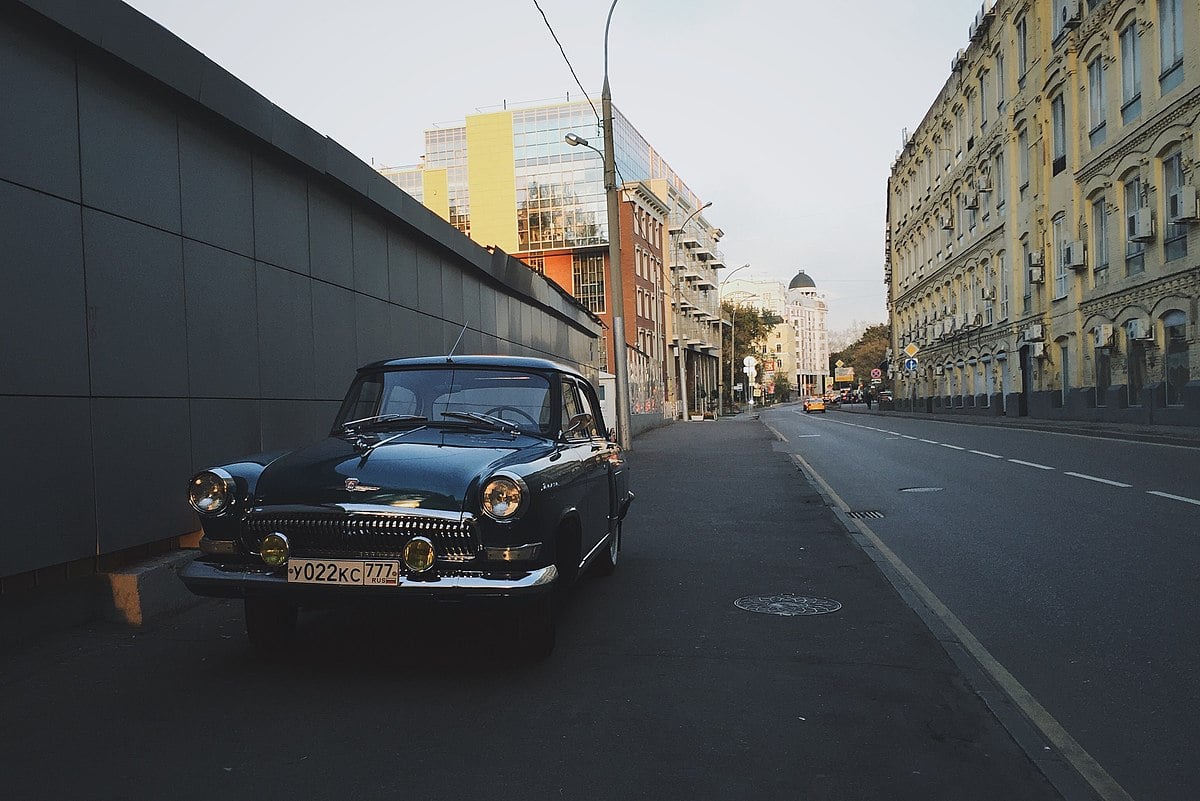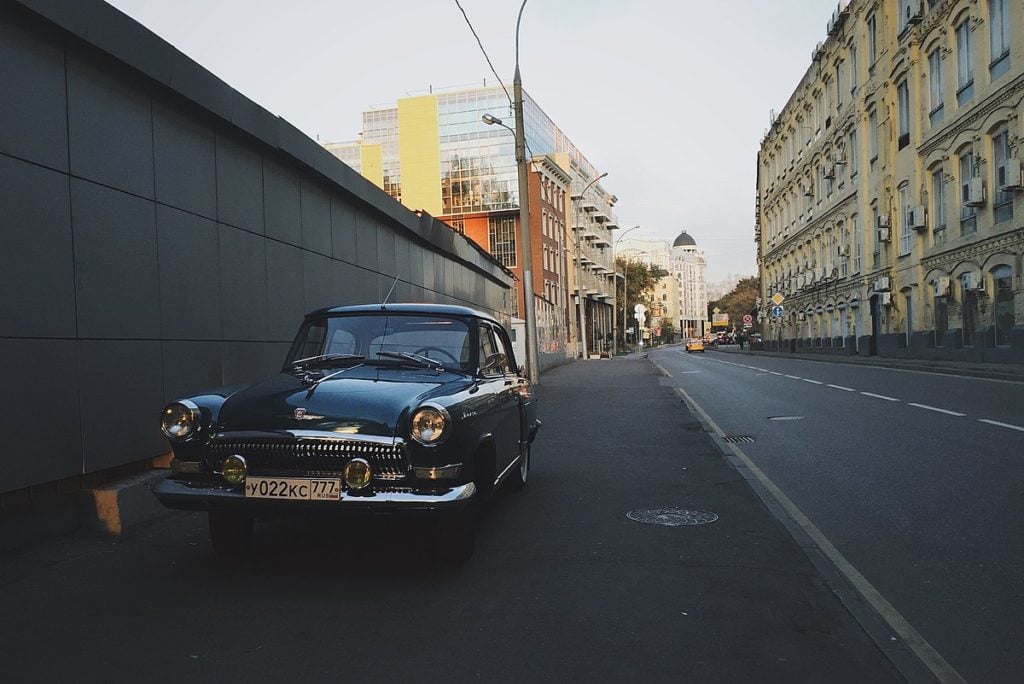 Modus operandi: Subject typically targets children. Any child will do, but if the child is alone or is not being carefully minded by a parent or other caregiver, more the better. Subject locates targets either by driving around — seemingly aimlessly, although actually with great purpose — and clocking potential targets as it does, or by parking somewhere and observing potential targets milling about nearby.
Once a target has been selected, subject will attempt to ensnare target in one of several ways:
If driving, subject may pull over and stop near target. Once stopped, one of subject's doors may open, allowing a humanoid figure — here to be referred to as "Operative" — to exit the vehicle and approach target. The Operative will then use its extensive powers of persuasion to convince target to enter the vehicle with it.
If parked, subject will initially stay out of sight while the Operative performs its function. The Operative will use its extensive powers of persuasion to convince target to follow it out of sight of any other people or passersby. When the Operative reemerges into view, the target will no longer be with it. The Operative will then approach subject, open one of its doors, and disappear inside. Subject will then quietly drive away.
The Operative typically presents itself as an individual likely to be perceived by target as an authority figure or other trustworthy personage. Possible options include, but are not limited to: A church official, such as a priest or nun; a police officer or other government agent; or simply a kind, friendly adult.
The Operative's true identity is unknown. It may be human (for example, a KGB agent or Satanist), or it may be supernatural (for example, a vampire or demon). The only thing that is known about it for certain is that it is not a church official, a police officer or government agent, or a kind, friendly adult.
Precisely what fate befalls targets preyed upon by subject is unknown. Reports suggest any or all of the following to be possible:
Targets are drained of blood, which is supplied to ill but wealthy patients awaiting transfusions;
Targets are harvested for parts, typically for use in the illegal organ trade;
Targets are used as blood sacrifices in occult rituals;
Targets' souls are captured and doomed to eternal torment.
Whatever occurs, grievous bodily harm is a certainty.
Very occasionally, targets' remains may be recovered.
More often, however, they simply… disappear.
They're never seen again.
Containment: Unknown. Perhaps impossible, in its original form. (See: Additional notes >>> Special note.)
Additional notes: Subject's primary active period spanned the 1960s through the 1980s. During this time, Volgas were ubiquitous in the USSR due to the fact that they were the vehicle of choice for taxicabs.
Of potential interest when considering subject are the surprising number of missing children cases documented in Poland in the years immediately prior to and in the early years of subject's primary active period. According to journalist Przemysław Semczuk, who has written extensively about both these cases and subject itself, some 200 children in Poland went missing between the years of 1950 and 1957 — contrary to the assurances of government officials published in the newspaper Express Wieczorny that "such a phenomenon [e.g. kidnapping children] does not exist in our country."
As Semczuk points out, many of these missing children cases involve vehicles — and, in some cases, taxis or black Volgas. For instance:
The missing children of Kielce. In June of 1956, three children went missing in Kielce, Poland. Several people who claimed to have seen the children shortly before they vanished said they saw them driving away in a vehicle of some sort. The children were never found.
Bohdan Piasecki. In January of 1957, Bohdan Piasecki, the 15-year-old son of nationalist politician Bolesław Piasecki, was approached in Warsaw while walking home from school by a tall man carrying a briefcase. The man showed the boy a piece of paper; then the boy followed him to a nearby taxi stand. The man, the boy, and another man who met them at the taxi stand got into a cab and drove off. In December of 1958, Bohdan's remains were discovered in a boarded-up room in the basement of a recently-built building. His murder — for he was, in fact, murdered — was never solved.
Liliana Hencel. In April of 1965, Helena Hencel opened the door of her Warsaw home to two women who claimed to be related to her husband. She let them in; then, when she had to leave for work a few hours later, she asked the women if they would watch her daughter, three-year-old Liliana. When Hencel returned home after work, the women and her daughter were gone. Witnesses reported seeing the women and the little girl climbing into a black Volga at 1 p.m. that afternoon. This time, thankfully, the women were identified and the little girl recovered, unharmed.
Whether these missing children cases are connected to subject remains to be seen.
A film based on subject was allegedly made in Poland in 1973. Reportedly written and directed by a "Patryk Symanski" or "Szymański," the film, titled Czarna Wołga and carrying the tagline "Nie ma ucieczki" (in English, "There is no escape"), is said to have courted controversy from the beginning of production all the way up to and beyond its release. According to anecdote, for instance, the presence of the actual black Volga on the streets of the area in which the film was shot — a set piece Symanski reportedly insisted upon — upset residents so much that they stormed the set and refused to leave until the Volga was removed. Upon its release, the film caused a similar uproar from audiences, resulting in the Polish government reportedly issuing a ban on it almost immediately.
An English dub was reportedly made in an effort to find a buyer for the film in the United States. However, this version was allegedly shown in just one small cinema in New York for a single weekend in 1974, after which it was removed from circulation.
It is unknown whether this film or its creator ever actually existed. No reputable sources have been located verifying what little information is available about Czarna Wołga or "Patryk Symanski"; the information is only available in a virtually identical form via just two sources, neither of which include any citations. The film itself has also not been located.
A short teaser trailer alleged to advertise the film is viewable online; however, it is unclear whether this trailer is genuine. At least once source has described it as a "recreation" of the "original" trailer.
Special note: Although subject seemed to have faded from view by the 1980s, several reports suggest that subject may have reemerged in a slightly different form in the late 1990s/early 2000s. Please be on the lookout for the following: A black BMW or Mercedes with a license plate number containing three consecutive sixes somewhere in its composition. The wing mirrors of this vehicle may also have been altered to appear as, or simply replaced with, a pair of horns.
In this form, subject may target literally anyone, child or adult. Subject's methods for ensnaring targets include pulling over, then allowing the Operative to open the window and ask the target what time it is. The Operative may then either inform the target that they will die at this precise time tomorrow — or simply kill target outright, immediately.
There is, however, a method of containment targets may use against subject in its current form: If the Operative asks targets what time it is, the target should reply, "It is God's time." Should they do so, subject will speed off without further incident.
Subject may still be at large, either in its original or revised form.
Recommendation: Never accept rides from strangers.
Ever.
Sources:
The Legend Of The Black Volga.
Black Volga And A Hitchhiker From The Beyond – City Car Legends (Polish).
The True Story Of The Black Volga That Sowed Terror (Polish).
The Dark Legend Of The Polish People's Republic (Polish).
Be Good Or You Will Be Kidnapped By The Black Volga (Polish).
Czarna Wołga: Kryminalna Historia PRL (Polish).
Bodies: Sex, Violence, Disease, and Death in Contemporary Legend.
Encyclopedia Of Urban Legends.
"The Black Car" As A Symbol Of Revolutionary Violence In 1917.
Black Volga (1973 Banned Polish Film) at the Lost Media Archive.
Black Volga (trailer) at YouTube.
***
Follow The Ghost In My Machine on Twitter @GhostMachine13 and on Facebook @TheGhostInMyMachine. And don't forget to check out Dangerous Games To Play In The Dark, available now from Chronicle Books!
[Photo via Gennady Grachev/Wikimedia Commons, available under a CC BY 2.0 Creative Commons license; remixed by Lucia Peters]