Previously: Hoia Baciu, Romania.
Alongside Jenny Jump State Forest in New Jersey's Warren County lies a road with an ominous name: Shades Of Death Road. Located largely in Great Meadows, New Jersey, the road isn't long — only about 6.7 miles, or roughly an 11-minute drive — but despite its compact size, it boasts more than its fair share of myths, legends, and, of course, ghosts.
And let's not forget that it's also a winding, twisting road in the woods. Those qualities bring with them their own dangers, whether or not the spirits of the dead actually do wander the road at night.
[Like what you read? Check out Dangerous Games To Play In The Dark, available from Chronicle Books now!]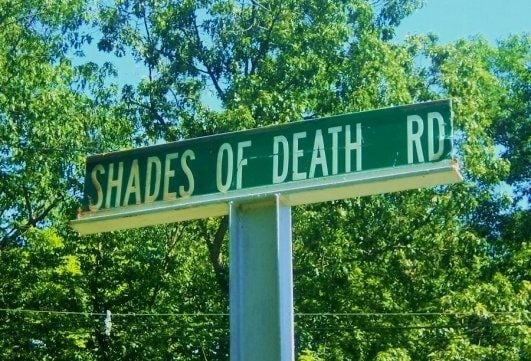 The legends begin with exactly how the road got its name. Numerous explanations with varying degrees of believability have been tossed around over the years, some of which are rooted in history and others which might be pure flights of fancy. On the historical end of things, we have the area's geography and the health risks that once came with it; according to legend, the mosquitoes living in the wetlands were responsible for annual malaria outbreaks starting in the 1850s affecting those who lived along "the Shades," as the place was called. The substantial loss of life that resulted from these outbreaks each year is said to have eventually given rise to an addition to the name associated with the area: The Shades became Shades Of Death. The legend isn't entirely accurate — as Weird New Jersey noted in USA Today in 2015, the earliest written account of malaria in the area dates back to 1877, about 25 years following the origin date given in the legend — but according to that account, malaria season was both regular and devastating to the population. The land was drained in 1884, which curbed the malaria issue; however, the name said to have been inspired by it remained.
There's a more sinister historically-related explanation as well, though. In this story, which was again documented by Weird New Jersey, the name "the Shades" has an origin — it came from the shaded canopy formed over the road by the plentiful and low-hanging trees — and gained the "Of Death" addition following a series of murders that occurred there. The murders were unconnected, but true all the same: At least three occurred during the 1920s and '30s. One was over gold; a man was bludgeoned with a car jack over the coins in question. One was gristly; a woman took out her husband, decapitated him, and buried his head and torso on opposite sides of the road. The last was — and is still, to this very day — unsolved; someone shot local resident Bill Cummins near his home in the Shades and buried in the mud beside the road.
On the more fanciful end of things, we have legends about violent bandits who once lived in the area, leaving behind only the name Shades Of Death once they were forced out, and stories about a pack of wildcats known for allegedly attacking anyone who ventured onto or near the road. There's less (if any) historical evidence supporting these tales, but despite their likely fictional origins, they add even more color to Shades Of Death Road's checkered history.
If you didn't know these stories, though — or even the history that might lie behind them — you likely wouldn't assume the area surrounding Shades Of Death Road to be anything more than a beautiful place with a somewhat unusual name. Jenny Jump State Forest has some good hiking trails with views of the Delaware Water Gap, camping, fishing, boating and more for woodsy outdoor enthusiasts. (The mosquitoes can, of course, be a bit much, so make sure you suit up appropriately if you opt to spend the day there.)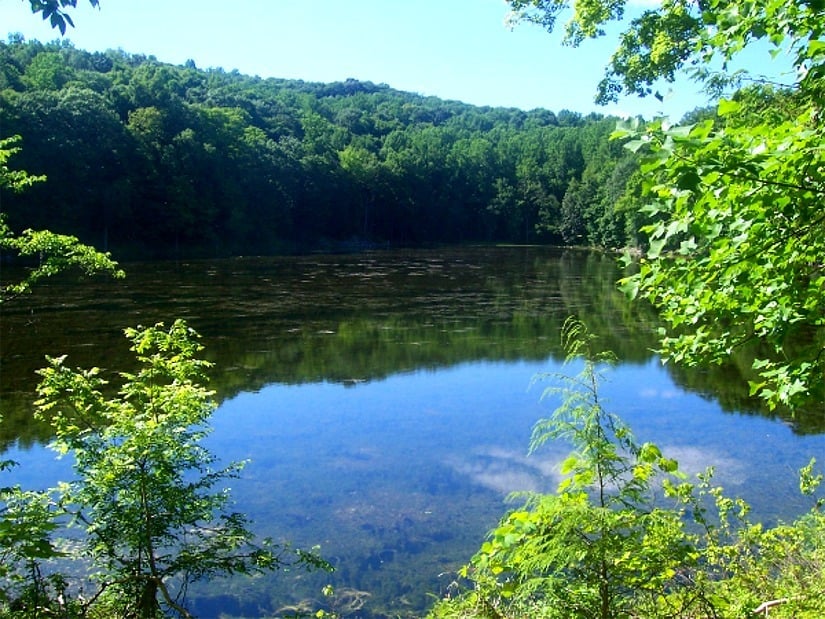 People live out there, too; indeed, property values along Shades Of Death Road are actually relatively affordable. Generally speaking, they fall between $350,000 and $400,000 as of this writing. The most affordable property sold in 2019 went for $265,000, which bought a standard three-bed, two-bath, single-family suburban-style home; meanwhile, the most expensive came in at $570,000, which bought a 3,000 square foot, custom-built and renovated home with three bedrooms and two and a half bathrooms sitting right on a small lake in Jenny Jump State Forest.
But here is where we start talking about more of the legends attached to the road — legends beyond the possible origins of the road's name. This second property, you see, is less than 10 minutes on foot away from one of the road's most notable sites: A lake, different from the one on which the house sits and unnamed on U.S. Geological Survey maps, but known locally by a moniker which indicates its reputation. That name is Ghost Lake, and although it — like Shades Of Death Road itself — doesn't have a definitive explanation behind its name, visitors have reported odd occurrences at the spot for almost as long as it's been around.
Ghost Lake is human-made, you see; two wealthy locals dammed a creek in the area in the early 1900s, creating the lake in the process. Some stories claim that these two men named the lake Ghost Lake after spotting the mist that rose off of it each morning; however, others claim that the mist isn't limited to the morning — that people have reported seeing it at all times of day and night. What's more, some say that the mist rises also along Shades Of Death Road itself — and if you look carefully through the fog, you might see some indistinct outlines obscured within it. Outlines that look human — but which most definitely are not.
According to some, the dead walk through the mist on Shades Of Death Road near the shores of Ghost Lake.
Legends cling to some of the houses near Ghost Lake, as well. According to a woman who grew up in one of them during the 1960s and '70s, it wasn't uncommon for her family to somehow know when the phone was going to ring before it actually did; the same was true when a car or visitor was approaching. "Why? We just knew," she told Lost Destinations in 2003. "Something just told us."
Another report comes from a group of locals, who recounted to Weird New Jersey the time they visited "an old abandoned cabin right off of Ghost Lake" at night. "The windows were broken, the walls were falling apart, and the floor had holes in it," they said. But, oddly, one of the house's hallways came equipped with a piano built right into it.
You can guess where this is going, right?
As this group of locals put it, "We went upstairs. All of a sudden, the piano sounded like somehow banged on it. There was a crunching sound like the glass on the floor was being stepped on." The crunching sounded as if it were approaching them, but when they shined a light on the area, they found themselves alone. Said the group, "We took off out of there and didn't look back."
It's not known if this cabin is still standing — or whether it was the same house or a different one from the account of the woman who grew up along Shades Of Death Road by Ghost Lake.
But Ghost Lake isn't the only spot in the area known for unusual activity. You'll find more if you head down Lenape Lane, which branches off to the right just after Shades Of Death Road passes under I-80. The road, which is named for the Native peoples who lived in the area prior to the arrival and forcible takeover by white colonists, forks in the middle and dead ends at both forks; there is, as they say, no through road. But right at the place where the lane terminates, there's a farmhouse and what visitors have described as a decrepit stable of some sort — and, should you yourself visit this stable at night, you'll see yet more fog or mist all around, even when the night is otherwise clear, with… something wandering around within it. Or, you might see an orb of white light which will chase you back to Shades Of Death Road. The orb won't harm you — but if you see it turn red, drive carefully. If you're hasty, you might not make it to tomorrow. And, should you find a large tree right the fork in Lenape Lane, do not get out of your car and walk around the tree three times. Should you do so, and then climb back in your car and leave the area, the red orb will appear to you no matter what.
There's a Crybaby Bridge legend attached to Shades Of Death Road, as well — although this one, it seems, is likely false; there isn't a bridge of the variety described in the legend at any point along Shades Of Death Road. (I may not have driven the road myself, but I did take the time to navigate down the entire thing via Google Maps, and yep: No bridge.) This version of the legend states if you stop on the (non-existent) bridge at midnight, turn on your high beams, and honk your horn three times, the ghosts of two children who were killed on the road will appear to you. However, it's been theorized that this legend actually belongs to Old Mine Road in Walpack, New Jersey; there's a disused bridge there where the road crosses the Flatbrook. As was the case with Hell's Gate Bridge in Oxford, Alabama, this older bridge was abandoned when a newer bridge was built next to it; it's therefore no longer reachable by car. You can allegedly still get there on foot, though, if you're feeling adventurous. (Note, though, that visiting it is generally not recommended, due both to safety and trespassing reasons.)
Although I definitely agree that the Shades Of Death Road "bridge" legend likely is a misattribution of another bridge legend (because, y'know, there's no bridge), I'm not wholly convinced that this specific legend is a transplant from Old Mine Road. Some sources described Old Mine Road as "nearby" Shades Of Death Road — but it's not. Not really, at least — not what I'd consider near enough. It's nearly 18 and a half miles away, or roughly a half-hour drive. But that's just me, so do with that what you will.
The weirdest story connected to Shades Of Death Lane, though, is undoubtedly that of the Polaroids.
First in Weird New Jersey's print magazine and later in the first Weird New Jersey book, which originally came out in 2005, not one, but two accounts from Weird New Jersey readers detailed a mass of Polaroid photographs they had found in the woods off Shades Of Death Road. These Polaroids — thousands of them — were blurry and clearly hastily dumped; they were unsettling for a lot of reasons, though, the biggest of which is the fact that they all featured women, none smiling, many lying down on something metal.
A police investigation was launched after the magazine first published its story featuring these accounts — but no further information has been forthcoming.
The photographs have also all since vanished.
As is often the case, there isn't a ton of solid evidence either confirming or refuting many of the stories — particularly the supernatural ones — attached to Shades Of Death Road; however, the road does carry with it a number of real-life risks. Not unlike Clinton Road in West Milford, New Jersey, Shades Of Death Road can be treacherous to drive — particularly at night, particularly in rain or snow, and particularly in the heavily wooded portions. The road is dark. It's narrow. And it twists, often without warning. And although the Shades Of Death moniker has been connected with the road since long before the advent of automobiles, it has seen a disproportionately large number of vehicular accidents in its more recent years.
One might be a myth; it's the kind of story that usually leads to the development of a Vanishing Hitchhiker legend: Many years ago, the legend goes, a car of teenagers — or maybe just a car carrying a teenage couple, depending on who you ask — heading home after prom on a dark and rainy night skidded on Shades Of Death Road, spinning out of control and killing at least one of its passengers. The girl can allegedly still be seen wandering the road in her prom dress on rainy nights.
But the other accidents that have occurred on the road are very real.
In fact, one of them happened just a few months ago. A car carrying five teenagers veered off Shades Of Death Road and struck a tree, reported USA Today affiliate the Daily Record on Sept. 3, 2019. Three passengers were airlifted to the hospital, while another two were transported via ambulance. There haven't been any follow-up reports since, so it's unclear how all these young people are doing. I hope they're okay. I hope they're on the mend.
What's clear is this: Whether you believe the ghost stories or not, Shades Of Death Road is both beautiful and dangerous. And like all beautiful and dangerous things, it deserves respect.
Act accordingly.
You never know what might be waiting for you around the next bend.
***
Follow The Ghost In My Machine on Twitter @GhostMachine13 and on Facebook @TheGhostInMyMachine. And don't forget to check out Dangerous Games To Play In The Dark, available now from Chronicle Books!
[Photos via Daniel Case/Wikimedia Commons (1, 2), available under a CC BY-SA 3.0 Creative Commons license; Nicholas_T/Flickr, available under a CC BY 2.0 Creative Commons license.]