Previously: Lights Out.
Many of the games we've examined here at TGIMM are preoccupied with the idea of traveling to another plane of existence — and the Closet To Another World game is yet another. I'll admit that I find the sheer variety of ways in which one might undertake this otherworldly journey quite astonishing: It might be accomplished by taxi, or by elevator, or by television, or by traveling down an unusual road… the list goes on.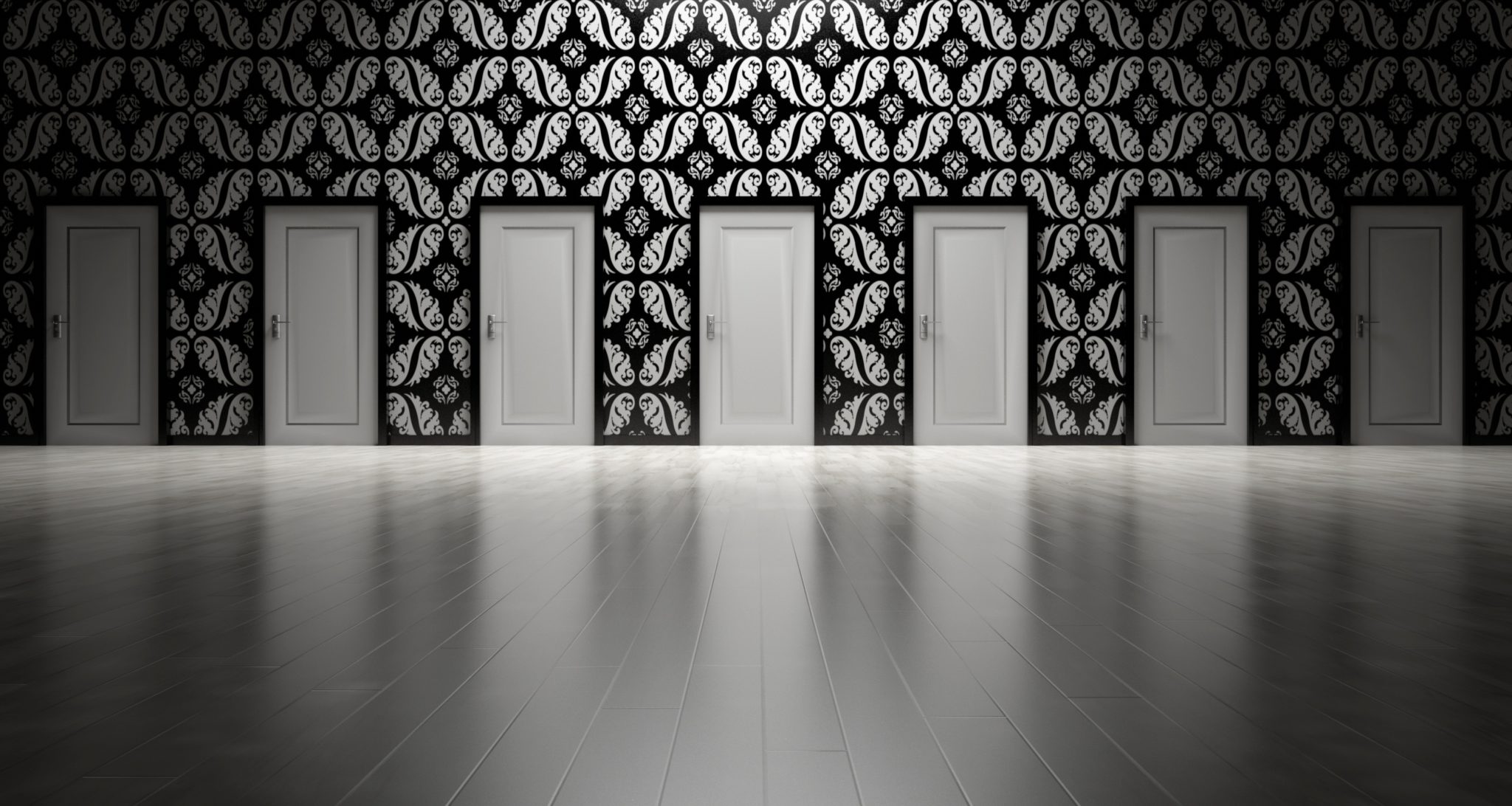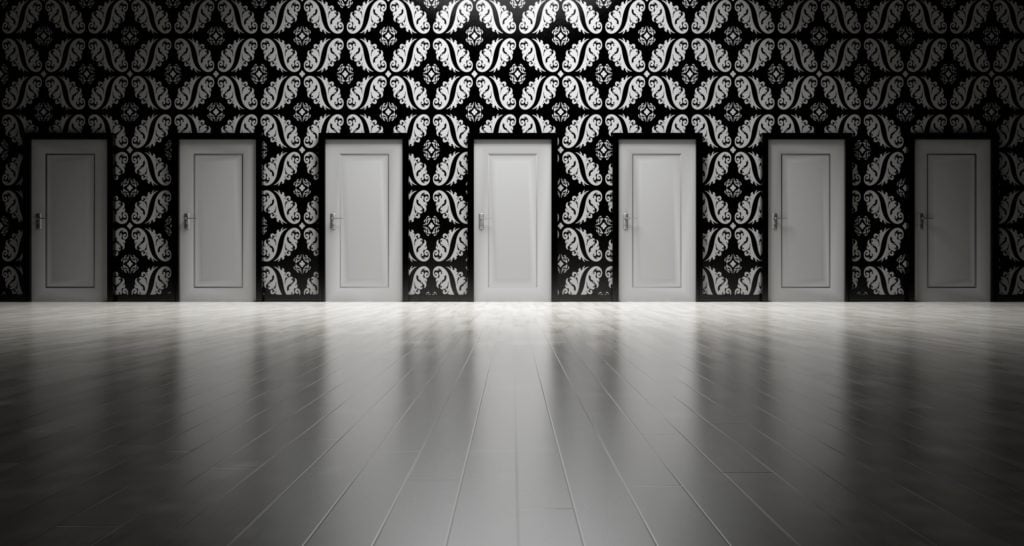 The closet version, which first made its way to the English-speaking internet from Japan courtesy of Saya In Underworld back in 2014 and has continued circulating more recently via Reddit, actually sounds like somewhat less of a good time to me than some of those other methods; this is largely because I don't really fancy the idea of jamming myself into a cramped, darkened storage space and attempting to perform a particular set of actions while I'm in there. However, that whole idea is also what makes Closet To Another World one of the more accessible ways to journey to another dimension or what have you, so… it's got its pros and cons, is what I'm saying.
[Like what you read? Check out Dangerous Games To Play In The Dark, available from Chronicle Books now!]
Saya In Underworld notes that in Japan, there are two words for closet: Kurozetto and oshi-ire. A kurozetto is a Western-style closet — which, given the range of types of closets exist in the West, I assume means a closet which may open either with a regular door or a sliding one, which comes equipped with a hanging bar, and which is primarily used for hanging and storing clothes. An oshi-ire, meanwhile, is a Japanese-style closet: A very particular kind of storage space which typically "[comes] with two levels, separated by a sturdy horizontal wooden partition, sized to perfectly fit [a] folded up futon," according to Real Estate Japan Inc. Oshi-ire open with sliding doors, and although some might have hanging bars, traditional ones do not.
Anyway, the reason I bring all this up is this: According to Saya In Underworld, the game in its original form is meant to be performed in an oshi-ire, rather than a kurozetto. I assume, however, that if the game is performed outside of Japan, a kurozetto will do.
The big question about this game, of course, is exactly what kind of world you'll find yourself in if you're successful. I can make only one guarantee: Wherever it is… it's probably not Narnia.
As always, play at your own risk.
Players:
Requirements:
A small piece of paper.
A writing implement.
Two drinking glasses.
A large cardboard box.
A number. This number must be your age, squared — that is, your age multiplied by itself. Do not use any other number.
A closet.
Instructions:
Making Preparations:
Begin at any time.
If they are on, turn off the lights in the room outside the closet. If they are open, close the curtains in the room outside the closet.
Use the writing implement to write your name on the piece of paper.
Fill one drinking glass with water to a seventh of its full capacity. Leave the other drinking glass empty.
Open the closet and place the cardboard box inside.
Enter the closet. Bring the two glasses and the piece of paper with you. Make sure you remember your number.
Close the closet door. Ensure that no light enters the closet while the door is closed.
Venturing Out:
Sit inside the cardboard box.
Place the piece of paper with your name on it in the glass filled with water.
Close your eyes.
Begin counting. Count up to the number you previously calculated by squaring your age.
When you reach your number, open your eyes.
Tip the contents of the glass holding the water and the paper into the empty glass.
The Arrival:
Exit the closet.
Look around.
What do you see?
Do you see your world?
Or do you just think you see your world?
Perhaps you are seeing another world.
Perhaps you are seeing someone else's world.
Look carefully.
Look carefully, and know.
The Return Trip:
It is not known how to make the Return Trip.
It is not known if it is possible to make the Return Trip.
Additional Notes:
Some notes about Requirements:
The writing implement: Ideally, this should be a fudepen (brush pen), felt tip pen, or marker.
The glasses: They should be identical; do not mix and match glasses from different sets of glassware. Additionally, the glasses should be regularly used for their standard purpose in the principal's everyday life.
The number: You may do the math required to acquire this number by hand, by calculator, or in your head; the method is up to you. Just make sure that your result is accurate.
A note about time: Although the game may be started at any time, after sundown is recommended. This will aid in making sure that no light — including daylight — is visible from inside the closet.
A note about light: If you begin during daylight, or if you fail to turn the lights off or draw the curtains in the room outside the closet, you must still ensure that NO LIGHT leaks into the closet from the outside. Block the cracks if you must; block them as thoroughly as possible. (But really, it's just much simpler if you begin at night.)
A note about counting: Don't rush it. Count along to the beat of your heart. Keep your finger on your pulse while you count if need be.
A note about the Return Trip: See below.
Concerning The Return Trip:
It has been theorized that the Return Trip may be made by performing the steps of Venturing Out in reverse. However, this theory has not been confirmed.
According to one account, a variation (Variation A) of this ritual (Original Ritual) in which the Return Trip is unnecessary may be executed as follows:
Think about the world in which you live now and summarize it in one word. Think about the world in which you wish to live and summarize it in one word. Write each word on a separate piece of paper. Take two cups or glasses — one representing the world in which you live now, and one representing the world in which you wish to live — and attach one piece of paper to each glass. Fill the cup or glass labeled with the word representing the world in which you live now with water. Now, imagine that world changing into the world in which you wish to live. As you imagine this, pour the water from the first glass into the second one. When the second cup is full, drink the water in it.
In Variation A, the Return Trip is unnecessary because you are not literally going to a different world. You are merely editing your existing world to fit your own specifications.
However, although Variation A is similar to Original Ritual, it may not be exactly the same. As such, it should not be assumed that, should one perform Original Ritual, one will not, as is the case with Variation A, need to make the Return Trip.
Concerning The Drinking Glasses:
After Arriving, do NOT lose, break, or otherwise damage the drinking glasses.
There's nothing worse than getting lost in a place you don't know… especially when it's impossible for you to return home.
***
Please don't copy or republish this post on other sites. Linking to it or sharing the URL is fine (and encouraged!), as is writing your own unique version of the game, but copying/pasting, republishing, or otherwise reproducing the text of this piece in its entirety or near-entirety on other websites without permission isn't.
***
Follow The Ghost In My Machine on Twitter @GhostMachine13 and on Facebook @TheGhostInMyMachine. And don't forget to check out Dangerous Games To Play In The Dark, available now from Chronicle Books!
[Photo via Pixabay/Pexels]