Previously: Gankutsu Hotel, Japan.
If you've ever wondered why there are so many creepypasta stories about alleged abandoned spaces in and around the Disney parks — well, there actually is a reason for it: There are abandoned spaces in and around the Disney parks — quite a few of them, in fact. What's more, a surprising number of them are hidden in plain sight. Take Discovery Island at Walt Disney World in Orlando, Florida, for instance. Not the one at Animal Kingdom; the one in the middle of Bay Lake. If you've ever crossed Bay Lake — or simply sat on the shores of it, looking out from the Contemporary Resort, Wilderness Lodge, or the Fort Wilderness campgrounds — you've seen the abandoned remains of Discovery Island.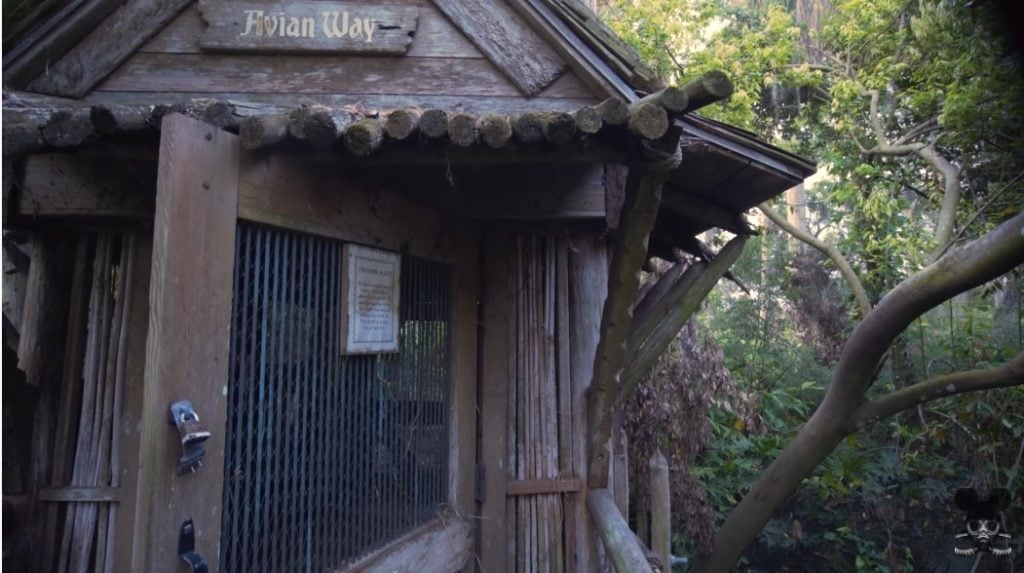 You just might not have known what it was.
The Early History Of Discovery Island
The land that would eventually become Discovery Island is a natural island — not a human-made one — and, as such, existed long before Disney got to it. The mythology of the place often sees it referred to as having once been known as "Raz Island," supposedly for the name of a family who lived on it from 1900 to 1937; whether that's actually the case, though, remains to be seen. The source typically cited for this piece of information is Jeff Kurtti's 1996 book Since The World Began, which recounts the first 25 years of Walt Disney World's history; however, the website RetroWDW traced the paper trail of the island's ownership and found something a little different.
[Like what you read? Check out Dangerous Games To Play In The Dark, available from Chronicle Books now!]
Initially purchased by Henry B. Plant's railway development company, the Plant Investment Company, in 1884 as part of a larger parcel of land, the island was sold off again just a few years later, according to RetroWDW. After that sale, made in 1887 to a Charles Lackey, it was sold again in 1903 to Peter Keen, and then again in 1906 to Joel Riles. RetroWDW didn't find any solid evidence of anyone named Raz living on the island during the dates usually specified however, the site theorizes that "Raz" could be a corruption of "Riles" — that is, "Riles Island" could very well have become "Raz Island" due to a misunderstanding or something of the sort as time went on.
In any event, the island changed hands a number of times between 1915 until 1937, when Delmar Nicholson, the radio pioneer better known as Radio Nick, purchased it and turned into a retreat he called Idyl (spelled in some sources as Idle) Bay Isle. Nicholson then sold it in 1949 to H.D. and Flora Thomason, who in turn sold it in 1955 to a group of locals calling themselves the Bay Isle Club. The Bay Isle Club kept the land for personal use for about a decade — and then, in 1964, when Disney began buying up land in Orlando for the "Florida Project" (that is, Walt Disney World), the island was among the parcels for which the company made an offer. It finally came under Disney's ownership in 1965.
Construction began on Walt Disney World in 1967, with the first pieces of the resort itself — the Magic Kingdom, two golf courses, and the Contemporary and Polynesian resorts and the Fort Wilderness resort and campground — opening in 1971. The island, meanwhile, began welcoming visitors in 1974 — but not as a zoological park, and not under the name Discovery Island. Instead, it was a pirate-themed attraction called — what else? — Treasure Island.
The Pirates Of Treasure Island
In 1950, Disney's film adaptation of Robert Louis Stevenson's classic adventure novel Treasure Island became the first completely live-action feature film the studio released. An instant hit, it — and the theme of pirates in general — quickly became a mainstay of the Disney universe: The studio's animated adaptation of Peter Pan came along in 1953, with its corresponding Disneyland ride appearing in 1955 and its Disney World incarnation following up in 1971; the California version of the Pirates of the Caribbean ride opened in 1967, with the Florida version arriving in 1973; and today, the Pirates of the Caribbean film series inspired by the ride of the same name has become one of Disney's most lucrative franchises.
Within this context, it makes sense that the company's first attempt at a themed island experience would have something to do with pirates. So that's what they went with: An exploratory attraction that would allow visitors to live out their very own piratical adventures.
Initially, the attraction's intended name was Blackbeard's Island; indeed, this title is visible on the Walt Disney World opening day map from 1971. During the planning stages, however, the moniker changed to reflect what the company meant to do with the island: A grand scheme would have seen the place becoming what essentially an explorable version of the Treasure Island story, complete with replicas of the Admiral Benbow Inn, Benn Gunn's fort, and the wreck of the schooner Hispaniola, per the website DIS Unplugged — so when the island finally opened on April 8, 1974, its welcoming banner proclaimed it to be called Treasure Island.
The full recreation of the Treasure Island story never actually emerged — but during its Treasure Island years, the attraction did feature nature paths, buried treasure, a secret hideaway to find, and the wreck not of the Hispaniola, but of the Walrus, captained in the novel by J. Flint. (You can see a full map of Treasure Island here.) Animal presentations could also be viewed at Bucaneer's Cove (not to be confused with Bucaneer's Roost, another location guests could trek to on the island), while numerous wild birds were on display at Cap'n Flint's Perch. Visitors came and went by boat, accessible from the Contemporary and Polynesian resorts and landing and launching on the island itself from Jolly Roger Wharf; "Special Adventure" tickets, which traveled to Treasure Island direct, were $1.50 for adults and 75 cents for kids, while tickets for the Walt Disney World Cruise, which stopped at Treasure Island along its longer tour of the Seven Seas Lagoon and Bay Lake, weighed in at $2.50 for adults and $1.25 for children.
Treasure Island was only open for two years, however. It closed for renovation in 1976, and when it opened two years after that, it had become something somewhat different: Discovery Island.
The Rise And Fall Of Discovery Island
The renovation saw a number of changes come to the island — including more landmass: 50,000 cubic yards of soil were brought in to expand the island's footprint, bringing it to a little more than 11.5 acres. Scrub was removed, plants, trees, and flowers from faraway places planted in its stead. A snack bar called the Thirsty Perch went up, because there's no better way to keep visitors at an attraction than providing a place for them to fuel up while they're there — and, perhaps most importantly, a huge aviary was added.
Most of the pirate theming was done away with (although the wreck of the Walrus remained for some time), which meant that the attraction needed a new name — and according to Walt Dated World, this new name was decided by the results of a contest held for cast members. "A cast member chose the name Discovery Island in a contest to rename Treasure Island," a former cast member told the website. "The fellow who named Discovery Island had to sign waivers of some sort. I can't recall the cast member's name who won the contest. The prize was, I think, $50." (For the curious, $50 in 1977 is equivalent to about $222 in 2021.)
Discovery Island became welcoming visitors in April of 1978, with some of its prominent features including the aviary, which had a footprint of 320-by-102 feet and soared to heights of 40 feet; the CooCoo Cabana, where the Jose Crioca Flyers bird show played; Turtle Beach; and a Flamingo Pool. An elevated boardwalk spanned much of the island, and by 1979, additional stops along the boardwalk included Gator Gulch and Pelican Bay. The focus of the attraction increasingly became preservation and conservation, and by the early '80s — dates vary by report — Discovery Island had been accredited by the American Zoo and Aquarium Association.
It wasn't all sunshine and toucans, though; Discovery Island allegedly had a few… problems over the years. As the Orlando Sentinel recounted in 1999, 16 counts of animal cruelty were levied at Disney by state and federal officials in 1989. The company did not admit to any wrongdoing, however, and the charges were dropped after improvements to the island and its operation were made.
Furthermore, Discovery Island simply never became as popular as the numerous other parks and attractions available at the Walt Disney World Resort — and as the years went on, attendance fell steadily. When Disney's Animal Kingdom opened in 1998, Discovery Island was finally deemed obsolete. It said goodbye to its final round of guests on April 8, 1999 — 25 years to the day of its original opening as Treasure Island — and the animals that once lived on it were relocated to Animal Kingdom.
And although there is an homage to it in Animal Kingdom in the form of the Discovery Island section of the park, the original Discovery Island has sat alone and abandoned in the middle of Bay Lake ever since.
Life After People
What's become of it since? Well, there was one attempt to repurpose it; it just… didn't pan out. Sometime in the years following Discovery Island's closure, Disney entertained the idea of converting the land into an immersive attraction that would recreate the world of the computer game Myst in real life. As Myst creator Rand Miller told the AV Club in in 2016, the island, with its walkways and lush greenery, was "incredibly Myst-like"; the Myst team was excited; the Imagineering team was excited; and yet, it all fell through before any of it could really get off the ground.
And so, it has remained, frozen in time while simultaneously being reclaimed by nature. We do know what it looks like, though, due to the photographs and videos taken by a handful of urban explorers who have ventured onto the island over the years (despite the fact that they're usually doing it illegally. Reminder: Don't trespass!). For instance, Shane Perez famously documented his trip to Discovery Island on his blog in 2009; according to his writing and photographs, he found overgrown paths, abandoned cages, decaying bird enclosures, lots of old paperwork and photographs left in storage and administrative facilities, and a few live vultures. YouTuber Matt Sonswa also ventured onto Discovery Island more recently, uploading videos showing the state of the place in 2017 and 2018.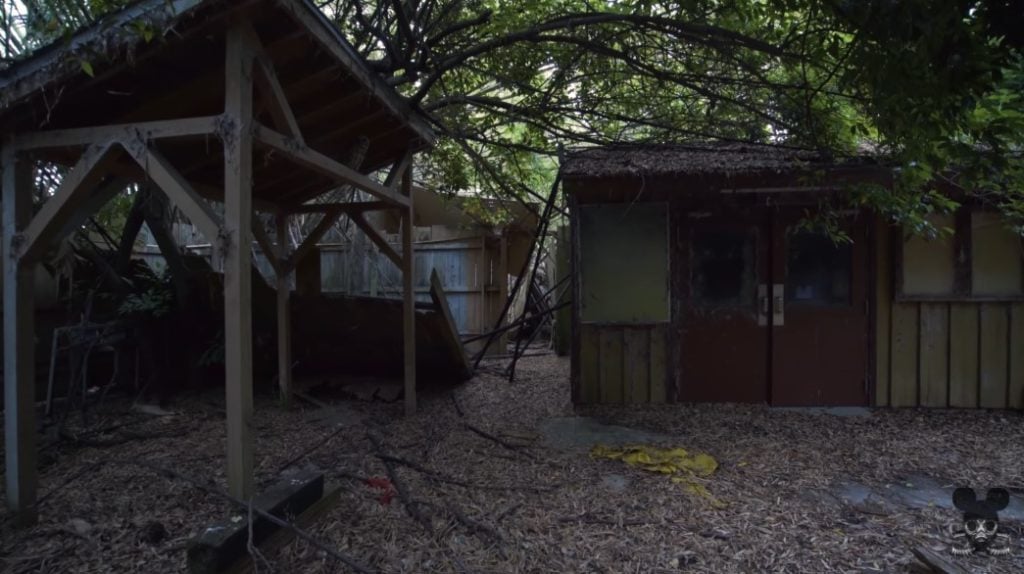 And, of course, the real life circumstances of Disney locations like Discovery Island and the River Country water park have inspired numerous writers of fiction, giving us creepypastas like "Abandoned By Disney," "The River Country Film," and more.
There don't currently seem to be any plans to rehabilitate Discovery Island — but that doesn't necessarily mean that Disney will never utilize it again. After all, it seemed for years that the unfinished "Legendary Years" section of the Pop Century resort would never be completed; in 2012, though, it finally opened as a completely new hotel: The Art Of Animation resort.
Disney can sit on whatever land they own for as long as they want, keeping it in reserve for new projects. As such, it's not totally outside the realm of possibility that Discovery Island might one day live again, albeit in a different form.
In the meantime, though… well, it is a little spooky to think of it just sitting there.
You never know what might be waiting there.
In the dark.
Alone.
***
Follow The Ghost In My Machine on Twitter @GhostMachine13 and on Facebook @TheGhostInMyMachine. And for more games, don't forget to check out Dangerous Games To Play In The Dark, available now from Chronicle Books!
[Photos via MattSonswa/YouTube (2)]