Previously: "The Woman in the Oven."
The history behind "The River Country Film" is all true: Walt Disney World's original water park, River Country opened on June 20, 1976, predating later Disney water parks Typhoon Lagoon by 13 years and Blizzard Beach by nearly two decades. Although it was smaller than Typhoon Lagoon and Blizzard Beach, it had a certain charm to it; designed to resemble an old time-y swimming hole, it did what Disney does best: Look back with nostalgia at an extravagantly romanticized vision of yesteryear — or perhaps more accurately, a past that never was.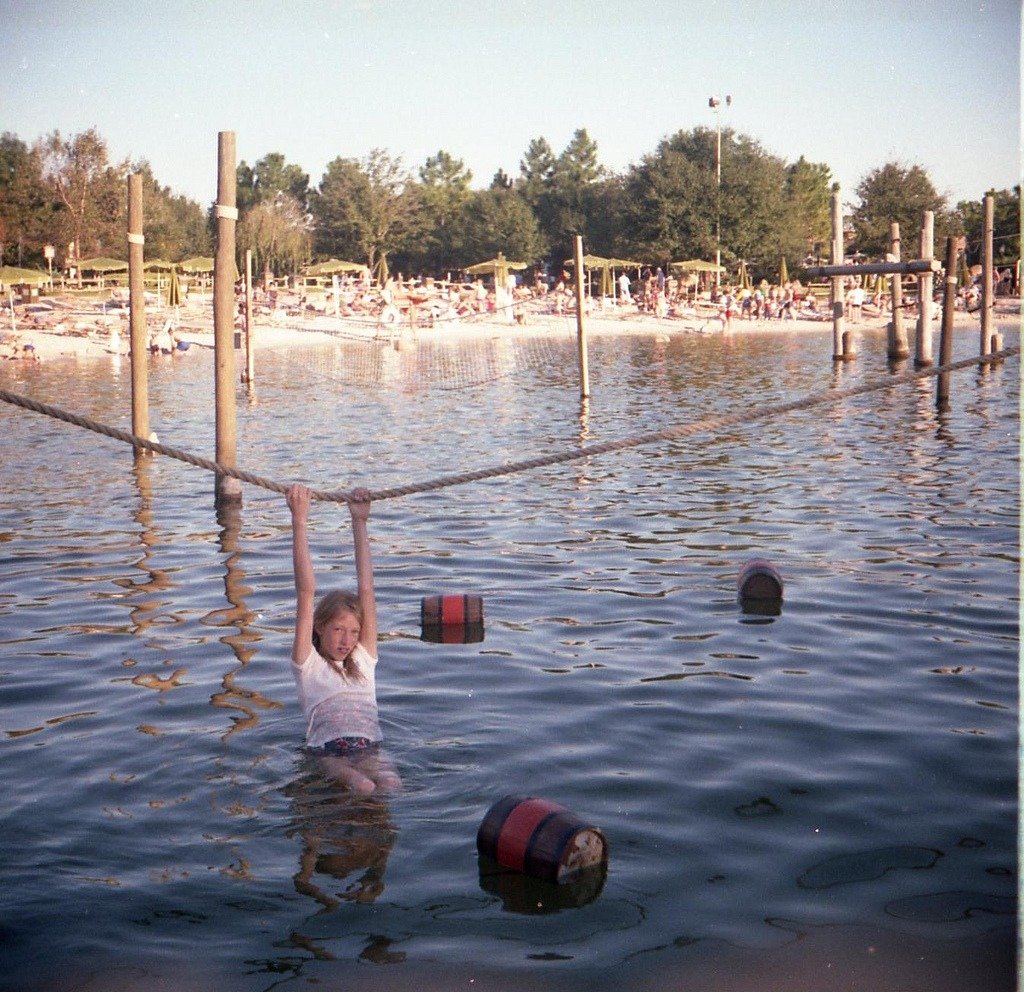 Over time, though, it began to struggle in comparison with the newer water parks; what's more, attendance for Walt Disney World as a whole dropped off dramatically post-9/11, ands River Country suffered quite a bit as a result. The park ran its regular season throughout the rest of 2001 — but in April of 2002, the Orlando Sentinel reported that the park may not reopen. It stayed closed throughout 2002 and languished for another few years; then, on January 20, 2005, Disney finally confirmed the fact that the park was permanently closed.
[Like what you read? Check out Dangerous Games To Play In The Dark, available from Chronicle Books now!]
What's so fascinating about the closure, though, is that the park has never subsequently been demolished. It's still sitting there, untouched, gradually becoming reclaimed by nature. A few brave explorers have snuck onto the property and snapped some pretty spectacular photos; they're both eerie and beautiful, like most photographs of decaying amusement park attractions, but with a little added panache. No one does theme parks like Disney does theme parks, even when they're in a state of decay.
Oh, and there's one other curious thing about River Country: Rumors persist that the real reason it closed was because of an issue with — I kid you not — brain-eating amoeba. While it's true that amoebic meningoencephalitis can be found in Florida freshwater lakes, and that an 11-year-old boy did die from contracting it after swimming at River Country in 1980, there's no indication that brain-eating amoeba forced Disney to shutter River Country; however, folks love a good story, and, well… that's where "The River Country Film" comes in.
It's not a Slimebeast creation — and honestly, I don't think it's as well-written as "Abandoned by Disney" or any of its related tales — but "The River Country Film" certainly fits within that very specific subgenre of creepypasta that turns our fond memories of all things Disney on their heads.
I suppose all I can do is apologize for ruining your childhood.
It had been three years since my family had last gone on a vacation to Florida, something we did annually before the recession hit. Since we now had enough money, my parents decided (under the popular demand of my sister and I) that we go to Walt Disney World again. We were both teenagers, and our parents kind of saw this as a bit juvenile, but decided it would be fun anyway. I couldn't wait to finally go back, and neither could my sister. Being avid theme park goers as well, we were especially attracted to the creativity and the, well, "magic" as one would say about the rides there. They never got old, and had their share of nostalgia and excitement. However, there was one other reason I wanted to go.
You normally associate Disney World with words such as excitement, fun, and happiness; but with these characterizations, come counterbalances. After scrolling through OMG Facts one night, I came across a rather interesting story. It was about an abandoned water park in WDW, apparently named "River Country".
I was absolutely appalled by this, since I had previously thought of Disney in a more idealistic and perfect way. The water park was directly on the shores of Bay Lake, being that huge, stagnant body of water adjacent to the Magic Kingdom. River Country was, and still is, on the same side as the theme park just mentioned, but right next to a resort called Walt Disney's Fort Wilderness Resort. Surrounding the water park on the resort side is a large, green wall, with signs dotting it. These read, "Sorry, River Country is closed."
The place opened in 1976, and used water from Bay Lake in most of the attractions. It was very rustic and wilderness based in design, and contained artificial rocks that resembled those used on another well known ride, Big Thunder Mountain Railroad. There was a dam present to keep chunks of dirt and mud from getting into the water too, so guests didn't have to worry about swimming in an artificial bog created by water from the lake. It was open for twenty-five years, closing its doors in 2001, and in 2005, a statement released by Disney said that the park would be closed for good.
So, for about eleven years, River Country has been sitting abandoned. Nature is in its advanced stages of reclaiming the area, but the slides remain, and so do the artificial rocks, and the small pond (now a swamp) that was used for swimming. Many urban explorers have infiltrated the area, jumping over the walls to get footage of the abandoned water park. One of the most controversial things about the park nowadays, is why it closed, which is what I was destined to find out.
***
Follow The Ghost In My Machine on Twitter @GhostMachine13 and on Facebook @TheGhostInMyMachine. And don't forget to check out Dangerous Games To Play In The Dark, available now from Chronicle Books!
[Photo via unnormalized/Flickr]