Previously: The Puca.
Type: PE (Preternatural Entity).
Period/location of origin: Subject was first documented on 4chan's /b/ random board on June 28, 2011. Precisely how long subject has been terrorizing targets in their homes or from whence subject originally came is unknown.
Appearance: Subject's true form has not been adequately described (it is possible targets have been too horrified to put its appearance into words), but subject's essence may be gleaned from a widely-circulated, black-and-white sketch. In this sketch, subject appears to be a humanoid being with skeletal features and sunken eyes clad in a black, hooded garment. Subject is smiling, though the smile is not inviting; unnaturally wide, it gives the impressive of maniacal menace.
Re: Subject's smile: Whether subject is at all related to the entity known as "The Smiling Man" remains unknown. However, it would not surprise researchers if a connection were to be found.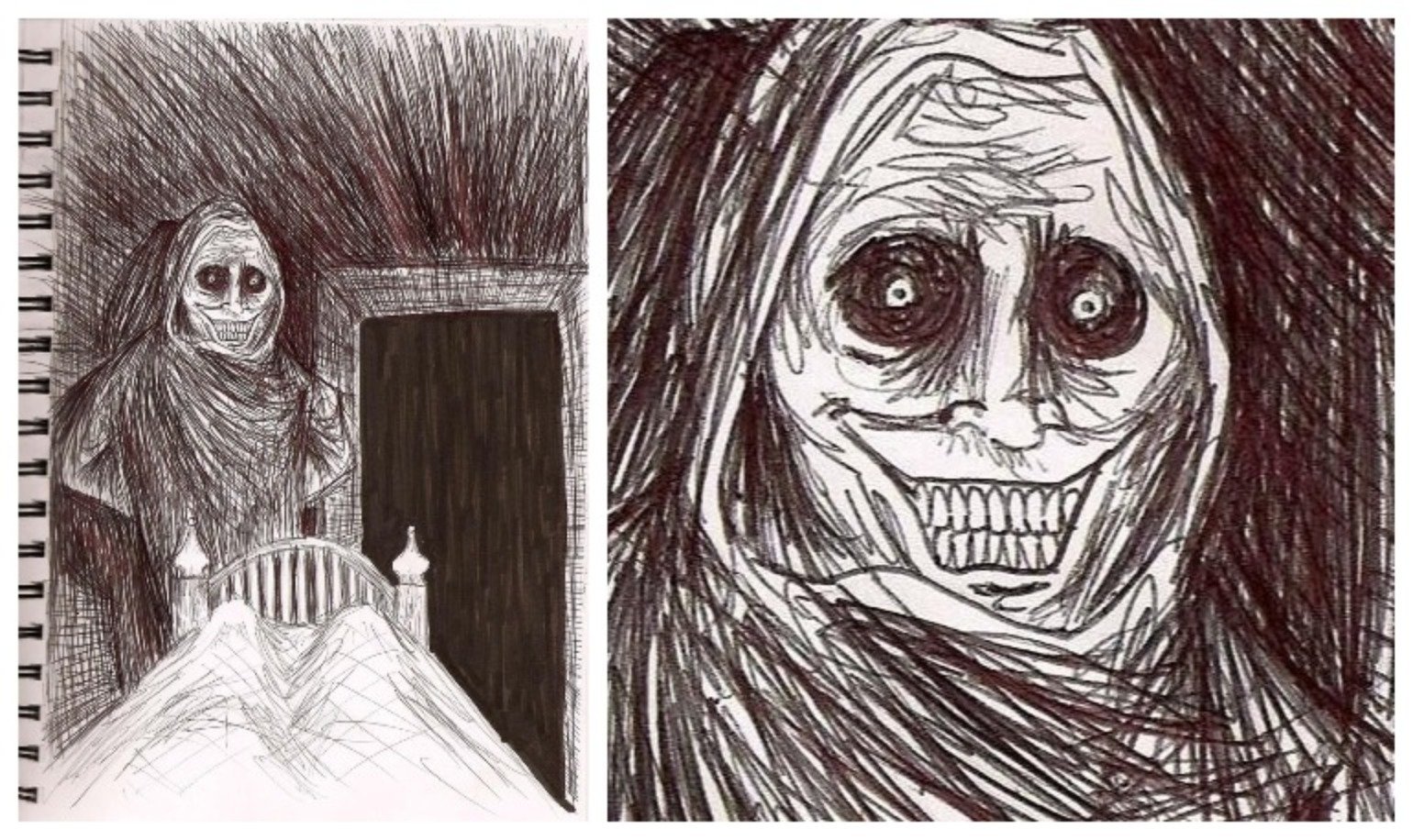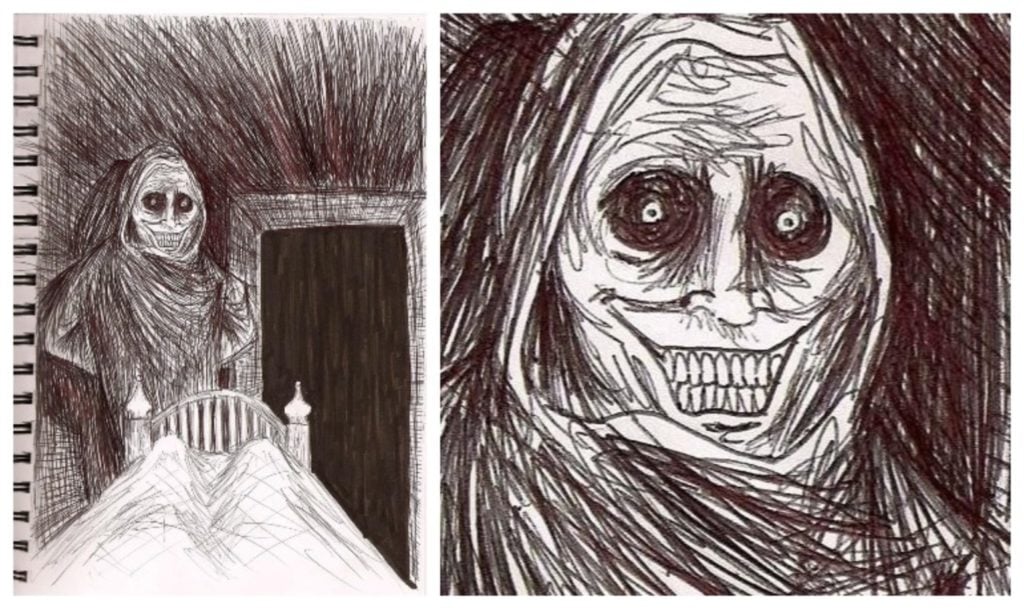 [Like what you read? Check out Dangerous Games To Play In The Dark, available from Chronicle Books now!]
Modus operandi: Subject is indiscriminate in its selection of targets; targets may be of any age, any gender, any economic situation, and have any number of roommates, pets, or other household residents. The only requirement is that target feel safe in their own home prior to subject's arrival. (Target will not continue to feel safe in their own home for long.)
It is not yet known how subject actually gains entry to targets' homes. Subject's most widely-known moniker, "Horrifying House Guest," implies that subject must be invited in; however, subject may also be known as "Uninvited Guest," suggesting that subject requires no invitation to enter targets' homes — if it wishes to enter, it will do so, whether target literally or metaphorically opens their door to it or not. After all, the worst kind of house guest is one who invites themself into your home.
Once it has gained entry to target's home, it will do whatever necessary in order to sow as much fear as possible. Two of subject's other names — "Shadowlurker" and "Never Alone" — describe subject's primary activities: Lurking in the shadows of the room currently occupied by target, and remaining present at all times. Subject's activities also include, but are not limited to: Staring at target while they sleep; hiding under target's bed and attacking when subject's limbs come into view; hiding on target's ceiling or in the closet when target thinks subject is hiding under the bed; making noise elsewhere in the home; impersonating target's other housemates; etc.
If targets think subject is not present… targets are wrong. Always.
Subject also delights in tormenting targets with what it either plans to do to target, or what it already did do to target which target had otherwise failed to notice; indeed, subject frequently finds the mere threat of their activities to be more than sufficient to inspire the desired feelings of fear and dread in targets. These threats may be concrete in nature — "THIRSTY AT NIGHT? MEET YOU IN THE KITCHEN"; "LEG'S HANGING OFF THE EDGE OF THE BED? MINE NOW"; "GONNA DO YOUR LAUNDRY IN THE BASEMENT? I'LL BE THERE WAITING"; etc. — or they may be more suggestive — "HAVEN'T SEEN ME IN A WHILE? I'VE SEEN YOU JUST FINE"; "A BRANCH IS MAKING A CREEPY SHADOW BY YOUR WINDOW? YOU DON'T HAVE A TREE NEAR YOUR WINDOW"; "STRANGE, DIDN'T YOU JUST REPLACE THAT LIGHTBULB?"; etc. — but either way, they may ultimately be more horrifying for target than actually experiencing subject's activities is.
Subject regularly communicates these messages to targets via image macros. (Subject appears to be quite comfortable with the internet.)
Subject's ultimate goal is to make target perceive their formerly safe home as badly, frighteningly unsafe — unsafe enough to leave for good.
However, it is not known why subject wishes to make targets leave their homes. Subject does not take up residence in target's home following their departure; subject simply moves onto the next target.
Subject may simply think it's fun.
Containment: An effective containment method has not yet been discovered. More research is required — although for some reason, it has proven difficult to find volunteers to act as targets. (Note: Must seek out new avenues for volunteers; have exhausted current pool. Craigslist? Mechanical Turk? Task Rabbit? Researchers are open to suggestions.)
Additional notes: Knowledge of subject has spread widely across the internet in the years since its first documentation. On June 30, 2011 — a mere two days following the initial appearance of subject (specifically the sketch of subject) on /b/ — subject was documented at Reddit; several Tumblr sites devoted to documenting subject appeared shortly thereafter; and now, accounts of subject — specifically the image macros with which subject terrorizes targets — may be easily located via the most basic search terms and queries.
The artist of the sketch of subject has not been identified. This artist did, at one point, continue posting more sketches of subject at a Tumblr page; however, this page is now defunct and only viewable via tools like the Wayback Machine.
Subject is believed to be part of the bogeyman family of entities. Bogeymen (who may be male, but are not necessarily so) exist in a wide variety of cultures around the globe; they may be referred to by any number of names, they may look any number of ways, and they may have any number of modi operandi. (See also: The Sack Man; the Midnight Man; Krampus; El Cucuy; etc.) Typically, they exist to punish those who transgress — children who disobey their parents, adults who break the rules of society, and so on.
However, subject is unique in that they do not punish those who have transgressed; they themself acts as the transgressor. Indeed, they delight in the very act of transgression — e.g. breaking the social contract of how one is meant to behave as a guest in someone else's home.
It is perhaps for this reason that subject is so powerful. Subject cannot be punished for transgressing because subject does not care about your good opinion of it.
Recommendation: Move.
Move immediately.
Resources:
571NGR4Y at Tumblr – artist of sketch of subject.
Horrifying House Guest – New Meme.
Fuck Yeah Horrifying House Guest.
Horrifying House Guest at Tumblr.
Best Of The Horrifying House Guest.
***
Follow The Ghost In My Machine on Twitter @GhostMachine13 and on Facebook @TheGhostInMyMachine. And don't forget to check out Dangerous Games To Play In The Dark, available now from Chronicle Books!
[Photo via Know Your Meme]