Previously: "The Arizona Outbreak Scare."
Although there are a number of Japanese creepypasta stories that have been translated and subsequently widely circulated through the English language internet, many stories have not been translated — or they've only been translated by one or two enterprising individuals. The creepypasta "The Thing In The Mirror" is one of those stories; I've only found one translation of it published in two places: On a Tumblr belonging to a user going by the name Okaruto, and a Facebook page. Alas, neither of those posts detail what the original source was; as such, I can't tell you if it was a 2ch story or something else, unfortunately. I wouldn't be surprised if it originated on 2ch, but as I haven't been able to find it anywhere else, that's only a theory.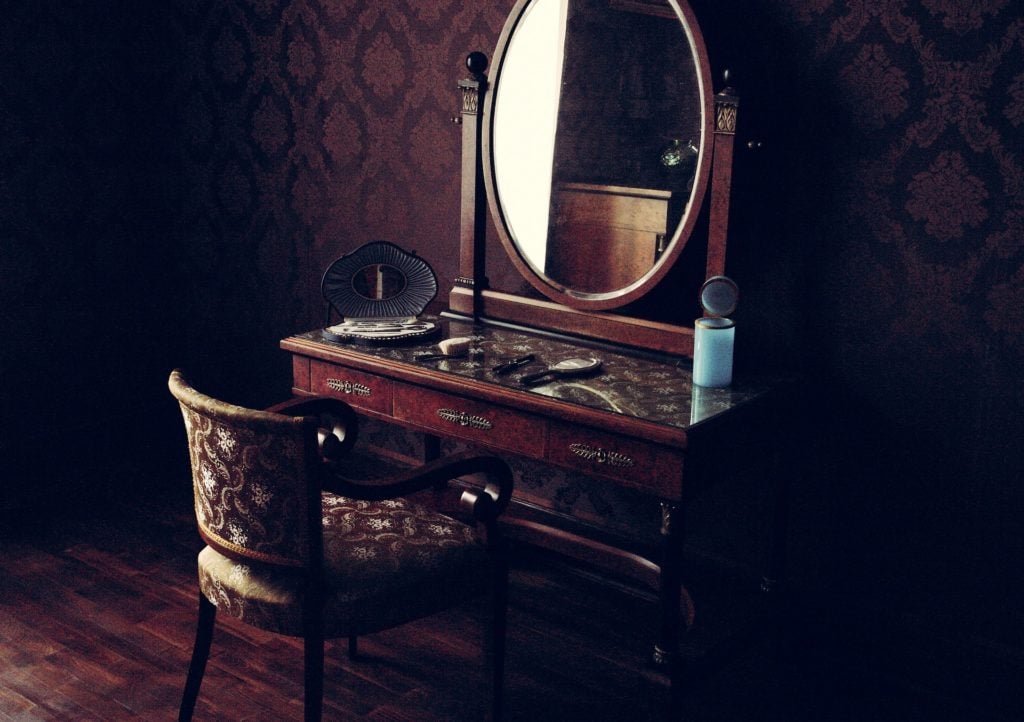 Okaruto's Tumblr, however, is definitely worth checking out. According to its owner's bio, it belongs to an American woman who lived in Japan for four years and speaks the language fluently. "In an effort to keep my Japanese somewhat useful, I'm translating Japanese creepypasta (kopipe/copy-paste) here," she wrote on her About page. Unfortunately she seems to have abandoned the Tumblr a few years ago; the last post published to it is dated 2015. But there's a huge array of archives to go through, so I do recommend scrolling through some of it. One of the English translations of the Kisaragi Station story is available if you go back far enough.
[Like what you read? Check out Dangerous Games To Play In The Dark, available now!]
"The Thing In The Mirror" takes the form of a one-sided email exchange — although it's not totally clear if the exchange is one-sided because the recipient is ignoring the sender, or if it's because something may have happened to them. Either way, are you ready to find out what happens when your reflection starts to become… something that's not your own?
Received: 10/4/200X, 9:56
Hey, you doing all right? It's been a while since I've heard anything from you.
Things are all right here, I guess.
It's going slowly, but I'm finally finishing up my next story.
I should probably get to the point. I'm writing you because I need to talk about something.
Please read all of this because it isn't a joke.
Yesterday, I found something really strange. It was in my mirror.
I was looking in the mirror when I saw something reflected in it. It was about five meters behind me, and it was sort of creeping around on the ground. It was definitely alive.
It was about a meter long, and it had a wide build. It also had a tail.
That probably sounds weird as it is, but it gets worse. Its head was the same size as a person's.
It had a black mane that looked like the same sort of hair you have on your head.
Its skin was dark and moist, and its eyes looked foggy.
At first glance, the first thing that came to mind was that it was some sort of human-faced lizard.
By now, the logical side of you is probably already thinking that I'm trying to pull one over on you, but this isn't a lie or some sort of delusion.
I don't believe in God, but I swear to you that this is the truth.
First off, when I went to the library, other patrons stopped and stared at the entrance.
In other words, other people can see it, too.
I won't say that I'm possessed by a ghost or anything. It was far too clear in the mirror to call it that.
I wonder if it would show up in a photograph, too?
It's really creepy, though. It doesn't look like any sort of ghost I've heard of.
My current hypothesis is that it's something from another dimension.
Anyway, I don't know what to do about it.
I don't just want to run away.
I think I'll pretend it's not there and observe it for the time being.
You probably don't believe any of this, but I want your opinion.
I'll talk to you later.
***
Follow The Ghost In My Machine on Twitter @GhostMachine13 and on Facebook @TheGhostInMyMachine. And don't forget to check out Dangerous Games To Play In The Dark, available now from Chronicle Books!
[Photo via Sbringser/Pixabay]