Previously: Hi I'm Mary Mary.
On March 4, 2013, the YouTube channel RandomVideoCircus posted two short videos to its account. Called "Pennhurst Found Footage" and "Pennhurst Found Footage Part 2," they look — at first glance, at least — like standard urban exploration videos: In them, two young adults take a trip to the abandoned remains of the Pennhurst State School and Hospital in Spring City, Pa. and document their explorations with a simple camcorder and a point-and-shoot camera. However, the title cards at the front of the videos would have us believe that there's more to the footage than that — that the two people who shot it went missing, and that the footage was discovered on the Pennhurst grounds after their disappearance.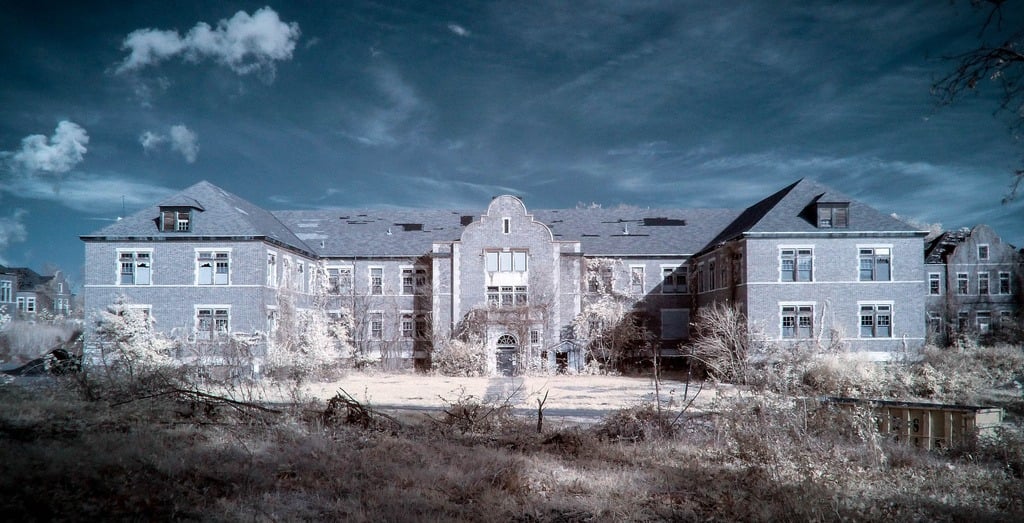 This, of course, prompts the (perhaps somewhat obvious) question: Is it real? Or, perhaps more accurately, to what degree is it real?
Pennhurst was, and is, a real place. Originally called the Eastern Pennsylvania State Institution for the Feeble-Minded and Epileptic — a name which makes me cringe; this kind of language is definitely not acceptable anymore — the Pennhurst State School and Hospital opened its doors on Nov. 23, 1908 after five years of construction. Its story echoes that of many other similar facilities operating during that time: It quickly began suffering from overcrowding; its conditions worsened with time; and its patients were treated inhumanely. It was also, horrifyingly, used as a means to remove "undesirables" from the gene pool — a result of the unethical, unsound, and discriminatory "eugenics" movement sweeping the nation at the time. It's representative of one of the worst periods in American medical history; everything it stood for contributed to a fierce stigma against both mental illness and disability that we're still fighting today.
[Like what you read? Check out Dangerous Games To Play In The Dark, available from Chronicle Books now!]
Although exposés had been done on the facility throughout its history, it was the airing of the five-part series Suffer The Little Children by CBS correspondent Bill Baldini in 1968 that proved to be the beginning of the end for Pennhurst. A series of lawsuits followed in the years after the series aired, one of which — Halderman v. Pennhurst — ultimately resulted in the facility's demise. Pennhurst finally closed for good in 1987.
Whether or not the Pennhurst found footage is real or a hoax, though? That remains to be seen; as far as I know, the YouTube channel that posted it has never commented on it. Although it's frequently included on lists of "real" found footage,  I suspect it is, like so many other things, a hoax. Honestly, I don't even think it's a particularly interesting hoax — and yet, it seems to have a degree of popularity and staying power that's quite surprising. People love to talk about this one.
So. Let's take a look, shall we?
We'll start with examining the footage itself.
The First Video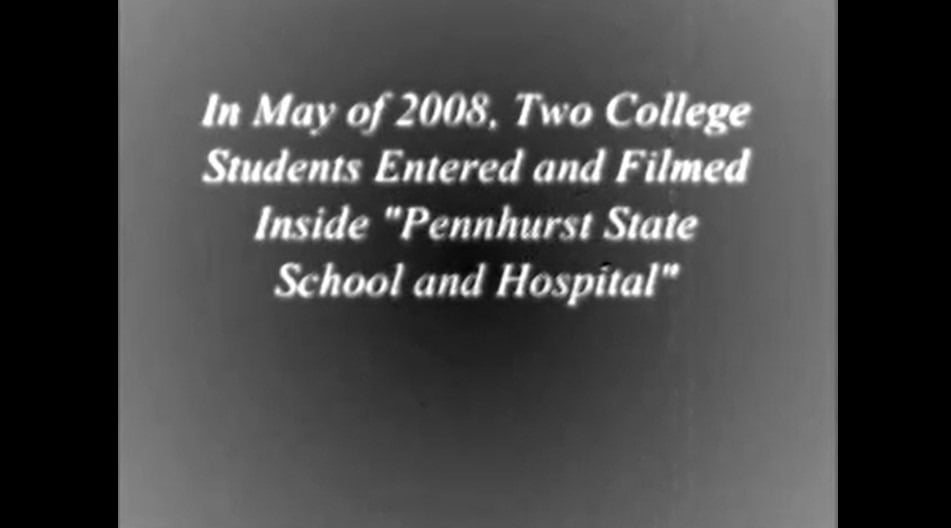 Designed to look like an old film reel, but clearly modern in its creation, the opening crawl of the first video reads much like those of many films claiming to be based on true stories or built from "real" footage:
"In May of 2008, Two College Students Entered and Filmed Inside 'Pennhurst State School and Hospital.' This was Before it was featured on 'Ghost Hunters' and 'Ghost Adventures' and later became a 'Haunted Attraction.' Their footage was found inside The Asylum, but the whereabouts of the two students remains unknown!"
All of this should be considered sic, by the way; the capitalization and punctuation of the cards is… unusual. It bugs me, but then again, it's literally my job to be bugged by these kinds of things and subsequently fix them, so I may be in the minority here.
In any event, that's where the footage itself begins. According to the timestamp, it was captured starting at 3:27pm on May 4, 2008 — a Sunday afternoon. We're inside a sort of day room; tables and chairs are strewn about, and large windows let in a good deal of sunlight. The man who holds the camera briefly turns it on himself, allowing us to see his face. "Pennhurst," he intones, making sure we know where we are. A voice heard offscreen indicates that he has a companion — a woman.
These are the first of many small clues that will appear as the footage progresses — clues about who these people are, what might be going on, and perhaps what may have happened to them. Catching them requires careful viewing, though they may not have the payoff for which many viewers might be hoping.
The students spend a brief amount of time exploring this room, a connecting hallway, and a few other smaller rooms shooting off of the hallway. They're all filled with discarded detritus — which, indeed, is what one would expect from a long-abandoned facility.
We cut to outside, where it's leafy and green — and this is another clue: The timestamp jumps only a minute or two. The door must have been near where they had been previously, right? How else would they have made it from the first location to the second so quickly? It is now 3:31.
They see, but choose not to enter, the union; instead, they turn around and enter the building behind them. It's unclear whether this is the building they had just left. And again, after a brief time exploring, we cut to the outside — and again, they must have stayed near the door. How else to explain the fact that a mere minute has elapsed between then and now?
It's 3:32pm. They're on some sort of walkway, with a ramp leading downwards from it. They pass an abandoned hospital bed as they head down the ramp.
"This is one of the tunnels," the man says. He looks around; it's very dark. "Ooooh," he says. "It is scary down here."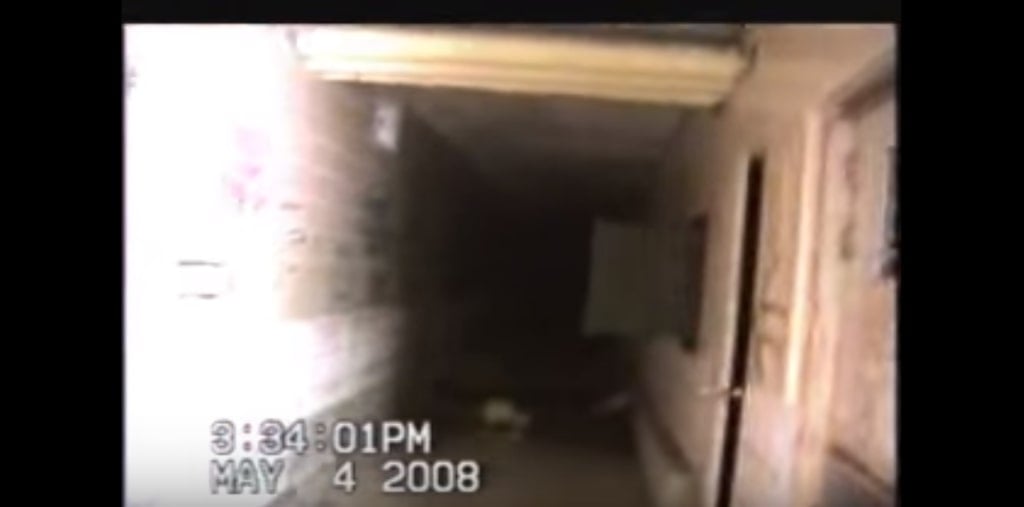 They didn't bring a flashlight with them, which impedes their ability to explore very far into the tunnels; the light on the camera, the man says, will eat up the battery. The woman takes a few flash photographs — maybe on her phone, or maybe on an actual camera; we don't see the device at this time. The flash lights up the hallway for just a moment, but it's too quick to reveal anything.
They exit. The woman stands outside a doorway, taking more photos. It is 3:35pm.
They enter this new location; it's better lit, clearly no longer subterranean. We can see now that the woman has an actual camera — a point-and-shoot model dangles from her wrist on a strap. They explore the halls and rooms, finding much refuse throughout. They wander through another large, open room, much like the one we saw at the beginning of the footage. There are many armchairs arranged in a line by one of the windows.
Several more cuts occur as they explore this space. After one such cut, the camera has been handed over to the woman; she films the man seated at a table with an ancient typewriter. He mimes typing in a fastidious, fussy fashion.
And here, another clue: We can see the man's sweatshirt, which informs us of the school at which these students allegedly study: West Chester University in West Chester, Pa. West Chester is a little more than half an hour away from Pennhurst by car.
They find what looks like an old television or monitor.
We cut. It's a minute later — 3:43pm. They're walking up a flight of stairs with brick walls on either side; the man has the camera again, bringing up the rear while the woman takes the lead. They emerge into yet another large, sunny room; the woman observes that there's "one lonely wheelchair" in it. He zooms in on the chair; she takes a photo of it. A quick cut, and the woman has the camera — she's filming the man wheeling himself around in the chair.
A cut. Two minutes later. The man films himself through several mirrors. One of them is shattered. He goes to a window and films the outside. They are at least one story up, if not two. The walkway is far below them. A building with dormer windows is visible through the trees. He turns the camera back inwards and returns to the mirrors before following the woman down a hallway.
This is where the first video ends. It is 3:47pm. They have been exploring for 20 minutes.
The Second Video
The second video begins with the same opening crawl before picking up where the previous video left off. It's 3:47, and the students are roaming the hallways of the upper level. They find a narrow, winding staircase hidden behind a wooden door in one room; however, they choose not to go up it. It is very dark at the top.
Eventually they leave. We cut three minutes; it is now 3:50pm, and they are standing outside Tinicum Hall. Another cut, and they are inside. There's a sign indicating that the building is suitable for use as a fallout shelter. They wander. Another brief cut. The woman is standing in front of a sign that says "DANGER." The room behind the door it is affixed to is full of refuse and trash. They exit the room, look outside the window, turn back into the building.
A very short cut — just 15 seconds — and they're looking at a toilet. The bathroom mirror is smashed.
They pass through a large, open room with partitions holding a few abandoned hospital beds, then into a smaller room or large hallway with the same. He calls her name — "Jess" — and she answers with an affirmative, "Yeah."
Another clue: Her name is Jess.
A short cut — maybe 25 seconds — and they're stationed in front of a door in a room like the ones they've just been exploring. The door is open; through the open door, another room, also like the one they're currently standing in, is visible, as is another open door at the other end of it. The woman — Jess — runs across the doorway from right to left. A brief cut, and the man does the same, this time running from left to right. Jess must be holding the camera at this point.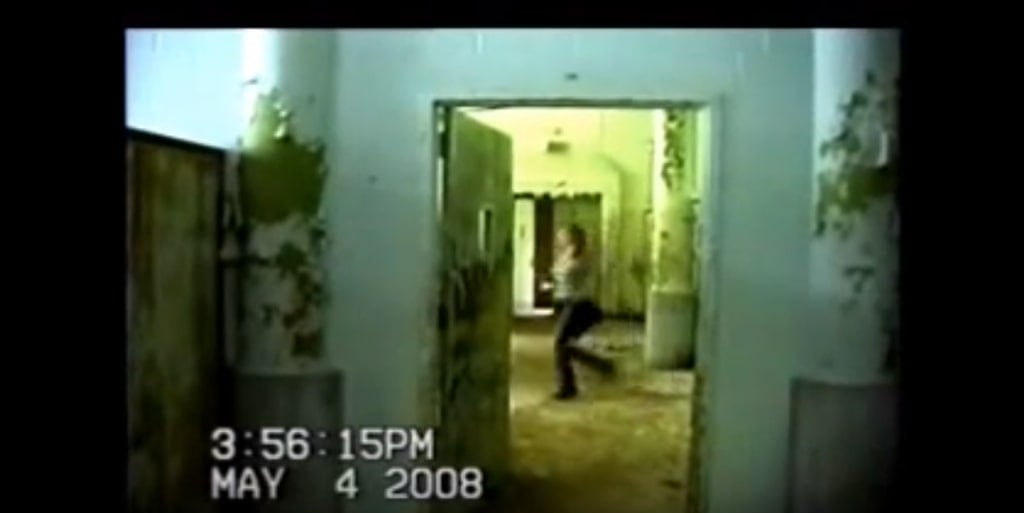 Another quick cut of 10 seconds, and the man has the camera again. They wander, and then another cut brings us to a minute later. It's now 3:58, and they're in the basement. The ceiling is low, and it's dark further back, but some daylight appears to be coming in through some windows. "I don't think we should go any further," Jess says. The man agrees. He teases her by speaking her full name, "Jessica," in a demonic-sounding voice. He repeats it several times; she tells him to cut it out. They turn to leave.
Her full name is Jessica. This is another clue.
Cut to a minute and a half later. They're outside. Jess is taking pictures outside a building called Quaker Hall. She turns to walk down a wooded path, and the man follows.
A quick cut, and it's 4pm. Jess stands in the doorway of a building. The man enters after her. It looks like an enclosed porch; there are couches and armchairs here. When they enter the building proper, it's more of the same: Empty rooms, decaying furniture, trash. They look, the man observes, like they may have been offices.
A cut. It's 4:02. They're still walking around. Cut. 4:03. More wandering, a large open room. Cut. 4:05. Jess has the camera, the man holds a piece of paper with a giraffe on it. Cut. 4:09. A broken mirror in a dim room. A hallway with doors on either side, sunlight streaming through them. A bird whistles outside an open window. Cut. 4:11. A washroom with toilet in cubicles and several sinks. Cut. 4:12. Jess in front of a door, looking through a small window. She moves. The man films through the window.
Cut. 4:13. They are outside Quaker Hall.
There are less than 30 seconds remaining in the video.
Jess is standing inside the door to the hall; she goes in. The man follows. They're in a stairwell, which they proceed up. "GHOST" is written on the wall.
Cut. 4:14. They're outside in the woods. How did they get outside so fast? A second later, the screen goes dark.
There are less than 10 seconds left in the video.
The screen stays black.
There is flicker of grey.
We return to black.
And then, a final shot: A black screen, but with a battery indicator — although it's unclear if it indicates a full battery or a spent one. A timestamp: 8:07pm and 44 seconds… May 5, 2008.
They began exploring on May 4.
The last shot prior to this one — that of the woods outside — was timestamped over a day earlier.
And… that's it.
The SD Card
The plot thickens somewhat if we fast forward to July 1, 2017 — more than four years after the original two videos were posted. On this day, RandomCircusVideo uploaded a video called "SD card Found in Pennhurst Tunnel." At four minutes and 37 seconds, it's about half as long as the other two videos. It opens with the following text (which, again, should all be considered sic):
"When Pennhurst closed, it remained Abandoned for many years. In 2010, it was reopened as a Haunted Attraction. A Lot of work went into cleaning the buildings to turn them into a Tourist Attraction. Not only did the Buildings have to be cleaned out, but the Tunnels did as well. Among all of the Dirt and Debris, Inside one of the Tunnels Staff found something a little Strange."
Here, we are presented with an image of a broken point-and-shoot camera, its LCD screen leaking crystals in a psychedelic swirl.
The text continues:
"The camera was badly damaged, but the SD card remained intact. What you are about to see are the images from that camera, in the order they were taken. If you are the owner or have any information about these pictures, please contact 'The Pennhurst Preservation Alliance.'"
As the slideshow of images progresses, it becomes clear that this was Jess' camera. She even makes an appearance in one of her own photos — at the 2:16 mark, she took a picture of herself through a mirror: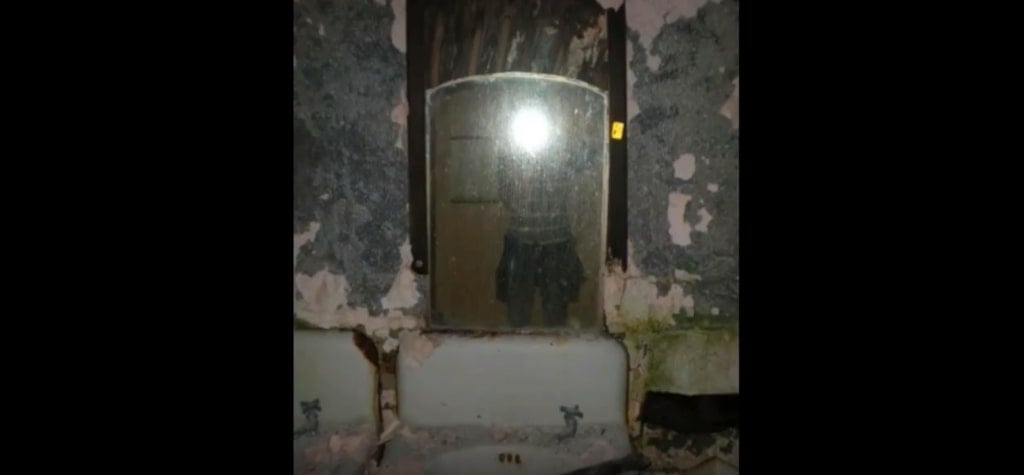 Which, if you compare it with a moment at the 5:42 mark of the second of the original videos, indicates that yes, this is Jess: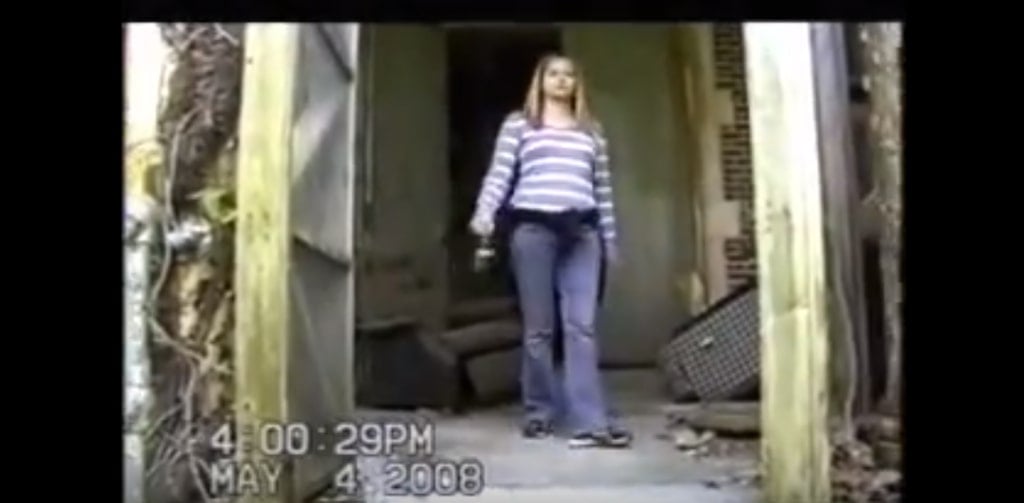 Her silhouette is the same; she wears the same striped shirt; she has the same dark sweatshirt tied around her waist. The image was captured at 4pm, shortly before she and her companion allegedly disappeared.
The video ends, once again, with a plea for anyone with any information about the camera or photographs to contact the "Pennhurst Preservation Alliance."
Is It Real?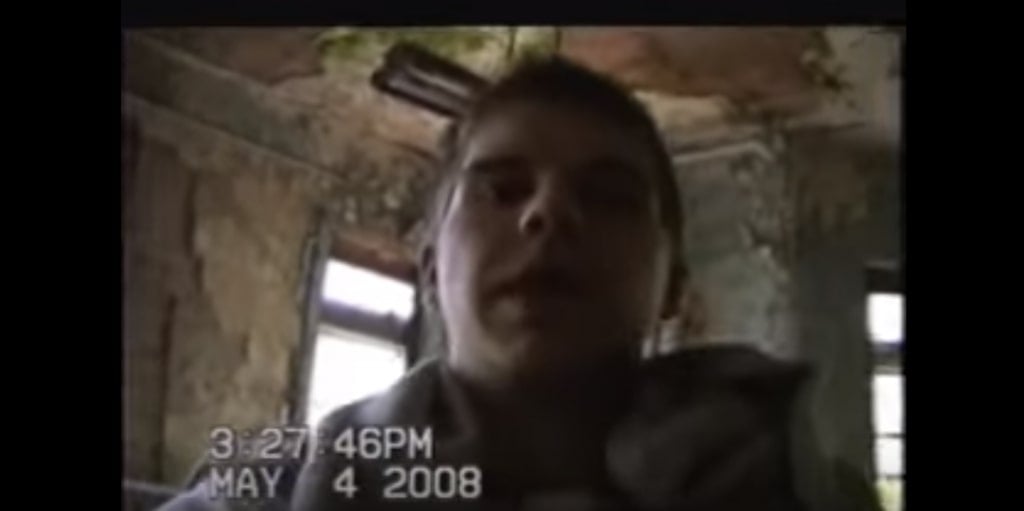 There are, however, a lot of problems with this supposedly "real" piece of found footage. First, I wasn't able to dig up any record — anything at all — of students from West Chester University going missing in 2008, either in connection to Pennhurst or not. Yes, I realize that 2008 was nine years ago, and that nine years ago, we didn't rely on the internet for our news quite as much as we do today; however, online news was still a thing back then — and besides, most newspapers have digitized their archives by this point. As such, you'd expect that we'd be able to find something, especially since we know one of the students' names. And yet, there seems to be no information in existence about a student from West Chester University named Jess or Jessica disappearing in 2008.
The only news story about a missing WCU student I was able to find dates to 2014: The night before Thanksgiving, WCU senior Shane Montgomery went missing after spending the night out with his friends. According to a report from Pennsylvania newspaper The Morning Call published on Jan. 3, 2015, Montgomery's remains were recovered from the Schuylkill River at the end of December. It was a tragic loss; said Capt. Gerry Boylan, "The family was very despondent, but they were glad that it was over, that they had closure."
There's also this: As YouTuber ScareTheater theorizes in his video analyzing the footage, there's a good chance that the man in it is just the guy who runs the RandomVideoCircus YouTube channel. Examining some of his other videos — especially the older ones — shows a fellow who looks and sounds quite similar to the male student in the Pennhurst footage; plus, given that he still uploads videos to YouTube several times a month, he clearly didn't go missing.
For the curious, the channel appears to be run by one Matthew Armentrout. (the RandomVideoCircus links to Armentrout's social media accounts on the channel's "About" page, so he's made this information pretty easy to find.) He doesn't post much on Twitter these days, but according to Facebook and Google Plus, he's located in Royersford, Pa. — which is right next door to Spring City. Pennhurst is just a seven-minute drive from Royersford, according to Google Maps. RandomVideoCircus was also a fairly new channel when the Pennhurst videos were posted — the account was opened on Jan. 17, 2013, just two months before the Pennhurst footage arrived. A few other short horror film experiments were also uploaded around this time.
Given that the Pennhurst found footage's narrative framework crumbles under just a little bit of close inspection, I just don't think it's real. Indeed, part of my wonders if RandomVideoCircus just took a trip out to Pennhurst for fun, not even intending to build a found footage story out of it, and then added the framework — which is communicated pretty much entirely through the opening crawl, rather than the content of the videos themselves — as an afterthought.
But What If We Dig Deeper?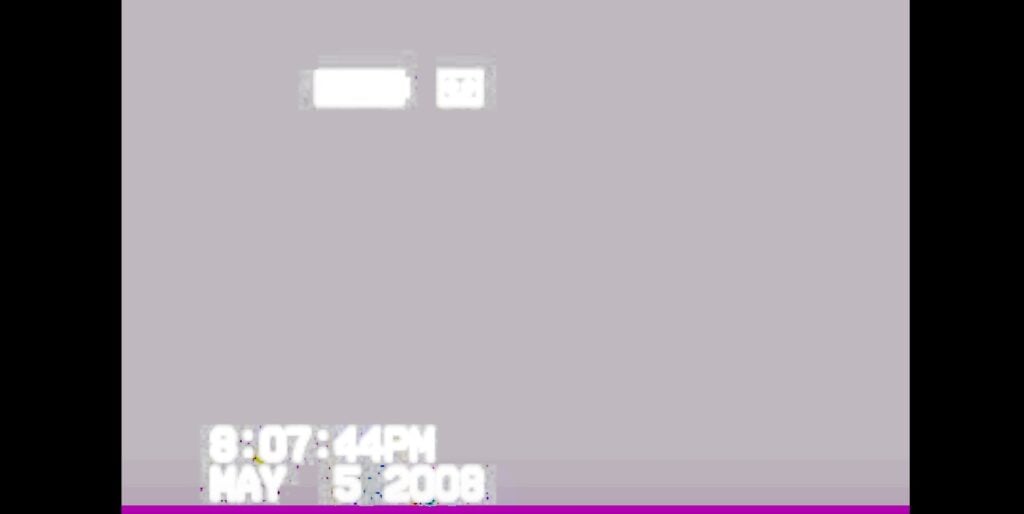 If this is the case, it also might explain why I didn't find anything of interest when I looked a little closer at the footage itself. In short, I've haven't been able to find anything else in any of the footage that might complete the story a bit more. Adjusting the brightness and contrast of the final shot reveals nothing; it's… just a void, as you can see here.
I also wondered if, perhaps, the photos Jess took of the tunnel — which we saw in the SD card video — might have had something more in them, too, so I played around with the exposure on those, too. However, I'm unconvinced by my own editing. It's possible that there might be a figure lurking at the end of the tunnel in the second photo…
…it might also just be a trick of the light.
Also, although the SD card video informs us that the photos will be presented to us in the order in which they were taken, they actually aren't. The timeline jumps all over the place, most notably during the last sequence of photos. The last pictures we see in the video are the walkway, the abandoned hospital bed, the ramp, and tunnel, all of which are from early in the first video. Many of the other photographs were taken much later than that — like the wheelchair: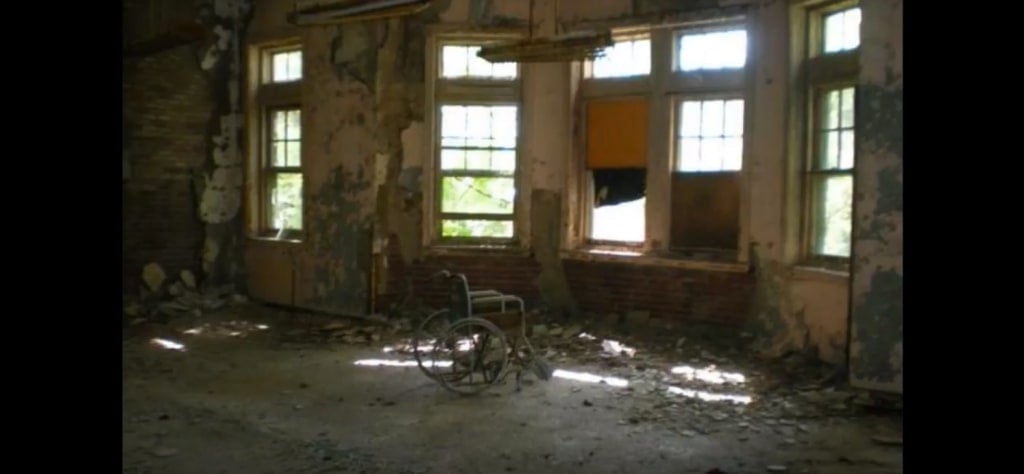 Which wasn't seen until late in the first video, after they had already been to the tunnel: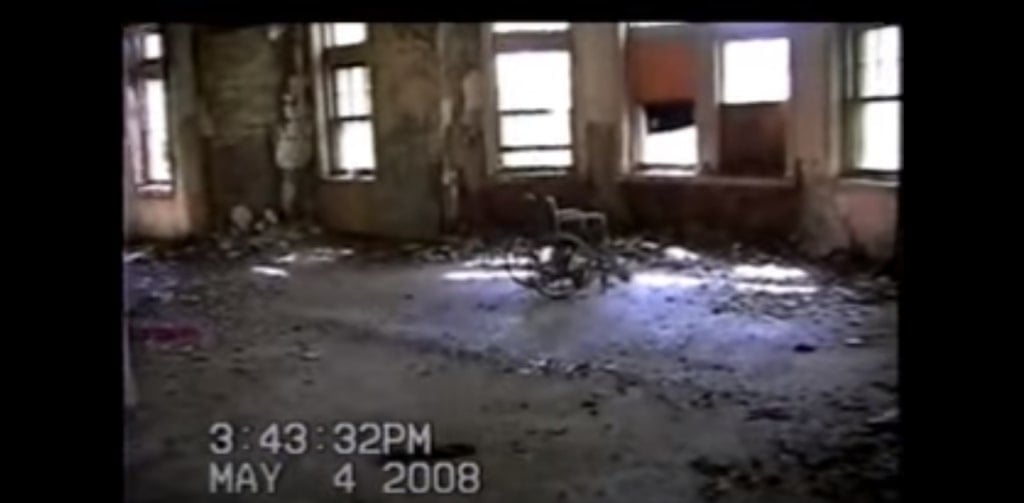 And, of course, this shot: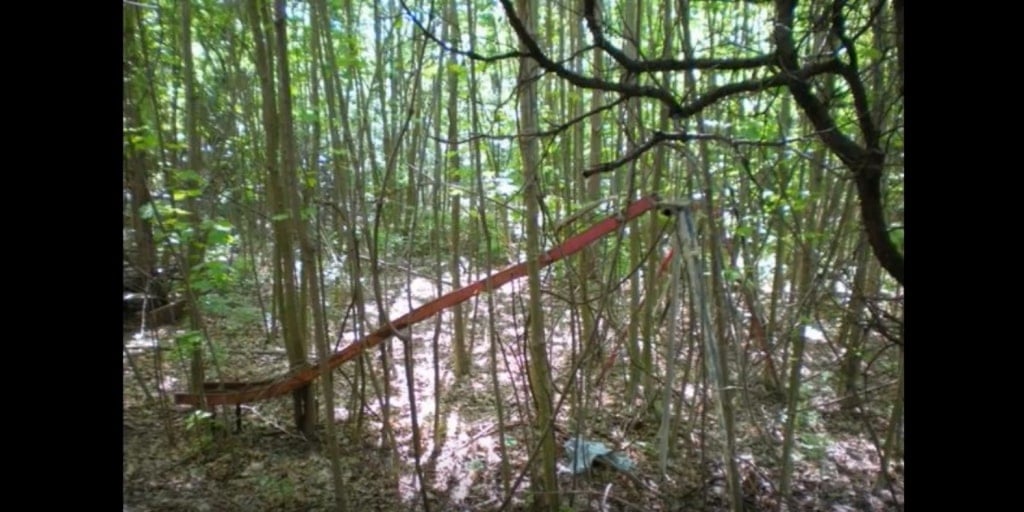 Which must have been Jess' take on that last shot in the woods seen in the second video before the whole thing cut to black:
While it's true that the photos appearing out of sequence could be read as something more, particularly when taken in conjunction with all of those oddly short cuts — time travel? Supernatural intervention? — I think it's more likely just an editing oversight.
Also, the "Pennhurst Preservation Alliance" isn't a thing. The Pennhurst Memorial and Preservation Alliance, also known as PM&PA is; it was formed in 2008 "to advocate for the sensitive re-use of the site and urging decisionmakers to capitalize on its unique history and architectural features for the benefit of the region," according to the PM&PA website. They've been one of the most outspoken opponents to the Pennhurst Asylum haunted attraction that opened in the old administration building in 2010. (The argument is that the attraction is insensitive and ableist.) But in any event, my point is that the body referred to in the text of the SD card video just doesn't exist.
All in all, I find the Pennhurst found footage curiously unsatisfying. The backstory clearly isn't real, and as a piece of storytelling, it fails to answer any of the questions that — as YouTuber Nick Nocturne of Night Mind posits in his How To Make A Web Series lessons — are essential for a successful found footage project: Who is uploading the footage? Why? How did they get a hold of it? The answers to these questions don't need to be elaborate, but we just don't know what the uploader's relationship is to the people in the videos, and we don't have any information — believable or otherwise — about how the uploader acquired the footage in the first place.
Also, it's… honestly kind of boring.
However, as ScareTheater points out, the story's unsatisfying nature is also what lends it what realism it has: The Pennhurst found footage is mundane, nothing more than two college students goofing around in an eerie location with a problematic past. There's nothing creeping behind them in the footage; nothing chases them outright; there isn't even a distinct moment at the end where we get the hint of something untoward happening to them — we just get a shot of the woods, and a black screen, with no indication of what the connection between them might be. It is, in short, pretty much what you'd expect from regular people — not seasoned paranormal investigators; not skilled photographers or filmmakers; just two kids hanging out together on a spring weekend — who choose to spend their spare time taking a walk in the woods around some abandoned buildings.
So, y'know, there's that. Do with it what you will.
***
Follow The Ghost In My Machine on Twitter @GhostMachine13 and on Facebook @TheGhostInMyMachine. And don't forget to check out Dangerous Games To Play In The Dark, available now from Chronicle Books!
[Photos via Thomas James Caldwell/Flickr; RandomVideoCircus (2, 6, 10), RandomVideoCircus (3, 5, 7, 12), Random VideoCircus (4, 8, 9, 11)/YouTube]