Previously: Is "Dear David" Real? Part 1; Part 2; Part 3.
It's been a while, but the Dear David ghost story Adam Ellis has been telling us all via Twitter for the past several months has finally seen enough activity to warrant another examination. One of the things that's been so fascinating about the story to me is actually what I've been seeing in my site analytics the longer it's gone on — I'm starting to see a lot of searches for variations of "is Dear David real?" and "Dear David hoax" now, whereas earlier in the saga, most of the searches that were bringing folks here were more general queries, like "Adam Ellis Dear David." To be fair, the "is it real or a hoax?" is obviously the market I've been cornering since my very first post on the subject — I did call the series "Is 'Dear David' Real?", after all — but the progression of the search terms has been… interesting, to say the least.
[Like what you read? Consider supporting The Ghost In My Machine on Patreon!]
I'll be upfront with you: I am very firmly convinced at this point that it's not just a hoax, but an extremely carefully planned and executed one. This is largely due to the most recent update, which is — as I noted on Facebook and Twitter last week — a doozy. That said, though, the longer the whole thing goes on, the more I want to applaud it as a wonderfully creative exercise in storytelling; I think it's an excellent example of exactly how effective an unusual medium can be when harnessed correctly.
In any event, here's what's been going on over the past two months:
(EDIT 1/8/18: Here's Part 5!)
(EDIT 3/19: Part 6 is here!)
(EDIT 6/6: A "Dear David" movie has been announced.)
Ellis In Japan
I bought a votive tablet at the shrine I'm at in Japan ? pic.twitter.com/IPU2HTMNnZ

— Adam Ellis (@moby_dickhead) September 29, 2017
One of the reasons it's been so quiet on the Dear David front recently is that, at the end of September and the beginning of October, Adam Ellis went to Japan. The trip meant that he wasn't in his apartment for a couple of weeks, and was therefore shielded from whatever the heck was going on there. He did post the above photo during his travels, which was kind of a cute little nod to the whole thing… and then, a few days later, he posted this markedly less cute update:
I came across this statue in a park. I couldn't find out any real information about it online, but it was weird and pretty. pic.twitter.com/mk0eXQYQ1s

— Adam Ellis (@moby_dickhead) October 3, 2017
It felt too similar to be a coincidence. I felt dizzy staring up at it, this kid with a dented head. pic.twitter.com/2SZkiF9gYX

— Adam Ellis (@moby_dickhead) October 3, 2017
I don't know. Maybe I'm overreacting? Maybe this is nothing? It doesn't feel like nothing. pic.twitter.com/mTWqjuF4p5

— Adam Ellis (@moby_dickhead) October 3, 2017
In case you need a reminder, here's what Ellis' very first illustration of David looked like:
He had a huge misshapen head that was dented on one side. I did my best to draw it: pic.twitter.com/AJizlw7qXe

— Adam Ellis (@moby_dickhead) August 7, 2017
It's eerily similar to the sculpture Ellis found — but I think it's just a really lucky coincidence. My guess is that Ellis stumbled upon the statue, noticed the similarities between it and his Dear David illustration, and decided spur-of-the-moment to incorporate it into the story.
For the curious, the sculpture is located in Nakajima Park in downtown Sapporo. Called "Mori-no-uta," which translates to "Song of the Forest," it's apparently one of the best-known outdoor sculptures created by Japanese artist Takeo Yamauchi. According to Sapporo's tourism site, it was "based on the Hymn of Life, and depicts children playing on instruments while frolicking with different animals."
By Oct. 5, Ellis had made it home safe and sound. The cats, happily, were also fine.
A Related Observation
I made it home safely! The cats are fine, if a little more talkative than usual. pic.twitter.com/AWoFntKRY4

— Adam Ellis (@moby_dickhead) October 6, 2017
Something that is perhaps worth noting: Remember the pet cam Ellis bought at the end of August? Throughout September, it mostly saw use in documenting the weird stuff Dear David was allegedly causing in his apartment — but he had originally purchased it in order to be able to keep an eye on his cats while he was away on this particular trip. But although Ellis has been home from over a month now, he hasn't posted any footage captured by the camera while he was in Japan — which, to me, implies that nothing happened in the apartment while he was gone.
The first time Ellis caught something weird on the pet cam, he was away for the weekend, so we know that David doesn't necessarily stop his activity when Ellis isn't home; and while it's true that maybe the lack of activity during the Japan trip could be explained by the length of the trip (maybe David knew that he wasn't going to be home for a while and just… didn't bother to do any haunting in the interim as a result?), I think it's more likely that — assuming the story is a hoax — Ellis just didn't record any footage he can claim to have happened during that time.
Why he may have opted not to plan any pet cam episodes for this period could be for any number of reasons — but I wonder if it's because it might run the risk of destroying the illusion. For example, I'm not sure if it's possible to analyze the videos he's posted and find timestamps or anything buried deep within them… but if it is, maybe that's why: If he posted footage that was allegedly recorded while he was away and followers found something in the data that indicated a date of recording that didn't match the timeframe during which he claimed it took place, then the whole story would be kind of ruined.
This is all speculation on my part, of course — but I think it's worth considering.
Weird things have been happening with the electricity in my apartment this week. (thread)

— Adam Ellis (@moby_dickhead) October 14, 2017
(Apologies for the truly terrible joke I just made.)
The next update came on Oct. 14. In it, Ellis recounted some issues he'd been having with his apartment's electricity: He said that bulbs burned out with greater frequency than they should, and that a backlight device he has plugged into his TV started turning on and off by itself before failing completely:
Eventually it stopped, and now the backlight doesn't work at all. It's only a couple months old, so it shouldn't be dead already.

— Adam Ellis (@moby_dickhead) October 14, 2017
But — as has been the case with a number of other elements of the story — all we have to back this one up is what Ellis is telling us happened. He didn't, say, capture any video footage of the backlight behaving oddly, so we've just got to take his word for it that it's happening at all.
And besides, even if he has been experiencing some weird issues with his electricity, there are plenty of explanations we can look to before turning to ghosts: Faulty wiring, damage caused by rain or storms, or simple age. Granted, I don't know exactly where Ellis lives, but a lot — a lot — of apartments in New York are old, and old apartments in New York often have some… uh… quirks, particularly when it comes to the wiring. Ellis has previously noted that his apartment is located in a building that used to be an old house, which means that he probably doesn't live in, say, any of the fancy high-rises that have been going up in gentrifying areas in recent years — and if his building is fairly old, then it wouldn't be unusual for it to have the occasional electrical issue.
(I mean, I don't know about you, but I live in a building that was built in the '40s, and I often feel like I'm replacing a bulb in my bathroom's lighting fixture every week: One goes; I replace it; another goes almost immediately after that; and so on and so forth. Sometimes the breakers trip without warning, too. It's just a fact of life — jarring, perhaps, but not unusual. That's just me, though, so do with that what you will.)
Through The Peephole
It was so soft I wasn't sure it had really happened. I went over the the door but I was too scared to look through the peephole.

— Adam Ellis (@moby_dickhead) October 14, 2017
In the same thread, Ellis recounted something odd that happened the morning after the backlit started misbehaving: In the early hours of the morning, he heard a scratching sound at his door. He said he was too frightened to look out the peephole to see if anything was there, but he did hold his phone up to the peephole and take a picture. This is that picture:
But as I analyzed it, and started noticing things. Part of a face. An ear, and an eye staring right back at me. pic.twitter.com/OMUPC5jS5T

— Adam Ellis (@moby_dickhead) October 14, 2017
I'll be honest: I see jack shit in it. Nor am I the only one, seemingly:
I see zero faces

— Lyla (@itslyla) October 27, 2017
I see ABSOLUTELY NOTHING.

— Dooblaa ✴~ (@D2OBL2A) October 14, 2017
Plenty of people apparently do:
I see it as an ear, an eye and part of the head like his head is kinda angled down pic.twitter.com/cdoeOVQuw8

— Ana (@Mothladders) October 14, 2017
Here's what I see… pic.twitter.com/GQNOdsCIw8

— Shaun Smith (@RiojaVotary) October 15, 2017
I upped the exposure ._. pic.twitter.com/FeBZos79OR

— amber (@lunarwhalia) October 14, 2017
But even that last one just looks like the kind of smudges one can expect to see when getting up close and personal with a really old peephole that probably hasn't been cleaned in a while to me. I don't even get anything that might be the result of pareidolia here — and I say that as someone who usually has no trouble identifying faces in things that are not faces or seeing optical illusions. Maybe that's just me, though.
The Cleansing, The Hearse, And The Figure In The Dark
Things appeared to go back to normal. The cats weren't gathering at the door anymore. I stopped having dreams.

— Adam Ellis (@moby_dickhead) October 27, 2017
After that, we didn't hear from Ellis for close to two weeks. In his next update, he told us that he had finally decided to get someone to perform a cleansing of his apartment; understandably, though, he had a friend do it, rather than one of the many, many followers of his who had offered to do so. ("I declined them all because I don't really want strangers in my house sensationalizing what's going on," he wrote. I would argue that the whole thing is already plenty sensationalized just by dint of existing, but I understand not wanting to invite random strangers into your home. That's fair.) And — for a time, at least — it seemed to work, he claimed. The cats stopped gathering in front of the front door at night; Ellis stopped having weird dreams; nothing unusual or out of the ordinary happened while he was at home.
Later on, though, he was on his way to work when he spotted the now-infamous warehouse open again. It wasn't empty this time; he saw this:
There was a hearse parked near the back wall. pic.twitter.com/0zmcN5CVj3

— Adam Ellis (@moby_dickhead) October 27, 2017
Seeing a hearse randomly parked somewhere is a little unsettling because we consider death to be kind of scary; beyond its mere existence, though, there didn't seem to be anything weird about it, so Ellis carried on. For what it's worth, I brightened up the photo a bit to see if there was anything odd lurking anywhere in it:
But I haven't been able to spot anything. There's a smudge on the right-hand side of the back window, next to the red curtain, but I think it's just the lighting. I don't see any faces or anything in it. Like the sculpture, I suspect the appearance of the hearse was a lucky coincidence that Ellis decided to include in the story.
But on the evening of Oct. 25, he went into the kitchen to grab a beer and saw someone watching him from the roof. He had his phone handy, so he took a photo:
My phone was in my pocket so I grabbed it and took a photo. It was blurry and dark but I swear someone was out there. pic.twitter.com/HC994WNOmN

— Adam Ellis (@moby_dickhead) October 27, 2017
Here's what happens when you brighten it up:
The figure Ellis is talking about is in the lower left-hand corner — although there's also a shadow in the upper right that looks a little odd, too: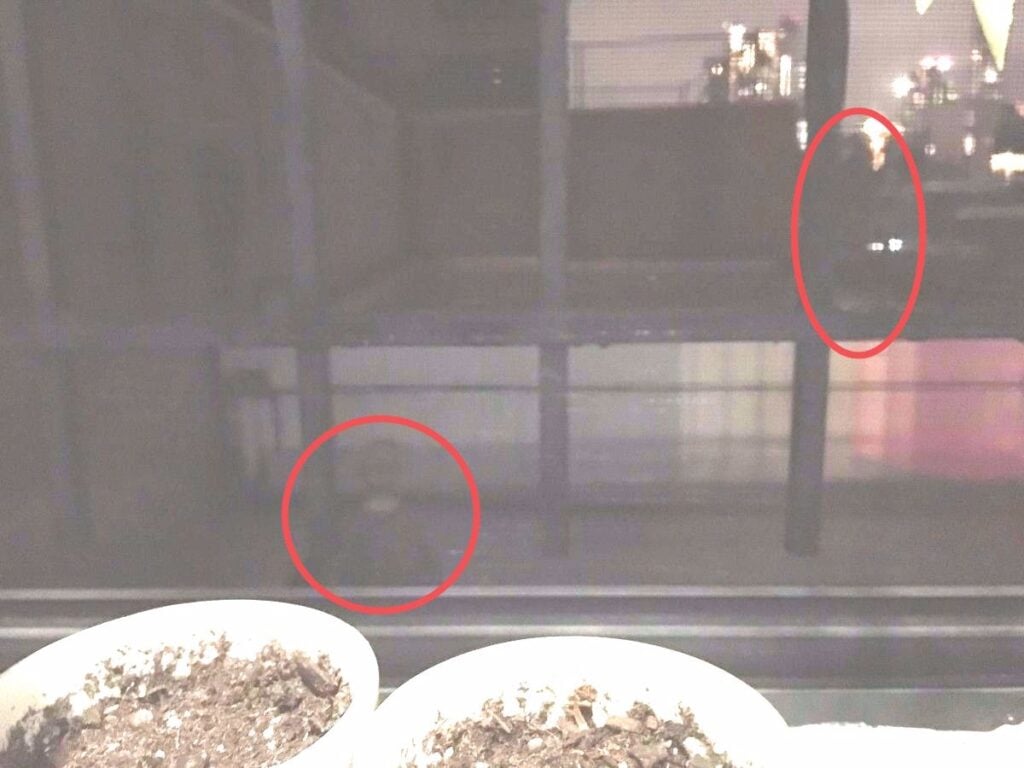 And, of course, when Ellis went to snap another picture, the figure was gone:
I tried to take a better photo, but the figure had disappeared. pic.twitter.com/8dZ5UfGnwh

— Adam Ellis (@moby_dickhead) October 27, 2017
Here's that one brightened, too, just for good measure:
Both the figure in the lower left and the shadow in the upper right are gone.
Unlike most of the previous images that allegedly depict Dear David, I don't think we can chalk this one up to pareidolia or really subtle image manipulation; that is definitely a figure in the lower left — and because it's so distinct, that's why I think we're now pretty clearly dealing with a purposefully created hoax. What's more, the figure looks kind of like a doll — and I'm not the only one who thinks so:
It almost looks like a tiny doll. And thay shadow on the right is beyond creepy

— Cubism Dream (@beckyjaee) October 27, 2017
I think this observation is important. Why that is will become apparent in the next item on our list of things to talk about.
The Dream, Redux
This might be long, but stick with me. Last night I dreamed about him again. It was almost exactly the same as the first time I saw him.

— Adam Ellis (@moby_dickhead) November 7, 2017
Last Monday, Ellis told us that the dreams were back. For those keeping track, it's been about three months since Ellis first started tweeting about Dear David, and — he says — about four months since he first dreamed about him. The dream he had last weekend was similar to that first one in a lot of ways; some of the details were different (you'll remember, for example, that Ellis had previously moved the green rocking chair on which David first appeared out of his bedroom; as such, the chair he was perched on this time was an old recliner), but the setup was the same: David was sitting on a chair; Ellis felt paralyzed; and David started moving towards him.
But this time, Ellis said he didn't feel totally immobile:
I still felt mostly immobile, but I could squirm a just little bit. I felt more alert. I could move my hands somewhat.

— Adam Ellis (@moby_dickhead) November 7, 2017
So he grabbed his phone:
I had to do something. I keep my phone next to me on the bed, and I somehow managed to get ahold of it.

— Adam Ellis (@moby_dickhead) November 7, 2017
And started taking pictures.
(Reminder: All of this occurred within a dream.)
He woke up right before David reached him. But although at first, everything seemed pretty much the same as always—David wasn't there when Ellis woke up; nothing unusual happened throughout the rest of the morning; etc. — he said he noticed something shocking when he looked at his phone's camera roll: Despite the fact that he thought he'd just been snapping photos in his dream, there were dozens of pictures on his camera roll, all of which were extremely dark and all of which had been taken the previous night. Here are three that stuck out the most:
— Adam Ellis (@moby_dickhead) November 7, 2017
— Adam Ellis (@moby_dickhead) November 7, 2017
This is the one that made my heart drop. pic.twitter.com/twjER4W7qo

— Adam Ellis (@moby_dickhead) November 7, 2017
And hey, guess what happens when you brighten them up?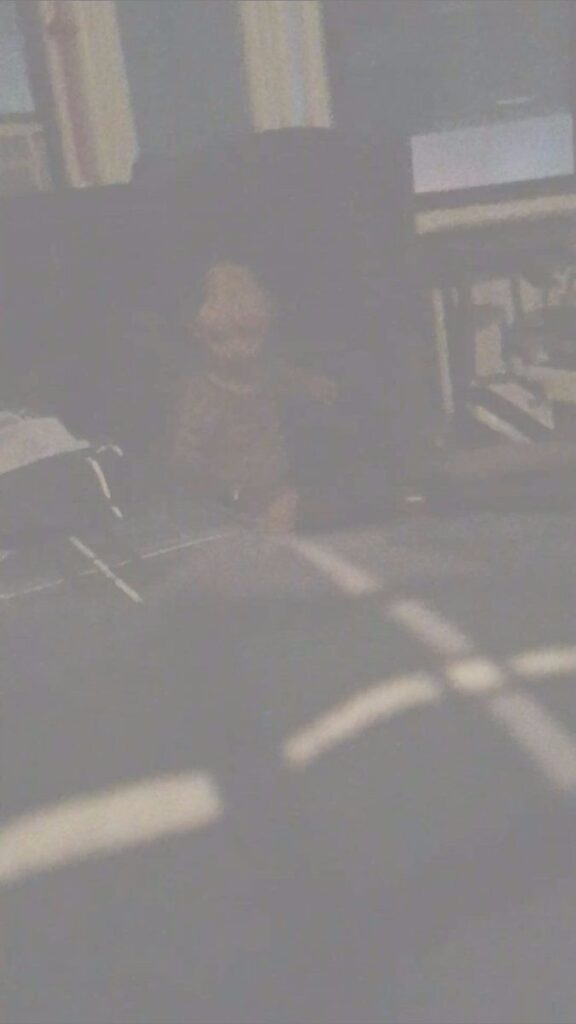 Yep. That is a thing. An actual thing. Crawling towards the camera.
But remember the figure on the roof? And how it looked kind of like a doll? The figure seen here — although definitely David as he's previously been described (note the misshapen head) — also looks very much like a doll to me. (In fact, it looks kind of like Robert the Doll, although it's obviously not him — there are differences, for one thing, and for another, Robert is kept safely under glass in Florida.) And because it looks so doll-like, I… really think the photos were staged.
Here's why:
The Case For Dear David Being Hoax
These images — the ones in both the Oct. 26 update and the Nov. 6 one — obviously can't be explained by pareidolia or coincidence, so the only two possible explanations at this point are a) actual malevolent ghost, or b) a staged hoax. Where you come down on those explanations depends entirely on whether you believe in ghosts and how unwavering you are in those beliefs: If you're positive ghosts exist, you're likely much more willing to believe that we're looking at an actual haunting here; if you're a skeptic, however, you're likely much more willing to believe that we're looking at a staged, but very clever hoax. There's a spectrum, of course — maybe you fall somewhere in the middle, leaning towards one end or the other but not whole certain about either — but personally, I fall pretty firmly on the side of "staged and clever hoax." And I don't anticipate that opinion changing, regardless as to how the story develops — unless something terrible actually does befall Ellis, in which case I will freely a) revise my opinion, and b) probably feel really bad about doubting it the whole time.
But — and I've been saying this since day one — I'm still really enjoying the whole saga. I'm not tired of it yet; on the contrary: I've been waiting with baited breath for each update, eager to see how Ellis spins the story and what methods he uses to develop it.
Social media has been used for clever storytelling before; the film Sickhouse was created entirely with Snapchat, for example. And while I'm not terribly interested in social media for its usual purposes, I'm fascinated by the alternative ways people are coming up with using it. That makes the Dear David story worth it to me: It's a testament to the power of creativity.
Stay tuned by following Adam Ellis on Twitter or checking his Storify about Dear David. There's definitely more to come.
***
Support The Ghost In My Machine on Patreon for behind-the-scenes access and bonus content. You can also follow on Twitter @GhostMachine13 and on Facebook @TheGhostInMyMachine.
[Photos via pedrofigueras/Pixabay; Adam Ellis/Twitter, remixed by Lucia Peters]