Previously: Is "Dear David" Over?
So, hey, after several child-ghost-free months, we've finally got a Dear David update: A Dear David movie is on the way. TheWrap broke the news earlier today, reporting that that BuzzFeed Studios would be teaming up with IT producer Dan Lin and his production company, Rideback, to bring the social media ghost story originally told by Adam Ellis to life. Mike Van Waes, who has penned the upcoming spinoff of The Conjuring based on the "Crooked Man" character (you know, this guy), is attached to write; the story will be developed by Van Waes and Evan Turner, who will also executive produce. Producers include Lin, Jonathan Eirich, and BuzzFeed Studios team members Lauren Dolgan and Hieu Ho.
UPDATE, November 2021: According to Deadline, the Dear David film is now on Lionsgate's slate. (Earlier, New Line had been set as the studio behind the adaptation.) John McPhail of 2017's Anna And The Apocalypse will direct from a screenplay by Mike Van Waes. Casting is apparently not only underway, but close to being "locked in." No news on when shooting itself will begin, let alone when we might be able to expect the film in cinemas.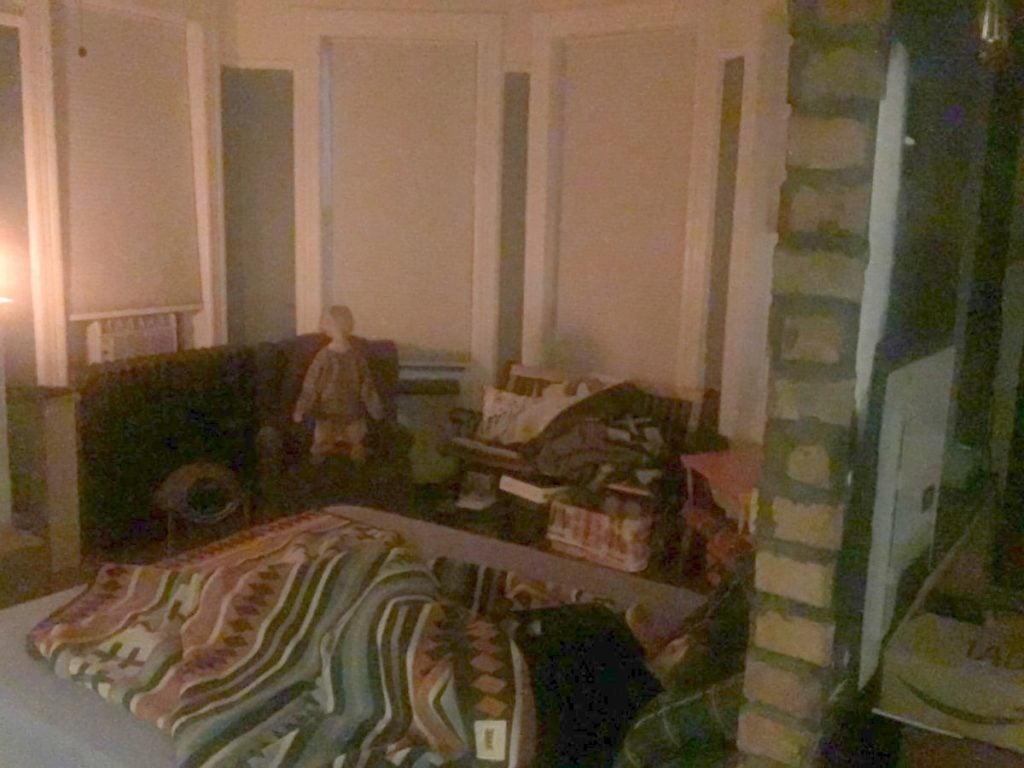 [Like what you read? Check out Dangerous Games To Play In The Dark, available from Chronicle Books now!]
PREVIOUSLY: Ellis confirmed the news on Twitter today, as well, writing, "Some Dear David news: Dan Lin (producer of 'IT') will be producing a Dear David film with screenwriter Mike Van Waes (writer of 'The Conjuring' spinoff 'The Crooked Man') attached."
Perhaps unexpectedly, a lot of people have had the same reaction to the news — something along the lines of, "SO IT WAS ALL FAKE ALL ALONG! I TOTALLY KNEW IT!" I wouldn't say that I had quite that response myself; I wasn't surprised, however. The story was so fascinating and so creatively told that it was perhaps inevitable a deal would be struct to adapt it to the big screen. What's more, depending on how they choose to do it, it could be just as interesting as the original Twitter tale. Personally, I'm less interested in a straightforward, traditional narrative film; I'm hoping they go with a framing device that taps into what made the whole thing so fun and unconventional in the first place.
For what it's worth, Ellis himself still insists his story is real. He's underlined his stance in several tweets; additionally, he told TheWrap, "I've never been interested in convincing anyone that ghosts are real — I just wanted to tell my story. If it was all fiction, I probably would've updated more than once every couple weeks."
This isn't the only movie BuzzFeed currently has in production, by the way; according to TheWrap, the site is also working with Warner Bros. on Brother Orange, based on another real-life story that went viral thanks to BuzzFeeds' pervasiveness across the internet. The story Brother Orange will adapt occurred in 2015; in it, BuzzFeed staffer Matt Stopera found himself on a strange and fascinating journey as he tracked a lost phone via photographs of a man with an orange tree that kept popping up in his iCloud storage. Jim Parsons will star in Brother Orange, with Ellen DeGeneres and Ilana Glazer executive producing. You can read that one here.
Again, I can see a lot of potential in adapting stories that originally went viral on the internet for the big screen (or small screen — TV shows could be interesting to see, too!); the trick is going to be how it's done. If they just become standard, third person narrative features, then that's just going to take everything about these stories that grabbed our attention and make them a little too tidy and a little too neat.
But if the filmmakers think outside the box? Well, that's an exciting prospect.
Let's just hope that putting Dear David on a cinema screen doesn't… y'know… set him free to do with the world as he pleases.
Check out the rest of TGIMM's Dear David coverage here: Part 1; Part 2; Part 3; Part 4; Part 5; Part 6.
***
Follow The Ghost In My Machine on Twitter @GhostMachine13 and on Facebook @TheGhostInMyMachine. And don't forget to check out Dangerous Games To Play In The Dark, available now from Chronicle Books!
[Photo via Adam Ellis/Twitter, remixed by Lucia Peters]