The truth often really is stranger than fiction, and the creepy parts of Wikipedia prove it. Weird history, scientific oddities, otherwise unclassifiable Things that you wouldn't believe actually existed if you hadn't just spent half an hour reading about them — that's what The Ghost In My Machine's new feature, Creepy Wikipedia, will cover.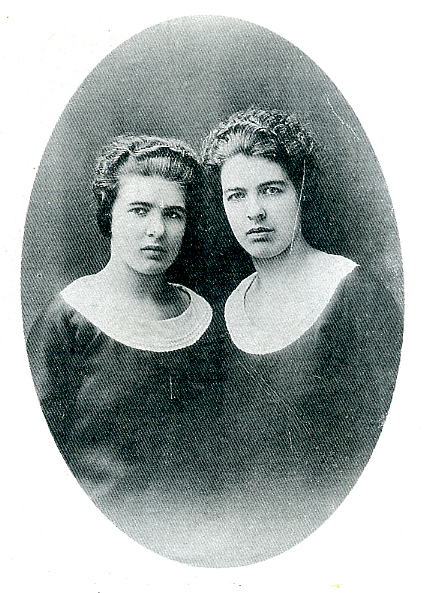 I'm still experimenting with the format, so how you see it presented here might change over time; generally speaking, though, Creepy Wikipedia will highlight some of the weirder Wikipedia pages out there — the kinds of unusual things you tend to stumble upon after you've fallen down the proverbial rabbit hole and spent too much time jumping from page to page. What I'm trying out first, format-wise, is a short summary of key points, followed by some recommended resources for further reading — Wikipedia, as interesting as it is, may not always be reliable, so it's often helpful to refer to additional sources. Think of it as a starting point for further, extremely unsettling exploration.
YouTube isn't the only part of the internet that can get a little weird.
[Like what you read? Check out Dangerous Games To Play In The Dark, available from Chronicle Books now!]
Christine and Léa Papin grew up in a chaotic home near Le Mans, France. There were six years between them — Christine was born on March 8, 1905, and Léa on Sept. 15, 1911 — but they were close; an abusive father and a neglectful mother had made them each other's lifeline. They had an older sister, too — Emilia, with whom Christine was also close — but when Emilia was finally old enough to work, she chose to become a nun, enraging their mother, who was counting on the income of her three daughters to keep her comfortable. Christine, and later Léa, were put into service as maids, with their pay going to support their mother.
In 1926, both Christine and Léa were employed by the Lancelin household — consisting of retired lawyer René Lancelin, his wife Léonie, and their grown daughter, Geneviève — in Le Mans. The Papin sisters worked there for several years, with Christine as the cook and Léa as the chambermaid — until Feb. 2, 1933.
That was the day they murdered Léonie and Geneviève Lancelin. They did it brutally, gouging the Lancelin women's eyes out.
They were caught and tried and found guilty; Christine, the instigator, was given the death penalty, although it was commuted to life in prison, while Léa was sentenced to 10 years. Christine died in a mental hospital at Rennes of cachexia (literally wasting away). Léa was released in 1941 — she got out early due to good behavior — and finished out her days in Nantes under an assumed name, working as… a hotel maid. She died in 1982.
The case continues to fascinate us today — and for a wide variety of reasons, at that.
Further Reading:
"The Papin Sisters: France's Crime of the Century," by Jessica Mason. This piece, published on Crime Magazine's website in 2010, is as comprehensive a history of the Papin sisters as you'll find on the internet. For the facts, go here.
"The Papin Sisters and the Murder Case That Still Haunts France After More Than 80 Years," by Nikola Budanovic. This write-up is less thorough than Crime Magazine's, but it includes diagrams of the crime scene, if you're into that sort of thing.
"Motives of Paranoiac Crime: The Crime of the Papin Sisters," by Jacques Lacan. French psychoanalyst Jacques Lacan published this article in the magazine Minotaure in December of 1933 — several months after the Papin sisters' trial, which occurred in September of 1933. If you're familiar with Lacan, you probably know how he felt about mirrors; it's notable, then, that in "Motives of Paranoiac Crime," he argues that Christine and Léa killed the Lancelin women because they felt they were mirror images of each other. Read it in the original French here.
The Maids, by Jean Genet. The titular maids at the center of Genet's play, which premiered on April 17, 1947 at the Théâtre de l'Athénée in Paris, bear an uncanny resemblance to the Papin sisters; like Christine and Léa, Solange and Claire plot to murder their mistress (known only as Madame), and like Christine and Léa, a folie à deux may be at play here. Genet also takes Lacan's idea of the mirror image and runs with it. Read it at the link above, or buy it (paired with Deathwatch, another excellent Genet work) from Amazon here. Your local library might also have a copy.
"Folie à Deux" at Medscape. An overview of the shared psychotic disorder that may have been part of the Papin sisters' case. Worth noting: In the fifth edition of the Diagnostic and Statistical Manual of Mental Disorders (DSM-5 — basically the Gray's Anatomy of psychiatry diagnoses), shared psychotic disorder no longer has its own entry; instead, it's part of the section on schizophrenic spectrum ad other psychotic disorders. Notes Medscape, "In the context of a relationship, the delusional material from the dominant partner provides content for delusional belief by the individual who may not otherwise entirely meet criteria for delusional disorder." If the Papin sisters had shared psychotic disorder, the dominant partner would have been Christine; in The Maids, it's Solange.
Murderous Maids (Fr: Les Blessures Assassines), dir. Jean-Pierre Denis. A film adaptation released in 2000 of the novel L'Affaire Papin by Paulette Houdyer. The film was quite well received; Sylvie Testud won the 2001 César Award for Most Promising Actress for her performance as Christine. Additionally, Jean-Pierre Denis was nominated for Best Director, and the film itself was nominated for Best Film. (These last two awards went to Dominik Moll for his work on Harry, He's Here to Help and The Taste of Others, respectively.)
***
Follow The Ghost In My Machine on Twitter @GhostMachine13 and on Facebook @TheGhostInMyMachine. And don't forget to check out Dangerous Games To Play In The Dark, available now from Chronicle Books!
[Photo via Wikimedia Commons.]