Previously: The Hollywood Roosevelt Hotel.
Like many places believed to be haunted, the Whaley House of San Diego, California doesn't look like much. Which isn't to say it doesn't hold a certain kind of beauty to it; on the contrary, it's an excellent example of the Greek Revival architectural style. But it isn't a grand castle; it doesn't sit brooding alone, as Shirley Jackson's Hill House did; the wind doesn't whistle through its cracks, and there isn't an ancient cemetery out back. It has, however, seen a lot of history in the nearly 160 years it's stood at 2476 San Diego Avenue, though — most of which has not been good. Tragedy visited the Whaley family time and time again, from fires to betrayals and — of course — death.
Let's just say there's a reason the Whaley House is thought to be one of the most haunted locations in America.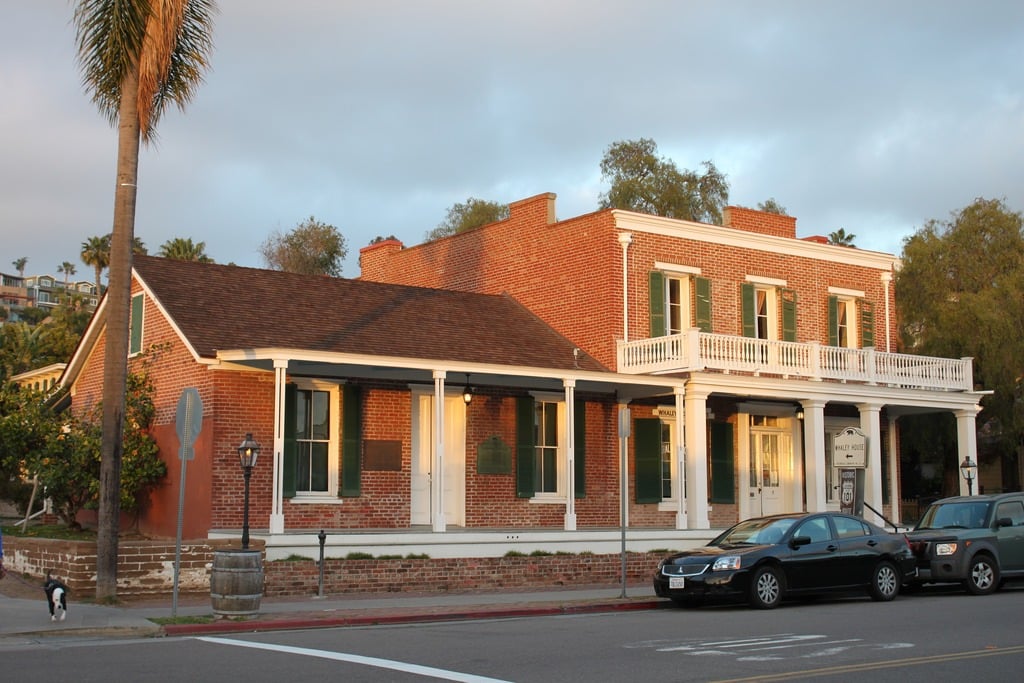 Although the family wouldn't take up residence in the building now known as the Whaley House until 1857, the first Whaley arrived in California in 1849. Thomas Whaley, then 25, seized the opportunity presented by the Gold Rush and relocated from New York to San Francisco. He set up shop with George Wardle, selling hardware and woodwork from his family business, Whaley & Pye; he also dealt in mining equipment. Young Whaley revealed himself to have quite a head for business, eventually opening his own store — only to lose it shortly thereafter to a fire in 1851.
[Like what you read? Check out Dangerous Games To Play In The Dark, available from Chronicle Books now!]
At that point, he moved again, this time to San Diego. His business acumen saw him well through the transition, and by 1853, he had earned enough to return to New York; marry his intended, Anna Eloise DeLaunay; and bring her back to California. They arrived in San Diego at the end of 1853 and began having children almost immediately: Francis, born in 1854; Thomas Jr., born in 1856; and Anna Amelia in 1858. Construction on the Whaley House began in 1856; when it was completed in 1857, the San Diego Herald hailed it as "the finest new brick block in Southern California." But again, tragedy was just around the corner: Thomas Jr. perished from scarlet fever in 1858, and Whaley Sr.'s store burned to the ground for a second time.
The family relocated to San Francisco and remained there for 10 years, during which time three more children were born: George Hay Riggold in 1869, Violet Eloise in 1862, and Corinne Lillian in 1864. After a major earthquake in 1868, Whaley moved the family back to San Diego, fixing up the house and once again taking up residence in it. This time, Whaley ran his business, a general store, out of his own home, with various other rooms being put to other purposes: A theatre troupe occupied the upstairs front bedroom between 1868 and 1869, the San Diego courthouse rented several rooms for storage, and so on.
By the 1880s, the Whaley children had begun to marry. Violet Eloise and Anna Amelia both wed in a dual celebration on January 5, 1882, Violet to George T. Bertolacci and Anna to her cousin, John T. Whaley. But not all marriages are happy, and Violet's? It might not even be fair to call it a marriage at all. Two weeks in, as the couple were returning from their honeymoon, she awoke one morning to find her husband gone. He had absconded with her dowry, leaving her in a socially unacceptable position: Alone, yet not widowed. Their divorce was finalized in 1884, but the humiliation of the ordeal and subsequent depression claimed her life a year later. Violet shot herself on August 18, 1885 at the age of 22, becoming the second Whaley child to die. She left behind a note containing a passage from Thomas Hood's poem "Bridge of Sighs":
Made from life's history,
Swift to death's mystery;
Glad to be hurled,
Anywhere, anywhere, out of this world.
The youngest Whaley, Corinne Lillian, had been engaged to be married at the time of Violet's sad demise; afterwards, however, her fiancé broke off the engagement, leaving Corinne bereft. With so much sadness held within the walls of the home, the family couldn't bear to live their anymore, leading them to move from the fine and elegant Whaley House into a single story home in Downtown San Diego.
The house stood empty for over 20 years. Thomas Whaley retired in 1888, finally breathing his last in the Downtown San Diego home in 1890. But nine years later, Francis, who had married in 1888, returned to the Whaley House and began restoring it. It became the family home once more, with all the remaining Whaleys taking up residence in it; it also served as a historic tourist attraction. But one by one, the Whaleys died; Anna went in 1913, and Francis in 1914. Only Corinne Lillian lived on, occupying the house alone until her death in 1953.
The restoration of the house began once again in the 1960s, and today, it has been restored to its former glory. But some believe that the Whaleys never left. Thomas Whaley has occasionally be seen standing in the parlor and on the upper landing; he wears a frock coat and pantaloons, keeping his face turned away until he fades out of focus. Anna Whaley occupies the downstairs rooms and the garden, floating back and forth dreamily. There are other spirits, as well, ones who may not be related to the Whaleys, but which still lay a claim to the house: "Yankee Jim" Robinson, who had been convicted of attempted grand larceny in 1852 and hung where the house now stands; a woman with a full skirt with dark hair and eyes who does not fit the description of any of the Whaleys; and a little girl in a long dress, whom legend claims was a friend of the Whaley children before accidentally breaking her neck in the backyard. It's worth noting that no children's deaths matching the girl ghost exist in San Diego's historic records — but her mystery still remains.
The Whaley House is open for tours year round; there are both daytime and nighttime options, as well as occasional ghost hunting experiences. As always, I remain unsure of whether or not I truly believe in ghosts — but maybe it's worth a visit to find out.
Resources:
Old Town San Diego Guide – The Whaley House.
The Whaley House – Haunted Folklore.
The Whaley House: America's Most Haunted?
California Through My Lens – Whaley House.
***
Follow The Ghost In My Machine on Twitter @GhostMachine13 and on Facebook @TheGhostInMyMachine. And don't forget to check out Dangerous Games To Play In The Dark, available now from Chronicle Books!