Previously: Lake Shawnee Amusement Park.
Like most of Hollywood, the Roosevelt Hotel is rife with ghost stories from the golden age of the silver screen. First opened in 1927, it played host to all the greats, from Douglas Fairbanks to Greta Garbo. It underwent an extensive renovation in the 1980s, after which its ghostly activity seems to have ramped up quite a bit; no one really knows why, but it's suspected that something that happened during the construction "awakened" the spirits.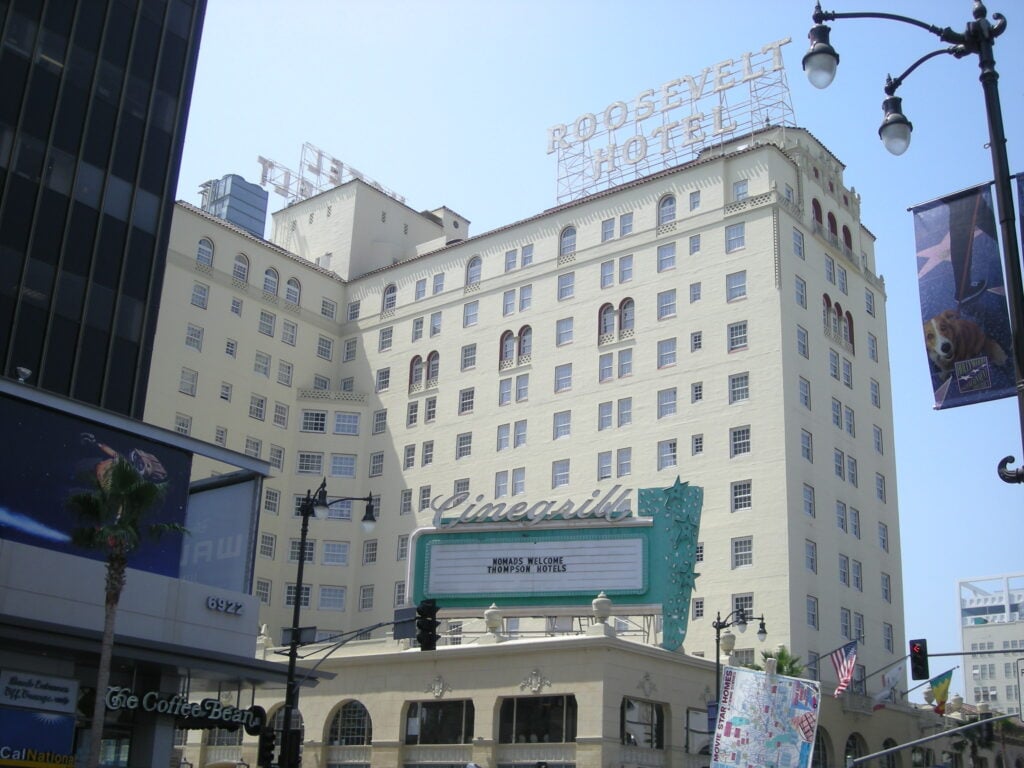 I suspect that most stories of benevolent ghosts begin as a method of coping with the loss of people we cared about — whether we knew them in real life or not. Celebrity is a funny thing; it makes us feel closer to famous people, makes them more accessible to us, makes us feel as if we actually know them. Many of the ghosts allegedly haunting the Roosevelt Hotel were beloved by the public when they were alive — and many of them also died tragically young. It's always sad when someone passes before what should, by all rights, be "their time"; when they show artistic promise, we feel their loss even more keenly, mourning the work they never had the chance to complete. As such, I'm never entirely sure how much stock I should put in stories of Hollywood ghosts; but the stories persist, so here we are.
[Like what you read? Check out Dangerous Games To Play In The Dark, available from Chronicle Books now!]
These days, the Hollywood Roosevelt Hotel is run by Thompson Hotels; it's located at 7000 Hollywood Boulevard in Los Angeles. I've only ever walked by it — but if you've stayed there and have a story to tell, do leave your tale in the comments.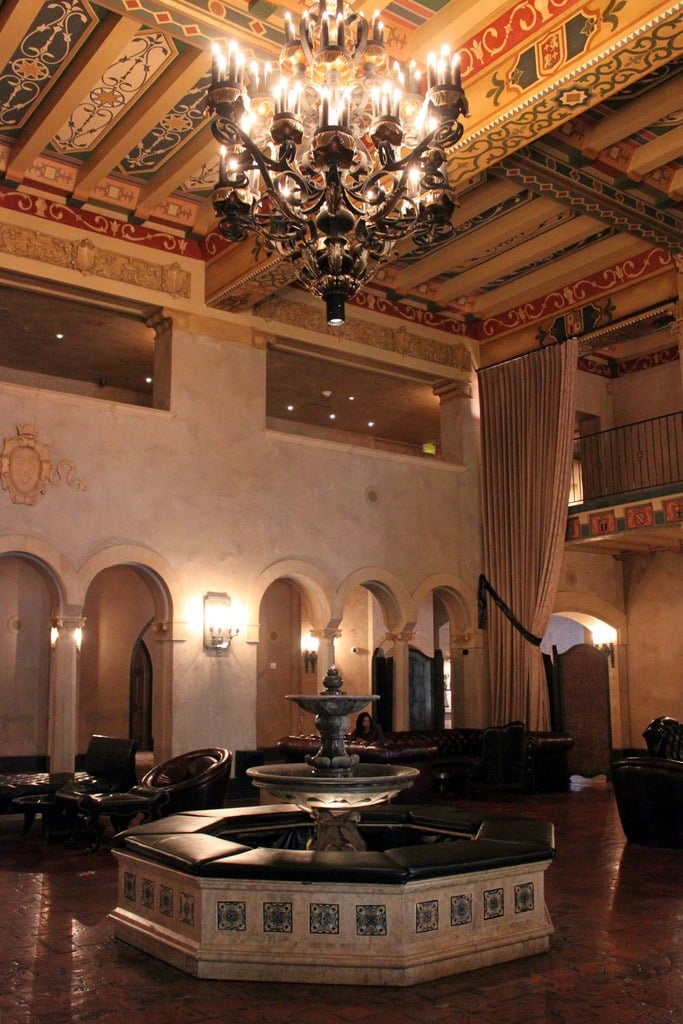 Marilyn Monroe
Marilyn Monroe, née Norma Jeane Mortenson, has a long history with the Roosevelt Hotel. She shot her first print ad on the diving board of the hotel's pool, and throughout the '50s, she made a habit of staying in room 246. Marilyn requested the room be furnished with a wood framed, full-length mirror; she made use of it during her frequent stays, but after her death in 1962, it was moved to the general manager's office. In 1985, however, a maid, Suzanne Leonard, reported that she spotted a blonde woman in the mirror's reflection as she dusted the piece. The woman appeared to be standing directly behind her — but when Leonard turned around, the woman wasn't there. Whether or not the woman was Marilyn — or whether the apparition truly existed at all — remains to be seen. I believe the mirror is in storage at the moment, but it has graced the lobby at various points in time.
Montgomery Clift
A true method actor, Montgomery Clift was one of the most sought-after leading men in Hollywood during the '40s and early '50s. A car accident in 1956, however, left him with serious injuries and a dependence on drugs and alcohol. He suffered a fatal heart attack in 1966 — but while he passed away in New York, some believe that his spirit returned to the Roosevelt Hotel after it left his body. The activity attributed to him centers around room 928, the room he lived in during the filming of From Here to Eternity. He's not malevolent spirit, but he's not exactly a nice one, either — he likes to scare people by tapping them on the shoulder, brushing by brusquely and without warning, and draining the batteries of nearby electronics. Sometimes he practices his bugle, just as he did while rehearsing for From Here to Eternity.
The Cold Spot in the Ballroom
The first and second Academy Awards ceremonies were held in the Roosevelt Hotel's Blossom Room, but although investigators aren't sure whether the cold spot in ballroom's corner has anything to do with it. Venturing into the northeast corner of the room reveals a spot 30 inches in diameter that consistently measures 10 degrees colder than the rest of the room. Psychics have reported the presence of a man in black, waiting anxiously for something; if he was at all connected to one of those early Oscars, we might be able to identify him — but it might be totally unrelated. We'll probably never know.
Caroline
Not all of the hotel's ghosts are grownups. A little girl named Caroline and her brother reportedly drowned in the pool while their father was out running errands once upon a time; since then, she's been spotted — or more often than not, heard — frequently around the hotel. She likes to call up people from the house phone in the lobby (although upon investigation, it appears no one has used the phone), and sometimes she and her brother play in the Jacuzzi (although they leave no wet footprints when they vanish from it). She wears a blue dress, and she's usually looking for her daddy — when she's not asking people to play with her, that is.
Other Tales
The ghosts of Errol Flynn and Carole Lombard are both said to haunted the hotel's halls; Lombard in particular likes to hang out on the 12th floor, where she and her husband, Clark Gable, frequently stayed. Voices can occasionally be heard emanating from unoccupied rooms, and sometimes the sound of typewriters clacking away issues forth from empty offices. A man in white sometimes stands near the piano in the Blossom Room, only to disappear when approached.
As I said, I don't know whether these stories are true, or whether they're just wishful thinking; if you ever stay at the Roosevelt Hotel, though, it can't hurt to be ready for anything — even the unruly dead.
Recommended reading:
The Ghosts and Hauntings of Hollywood's Most Legendary Hotels.
***
Follow The Ghost In My Machine on Twitter @GhostMachine13 and on Facebook @TheGhostInMyMachine. And don't forget to check out Dangerous Games To Play In The Dark, available now from Chronicle Books!