Previously: Horror Riffs & Re-imaginings To Read, Watch, And Play.
There's something about eerie stories set at boarding schools that I just love. It might have something to do with the fact that I attended a school in my teenage years that might, under different (read: more otherworldly) circumstances, be the kind of school at which dark boarding school books might be set. True, I was not a boarding student — the student population was half-and-half boarding and day — but given that I was on campus so much that I basically only went home to sleep, the experience was still… pretty similar.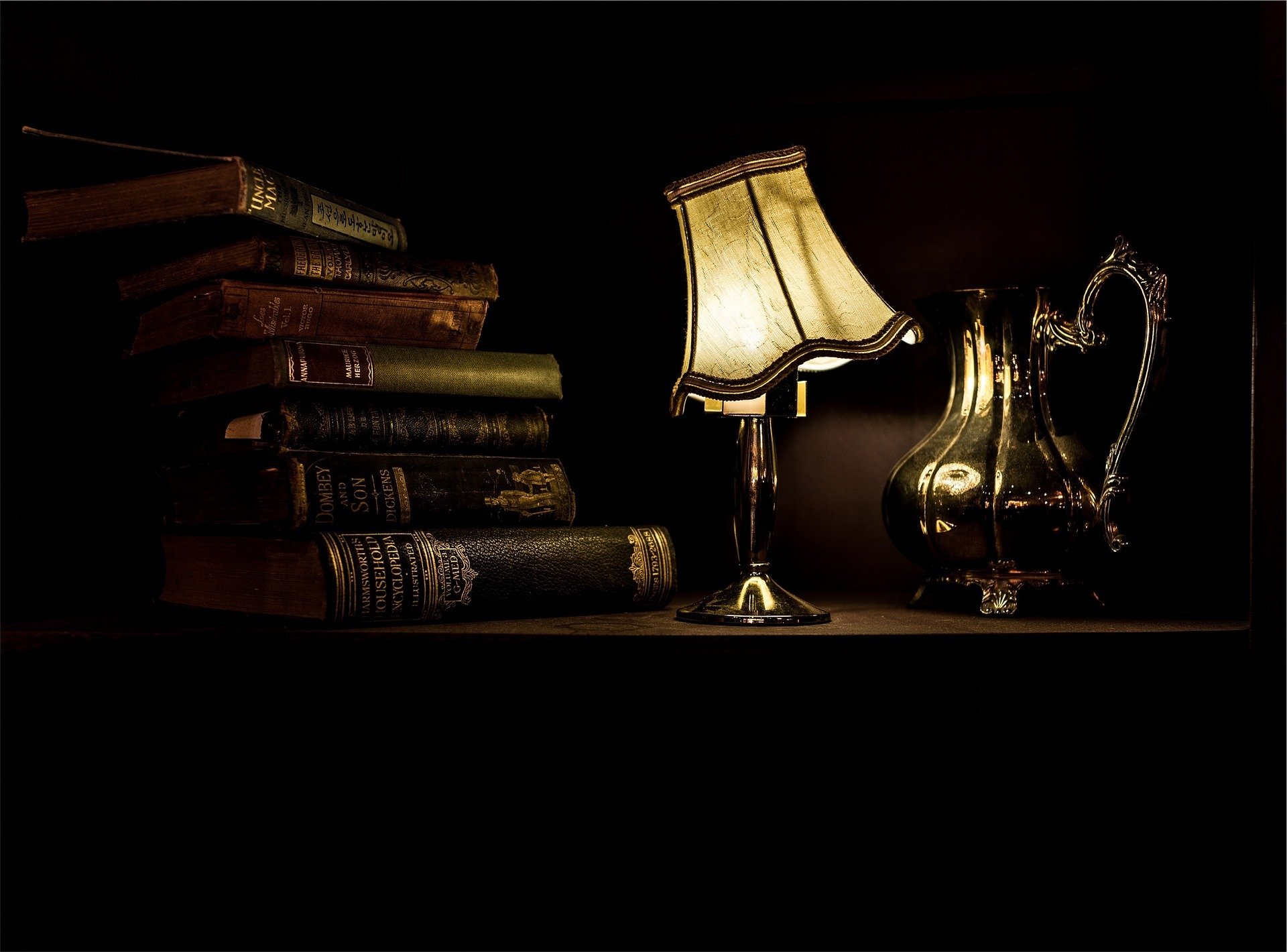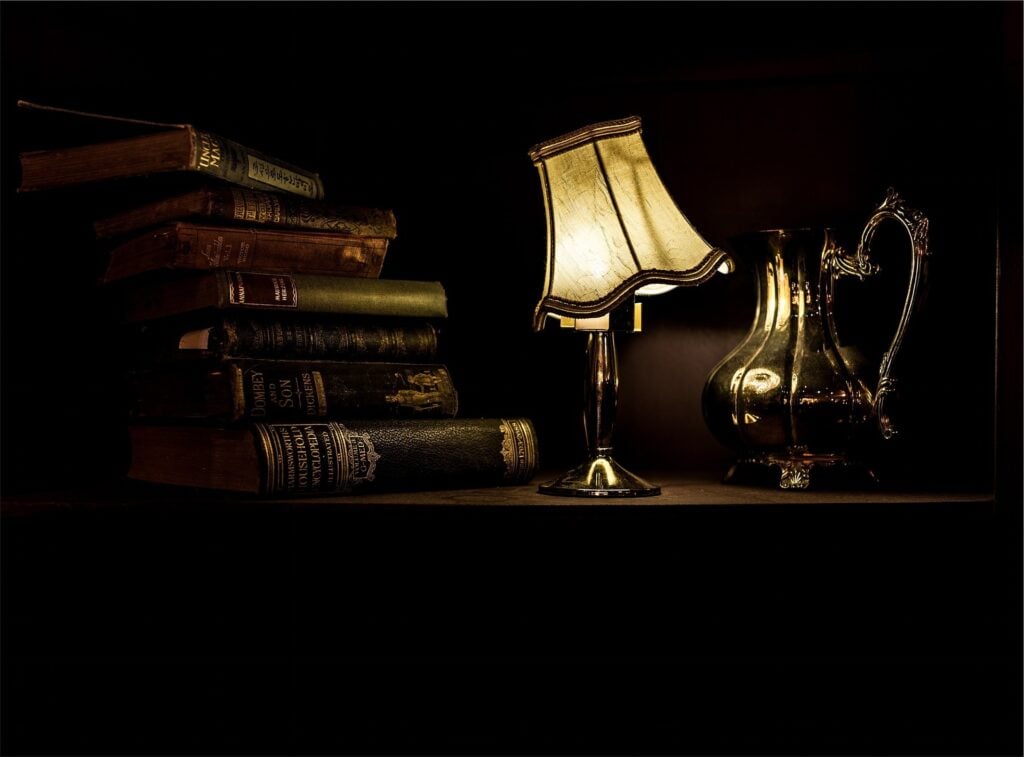 As far as I know, there was no witchcraft occurring on my school's campus; nor were there vast conspiracies or ethically dubious cover-ups. But I've always had the sneaking suspicion that my penchant for these kinds of stories had something to do with my own history with the kinds of schools that feature in them.
[Like what you read? Check out Dangerous Games To Play In The Dark, available from Chronicle Books now!]
Eerie boarding school books and creepy campus novels have obviously been around for ages, but the relatively recent identification of dark academia as both an aesthetic and subculture has given rise to a huge variety of books and stories placed within these kinds of settings. Naturally, I have been devouring them — so, if you, like myself, are something of a dark academia enthusiast (or just have a fascination with odd or unusual boarding schools or universities), here are 15 boarding school books and campus novels to pick up, many of which I have greatly enjoyed myself. Just in time for back-to-school season, eh?
Happy reading, darkly academic friends!
In a version of England that looks like our own, yet not quite, there's a school. The school is called Hailsham, and it houses a community of students who look like regular schoolchildren, and yet are, again, not quite.
And when these students grow up, they become first, like Kathy H., our narrator for this journey, a carer, looking after those who are what carers will eventually become: Donors. They have no choice in the matter; their futures are decided for them from the very beginning. And what they're donating — and where they come from in the first place — are not what you think.
I probably shouldn't say any more than that; part of the punch of this quiet dystopia comes from the penny dropping, and dropping, and dropping again as your ead.
My introduction to Never Let Me Go actually came through the film adaptation of it; released in 2005, it played at only a handful of cinemas in the United States, one of which I was lucky enough to live near at the time. It blew me away right from the first viewing — it's a beautiful adaptation and still one of my favorite films today — and after I discovered it was based on a novel, I pretty much went out and bought it immediately. The novel, too, hit me right where it counts; in fact, this story is one of the rare instances where I find both the original book and its adapted film equally effective.
Ishiguro's most recent novel, 2021's Klara And The Sun, explores similar themes as Never Let Me Go, but through quite a different lens; if you likethis one, you might find that one worth picking up, as well.
Get it here.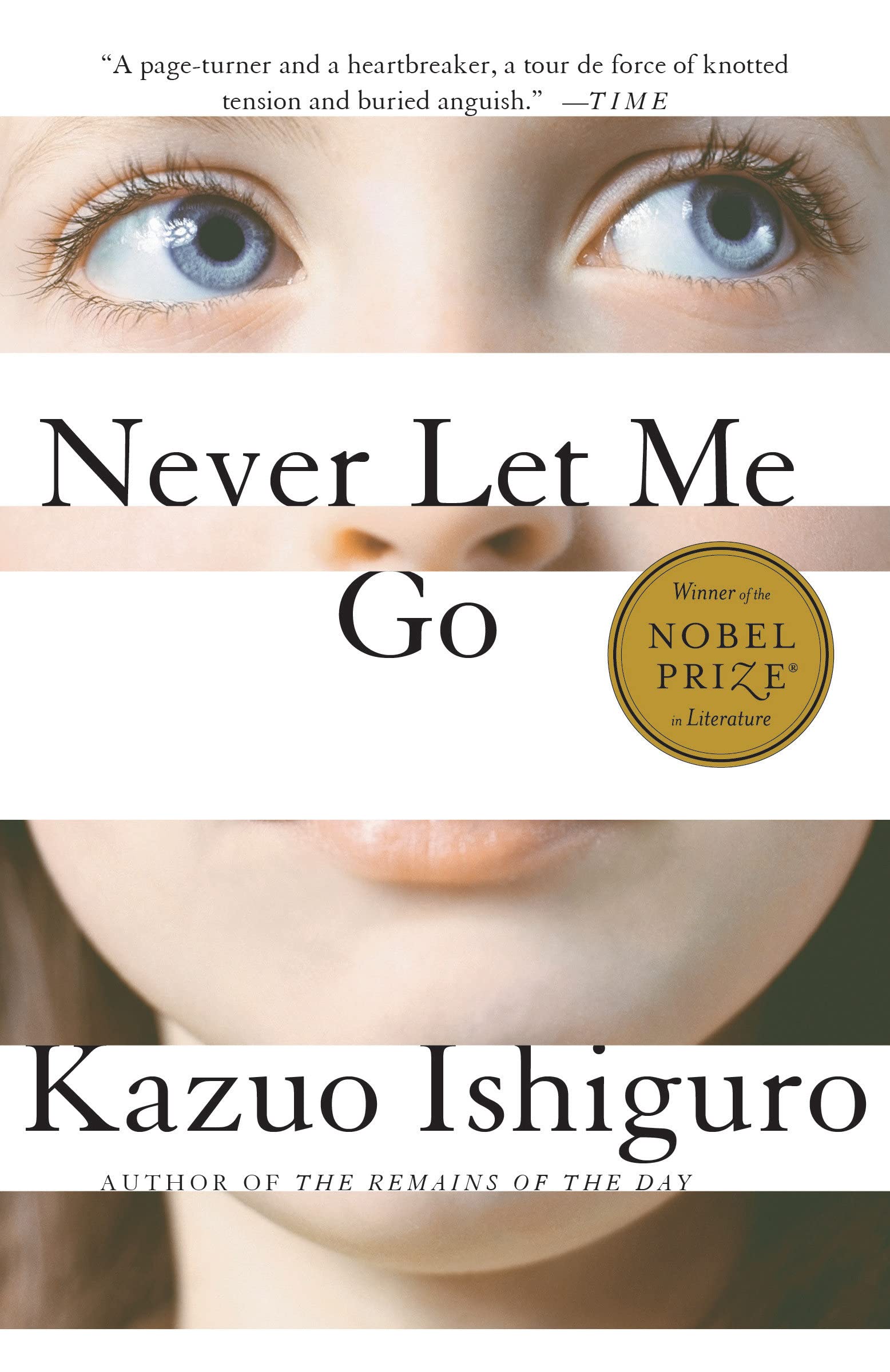 When you are accepted to Catherine House — when you set foot on campus, and find your residence hall, meet your roommate, and make your home — you give the school more than just your education. You give it your whole self. You leave everything behind — your friends, your family, your belongings, your likes, your dislikes; everything. You wear only the school's clothing. You eat only the school's food. You listen only to the school's music. You do not write, or email, or call anyone from your life before.
You are in the house, and the house in the woods. You are in the house, and the house is in you.
The house is appealing to those who have nowhere else to turn, or those on the run, or those seeking to escape… something. The house is appealing to people like Ines. But, as Ines discovers, there is more going on in the house than at first appears. More than just a cult-like atmosphere and the promise that the world will be yours after you finish your three years on campus.
The question then becomes: Are you willing to pay the price for these coveted prizes?
It's easy on the outside to say that no, it's not worth it. But from the inside? It's harder to see the house for what it really is — and that's one of the things Thomas' debut novel really nails.
Get it here.
Sometimes, children wander into other worlds than their own — worlds that sound too fantastical to be real. But it happens; it happens when these children find doors — doors that look slightly out of place, and yet also like they've always been there; they just haven't seen them properly before. The doors tell them one thing before they open them and step through: "Be sure."
But what happens when these children return to their original world? For this world — a world of practicality and plainness, not faeries or mermaids or goblins or vampires — may have remained the same, but the children, oh, they have changed.
These children may find a home at Eleanor West's Home for Wayward Children — a place where they live among others who, like them, found a world that was not theirs, and yet felt more like home than their own, and then suddenly found themselves barred from that world and thrust back into the world from which they came. The school teaches them not to forget, but to cope — and for many, coping includes hoping: Hoping that their doors will once again open for them.
I listened to the audiobook of the first volume in the series — Every Heart A Doorway — during a long weekend spent largely in the car last fall, and, like Nancy and Cade and Sumi Jack and Jill, I fell in, and I fell in deep. I devoured as much of the series was available at the time — six books in total — in less than a month, and I polished off the seventh, released in January of 2022, as soon as I could get my hands on it. The structure is interesting—the first, third, fifth, and seventh books encompass the main storyline, while the second, fourth, and sixth books are supplementary yet standalone. I think you'll get the most out of it by reading them all in order, but the even-numbered books can be read on their own without knowledge of the larger series if you really like.
Beautiful and melancholic and thrilling, this series is what I wanted out of Miss Peregrine's Home For Peculiar Children and then some.
Get the first book here.
At the elite Hampden College in Vermont, there is one professor whose classes in which you cannot enroll — not unless, as Richard Papen learns, you are handpicked to do so by the professor in question. No matter how good your ancient Greek is, or how dedicate to the study of classics you are, you must earn Julian Morrow's stamp of approval before he will agree to teach you.
The result, of course, is an insular clique of students — six of them, once Richard is permitted to join — and blurred lines, and an interdependency both intoxicating and toxic.
It is, in short, a situation ripe for tragedy — and as the group becomes more and more isolated, with alliances and enmities all tied up together in a tangled mass, it seems almost a foregone conclusion that one of them will die. The mystery, though, isn't about who is responsible for the death, but about the events that led up to it — and about how its effects will reverberate through the group in the days, months, and years to come.
Some things, you can't come back from — not ever.
Donna Tartt's debut novel is — to me, at least — her most successful; it's also largely credited with bringing renewed interest to dark academia as a literary subgenre, so if you're into this kind of stuff, it's absolutely a must-read.
Get it here.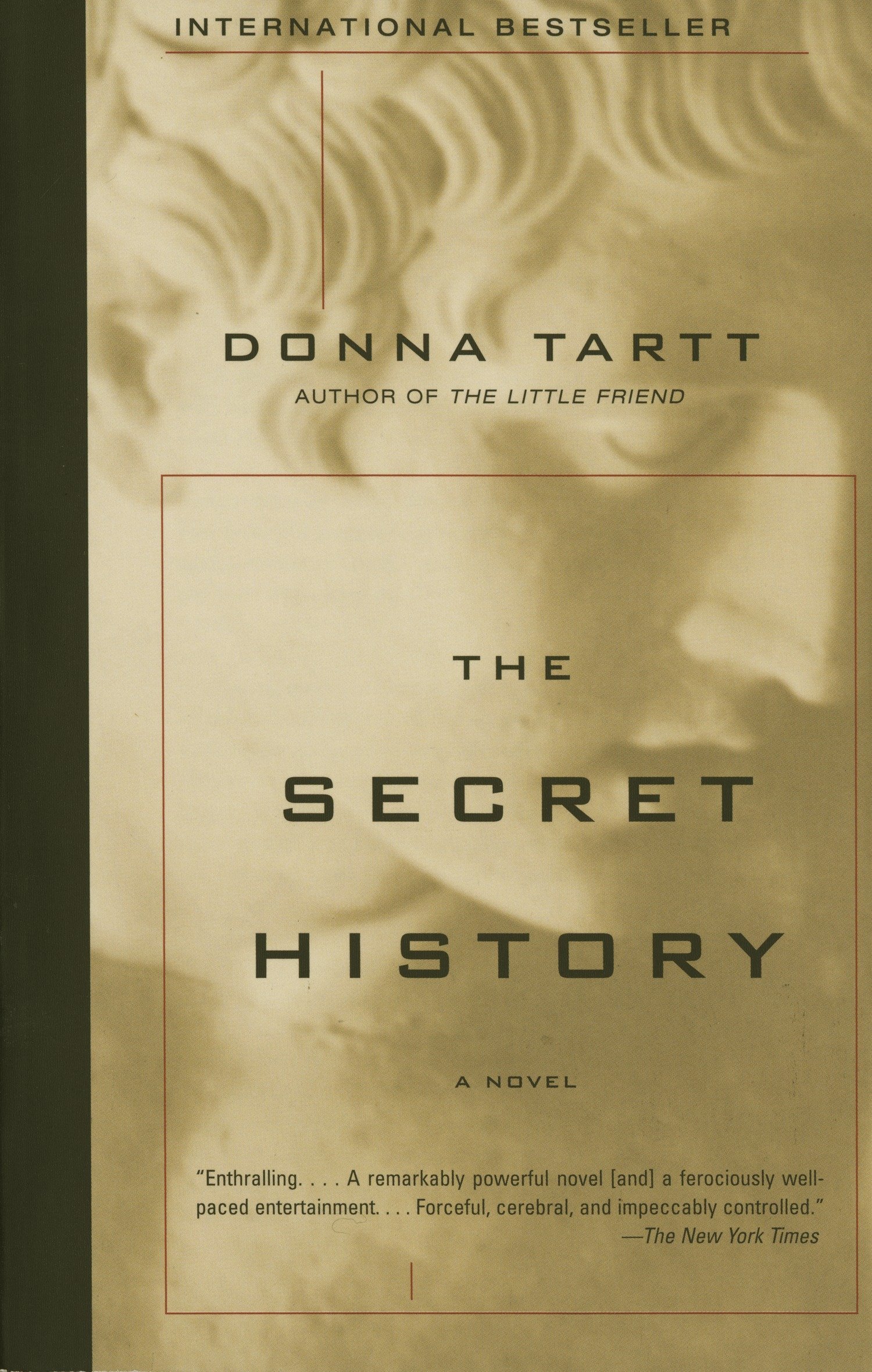 Yale University's "secret societies" aren't quite so secret anymore; most folks know about Skull and Bones, at the very least (thanks, The Skulls), and it's public knowledge that several U.S. Presidents belonged to it. The societies often function as power brokers for the privileged — but in Ninth House, that power isn't just financial or political. It's magic — literally.
In this version of Yale, the group of secret societies known as the "ancient eight" — Skull and Bones, Scroll and Key, Wolf's Head, Book and Snake, Elihu, Berzelius, Mace and Chain, and St. Elmo's — encompass the Houses of the Veil, with each specializing in a different kind of magic. But there's a ninth house, too — Lethe — whose job is to monitor the other houses and keep the balance. It's into this world that Alex Stern — who is not, as she is told time and time again, Yale material, despite her presence there — finds herself pulled, whether she wants to be there or not.
Alex, you see, can see and communicate with ghosts.
And that makes her valuable to Lethe, indeed.
I picked up Ninth House not too long after its release — it came out in October of 2019, and I think I read in early 2020, before the world fell spectacularly apart — and honestly could. Not. Put. It. Down. It's a world Bardugo isn't done exploring yet, either — there's at least one sequel in the works, and she's said that she's interested in writing more in the series if things turn out the right way — and I, for one, cannot wait to return to it myself. There's also a TV adaptation of Ninth House in development for Amazon Studios.
Get it here.
If you prefer your dark academia as a realistically-set thriller, rather than a magical or sci-fi dystopia, Bad Habits may be more your speed — but even though it's positioned firmly in the "real" world, there are plenty of twists and turns to keep you on the
Gwen and Mac are best friends raised under very different circumstances. Both are smart — very smart — but Gwen has advantages Mac does not: Money, a supportive family, a safety net. Mac, however, is driven in a way that Gwen is not — and, years after they first met as teenagers, both fight their way into a cutthroat graduate program where your rapport with the department's power couple could open up every door in the world for you… or slam them all shut.
Things ultimately turn out very differently for Gwen and Mac — but the events that put them both on their separate paths are inextricably intertwined, and equally full of darkness and blood.
Based on Gentry's own experiences in academia, this one is what I might describe as what might happen if The Secret History and The Talented Mr. Ripley came together to produce offspring, with a touch of Gillian Flynn or Paula Hawkins thrown in for spice. I've often joked that this is me reading thrillers:
And Bad Habits? It's definitely an "I'LL SLEEP WHEN I'M DEAD" book.
Get it here.
At the turn of the century, the students of Appleyard College — a boarding school for well-to-do-young women in the Australian state of Victoria — celebrate Valentine's Day with an idyllic picnic at Hanging Rock. Several of them, however, vanish on the trip, disappearing without a trace, never to be seen again.
What unspools from there is a series of tragedies which may or may not be connected to the disappearances. The plot thickens, and thickens, asking many more questions than it ultimately answers. Like The Secret History, Picnic At Hanging Rock is less about the mystery itself and more about the effects that ripple out from it as time goes on — and although some may find that kind of storytelling unsatisfying, for me, what makes it so interesting is interpreting the whole thing for yourself.
You may be familiar with Picnic At Hanging Rock's onscreen presence; the 1975 film adaptation is a classic, and the 2018 television series offers an interesting take on it. Fewer folks these days have picked up the original novel, but it's definitely worth checking out.
For the curious, there is a final chapter that was excised from the novel before its initial publication and later published after Lindsay's death under the title The Secret Of Hanging Rock; it offers a few more concrete answers to what, exactly, happened… but honestly, I could do without it. There's a reason it was cut from the original, you know?
Get it here.
In 1902, Clara and Flo, students at Brookhants School for Girls in Rhode Island, fall in love with the work of queer feminist author Mary MacLane, and with each other — only to meet an untimely end in the apple orchard near the school. In the five years between their deaths at the hands (or, more accurately, stingers) of a fleet of yellowjackets and the school's closing, three more lives are lost, giving rise to rumors of Brookhants being both haunted and cursed.
In the era, a book has been written about the school's dark history, and a movie is now being made based upon it. Brookhants itself is to serve as the shooting location — but as production begins, the cast and crew discover that Brookhants' reputation may be more than just rumor.
Describing itself as Picnic At Hanging Rock meets The Blair Witch Project with lesbians,  Plain Bad Heroines employs dual narratives, both told by a mysterious narrator, to great effect — and with roots in both gothic literature and classic horror cinema with a healthy dose of "cursed movie set" lore thrown in, it's sure to tick a lot of boxes for lovers of spine-chilling stories.
Get it here.
Bunny by Mona Awad
Like Bad Habits, Bunny takes place within a cliquish graduate program — in this case, an MFA program for creative writing. Like The Secret History, Bunny is centered around a small and insular and codependent group of students within their specialized program — the Bunnies, as they're called here. And yet, Bunny is something entirely its own, something with strains of Heathers and The Craft running through it, with a deeply, darkly hilarious bent to the whole thing.
When she arrives at New England's elite Warren University to enter the school's selective graduate program for creative writing, Samantha Mackey immediately finds herself in an us-and-them situation with the other students in her program — women who act the same and dress the same and all call each other "Bunny." But when she is, somewhat surprisingly, eventually invited to join their writing workshop, the "Smut Salon," she finds herself increasingly absorbed in the group — which may, in fact, have more going on than just writing and hanging out together.
Or does it? With the lines of reality increasingly blurred, Samantha's world starts to collapse—and at the center of it all is the Bunnies.
Get it here.
Like your boarding school darkness with a little sci-fi thrown in? Try The Similars, where the students of Darkwood Academy — among them Emmaline "Emma" Chance — suddenly find themselves with six clones joining the student body. The catch? The clones were created using not just stolen DNA, but stolen DNA taken from current Darkwood students.
It's the clones' fault, of course, and Emma supports clone rights — but there's an anti-clone movement growing, too. To complicate matters, one of the clones, Levi, was designed based on DNA from Emma's best friend Oliver, whose recent death Emma is still mourning. And when Emma's roommate Pru is attacked and placed in a medically-induced coma, it becomes clear that something is going on — something sinister — throwing Emma into the thick of it as she tries to unearth not just what's going on, but who might be puppeteering it all.
If dystopian YA is your thing, The Similars offers a thrilling entry into the genre. Also check out the sequel, The Pretenders.
Get it here.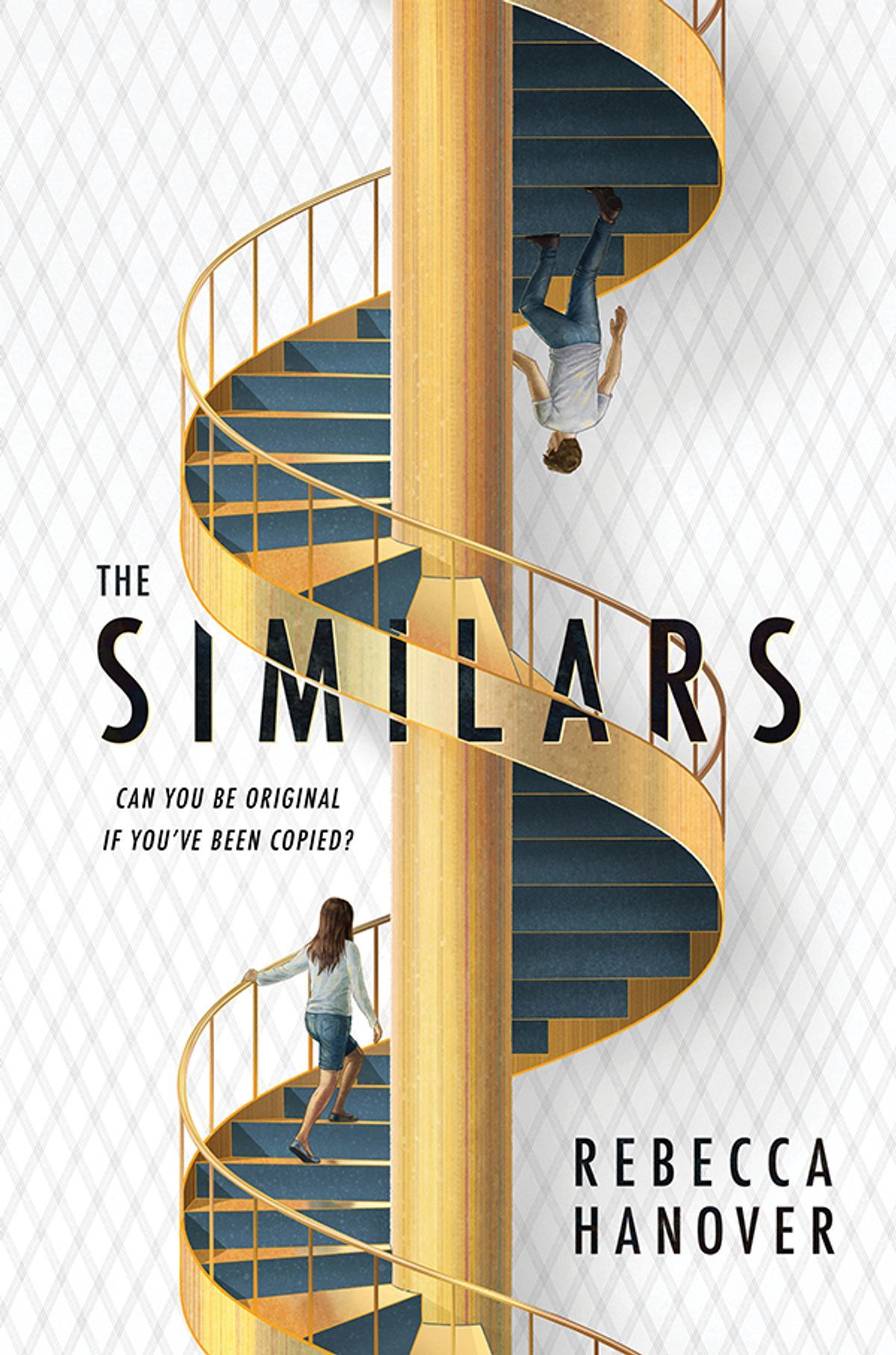 Inside a Victorian manor house on a clifftop above the sea resides Temple House, where wealthy, privileged students receive the finest education money can buy. Louisa, however, attending on scholarship, does not come from the same privileged background as the rest of the student body — and they make sure that she knows it. The exceptions are one other student, Victoria, and their art teacher, Mr. Lavelle. But as this trio become more and more closely enmeshed with one another, things take a turn — and in 1990, it culminates in the disappearance of Louisa and Mr. Lavelle.
25 years later, a journalist begins looking into the incident — and the unearthing of exactly what down all hinges on an interview with the one player left standing: Victoria.
Like a number of entries on this list, The Temple House Vanishing tells two narratives concurrently — one in the past, one in the present — both coming together to create a modern gothic that reviewers have called one of the best of the genre. If gloomy, melancholic tales heavy with mystery resonate with you, this one will certainly be worth picking up.
Get it here.
Black Chalk by Christopher J. Yates
Their first year at Oxford University, six students begin playing a sort of game between themselves — something that might be likened to Truth Or Dare, but all dare, no truth. Or at least, all dare in form; that doesn't necessarily mean that truths won't be involved, of course. It starts small, silly, and innocuous, despite the lofty prize that hangs above them all, waiting for a winner. But it soon grows, and becomes something much more — something dangerous; something that will follow them all for years to come.
I will be perfectly honest in that I was not as taken with Black Chalk as I thought I was going to be. It truly looked like it was going to be Absolutely My Jam when I first acquired, and yet somehow, by the end, it just didn't quite do it for me. But! Just because it ultimately wasn't for me doesn't mean it won't be for you. Black Chalk was widely lauded upon its release (2013 in the UK, 2015 in the United States, described frequently as a puzzle box of a book with a superb unreliable narrator.
Do you like books you can't trust? Then you'll probably dig Black Chalk. Because you 100 percent cannot trust anything it says — and that's the whole point.
Get it here.
Every so often — more often than is comfortable, really — children disappear from the Old Cross School for Boys. The remaining students are always told that their missing classmates ran away, back to their homes — but that's not really the case. It's also not the case that the grey figure roaming the halls at night is "just a tall tale." There are secrets within the walls of the Old Cross School for Boys, you see — and when Charley Winslow begins to uncover them, he has a choice to make: He could let things lie, keep his head down, and pretend he didn't see what he saw… or he could dig deeper and bring those dark, murderous secrets to light.
Guess which he chooses to do?
The Bone Weaver's Orchard comes highly recommended for fans of John Bellairs, so if you, like myself, grew up scaring yourself silly with The Eyes Of The Killer Robot or The House With The Clock In Its Walls, you might enjoy this one. Bonus points for its status as a Bram Stoker Award winner.
Get it here.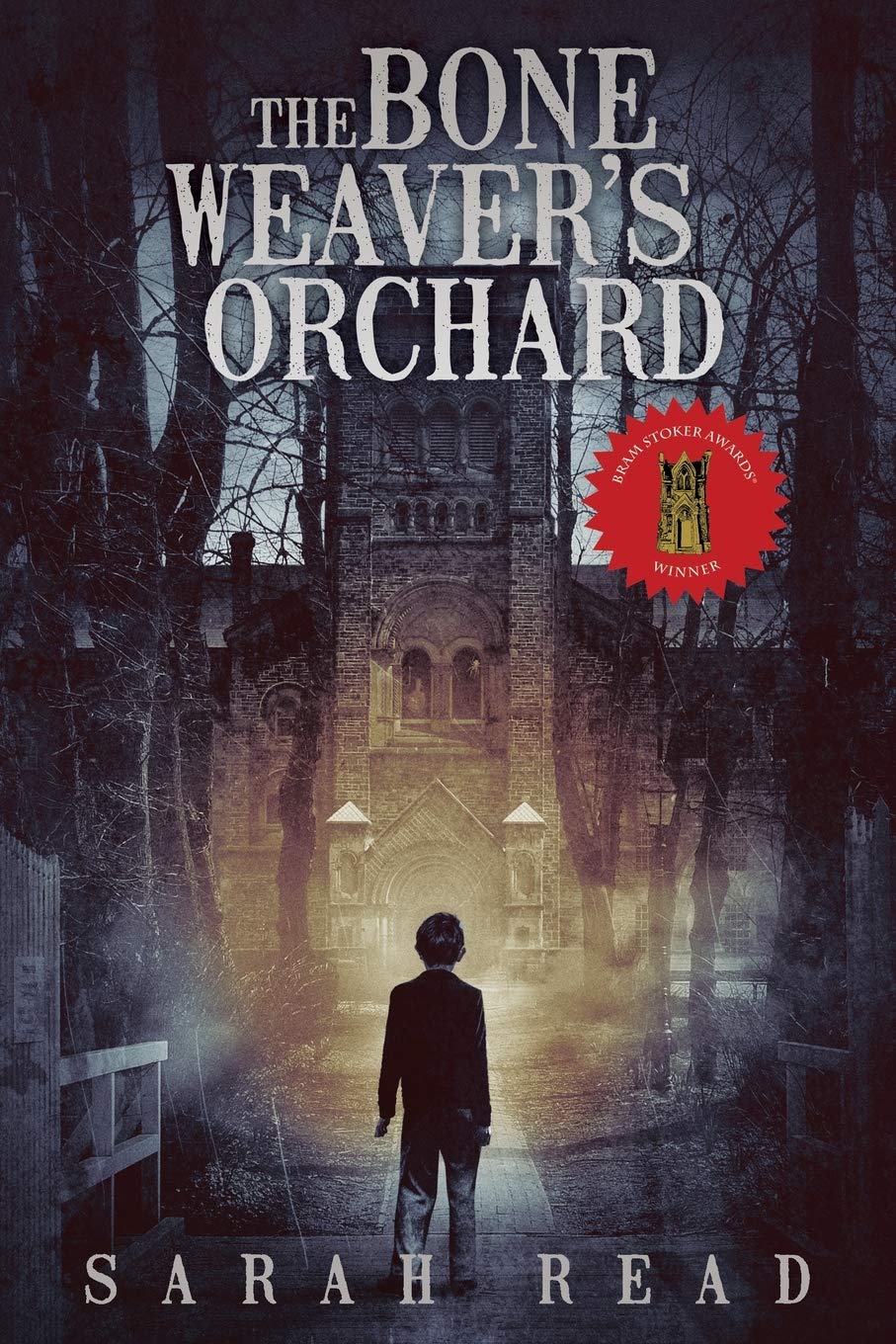 As a former theatre person with a strong background in Shakespeare, I would be remiss not to include M. L. Rio's 2017 debut here. Set not just at any school, but at Dellecher Classical Conservatory — a drama school, which brings with it its own set of… challenges (source: me, I went to drama school, it is a WILD PLACE) — it introduces us to seven young actors who, in their fourth year, become embroiled in their own Shakespearean plot, full of tragedy, betrayal, and, of course, blood.
One of the seven — Oliver — goes to prison for the murder for 10 long years.
But whether or not he actually committed the murder is… not so cut-and-dry. And on the eve of Oliver's release, the detective who was in charge of the case — but who was never convinced that Oliver was actually responsible for the crime — asks him what really happened all those years ago.
The time has come for these bodies to high on a stage be placed to the view, while we speak to the yet unknowing world how these things came about. (Okay, yes, I know Lear is the central play here, not Hamlet, but the quotation is apt, no?)
This one may not be to everyone's taste; it doesn't require in-depth knowledge of Shakespeare's works to enjoy, but I do think it helps if you're more than passingly familiar with the canon. Still, though — the stakes don't get much higher than they are here.
Get it here.
Idlewild Hall was once a fixture of the town in Vermont in which it's located — not a school for the privileged, but one for the troubled, for the girls who didn't fit in elsewhere, who didn't want to fit in. It's also rumored to be haunted — and in 1950, when one of its students goes missing, those rumors begin to grow.
In 2014, journalist Fiona Sheridan is still coping with her older sister's death two decades prior: Her remains were found in a field near the now-abandoned grounds of Idlewild Hall. When Fiona learns that Idlewild's ruins have been purchased and will be restored, she gets to work on a story about the place — but it's not just the school that's being excavated. Its memory is, too — and all the hidden truths those memories hold.
As was the case with Black Chalk, this one ended up being less for me than I thought it would be when I first cracked it open. Again, though, even if it wasn't for me, it might still be for you; lots of folks love The Broken Girls, and if some of the other themes and tropes that have come up with some frequency on this list — dual narratives; a place with a mysterious past; a journalist who, in the present, decides to dig into the mystery — are ones you typically enjoy, it might be just your cup of tea.
What is fun — the part of it I actually did enjoy — is the way The Broken Girls keeps you guessing about the ghost story. Is the campus actually haunted? Is it someone decidedly corporeal hoping to make it look like the school is haunted? Is the "ghost" simply a reflection of Fiona's own psyche? There are answers eventually, but getting there is a twisting, turning road.
Get it here.
***
Follow The Ghost In My Machine on Twitter @GhostMachine13 and on Facebook @TheGhostInMyMachine. And for more games, don't forget to check out Dangerous Games To Play In The Dark, available now from Chronicle Books!
[Photo via StockSnap/Pixabay]