Previously: Jólakötturinn, The Yule Cat.
Type: PE (Preternatural Entity).
Period/location of origin: Debatable. According to some reports, subject, known as Père Fouettard in French (in English, "Father Whipper"), dates back at least to the 12th century AD; according to others however, he originates several centuries later, in 1552. His country of origin is France, although the region is also up for debate. He is sometimes said to come specifically from the city of Metz in the French region of Lorraine; other times, though, he is merely identified as being from the northeast of France, where Lorraine itself is located.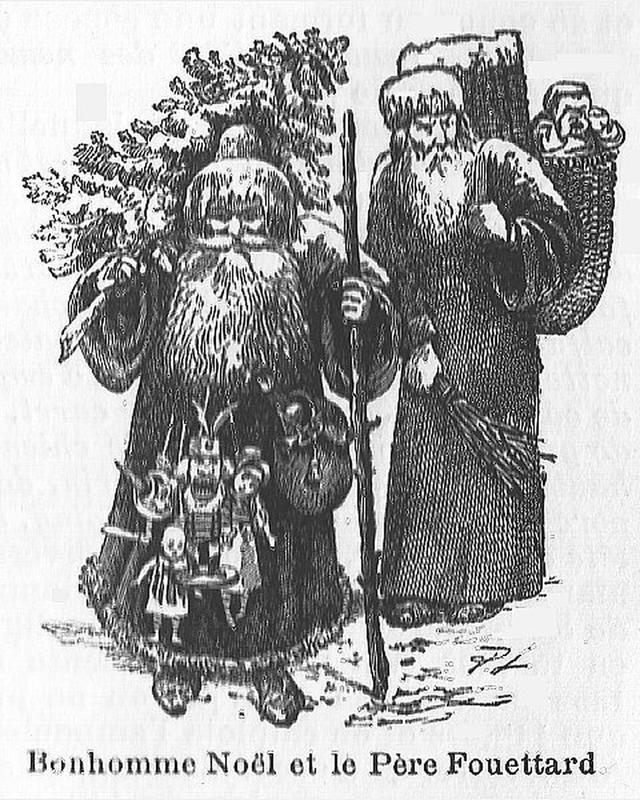 Subject is not to be confused with the (rather problematic) Dutch figure who sometimes shares his name. (He may also be known by a different name in the Dutch language, but the two are frequently tied together as the same character.)
Appearance: Subject appears to be an elderly man with long, unkempt hair, a scraggly, knotted beard, and an ill-tempered disposition. He is dressed in dark-colored robes, and may or may not carry a whip and/or a large stick or bundle of sticks in his hand and/or a pack or sack on his back.
It should be noted that although subject appears to be human, he is not. Or at least, he isn't anymore.
Modus operandi: Subject traditionally accompanies Saint Nicolas as he travels around from household to household on the evening of Dec. 5 — the evening before Saint Nicolas Day, which is observed on Dec. 6 — assessing the behavior of the children of the household. If the children are determined to have behaved well over the course of the previous year, Saint Nicolas will leave sweets or other trinkets for them as a reward. Typically, these sweets or trinkets are left in the children's shoes. If they are determined to have behaved badly, however, Saint Nicolas will eschew leaving gifts and instead clear the way for subject to perform his duties.
Should subject's services be required, he will do any or all of the following: Leave coal for the badly-behaved children; deliver beatings to the badly-behaved children with his whip, stick, or bundle of sticks; and/or abduct the children, depositing them in his pack for easy transportation and later consuming them.
Containment: None. He's coming to visit, whether you want him to or not.
Additional notes: Several origin stories have been attributed to subject. Which of them is true — if any — has not yet been determined.
The oldest story dates back to the 12th century; it's usually dated around 1150. In this story, subject is either a butcher or an innkeeper who captures several wealthy children on their way to boarding school. The butcher/innkeeper — sometimes with the help of his wife, sometimes on his own — murders the children in order to rob them of their money; then he dismembers the children and cooks or stews their remains. Saint Nicolas, however, gets wind of the butcher/innkeeper and his crimes, descends upon him, and resurrects the dead children. Ever after, subject has been required to function as Saint Nicolas' companion on the evening before Saint Nicolas' Day.
According to some reports, subject volunteered to serve as Saint Nicolas' companion in an effort to repent for his crimes. According to others, however, subject was forced into servitude as a punishment for those crimes.
A different origin story, however, dates back only to 1552. In this story, subject is a sort of amalgamation of several incidents and events that occurred at roughly the same time. First, Charles V of the Holy Roman Empire made the ill-advices decision to attempt to lay siege to the city of Metz. The siege was not successful, and following his defeat and withdrawal, the city's tanners created an effigy representing Charles, set it on fire, and dragged it through the streets. The burning of the effigy coincided with Saint Nicolas' Day. Subject, it is believed, may have subsequently arisen out of the combination of these incidents and events.
Subject's relationship to a different subject previously documented in this Encyclopaedia — Krampus the so-called "Christmas demon" — is unclear. There do seem to be several similarities — the date on which they are active; their role as a companion to Saint Nicolas/St. Nicholas; the duties they are meant to carry out in this companion role; etc. — but whereas Krampus may firmly be classified as a DB (Demonic Being), Père Fouettard's classification is both slightly different and a bit less defined.
Subject may also have led to the birth of another related figure in English language traditions: Father Flog, who is believed to have emerged from an English translation of a 19th century version of subject's story produced as an illustrated comic in the United States in the 1930s. Along with his wife, Mother Flog, Father Flog functioned as a bogeyman intended to frighten children into behaving.
Father Flog is depicted as a tall man wearing an old top hat, a high-collared shirt and jacket, breeches, stockings, and buckled shoes. Mother Flog is depicted as wearing a frilled bonnet, a billowing jacket, voluminous skirts, and buckled shoes. Father Flog's MO includes abducting badly-behaved children and transporting them to jail; cutting out the tongues of lying children; and caging overactive children to keep them still. Mother Flog, meanwhile, catches thieving children and children who attempt to avoid attending school; however, she appears to be somewhat more lenient than her husband, sometimes giving good children sweets and releasing previously naughty children who have repented of their bad deeds.
It should be noted that, unlike subject, Father and Mother Flog's activities are not limited to the winter holiday season. They may strike at any time of year.
Recommendation: Be good for goodness' sake…
…Or else you may end up as subject's supper.
Resources:
Père Fouettard at History Daily.
The Dark Origins of Santa: St Nick and the French Cannibal Le Père Fouettard.
Le Père Fouettard: The French Christmas Cannibal Who Serves Santa Claus.
No Mistake, The Real Père Fouettard Is From Lorraine. (In French.)
Giants, Monsters, and Dragons: An Encyclopedia of Folklore, Legend, and Myth.
[Photo available via the public domain.]