When Squid Game debuted on Netflix earlier in September, no one really expected it to become as popular as it has. I mean, it's truly terrific television, so in many ways, it's understandable that it did — but at the same time, its extreme popularity took most people by surprise. And you know what also took people by surprise? The fact that folks actually started calling the Squid Game phone number, thinking that maybe it might be real.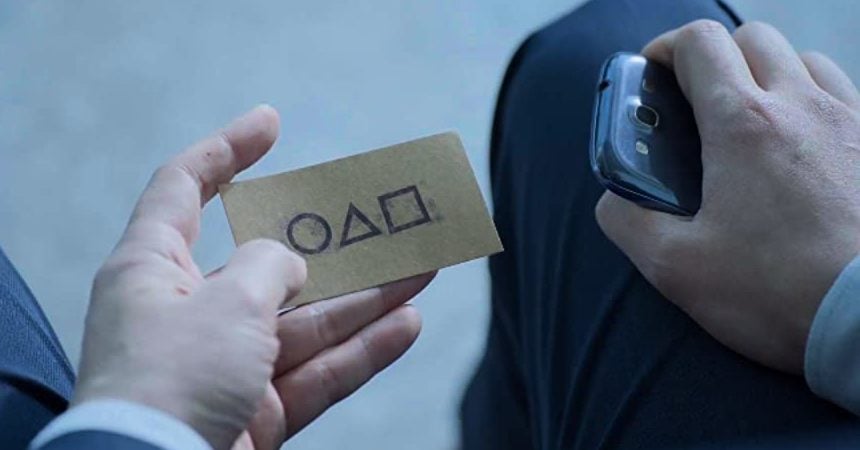 There's a problem with this unexpected development, though: That phone number is, in fact, a real number. But not one set up for the show; it's actually in service, and has long been assigned to a private citizen. So, a plea: Please don't call the Squid Game phone number.
Why the series didn't just use a made-up number escapes me, but, well… here we are.
Update: According to the Independent, Netflix is working on possibly removing the number from the series, or at least making it more difficult to see in its entirety. Said a spokesperson for the streaming service to the paper, "Together with the production company, we are working to resolve this matter, including editing scenes with phone numbers where necessary."
[Like what you read? Check out Dangerous Games To Play In The Dark, available from Chronicle Books now!]
Previously: In the event that you have somehow missed it, Squid Game (오징어 게임, or Ojing-eo Geim) is a South Korean television show that arrived on Netflix on Sept. 17. Created, written, and directed by Hwang Song-hyuk and starring an ensemble cast including Hwang Dong-hyuk, starring Lee Jung-jae, Park Hae-soo, Oh Yeong-su, Wi Ha-joon, Jung Ho-yeon, Heo Sung-tae, Anupam Tripathi, and Kim Joo-ryoung — all excellent, by the way — it centers around a group of 456 people who choose to participate in a mysterious contest in which they are whisked away to an undisclosed location and tasked with making it through six rounds of children's games. The prize for doing so is 45.6 billion won (about $38.7 million USD) — but although the games are of the kind commonly played on the playground, they're far from gentle or fun. In fact, they're downright murderous.
The series is sort of like a cross between Battle Royale and the manga Liar Game (except, y'know, Korean, not Japanese), so if that kind of thing is your jam, you'll probably dig Squid Game. It certainly is for me; I powered through it all in a matter of days.
The people who enter the contest — all targeted by the organization that's arranged the whole thing due to their severe debt — do so by calling a phone number on a business card they're given at the point of first contact.
And here is where the problem lies: The phone number on the business card actually exists in South Korea; it belongs to a real human. And according to the Korea Times, the poor fella who has it — and has for the past decade — has been getting inundated with phone calls from people who saw the number on the show and decided to dial it.
Y'all, please don't do this. Leave the man alone.
Per the Korea Times, the man to whom the phone number belongs is in his 40s and lives in Gyeonggi Province — the province surrounding Seoul. He's been using the number for around 10 years; it's also associated with his business, so changing it isn't really an option. His spouse has a similar phone number, which differs from the number in question by a single digit.
But since Squid Game debuted, he's been getting thousands of calls and texts a day, at all times of the day and night — many from people who sounded young enough to be kids, and who said upon the phone being answered that they "wanted to be in the game." Others seem just to have called it out of curiosity, which I suppose is understandable, given the fact that it's not uncommon for pieces of media to set up tie-in phone numbers and messages as Easter eggs for viewers.
But, uh, this situation is obviously… not great, although the Korea Times' sibling paper, the Hankook Ilbo, Netflix has said that the production company behind Squid Game is "in negotiations with the phone number owner to resolve the issue."
A South Korean presidential candidate, Huh Kyung-young, has also reportedly offered to buy the number from the man currently assigned to it for 100 million won (about $84,468 USD), although whether or not he's really serious about it remains to be seen. He's apparently known for his "eccentric campaign pledges," as the Korea Times puts it, so do with that what you will.
Regardless, here is a PSA: Please stop bugging this poor guy. Yes, I know it's fun to call spooky, scary, seemingly cursed or haunted phone numbers. In fact, many novelty lines currently exist expressly for this purpose. But now that it is public knowledge that the phone number in Squid Game belongs to an actual person, please, please, please do not call it.
To be fair, there is probably a low chance of viewers outside of South Korea calling it successfully; since it's an international number, you'd have to make sure you dial it correctly in order for the call to go through — meaning you'd have to dial out from your country, dial into South Korea, and then call the number in question. Plus, there's the matter of the charges associated with calling internationally, which are not cheap.
But still: Don't do it. Have mercy on the man.
You know what you can do, though? Play the game from which Squid Game gets its title. If you're a Western viewer, you're probably not as familiar with the titular Squid Game as you are with some of the other games played in the show — Red Light, Green Light, for instance, or Tug Of War — but there's plenty of information about it floating around the internet, and in a variety of different languages, at that.
Just maybe… don't do what they do with it in the show.
For your own safety.
***
Follow The Ghost In My Machine on Twitter @GhostMachine13 and on Facebook @TheGhostInMyMachine. And don't forget to check out Dangerous Games To Play In The Dark, available now from Chronicle Books!
[Images via Netflix]