Previously: Red QR Codes.
(CW: Suicide.)
Type: PE (Preternatural Entity).
Period/location of origin: In his earliest form: Early- to mid-19th century, England. In his current form: Unknown.
Appearance: Subject, known colloquially as the Crooked Man, may appear in any number of guises.
To some, he appears as a male-presenting human with a drooping eye, dressed in a pinstripe suit, and carrying a cane to aid with his stooped posture. To others, he appears as a humanoid figure with blank, empty eyes, a garish grin, and his head crooked sharply to one side. To still others, he appears as an excessively tall humanoid figure with unnaturally sharp teeth, wearing a bowler hat, dressed in a suit, and carrying an umbrella. (Whether this version of subject is related to the subject of a previous entry to this Encyclopaedia — one who also appears as a tall and slender humanoid with a predilection for suits — has not been determined.)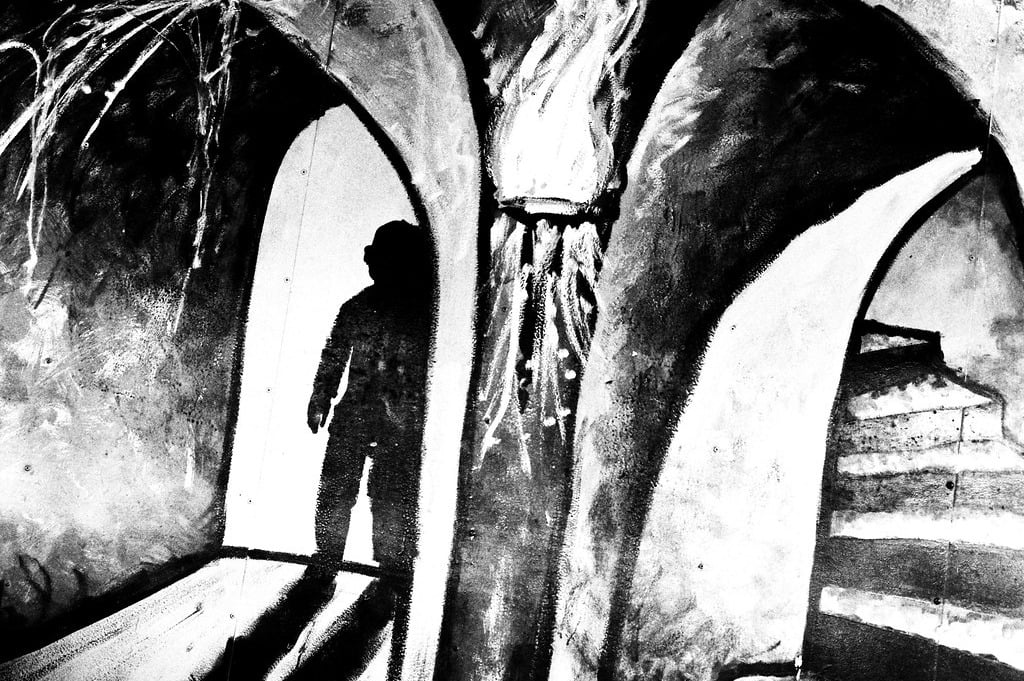 Some reports do not describe his appearance at all beyond mention of his identifying epithet — he is simply the Crooked Man.
It is possible subject is capable of shape-shifting, which may explain subject's various appearances.
Then again, perhaps subject's appearance lies solely in the eye of the beholder.
[Like what you read? Check out Dangerous Games To Play In The Dark, available from Chronicle Books now!]
Modus operandi: In his earliest form, subject was not known to have any particular modus operandi. He simply walked the roads near his home, found a small amount of money as he did so, purchased a pet with the money, and lived with the pet and a small rodent within his aforementioned home.
This modus operandi has been described in a short nursery rhyme:
"There was a crooked man who walked a crooked mile.
He found a crooked sixpence against a crooked stile.
He bought a crooked cat, which caught a crooked mouse,
And they all lived together in a little crooked house."
In his current form, subject lies in wait until a target is in view. Targets self-select by daring to recite aloud a poem about subject — usually an extended version (see: Additional notes), although it is possible that the shorter nursery rhyme may suffice. Target's recitation of the poem may be seen as an invitation to subject — or perhaps even a summoning of him: Once the poem has been recited, subject will descend immediately upon target and proceed to visit every imaginable hardship upon them, as well as some hardships so terrible as to be unimaginable. These hardships may be physical, mental/emotional, or both.
Subject's end goal is target's expiration — although who is ultimately responsible for target's untimely end varies depending on a handful of other factors.
Containment: An ounce of prevention is worth a pound of cure: Simply do not recite the poem. Because once he has arrived, there is no known method of containment.
Additional notes: Subject has not always been dangerous.Indeed, in the first published documentation of subject currently available — that is, the earliest extant mention of subject — reads only as follows:
"There was a crooked man, and he went a crooked mile,
He found a crooked sixpence against a crooked stile;
He bought a crooked cat, which caught a crooked mouse,
And they all liv'd together in a little crooked house."
This mention is dated 1842; the source is The Nursery Rhymes Of England, edited by James Orchard Halliwell (sometimes credited as James Orchard Halliwell-Phillipps). However, it should be noted that although this instance marks the first time subject is known to have appeared in print, and therefore marks where the documented paper trail of subject begins, it is not necessarily subject's origin. The volume states that the rhymes contained within it were "collected principally from oral tradition"; Halliwell-Phillips is therefore credited with collecting documentation of subject, though not with the invention of subject itself.
It has been proposed that subject may have been inspired by Scottish general Sir Alexander Leslie, 1st Earl of Leven, who commanded the Covenanter Army in support of the Solemn League and Covenant between 1644 and 1647. The "crooked stile" in this interpretation is said to represent either the border between England and Scotland or the alliance between England and Scotland's parliaments, while the "little crooked house" in which they all "lived" has been likened to the uneasy agreement between the two nations.
Alternatively, it has been suggested that subject's dwelling is a reference to the village of Lavenham in Suffolk, England. Lavenham, once a major player in the wool trading industry, is full of houses which, during a period of rapid growth, were built using green lumber — not a recommended practice due to the fact that wood warps as it dries. Better to wait until the wood has dried, then build with it. Lavenham's houses demonstrate this principal action: The houses built with green lumber are all misshapen — crooked — having become as such after the wood used in their construction dried.
However, despite these theories, the rhyme's author and subject's true origins remain unknown.
Mentions of subject appeared primarily as variations on the 1842 rhyme for some years thereafter, including in the 1851 volume Aunt Mary's Little Series: The Crooked Man And Other Rhymes, the 1912 volume Little Songs of Long Ago: "More Old Nursery Rhymes," and later editions of The Nursery Rhymes Of England. At this time, subject was not malevolent; he simply was what he was — unusual, perhaps, but no cause for concern.
However, at some point — it is not clear when, although the late 20th/early 21st century seems likely — the rhyme associated with subject… changed. It grew longer, gaining several verses and becoming a full poem. And it is with these new additions that subject himself seems to have changed, as well.
The poem is now commonly understood to read as follows:
"There was a crooked man who walked a crooked mile,
And he found a crooked sixpence against a crooked stile.
He bought a crooked cat who caught a crooked mouse,
And they all lived together in a crooked little house.
But the crooked man was sad and once he had a thought:
Why should he be crooked, when others, they were not?
Everything was worthless, he heaved a great big sigh,
And he went and found a rope and tied it to the sky.
Upon a chair he stood, his eyes were blank and dead.
Without another thought, he went and hung his head.
Now the story's not yet over, for this tale is mythed and old
Go hide under the cover… There's something not yet told.
There once was a crooked man, who had a crooked smile,
And if you've lived his life, he'll send you through a trial.
He lives for your torment, makes it full of strife,
And he won't be content… Until you take your life."
Here, we see subject to be not simply a slightly unusual man who lives in his slightly unusual house with a bevy of slightly unusual creatures; he is coping with a great deal of discontent and melancholy. He then dies by suicide.
In the final verse, we see a new modus operandi emerge: One in which subject, now no longer alive nor, possibly, human, seeks to ensnare targets and torment them until they also die by suicide.
According to a warning sometimes attached to this poem, subject enacts this modus operandi as previously described — that is, when the poem is recited aloud, subject is summoned and both the person or people who performed the recitation become targets.
The author of this extended version of the poem and the source of the warning attached to it remain unknown.
And then, later still, another version of the rhyme emerged — shorter than the previously cited poem, but even more malevolent. In this version, the original first verse is followed by these lines:
"The crooked man stepped forth
And rang the crooked bell,
And thus his crooked soul
Spiraled into a crooked Hell.
Murdered his crooked family,
And laughed a crooked laugh."
A further warning sometimes attached to the various rhymes and poems associated with subject appears to reference this version directly: According to this additional warning, targets are not only those who recite the poem, but also those who live with the reciter or those who are regularly within close proximity of them. Furthermore, targets may either die by suicide, or by the hand of subject himself.
It is perhaps worth noting that this final version of the rhyme has a definite source: It is an invention of The Conjuring film universe, where it is spoken by the shape-shifting, bowler hat-wearing version of subject in The Conjuring 2 (2016).
Other versions of subject may be seen in the video games The Crooked Man (2012, remastered 2018) by independent developer Uri and The Wolf Among Us (2013-2014) by Telltale Games. The Wolf Among Us, itself adapted from the Fables comic series, in turn received a graphic novel adaptation in 2014 and 2015.
A final note regarding subject's current malevolent persona:
Whether subject turned malevolent of his own volition has not been determined.
It is possible that now, he is simply what we have made him into.
Recommendation: Don't recite poem.
Don't allow yourself to be consumed by jealousy.
Practice compassion — towards yourself, and others.
Don't turn people into monsters if they're just a little different.
Remember that there are worse things than to be a little off-kilter.
Resources:
"There Was A Crooked Man" at the Poetry Foundation.
The Nursery Rhymes Of England.
"The Crooked Man," extended version.
The Crooked Houses Of Lavenham.
The Crooked Man in The Conjuring 2.
The Crooked Man video game, translated by vgperson.
The Crooked Man video game on Steam.
The Wolf Among Us by Telltale Games.
Fables: The Wolf Among Us at Comixology.
***
Follow The Ghost In My Machine on Twitter @GhostMachine13 and on Facebook @TheGhostInMyMachine. And don't forget to check out Dangerous Games To Play In The Dark, available now from Chronicle Books!
[Photo via Steve Snodgrass/Flickr, available under a CC BY 2.0 Creative Commons license.]