Previously: The Elevator Game, Revisited.
Note: Please don't copy/paste or republish the text of this post on other websites without permission.
There isn't much to the Japanese ritual game usually called One Man Chit-Chat (or One Person Chit-Chat, if you prefer — I certainly do); all you really need to do is set up two chairs in a dark room, sit down in one of them, and start talking. If all goes as it's meant to, then you'll end up with a… correspondent of sorts in the other chair. They might not be visible to the human eye — but they're there. You'll know they are. You just need to pay attention. Think of it like having a conversation with a ghost.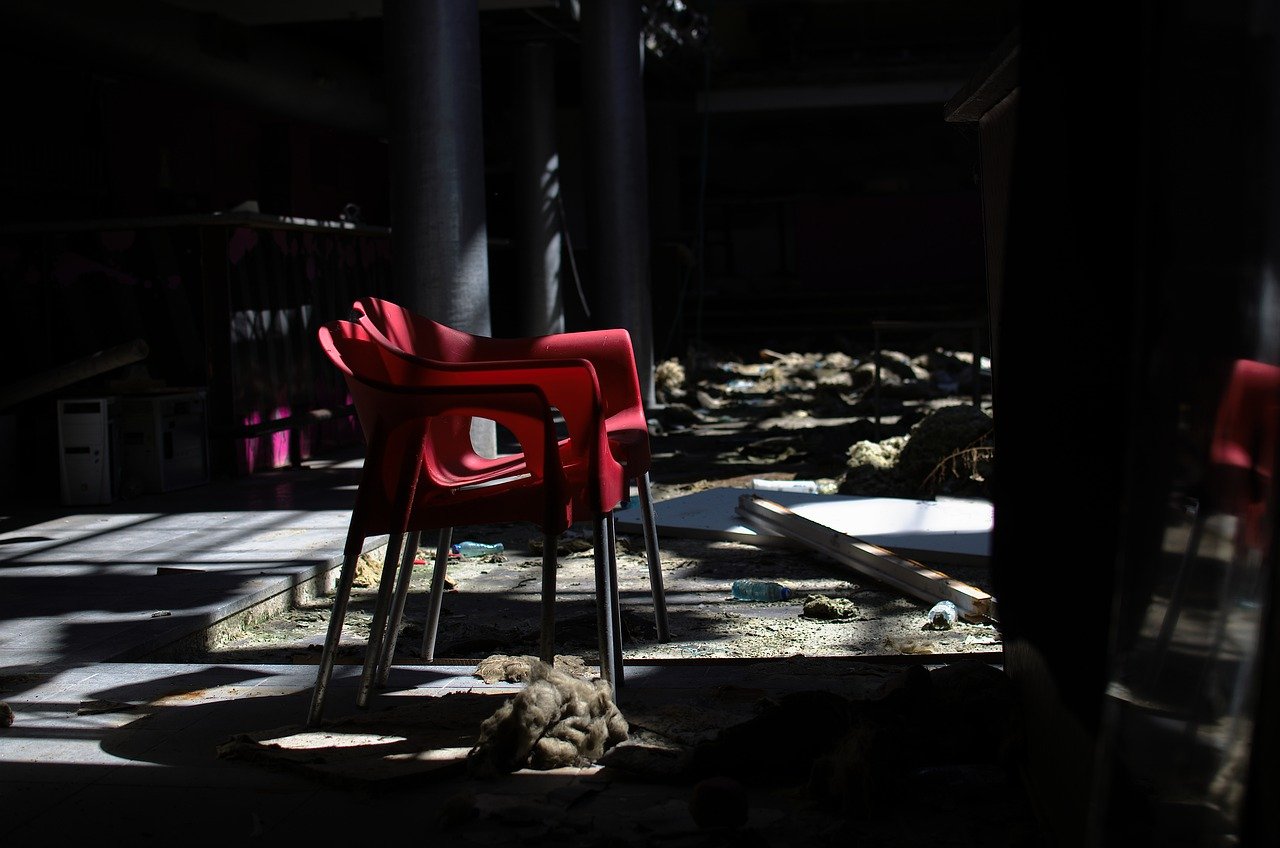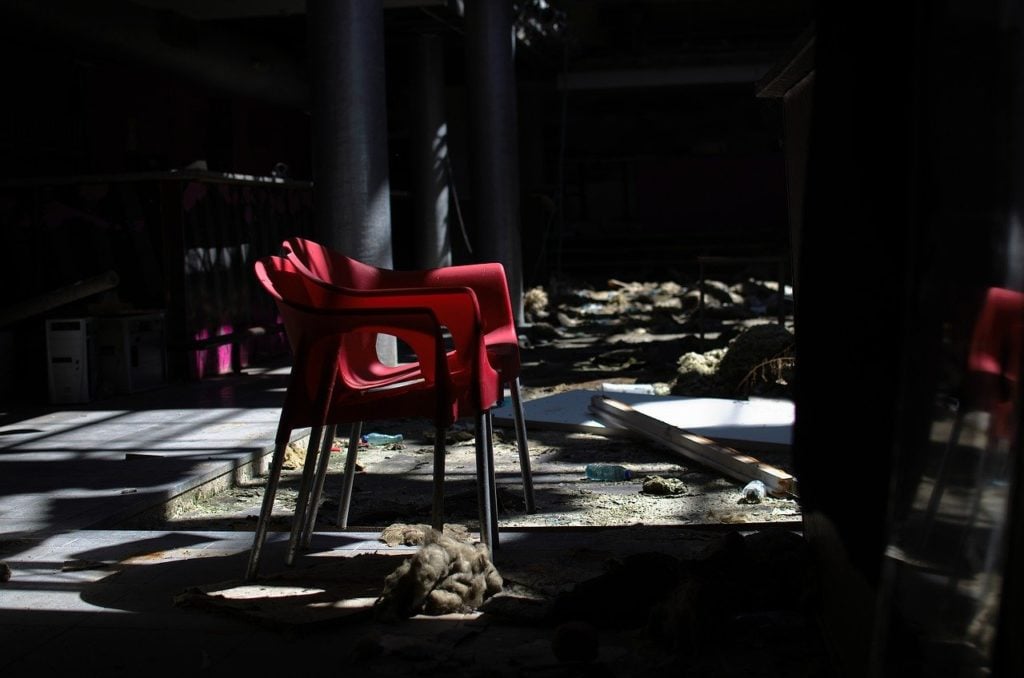 Although this game almost certainly is Japanese in origin, I haven't been able to track down a Japanese source for it yet — but that's pretty much entirely due to the fact that I can't quite figure out what the appropriate search terms would be to locate one. There are more colloquialisms involved in both the title of the game and the rules to play than there are in, say, something like the Elevator Game; for instance, although there is a direct equivalent of "chit-chat" in Japanese — "チットチャット," a loanword that's literally pronounced "chittochatto" — I'm unsure about whether that's the term actually used in Japanese language versions of this game. Nearly everything I pulled up that had "チットチャット" as part of the search criteria had something to do with either a sports school in Osaka or a café in Hawaii — and even when I excluded "sports" and "Hawaii" from the search, I still ended up with a huge array of unrelated results. The lack of unambiguous, concrete, yet still unique search terms made looking further into this one… difficult.
[Like what you read? Check out Dangerous Games To Play In The Dark, available from Chronicle Books now!]
In any event, though, I am reasonably sure that it originated on 2ch/5ch, probably sometime around 2010 (give or take a few years). For one thing, its format bears a lot of similarities to other Japanese paranormal games that first popped up online there; and for another, the first English language version of it that appeared on the internet came from Saya Yomino of Saya In Underworld — and Yomino generally translates existing pieces of text, rather than adapting them into something else.
[Update: Thanks to a TGIMM reader who speaks fluent Japanese, we've got a little more info! The correct Japanese title for the game is ひとりおしゃべり, or Hitori Oshaberi — in English, something like "Talking Alone" (the naming convention is similar to the one used in ひとりかくれんぼ/Hitori Kakurenbo, aka One-Man Hide And Seek/Hide And Seek Alone); what's more, early versions did, in fact, appear on 2ch, where the game can be traced back at least to 2006. Head here to read the full comment — it's got a wealth of sources and is well worth checking out. Many thanks to reader Arc!]
Following the publication of Yomino's translation in early 2013, One Person Chit-Chat began appearing periodically in English elsewhere on the internet, typically in more or less the same form. That's interesting to me; it indicates that the ritual doesn't really seem to have evolved much. It just… is what it is.
So: Here's my take on it. You can perform it easily at home, without any specialized equipment and, generally, with relatively minimal danger.
But, as I'm usually wont to say when that's the case, "minimal" danger doesn't mean no danger.
No matter how safe this ritual may seem, you are still opening up your doors and inviting in something that… may not belong there.
As always, play at your own risk.
Players:
Requirements:
Two chairs.
A dark, quiet room where you are unlikely to be disturbed.
A glass of water. (Optional; see Additional Notes.)
A single strand of hair from your own head. (Optional; see Additional Notes.)
Instructions:
The Preparations:
Begin at night.
Go to your chosen room and close the curtains or otherwise block the windows. Ensure that no light leaks into the room from the outside.
Bring your chairs into the room. Set them up opposite each other, such that two people sitting in them would be facing each other a comfortable distance apart — not so close that you'd be touching knee to knee, but not so far away that you would have to raise your voice to speak together.
Bring the glass of water into the room, if using. Close the door behind you.
Turn off the lights — all of them. Make the room as dark as possible.
It is time to chat.
The Chat:
If using the glass of water, pluck one strand of hair from your own head and deposit it in the glass. Then drink the contents of the glass. Drain it completely — hair and all.
Sit down in one of the chairs. You may use either of them; the choice is yours, so long as you leave the other chair empty.
Take a deep breath — and begin speaking. Speak to the chair opposite you. You may speak about anything you like: Casual conversation; deep, serious talk; your likes and dislikes, or your hopes and dreams; your passions, or your fears; what you thought of the most recent movie you watched or book you read; anything at all. You may tell them a story, if you like — a ghost story, a love story, a story about yourself, or any other kind of story. The important thing is this: Whatever you say, or however you say it, it must be something that would cause someone listening to hang onto your every word.
Keep talking. Stay active in your storytelling. Engage your audience.
But then — ever so subtly — allow your voice to begin trailing off. Do not force it, script it, or map it out; simply… let it happen, all on its own.
Fall silent.
Sit in that silence.
Breathe, but do not speak.
Focus on the empty chair.
Pay attention.
The Response:
If you have done all of this correctly, you will suddenly realize that the empty chair… is no longer quite so empty.
You won't necessarily see anything in it.
But you will know:
Something is there.
They are listening to you.
And if you're very lucky — they might even talk back.
Additional Notes:
For best results, play late at night — midnight or later, but at least several hours before the sun is due to rise.
There is no need to clear the general space or area in which your chosen room is located — which, for many players, will be their own homes — of other people or pets before beginning. However, you must ensure that, once you have entered the room with all your supplies and closed the door, you will not be disturbed. Leave any pets outside the room (and arrange for someone else to care for them while you are occupied, if necessary); make sure any roommates or cohabitors know not to knock on the door; etc.
Any variety of chair may be used. The only requirement is that you be able to get them to your chosen room, if they are not already there.
Not all sources specify the use of the glass of water and strand of hair; whether or not you choose to utilize them is up to you (though note that if used, they must be used together — that is, if you use one, you MUST use the other, without exception).
Should you choose NOT to use the glass of water and strand of hair, disregard the instruction to bring the glass of water into the room with you in The Preparations: Step 4. Additionally, omit the entirety of Step 1 in The Chat and proceed directly to The Chat: Step 2 from The Preparations: Step 6.
Should you choose NOT to use the glass of water and strand of hair and find the ritual to fail, it is recommended that you try again another time, this time utilizing those two objects. Similarly, should you choose TO use the glass of water and strand of hair and find the ritual to fail, it is recommended that you try again another time, this time omitting them.
Concerning Ending The Game:
There is no prescribed way to end the game.
Some sources note that simply saying farewell should suffice.
Others recommend apologizing.
Whatever you do, though, do NOT simply get up and leave without saying goodbye.
Don't be rude. Your correspondent won't take kindly to rudeness.
They might even refuse to leave.
***
Please don't copy or republish this post on other sites. Linking to it or sharing the URL is fine (and encouraged!), as is writing your own unique version of the game, but copying/pasting, republishing, or otherwise reproducing the text of this piece in its entirety or near-entirety on other websites without permission isn't.
***
Follow The Ghost In My Machine on Twitter @GhostMachine13 and on Facebook @TheGhostInMyMachine. And don't forget to check out Dangerous Games To Play In The Dark, available now from Chronicle Books!
[Photo via apmuga/Pixabay]