Previously: Madam Koi Koi.
Type: PE (Preternatural Entity).
Period/location of origin: The 13th century C.E., Hamelin, Germany.
Appearance: Subject appears to be a male-presenting human dressed in medieval-era, multi-colored clothing — the "pied" of subject's colloquial name, "the Pied Piper" — and carrying a musical instrument: A pipe or fife, typically either made of cane or silver.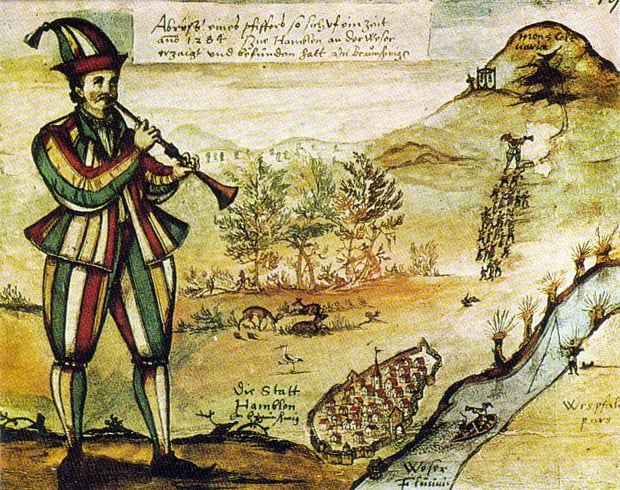 However, the precise details of subject's appearance vary by report. Sometimes, he is described simply as "strange" or "a stranger." Often, he is described only by his outfit — his "cloaths" being "of several colors," or his "fantasticall coate … being wrought with sundrie colours," or his dress being "a hunter's costume" topped off with a "strange, red hat." Rarely are his facial or physical features mentioned, but when they are, he is typically noted as being tall, slender, and with piercing eyes.
[Like what you read? Check out Dangerous Games To Play In The Dark, available from Chronicle Books now!]
The most detailed description available of subject depicts him as "the strangest figure," tall and thin, with "sharp blue eyes," "light, loose hair" upon his head, and no facial hair. According to this description, the figure wears a long coat, half yellow and half red, with a matching yellow-and-red-striped scarf tied about his neck. The pipe, later noted as being made of "smooth, straight cane," is tied to the end of the scarf.
Illustrated renderings of subject may show him dressed in striped or checkered clothing; wearing a hat, which may be red or multicolored, may be pointed or not, and which may or may not be decorated with a feather; wearing a cape, or not; sporting a moustache or other facial hair, or not.
All of which is to say: Accounts are not necessarily in agreement as to what, precisely, subject looks like.
Also: Just because subject appears human does not necessarily mean he is human.
Modus operandi: Subject will appear within a town or community if and/or when a pest problem emerges — typically rats, although issues with mice, ants, serpents, and other vermin may also prompt subject's appearance.
Upon his arrival, subject will offer his services as a pest control specialist in exchange for monetary compensation. He will name his price; he knows what he is worth, and there is never any mystery about what he expects in return for his work.
Should an agreement be struck, and the community commits to paying him his stated fee for services rendered, subject will then work his magic: He will raise his pipe to his lips and begin to play a merry tune. As he plays, the pests plaguing the community will emerge from their hiding places and gather around subject's feet.
Subject, still playing, will then begin to move. The pests will follow. Subject will lead the pests to the nearest large body of water, and then into the water, where they will drown.
Subject will continue playing upon his pipe until the last of the pests have been eradicated.
Following the completion of his work, subject will return to the community to collect his payment. Should the community settle its debt as previously agreed, subject will depart peacefully and all will be well.
However, should the community fail to pay up, in full, subject will find… another way to take what he is owed.
Subject may depart and return again at a later date, or he may choose to take immediate action. In both cases, subject will — either upon his reappearance, or right then and there — raise his pipe to lips once more, and begin playing his enchanted music again. This time, however, it will not be the pests who emerge and follow him; it will be the community's children — typically those at least four years of age and under nine.
He will play, and he will lead, and the children will follow him — and no amount of distraction will dissuade them from their path.
He may lead them to a mountain.
He may lead them to a cave.
He may lead them into a river.
But no matter where he chooses to lead them, the end result will always be the same:
The children will be lost, never to be seen again.
Containment: Subject is not known to act out unprovoked. So long as subject is treated fairly and with respect, no containment is necessary.
Additional notes: Hamelin (originally Hameln), located in the Lower Saxony region of modern-day Germany, was initially established as a monastery in the 9th century C.E. A village subsequently grew up around the monastery, becoming a full-fledged town by the 12th century C.E.
Subject is believed to have made his first appearance in Hamelin in 1284. He is thought to have initially arrived sometime in the first half of the year; his return is then said to have occurred on June 26 — the religious observance known as Saint John and Paul's Day — at which point he led 130 of Hamelin's children out of the town, after which they vanished.
Mention of subject does not begin appearing in the historical record until around 1300. A panel in a stained-glass window that once hung in the Market Church of Hamelin dating back to 1314 reportedly featured an early depiction of subject, displaying an image of a man dressed in colorful clothing, surrounded by a group of small figures — people, certainly; children, perhaps. The window has unfortunately been lost, however; it was removed from the church in 1660 during a renovation project and was subsequently misplaced. It has never been found, and is believed to have been destroyed. Knowledge of its existence comes to us through written descriptions of it recorded between the 14th and 17th centuries.
It is sometimes reported that this stained-glass window bore an inscription reading (translated from the original), "On the day of John and Paul, 130 children in Hamelin went to Calvary and were brought through all kinds of danger to the Koppen mountain and lost." However, as the window does not survive, the truth of this report cannot be independently verified.
An early surviving written record of subject may be found in a manuscript dated about 1450 — although it should also be noted that this manuscript is itself an abridged version of an earlier manuscript written by Heinrich von Herford, a Benedictine monk, circa 1370.
Like the stained-glass window, this earlier manuscript has been lost; however, annotations in the later manuscript make note of an eyewitness account of subject's initial appearance described in the earlier one — meaning the account likely dates back to 1370, although we no longer have possession of it in its original form.
Notably, this eyewitness account is ascribed to a known historical personage: "The mother of Dean Johann von Lu den." Johann von Lu den, who held the position of Dean at the St. Boniface collegiate basilica in Hamelin for much of his life, was born in 1299; assuming subject does, in fact, date back to 1284, von Lu den's mother would, in fact, have been alive and cognizant during subject's initial appearance.
An additional early mention of subject's first appearance — or, more accurately, the results of subject's appearance — may reportedly be found in Hamelin's own town records. An entry dated 1384 states, simply, "It is 100 years since our children left."
It is perhaps worth noting that rats and other vermin are not part of the story in these early records. This detail does not appear until the 16th century, in a retelling of the story of subject's first appearance in the Zimmerische Chronik, or Zimmern Chronicle, by Count Froben Christoph von Zimmern.
The scant details and inconsistencies surrounding subject's historical record have given rise to numerous theories that it was not actually a seemingly magical being playing a magical tune on a magical flute who was responsible for the disappearance of the children of Hamelin in the 13th century, but rather something else. Some theorize, for instance, that the trappings of the story are representative of the results of a natural disaster — that is, the children were killed by an illness or plague, a landslide or other accident, a mass drowning, or similar. Others theorize that they were taken — abducted — as part of a children's crusade. And still others theorize that the tale is an allegory for a mass emigration event.
But although the truth regarding the mechanism of the disappearance — whether man or event — remains unknown, the actual loss is generally agreed to have occurred.
Something, it seems, happened in Hamelin in the 13th century.
Something traumatic.
Something that resulted in the loss of an entire generation of children.
Sometimes it is easier to give a face to a tragedy. Grief may sometimes feel more bearable if you have someone to blame for it. Hence: The Pied Piper of Hamelin.
It is possible, by the way, that even if subject himself is not responsible for the disappearance — that subject did not even exist at the time of the disappearance — the subsequent belief that subject bears this responsibility may have been enough to… conjure him into being.
Be careful when giving form to your sorrow.
Recommendation: Always pay the piper.
Always.
Resources:
The Pied Piper Of Hamelin And Related Legends.
The Grim Truth Behind The Pied Piper.
The Enduring Legacy Of The Pied Piper Of Hamelin.
Was There Really A Pied Piper Of Hamelin?
The Aftermath Of The Black Death And The Aftermath Of The Great War.
Of Living Legends And Authentic Tales: How To Get Remembered In Early Modern Europe.
The Pied Piper Of Hamelin: A Medical-History Interpretation.
Creative Storytelling: Building Community, Changing Lives.
HAMELIN at the Washington Post.
***
Follow The Ghost In My Machine on Twitter @GhostMachine13 and on Facebook @TheGhostInMyMachine. And don't forget to check out Dangerous Games To Play In The Dark, available now from Chronicle Books!
[Image via Wikimedia Commons.]