Previously: The Yule Cat.
Type: CC (Corporeally Challenged).
Period/location of origin: Mid- to late-20th century, Nigeria. Subject's precise date of origin is unknown; however, as subject has primarily been associated with Nigeria's Federal Government Colleges or Federal Unity Schools — that is, government-run secondary schools — it is believed that subject came into being sometime after 1960. (See: Additional notes.)
Appearance: Subject, called "Madam Koi Koi," appears to be a well-dressed, conventionally attractive, female-presenting adult human. She is characterized by her choice in footwear: She wears bright red shoes typically described as high heels.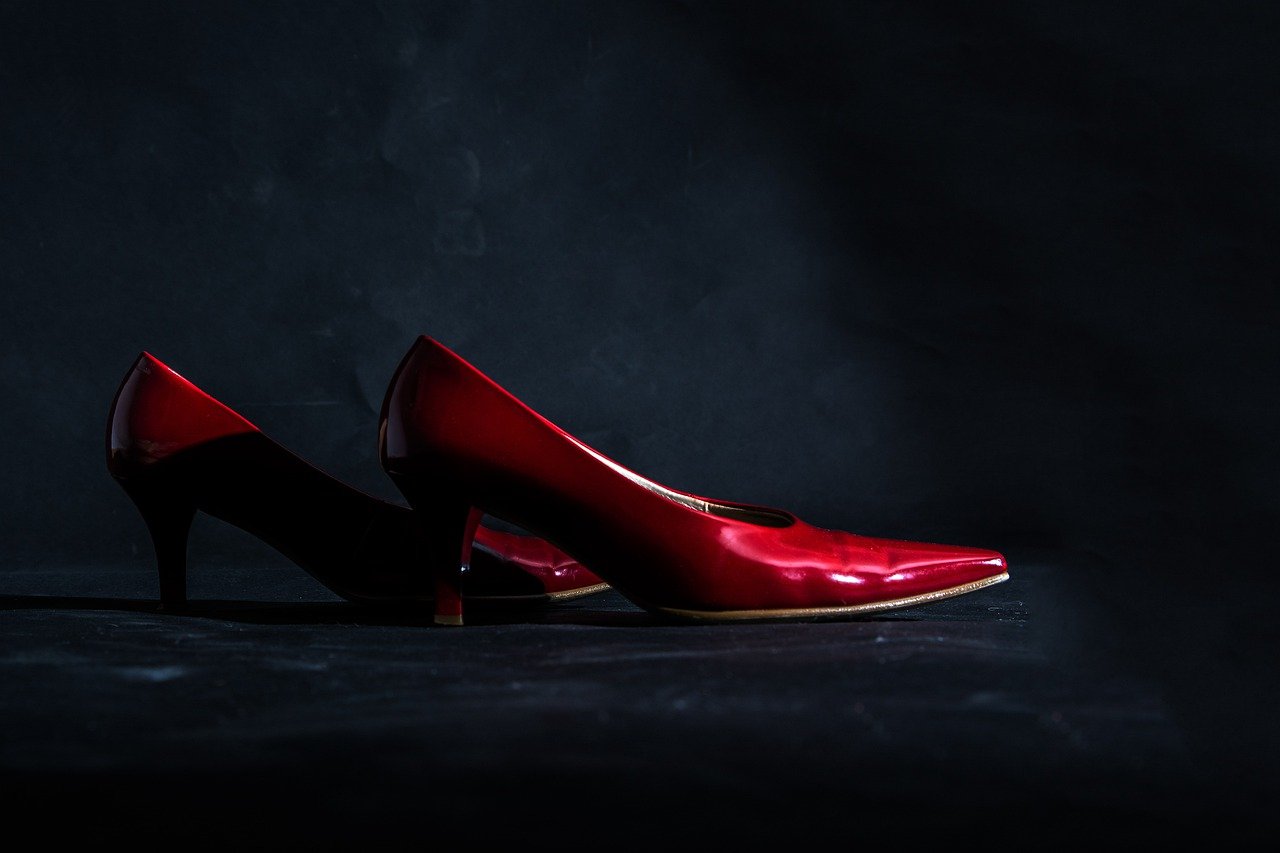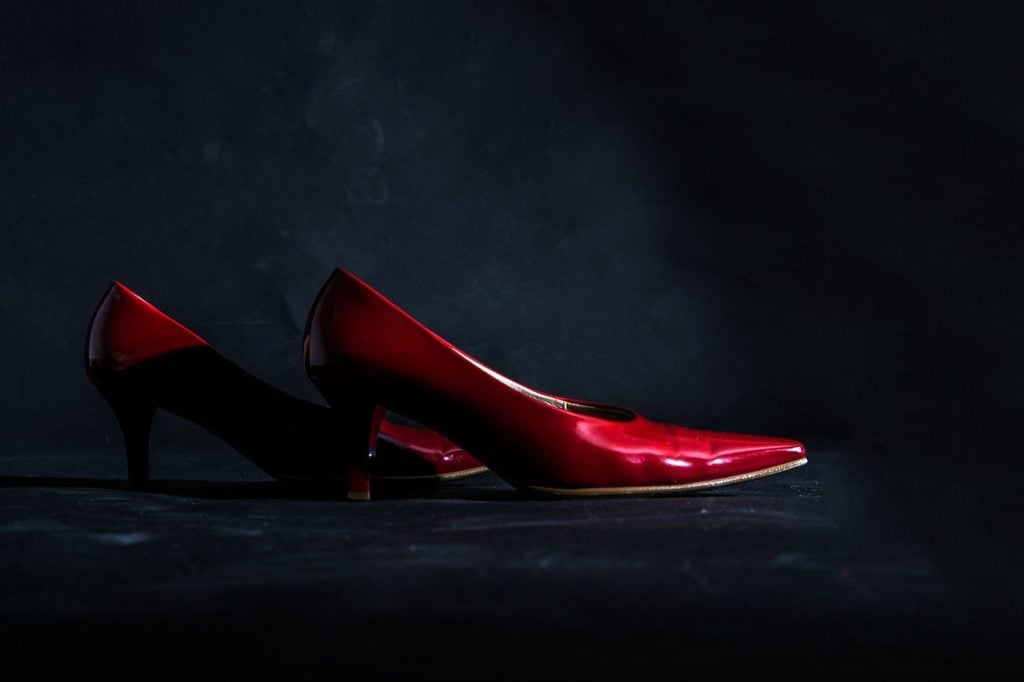 Note that, despite having once been a well-dressed, conventionally attractive, female-presenting adult human, she is no longer one. It is not known precisely what she is now — spirit, bogeyman, etc. — but whatever it is, it isn't human.
[Like what you read? Check out Dangerous Games To Play In The Dark, available from Chronicle Books now!]
Modus operandi: Subject appears only at schools — typically secondary and/or boarding schools, and in the case of the latter, often in the dormitories. She may also simply roam the halls of the school, or occasionally appear in the restrooms or lavatories.
She may appear as either a full-body apparition or figure, or may only make her presence known via her footsteps; due to her shoes, her steps make a distinctive sound as the heels clatter on the floor while she walks.
Subject's chosen targets are always students. Should subject appear in a boarding school, she may pay particular attention to students who wander around out of bed at night; however, her targets need not have necessarily done anything specific to draw her ire. They are simply students — that is enough.
Once subject has selected a target, subject may undertake any number of actions. At her mildest, she slaps, smacks, or otherwise physically attacks target. At worst, she kills target. She may also abduct target, although it is unknown what happens to targets following their abduction. They simply vanish, never to be seen again.
Containment: Targets may take the following precautionary measures to minimize the possibility of encountering subject:
Do not get out of bed at night.
Do not wear the color red to sleep.
Should targets follow these rules and yet still see or hear subject approach, targets may attempt to escape her notice by remaining in bed, staying completely still and refraining from making any noise or movement — any at all.
If you're lucky, she'll pass you by.
Note, though, that luck is not guaranteed.
It's luck, after all.
Additional notes: Regarding subject's period of origin: Subject is largely cited not just as appearing in schools, but specifically as appearing in "government schools," also known as Federal Government Colleges or Federal Unity Schools. These schools began to be established for secondary education in the decades following Nigeria's independence from British colonization, which occurred in 1960. As such, the earliest possible era of origin for subject is the early 1960s.
Several possible origin stories have circulated over the decades to explain precisely how subject came to be. According to the most common, subject was originally a teacher, typically described as beautiful and well-dressed, with a fondness for red, heeled shoes. However, although beautiful, she was also known by students to be overly strict — and, indeed, bordering on abusive.
Following an incident in which the teacher physically injured a student — in some reports, specifically by hitting a student and subsequently rupturing their eardrum — the teacher's employment was terminated by the school at which she taught. Shortly thereafter, the teacher died a gruesome, violent death. This death is sometimes said to have occurred the day of her termination; on her way home, she was reportedly struck by a car and killed. (According to some reports, she was walking home and struck in a hit-and-run; according to others, however, she, too, was driving and was thrown through the windshield of her car.)
Blaming the students she once terrorized for the loss not only of her employment, but also of her life, subject is said to have returned even after her death to seek revenge on any and all students she is able to find.
In other variations, however, the students are directly responsible for the teacher's death. According to this report, several students, tired of receiving constant abuse from the teacher, abduct her, tie her up, torture her, and — accidentally, at least — kill her. Although the students attempt to cover up their crime, subject returns after death and hunts them down, one by one, destroying them as bloodily as they destroyed her. But once these students were dealt with, subject did not stop; consumed by her rage, she is said to continue to hunt down errant students to this very day.
Yet another variation positions subject not as a teacher, but as a parent visiting her child's boarding school. Parent and child — the former wearing red shoes and the latter, a red shirt — are both killed in an auto collision while riding the bus to the school. In death, the parent still roams the halls of boarding schools — specifically the dormitories — at night, looking for her lost child. The recommendation not to wear red to bed stems from this version; it is said that the parent may mistake any student wearing red as they sleep for her own child and subsequently spirit them away.
In each of these possible origin stories, subject's name is said to stem directly from the sound of her footsteps — that is, from the sound of her red heels clicking on the floor as she walks. The precise meaning of the name, however, varies. In some tellings, "koi koi" is simply an onomatopoetic representation of the clattering noise a pair of heels makes on a hard surface ("koi koi; koi koi; koi koi"). In others, however, subject has actually lost one shoe in whatever incident resulted in her death — and although the word "koi" is still used as an onomatopoeia in these versions, the sound of subject's footsteps is described slightly differently due to the missing shoe ("koi, draaaaaaag; koi, draaaaaaag; koi, draaaaaaag").
Note: Some accounts suggest that subject is not limited by geographic region. Other countries, such as Ghana, have also reported occasional appearances of subject.
Subject, in fact, seems to know no boundaries.
Recommendation: Remain still.
Remain calm.
Unless she finds you.
In which case—
—Run.
Resources:
The Fading Allure of Unity Colleges – The Guardian.
Federal Unity Colleges: Yesterday And Today – The Intellectual.
The Legend Of The Dead Teacher Who Haunts Secondary School Students – Pulse.ng.
Madam Koi Koi: The Most Feared Woman In Boarding Schools – Nairaland.
"Horror Stories/Urban Legends From Nigerian Boarding Schools" on YouTube.
"Top 5 Scariest Nigerian Urban Legends" on YouTube.
"Facts vs Myths : Does Madam Koi Koi Really Exist?" on YouTube.
***
Follow The Ghost In My Machine on Twitter @GhostMachine13 and on Facebook @TheGhostInMyMachine. And don't forget to check out Dangerous Games To Play In The Dark, available now from Chronicle Books!
[Photo via JanBrzezinski/Pixabay]