Previously: Cat Scratch.
Note: Please don't copy/paste or republish the text of this post on other websites without permission.
Coming to us from the deep, dark depths of the internet, the mirror ritual game An Alternate Soul is a true creepypasta: It's been around for ages, its author remains unknown, and it's pretty much always encountered in the same form. The oldest instance of it I've been able to find online is dated 2008 — that's when it was uploaded to the SCP Foundation's archive for creepypasta and weird fiction — but even that likely isn't the first time it appeared: As the archive itself puts it, "all works here have been recovered from various corners of the web"; these works are "merely retained here for posterity"; and they are "not the works of the members of this site," being instead, "collected form blogs, message boards, image boards," and so on.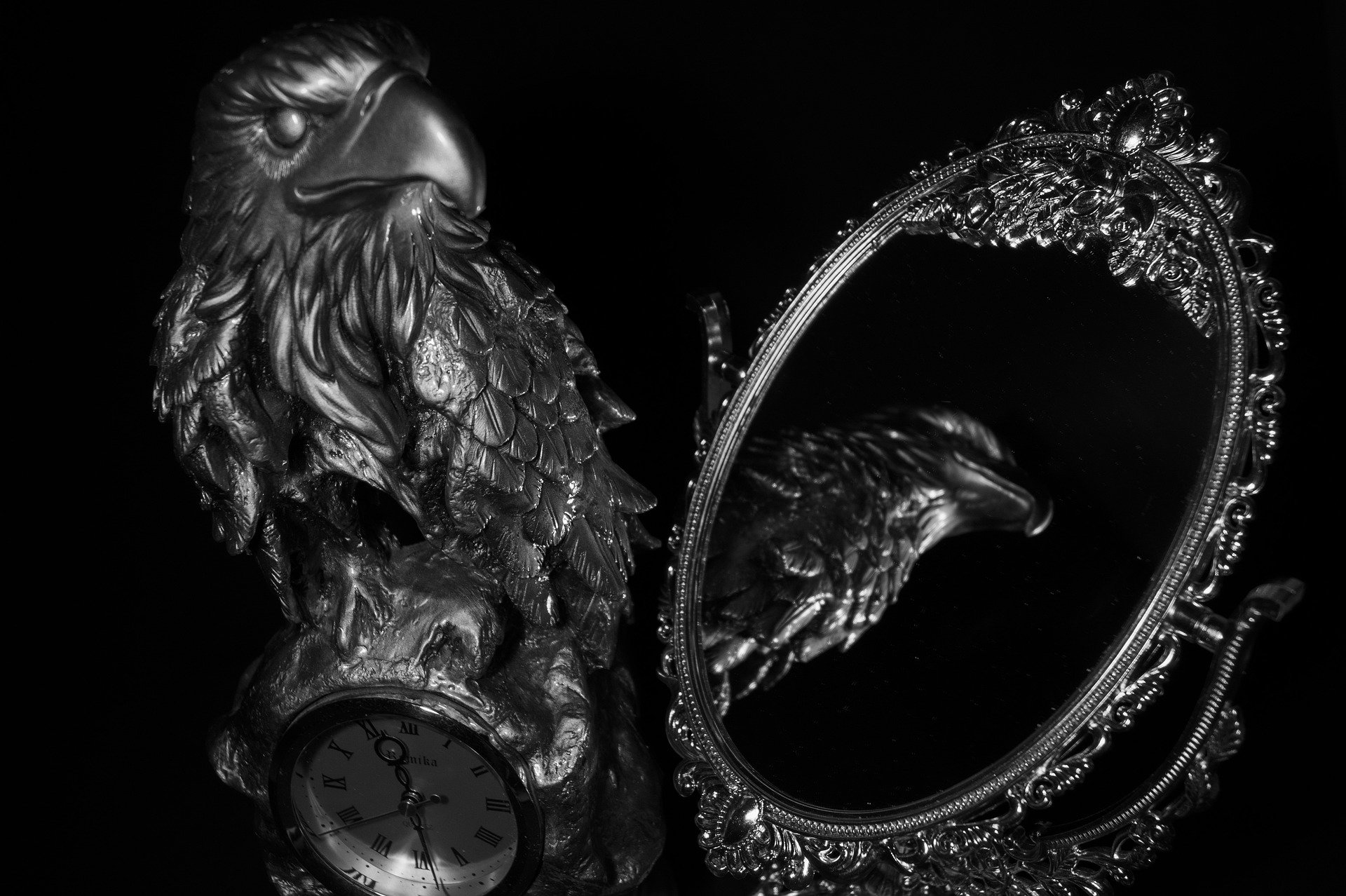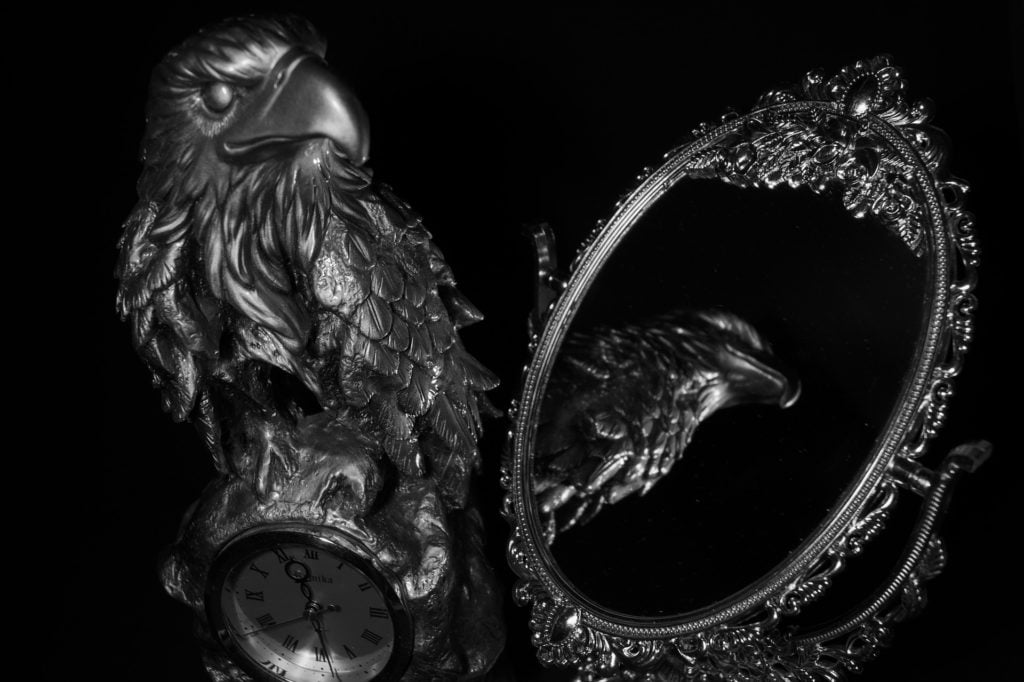 Wherever "An Alternate Soul" was first published, though, has been lost to the sands of time; setting the search parameters for the title of the ritual and its first sentence to bring up results dated prior to 2011 — when the version on the Creepypasta Wikia was uploaded — brings up just two sources: The SCP Foundation archive one, and the Creepypasta Wikia one.
[Like what you read? Check out Dangerous Games To Play In The Dark, available from Chronicle Books now!]
Regardless, this game should be an easy one to do for novice players; it's not particularly complicated and requires only minimal objects and supplies. (In its original form, it also reads more like a short story than anything else.) That doesn't mean it's necessarily safe, though, so, as always — play at your own risk.
Players:
Requirements:
A mirror.
A candle.
Matches or a lighter.
Blood. (See: Additional Notes.)
A time-keeping device.
An alarm. (Optional, but recommended. May be included in the functionality of your time-keeping device.)
A timer. (Optional, but recommended. Separate from the alarm, but may also be included in the functionality of your time-keeping device.)
A dark, quiet room.
Instructions:
Making The Preparations:
Shortly before midnight, assemble your supplies and bring them to your chosen room. Close the door behind you.
Set up the mirror, if necessary. You should be able to sit or stand comfortably before it, viewing your own reflection, for at least 20 minutes at a stretch.
Close any curtains or otherwise block any windows, if necessary.
Check the time. Is it still before midnight? Good. Keep an eye on the clock.
Place the candle before the mirror. Place the matches or lighter nearby.
Ensure that your supply of blood is readily accessible. (See: Additional Notes.)
Is it midnight yet? No? Good. Keep watching the clock.
Turn out the lights. If using the alarm, set it to go off at 12:17am.
Are you still watching the clock? Is it almost midnight? It should be almost midnight now — just a minute or two prior.
Keep watching.
A few seconds before midnight, set the time, is using, to count down 10 minutes.
At midnight precisely, light the candle.
Stand before the mirror.
And begin.
Opening The Window:
Beginning precisely at midnight, with the candle lit, the blood nearby, and, if using, the alarm and timer set, gaze into the mirror. Focus your attention on your reflection.
Meet your own eyes in the mirror.
Hold your own gaze.
Stay there for 10 minutes.
Do not look away.
When 10 minutes have passed — when your timer goes off, if using — use your fingertip and your supply of blood (see: Additional Notes) to draw a line across the mirror, directly over your reflection's eyes.
Do not look away while you do this.
Keep your eyes on your reflection.
Keep your eyes on your reflection's eyes — or, at least, where your reflection's eyes would be if you hand not blindfolded them. (That's what the blood is — a blindfold.)
If you reflection remains as is: The ritual has failed. Do not proceed. Extinguish the candle, wipe the blood from the mirror, and exit the room. Do not return to the room until the sun has risen.
If your reflection begins to… change: The ritual has succeeded. You may proceed. Do not look away from the mirror.
Watch your reflection as it shifts, un-forms, and re-forms again. Do not be alarmed at what you see, no matter how twisted it may grow — and, above all, do not look away.
Observe the creature in the mirror — for it is a creature now. Take note of its appearance. What does it look like? What does it sound like? How does it move? Commit as many details to memory as you can. And do not look away.
Keep watching as the creature begins to move toward you.
Keep watching as it approaches the glass between you and it.
Keep watching. But be ready
Watch.
And wait.
Closing The Window:
At 12:17am — when your alarm goes off, if using — extinguish the candle. You MUST extinguish the candle at precisely 12:17am.
If done correctly, the creature will vanish.
Once the creature is gone, you may wipe the blood from the mirror, turn on the lights, and exist the room.
But from here on out, be mindful of any reflective surfaces you may encounter as you go about your life — from mirrors to tea kettles to shiny, lacquered tables or counter tops.
If you ever catch your reflection looking back at you in a way that it… should not be —
— run.
Or, at the very least, throw a sheet or something over the reflective surface.
No one likes a Peeping Tom.
Additional Notes:
You need not clear the building in which your dark, quiet room is located of other people, etc. before beginning to play. However, you should ensure that you will not be disturbed once you enter the dark, quiet room.
The time-keeping device, alarm, and timer need not be separate devices — that is, one device, such a smartphone equipped with all three functionalities may be used.
Regarding the blood:
The blood does not have to be your own; furthermore, there is no single way you need acquire or store it.
You may, for example, visit your local butcher, acquire a small quantity of animal blood, and place a container holding the blood near the mirror during Making The Preparations; then, during Opening The Window: Step 6, you may dip your fingers into the container and use your bloody fingertips to draw the line of blood across the mirror.
Or, you may sterilize a pin or other sharp object prior to beginning the ritual, prick your finger or otherwise draw blood from your own hand during Opening The Window: Step 6, and smear the freshly-drawn blood across the mirror instead.
Whatever you choose to do, make sure your methods are safe, legal, and cause no harm to others.
Concerning What You See In The Mirror:
According to some sources, the creature in the mirror is not a creature, but rather a result of a psychological phenomenon known as the strange face illusion.
This phenomenon, identified by psychologist Giovanni Caputo in research published in 2010, occurs when humans stare at another human face in low-light conditions for an extended period of time. When these conditions are met, our perception of the human face in question — whether belonging to another person or to ourselves, as in our own reflection in the mirror — alters in such a way that the face appears monstrous. This phenomenon may also be responsible for the appearance of other figures summoned in similar conditions, such as Bloody Mary.
However, the mechanism by which the strange face illusion occurs is not well understood. As such, some maintain that the creature in the mirror is not simply an illusion.
Some maintain that it is more than that.
Regardless as to what you believe the creature to be — a reflection, or something more… substantial — it is worth noting that the creature in the mirror is not you; however, it is not unconnected to you, either.
What does its shape tell you about yourself?
You may not like what you see — but it is still important to understand what you see.
A Final Note:
This ritual is a way of viewing your alternate soul — but it is not the only way of viewing your alternate soul.
If you look carefully enough — if you dig deeply enough — others may be found.
That doesn't necessarily mean you should perform them…
…But you could.
If you wanted to.
Just make sure you're prepared for what they might tell you about yourself.
Some people, after all, are their own worst enemies.
***
Please don't copy or republish this post on other sites. Linking to it or sharing the URL is fine (and encouraged!), as is writing your own unique version of the game, but copying/pasting, republishing, or otherwise reproducing the text of this piece in its entirety or near-entirety on other websites without permission isn't.
***
Follow The Ghost In My Machine on Twitter @GhostMachine13 and on Facebook @TheGhostInMyMachine. And don't forget to check out Dangerous Games To Play In The Dark, available now from Chronicle Books!
[Photo via lovkis1973/Pixabay]