Previously: The Ourang Medan.
Anyone who grew up during a particular era in Seattle knew about it — the "mystery soda machine" in Capitol Hill. Located at the corner of E. John Street and 10th Avenue East, just outside of a local locksmith shop, Broadway Locksmith, the machine was famous for a few reasons. First, it was old — at least a few decades out of style even by the time it first showed up, eventually achieving outright vintage status. Second, anywhere between one and all of its six buttons were, at any given time, marked not with a brand name or a particular type of soda, but simply with the word "?MYSTERY?" — and, accordingly, if you chose the press the "?MYSTERY?" button after inserting your coins, the machine would bestow upon you a wildcard of a beverage.
[Like what you read? Check out Dangerous Games To Play In The Dark, available from Chronicle Books now!]
But the third reason the machine was famous was, for some time, the most important: No one knew who maintained it. It was stocked by a mystery person; the coins were emptied out of it by a mystery person; and repairs were handled by a mystery person. It remained as such for the entire time it sat outside of Broadway Locksmith: A mystery vending machine run by a mystery individual, gradually growing in notoriety to become one of the biggest mysteries of Seattle itself.
In 2018, though, an even bigger mystery emerged.
That was the year the mystery soda machine vanished.
It had, it said "gone for a walk," according to a note taped the railing behind where the machine used to stand. It needed to "find itself," it elaborated in a post on its Facebook page. (Yes, it had a Facebook page.) "Maybe take a shower, even," it said. Precisely where it chose to take its head-clearing stroll, however, remains unknown.
It hasn't been seen since.
And no one knows if we'll ever see it again.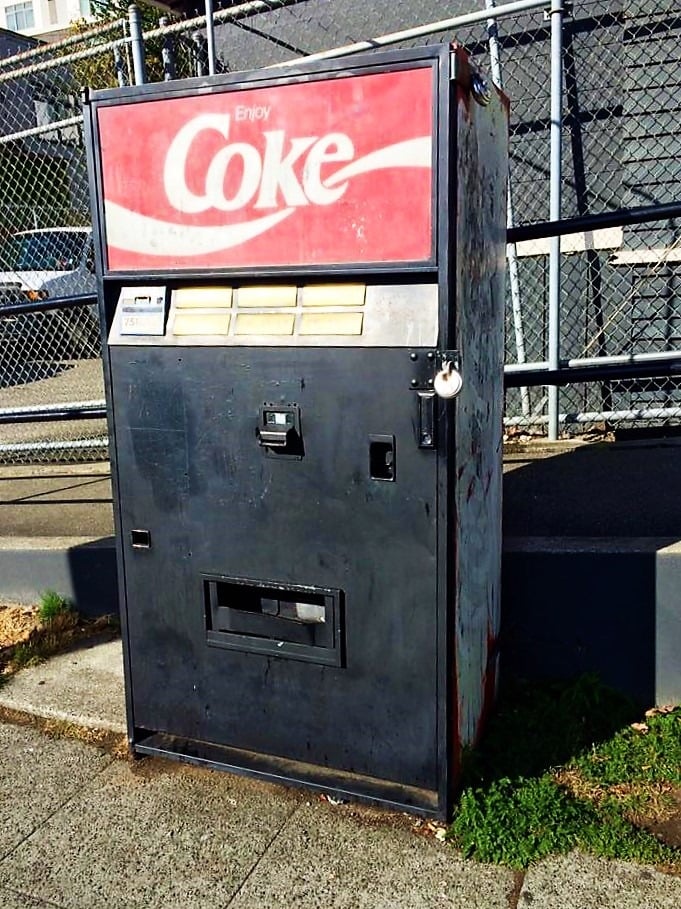 It's difficult to pin down exactly when the mystery soda machine first appeared, but according to most accounts, it was some time in the 1990s. (Not all accounts agree; one USA Today report from 2015 noted that, according to the employees of Broadway Locksmith, the machine has been there since the day the store opened in 1986. Then again, a piece published at the Seattle Times that same year contradicts that claim, stating that, according to one employee, "Broadway Locksmith has been at its current location, 918 E. John St., for about 30 years, and the machine has sat in front of it for about 20." So, y'know, do with that what you will.)
Right off the bat, though, it was apparent there was something unusual about the machine: It was old even then. Bearing Coca-Cola branding, it had just six buttons arranged in two lines of three right at the very top of the machine. The coin slot was located to the left of the buttons, with the beverage delivery slot far below, at the bottom of the machine. The appearance was, overall, very different from the newer soda vending machines that populated most cities at the time.
It's not totally clear what model of vending machine the mystery machine was, but based on the details, it may have been made by Vendo, La Cross, or Dixie-Narco during the 1960s or 1970s. As demonstrated by the wide variety of images available at vintage soda machine database Soda-Machines.com, these design elements were all frequently found in machines produced by these three manufacturers during those decades.
It's worth noting that many 1960s- and 1970s-era soda machines also sported a wood veneer front panel — which, notably, the mystery soda machine lacked. Instead, the front of the machine was simply black, probably made of metal or plastic. It's possible, though, that the mystery soda machine did once have a wood veneer panel of its own, only for it to have been stripped away at some point during its long and eventful life. (Indeed, an article about the machine published by The Stranger in 2002 described it as a "hunk of spray-painted metal and faux wood paneling," implying that the paneling did exist once upon a time.)
Regardless, it's clear that the machine was old when it made its introduction, and only got older and more beat-up with time. Photographs from its early years show a vending machine a little rough around the edges, perhaps, but still generally unblemished; as the years went by, though, it showed more wear-and-tear, growing grimier and developing a thick outer coating of graffiti. Eventually, it was bolted to the railing behind it — just to make sure no one tried to walk off with it. Still, though, it continued to dispense cold beverages not just for years, but for decades, becoming a fixture of the Capitol Hill landscape beloved of residents and visitors alike.
For much of the machine's lifetime, the majority of its buttons — at least four of the six — dispensed specific sodas, with only one or two of the buttons bearing the "?MYSTERY?" label. For example, in October of 2002, The Stranger reported that five of the buttons at the time dispensed particular sodas — namely Coca-Cola, Mountain Dew, 7 Up, Barq's Root Beer, and Pepsi — while just one offered the "?MYSTERY?" option. Photos taken during the summer and fall of 2009, however, show that by that point, only four of the buttons dispensed identifiable sodas — two spat out cans of Coke, one Mountain Dew, and one Pepsi — while the "?MYSTERY?" buttons had grown to two.
By 2014, all of the buttons had been converted into "?MYSTERY?" buttons — and they seem to have remained as such for the remainder of the machine's time outside the locksmith.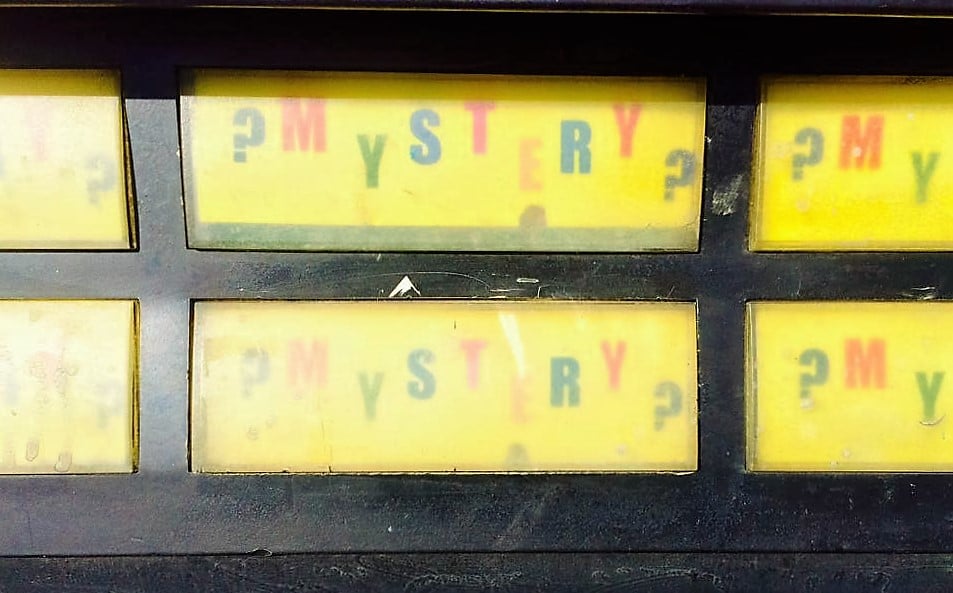 What happened when you pressed one of those "?MYSTERY?" buttons? Well, you always got a drink — but, true to the machine's name, you never knew what that drink would be before it tumbled into the can-dispensing slot. Options ranged from bog-standard to unusual or surprising; indeed, according to reporters, tourists, and locals alike, beverages you might have received from the "?MYSTERY?" buttons included, but were not limited to: Mountain Dew White Out, raspberry Nestea Brisk, Hawaiian Punch, Grape Fanta, Minute Maid pink lemonade, Dr. Pepper which may or may not have been from a bygone era, Cherry Coke, Pineapple Fanta, Strawberry Fanta, Country Time Lemonade, Mountain Dew Code Red, Cherry Dr. Pepper, Mug Root Beer, Orange Crush, Squirt, and Sierra Mist.
Some even believed that the vending machine might be haunted — or, if not haunted, per se, then otherworldly, at the very least. Said one visitor from Pennsylvania to the Seattle Times in 2015, "I've heard supernatural stories about how sometimes you'll press a button and you'll get a soda that was discontinued like 20 years ago." Hilary Pollack's article on the machine for Vice in 2014 similarly positioned it as "haunted," although the word is used more metaphorically than literally. And, according to Today I Found Out, rumors persist that occasionally, such rare beverages as Lemon-Lime Slice, Pepsi AM, bubblegum-flavored Hubba Bubba Soda, and the infamous Crystal Pepsi could be acquired from the machine — although I think it's also worth pointing out that I haven't found any eye-witness reports or experiences supporting these rumors.
(For the curious, Lemon-Lime Slice was replaced in the PepsiCo lineup by Sierra Mist in 2000; Pepsi AM existed only briefly as a test between 1989 and 1990 and was removed from shelves after failing to take off; Hubba Bubba Soda launched in 1987 before fading into obscurity by the 1990s; and Crystal Pepsi flopped spectacularly in the early 1990s.)
No matter what you got, though — or when you got it — the cost of using the machine remained relatively consistent and always affordable. The price only seems to have risen a handful of times: Circa 2002, you could quench your thirst for a mere 55 cents, according to The Stranger; later — sometime around 2014, according to Vice — the price rose to 75 cents; and in 2018, it jumped to a dollar after Seattle adopted the soda tax.
When you think about it, it truly is astounding that whoever maintained the mystery soda machine managed to remain undetected the entire time it sat in front of Broadway Locksmith — a maximum of 32 years, if we go by the earliest reported date of its appearance (if you need a refresher, that was 1986, as reported by USA Today). And they have stayed anonymous; not even the folks at the locksmith shop, who would arguably be the ones best positioned to spot someone performing maintenance on the machine, have ever seen anyone messing with it.
"I've honestly never seen anyone open it," the locksmith shop's general manager, identified only as Mickey, told Vice in 2014. "He must come in the middle of the night on a weekend or something." I'm assuming this is the same employee identified as Mickey Peters — no relation to yours truly — by the Seattle Times in 2015; Peters similarly told the Times that he assumed the restocking of the machine occurred "outside normal daytime hours, during early mornings or weekends, when people at the locksmith business aren't around."
Some claim that the mystery has actually been solved: In 2014, the Capitol Hill Seattle Blog published a grainy photo of two people standing before the open machine in broad daylight, seemingly resupplying it (or at least taking stock of what was inside). However, these people have never been identified; what's more, there's no guarantee that they were the ones actually masterminding the whole thing. Could they have been? Sure. Could they also have been hired to check on the machine by whoever did actually maintain it? Yep. We just… don't know enough about what was actually going on to arrive at any sort of conclusions based on it.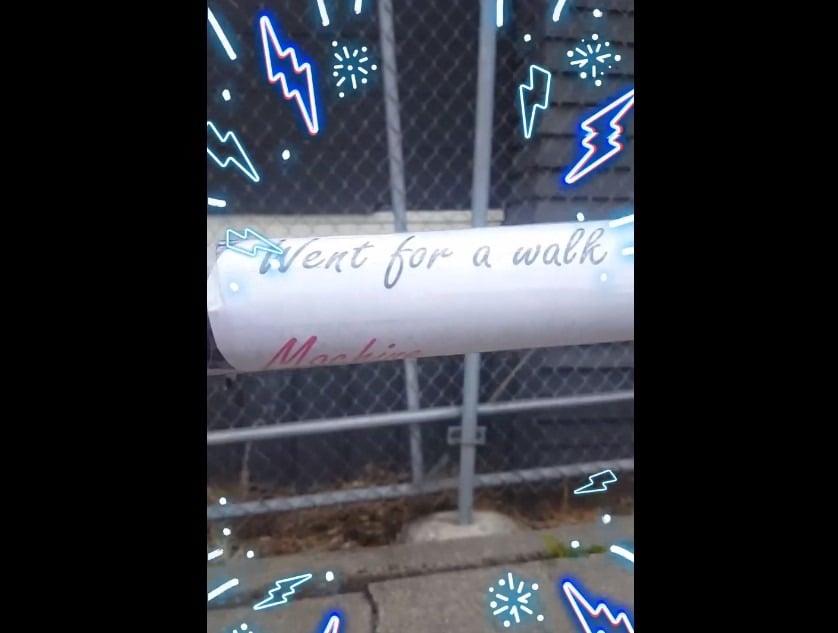 But all good things must come to an end — and so, too, was it with the mystery soda machine of Capitol Hill: During the summer of 2018, it walked away from the spot it had stood at for so long. Presumably, the disappearance happened sometime late the evening of June 28, 2018 or in the wee hours of the morning on June 29; the machine posted a short video announcing its departure on Facebook during the daytime hours of June 29. Capitol Hill Seattle Blog reported on the machine's vanishing just a day later, on June 30 — but in the two years since, no developments have been forthcoming. The machine remains missing, the sidewalk outside of Broadway Locksmith bare and empty.
It's not known why the machine was removed. Some have speculated that it had something to do with work on the sidewalks in the area where the machine was located begun by the Seattle Department of Transportation at about the same time as the disappearance; however, as the Capitol Hill Seattle Blog noted in July of 2019 — when the machine had been missing for over a year — that although the work had concluded in December 2018, the machine had not returned. Others, meanwhile, think it's possible that the machine has become a victim of an open portal or somehow gotten unstuck in time. But maybe it's simpler than that: Maybe the person who stocked it simply decided it was time to retire and didn't feel like passing the baton onto anyone else.
Will the mystery soda machine of Capitol Hill ever return? Probably not any time soon — but for what it's worth, the machine seems to be having a grand old time wherever it is now. Periodically, photographs of it in unlikely places will pop up on its Facebook page: The Fremont Troll sculpture, the Seattle Bainbridge Ferry, a mysterious forest somewhere, even Machu Picchu.
Yes, the images are clearly Photoshopped — but sometimes, it's worth suspending your disbelief for a moment or two. Personally, I like to think of the mystery soda machine spending its retirement seeing the sights all over the world. It did, after all, spend around 30 years literally chained to the same spot; it's high time it was allowed to spread its wings a little.
It's only fair, right?
***
Follow The Ghost In My Machine on Twitter @GhostMachine13 and on Facebook @TheGhostInMyMachine. And don't forget to check out Dangerous Games To Play In The Dark, available now from Chronicle Books!
[Photos via Another Believer/Wikimedia Commons; Joe Wolf (1, 2)/Flickr, available under CC BY-SA 3.0 and CC BY-ND 2.0 Creative Commons licenses; Mystery Soda Machine/Facebook.]