Previously: The Historic Sacred Heart Hospital, Pensacola, Florida.
In the middle of Auckland, New Zealand, there's a massive public park. Known as Auckland Domain, it features, spread out over 75 hectares (about 184 acres) of green space, numerous sports fields, museums, walking paths, sculptures, and, of course, gardens — lots and lots of gardens. But tucked off of Garden Road, in a spot known as Watson's Bequest, there's a small pond. And beside the pond, there's a sculpture that's… different from the others. This sculpture, you see, isn't just any old sculpture. It's said to depict — or possibly commemorate, depending on who you ask — three witches who were executed in Auckland Domain centuries ago, hung from the very tree under which the sculpture sits.
And those three witches, it's said, haunt Auckland Domain still, eager to enact vengeance on those who had them put to death — or at least to frighten those who wander into their orbit.
[Like what you read? Check out Dangerous Games To Play In The Dark, available from Chronicle Books now!]
Auckland Domain is built upon the remains of Pukekawa, a dormant volcano within the Auckland Volcanic Field. Comprising more than 50 recognized volcanic cones, all of which erupted sometime within the past 200,000 years, the Auckland Volcanic Field covers most of Auckland's metropolitan area; Pukekawa itself is one of the oldest volcanoes in the field. It last erupted around 100,000 years ago.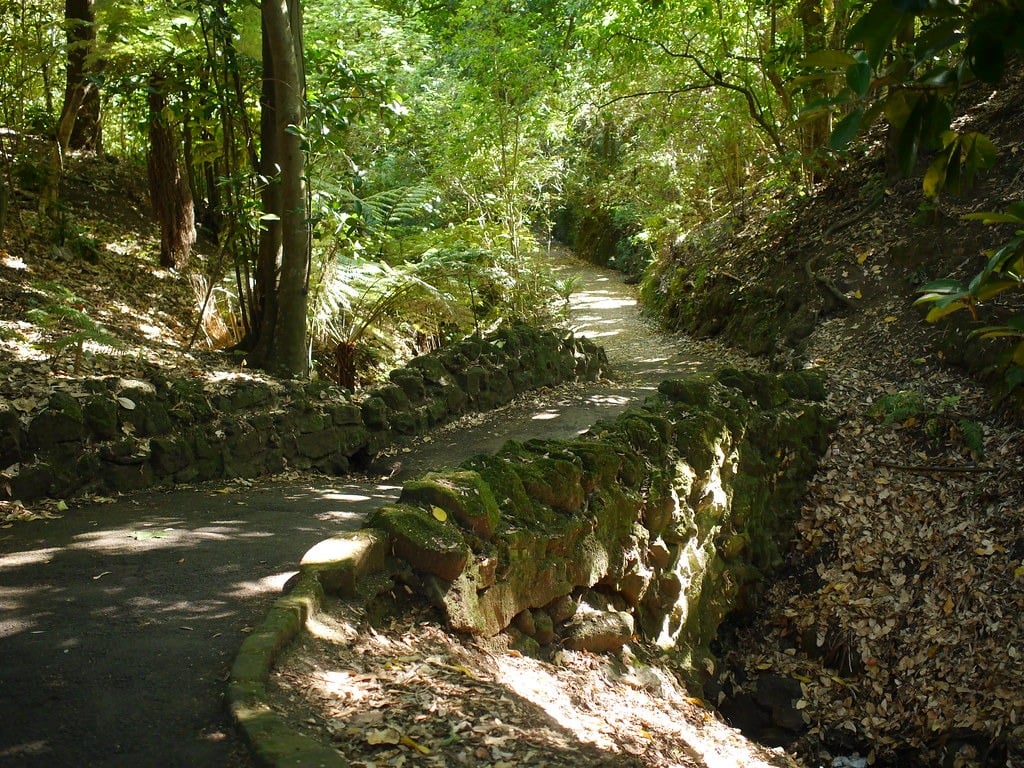 For several hundred years, Pukekawa was a key site for New Zealand's Maori people, fought over by many different iwi, or tribes; indeed, the name "Pukekawa" is a Maori word which translates to "Hill of Bitter Memories." But when European colonists arrived beginning in the mid-1600s and continuing through the 19th century, they systematically appropriated land from the Maori, particularly during the 1860s.
After Europeans acquired the land which would eventually become Auckland Domain from the Ngāti Whātua iwi, Robert FitzRoy, who was the governor of colonial New Zealand from 1843 to 1845, set aside the land for use as a nature preserve — and in the time between then and now, it grew into one of Auckland's largest parks, as well as its oldest. Today, it houses the Auckland War Memorial Museum, tennis facilities, a cricket pavilion, a duck pond, a sculpture walk, a renowned winter garden, a café, and more.
It's unclear exactly when the witches came into the picture, or why. It's also not clear whether we're talking about witchcraft in the European sense — as in, the alleged variety for which thousands of people were persecuted in Europe and North America during the early modern period — or witchcraft of an indigenous variety. The details of the story are scarce, with only the roughest of narrative to give it form — but then again, those stories are always the best kinds of ghost stories, right? They allow for infinite possibility, with the storytellers and the audiences filling in whatever might otherwise be missing.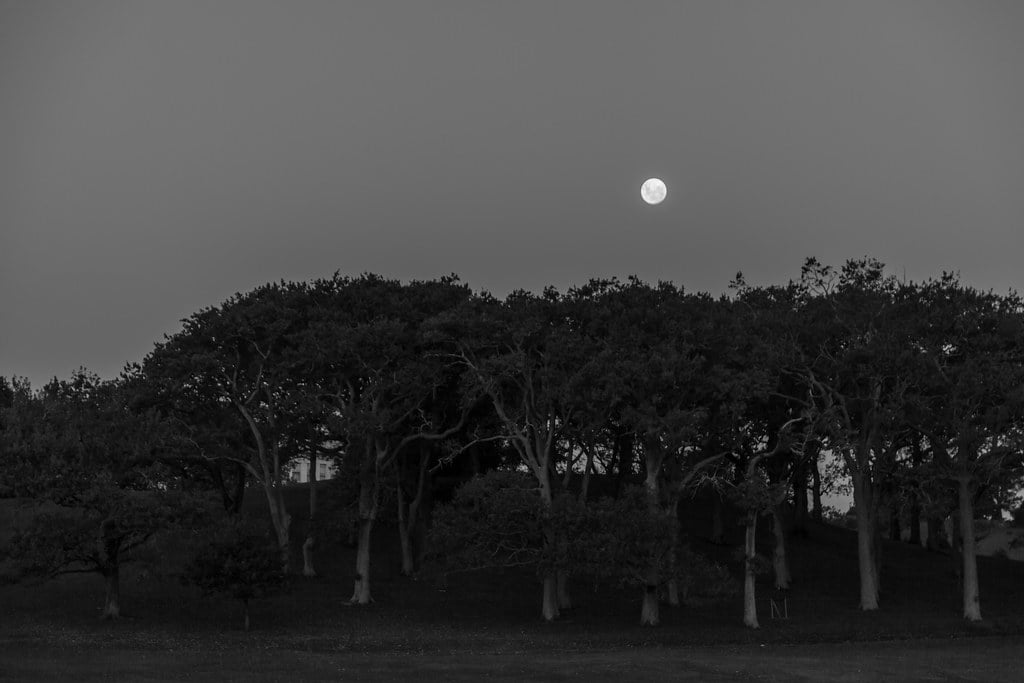 It goes something like this:
Sometime during the 1800s, three witches were caught and hanged from the trees in an area of swampland which is now part of Auckland Domain. It's not known whether they were legally prosecuted, found guilty, and sentenced to death by hanging, or whether they were victims of vigilante justice. It's not known whether the event is meant to have occurred before the land now housing Auckland Domain was set aside for the nature preserve, or after. It's not even known whether the "witches" in question were actually witches, or whether they were simply three women who perhaps failed to abide by society's expectations for how they should live and were subsequently accused of "witchcraft." But regardless, they were caught, they were hanged, and they died, horribly, and likely unjustly.
It's little wonder, then, that their spirits may have chosen to… stick around. If you walk through certain areas of the park at night, it's said, you might hear a low growl or a cackling laugh over your shoulder — but if you turn around, you'll see no one there. You might see a tall, thin figure wandering through the trees, or a dark shadow swinging from branch to branch high above you. You might feel a chill, or you might feel a set of eyes upon you, even though you're alone. You might suddenly find yourself covered in cuts and scratches, like something had gouged at your skin with long, sharp claws.
And if you drive down the road leading to the spot where the "witches" were hanged, stop your vehicle, and turn off your headlights… you might just be able to call them out to play.
The sculpture beside the mirror pond at Watson's Bequest marks where you'll find them.
There were three witches, after all, according to the legend.
Not for nothing does the sculpture feature three figures, dancing together in the night.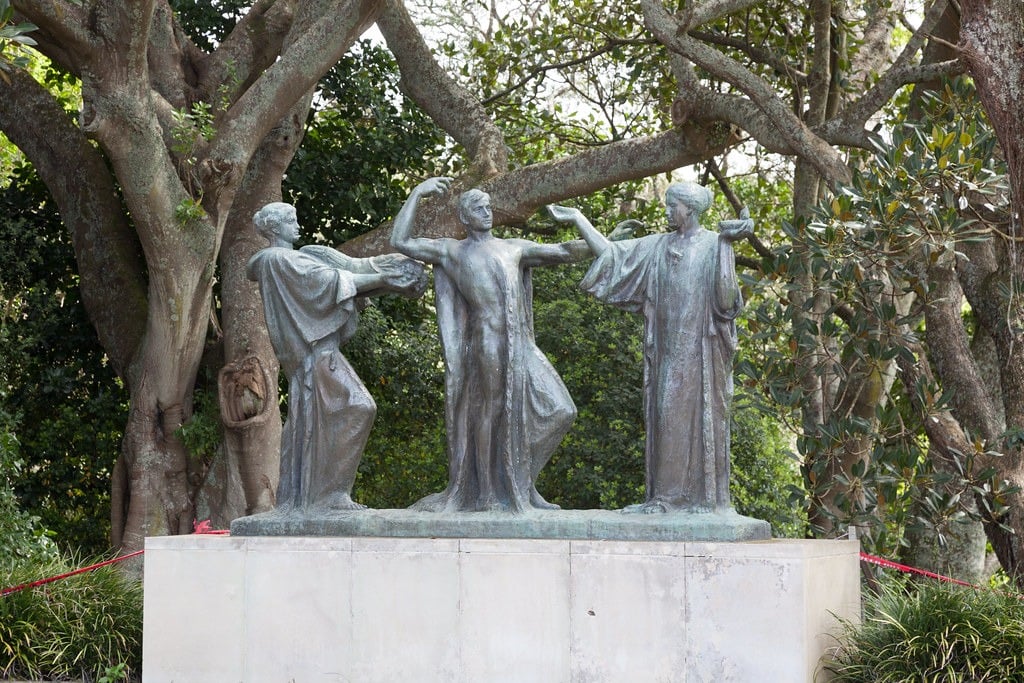 Of course, there's no evidence that any witch hangings ever occurred in Auckland Domain, so the whole thing is likely bunkum. Still, though, the story has proliferated for generations, with adults well into their 30s and 40s recounting how they heard the tale from their parents, who in turn had recalled hearing it from their elders when they were young. People go there on dares and to prove their bravery even now — or else they avoid Watson's Bequest in particular or Auckland Domain as a whole at night. The story of the witches and the haunting has spread as all good legends do, passed down from one generation to the next, with each new storyteller adding their own details: Maybe they went to the spot themselves; maybe they think they saw something; or maybe they know better than to go there, and why, and include that in their telling.
The sculpture that so many refer to as the Three Witches, by the way? It's not actually called that — not officially. In fact, the sculpture's subjects aren't even witches at all: The three figures depicted in it are simply the personifications of strength, wisdom, and fertility. Sculpted by artist W. H. Wright, the piece was originally unveiled alongside the opening of the mirror pond in 1955; commissioned in honor of the city of Auckland's hundredth anniversary, it was meant to represent Auckland itself finding those three key qualities and prospering as a result. The "Watson's Bequest" moniker by which the area is primarily known, meanwhile, is named for Alexander Richard Dickey Watson, the benefactor who funded both the pond and statue. The whole area recently received a refurbishment, reopening to the public in 2016.
Sometimes the statue is referred to as the Three Muses, although I've yet to find any official record of it being called this, either. For what it's worth, the ancient muses — of which there are usually nine, although originally, it's believed that there were just three — traditionally represent artistic and scientific pursuits; what's more, in the rare cases where only three are cited, they specifically represent the elements of poetry: Song, Study, and Memory — not Strength, Wisdom, and Fertility.
It would make more sense if the statue was referred to as the Three Graces; there are, in fact, three graces in Greek mythology, and although exactly what each of them is can vary depending on who you talk to, they tend to be representative of the types of qualities we know the Watson's Bequest statue to depict. Most commonly, they're said to represent Brightness, Joyfulness, and Bloom — and, together, they're taken as goddesses of, yes, fertility.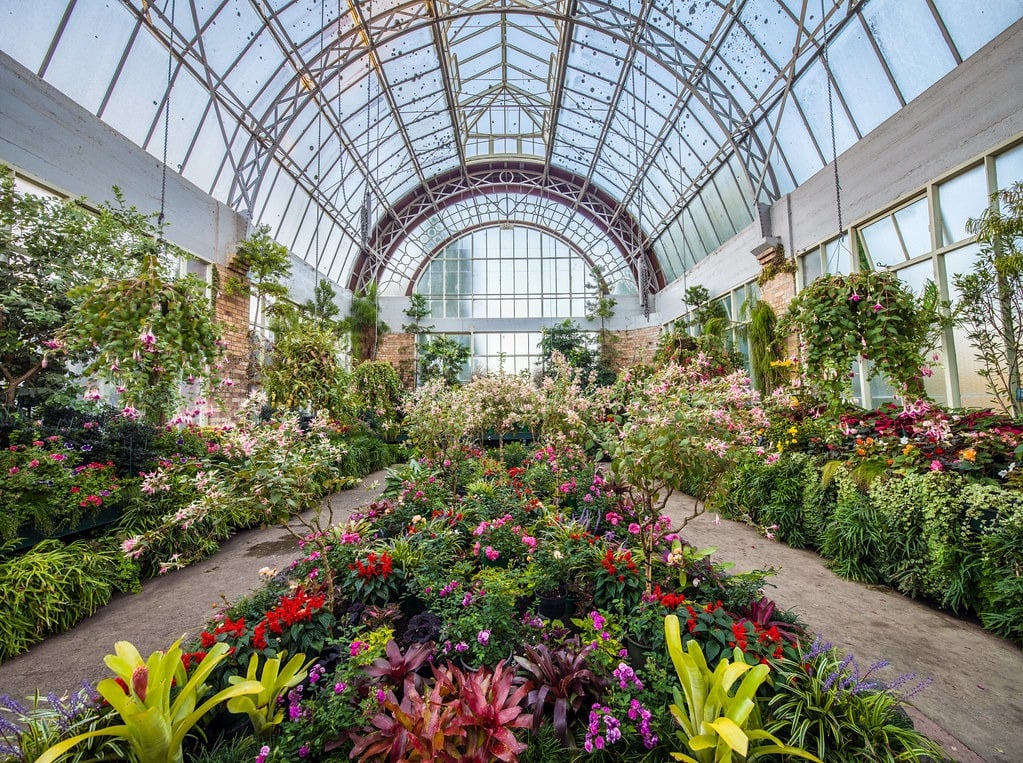 Either way, though, I've yet to see the sculpture actually named by any official source — or, at the very least, a reliable one — so all of these potential titles remain colloquial only.
That doesn't stop the stories, of course. In fact, according to various Auckland-based message boards and online communities, a huge number of people think of the sculpture as the Three Witches even now.
But even if there are no witches haunting Auckland Domain… that doesn't mean that nothing haunts Auckland Domain.
Try visiting the Auckland War Memorial Museum at night, for example. People have "heard and seen things" there, as Newshub put it in 2018 — things that… shouldn't be possible.
They only emerge after the sun goes down and the lights go out.
So maybe just… stick to daylight.
You'll be fine.
Probably.
***
Follow The Ghost In My Machine on Twitter @GhostMachine13 and on Facebook @TheGhostInMyMachine. And don't forget to check out Dangerous Games To Play In The Dark, available now from Chronicle Books!
[Photos via russellstreet (1, 2, 3), muratwithhat/Flickr, available via CC BY-SA 2.0 and CC BY 2.0 Creative Commons licenses.]