Previously: The Blue Ghost Tunnel, Ontario, Canada.
O'Zone Pizza Pub wasn't always O'Zone Pizza Pub. The Pensacola, Fla. eatery might be lauded for its pies and extensive beer list now, but once upon a time, it was lauded for… something very different. O'Zone Pizza Pub, you see, is located within the basement of the defunct Historic Sacred Heart Hospital, which was once Pensacola's premiere — and only — major hospital facility.
The hulking Gothic Revival building in the city's East Hill neighborhood hasn't housed the hospital for more than a half a century at this point, though, so the whole area has gained yet another reputation: The Historic Sacred Heart Hospital has long been rumored to be haunted. So it's only natural that this haunted reputation would cling to O'Zone Pizza Pub, as well, right? Looks like Portland, Ore.'s Old Town Pizza isn't the only haunted, pie-slinging joint around.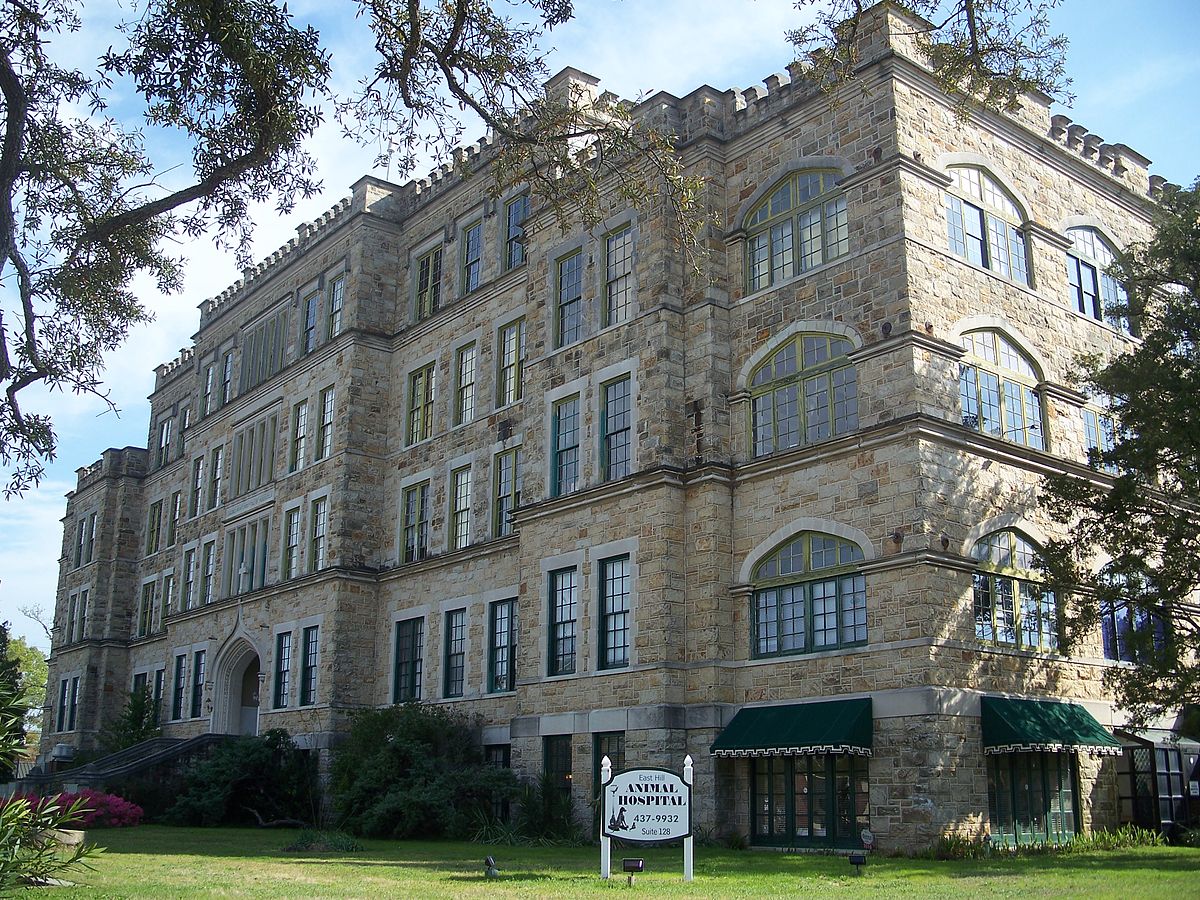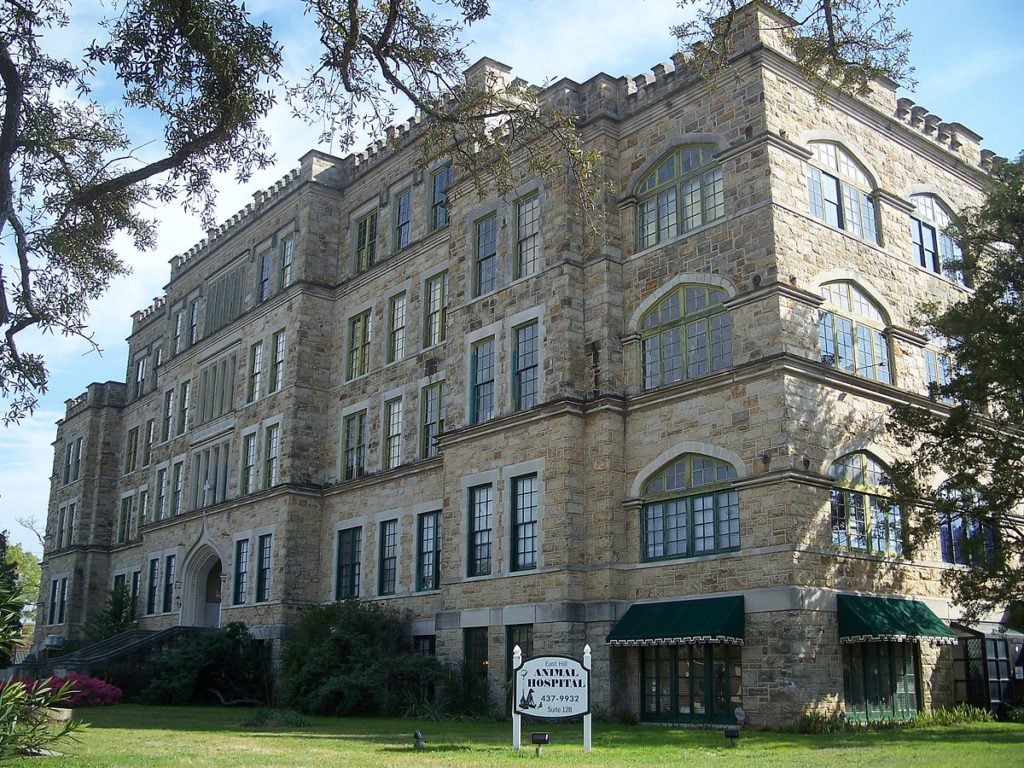 [Like what you read? Check out Dangerous Games To Play In The Dark, available from Chronicle Books now!]
To be fair, O'Zone isn't the only business currently located inside the old hospital — and, therefore, isn't the only business within it that might have a few spectral customers hanging around. It is, however, the one that's spoken of the most frequently. Why? That's not entirely clear. Perhaps it has something to do with the incongruity of the situation: Pizza + old hospital + ghosts is a quirky enough combination that it might make more of an impression on the general public than, say, accountant + old hospital + ghosts. For the curious, beyond O'Zone and the accountants, the old Sacred Heart building also houses another restaurant called the Vineyard, several law offices, a tailor, a salon, and a Montessori school, among others establishments.
Then again, it also might have something to do with exactly where in the building O'Zone is located. Only the first three floors are open for business, you see; floors four and five remain vacant. But O'Zone occupies a particular area within those bottom three floors: It's in the basement — which many believe once held the hospital's morgue. So, we're not just dealing with pizza + old hospital + ghosts. We're dealing with pizza + old hospital + where the bodies of the dead went after they passed + the ghosts of the spirits that once gave those bodies life.
Sacred Heart Hospital originally opened in 1915. Prior to its construction, very few options for comprehensive medical care existed in the area; according to The Pulse Pensacola, facilities available at the time included only temporary military medical centers located at what was once the Pensacola Navy Yard and the Pensacola Sanitarium, which had a capacity of just 20 beds. Most Pensacola residents had to travel as far as New Orleans for treatment.
But in 1908, a Pensacola resident, Isla Smith, got in touch with the Daughters of Charity — a Society of Apostolic Life within the Catholic Church which dates back to 1633 — about whether they might offer support to build a new hospital in Pensacola. The Daughters of Charity responded by investing $400,000 into the project and bringing aboard architect A. O. Von Herbulis to design the facility and Evans Brothers Construction to actually build it. Construction began in 1914; then, in 1915, Sacred Heart Hospital — then called simply Pensacola Hospital — opened its doors at 1010 N. 12th Avenue.
The exterior of the hospital can only be described as "grand." A Gothic Revival structure with Tudor arches, stonework around the front entrance, and parapets, it resembles nothing so much as a castle or fortress. But at the time it opened, there was more to the facility than just a pretty face; inside, it was state-of-the-art, including the first surgical, radiological, bacterial, and therapeutic facilities in the entire state of Florida. When the hospital first opened, beds started at $1 per day for open wards and went up to $5 for private rooms with connecting baths. With a motto of "service to all," however, patients were never turned away due to lack of funds.
A name change in 1948 gave the hospital the moniker by which it is still known today: It became Sacred Heart Hospital of Pensacola. However, the hospital operated under that name in the original building for less than two decades; in 1965, it moved to a new building at 5151 N. 9th Avenue, where it's still located today. And over the decades since, the Gothic Revival that once housed Sacred Heart Hospital has had a variety of different roles in the Pensacola community.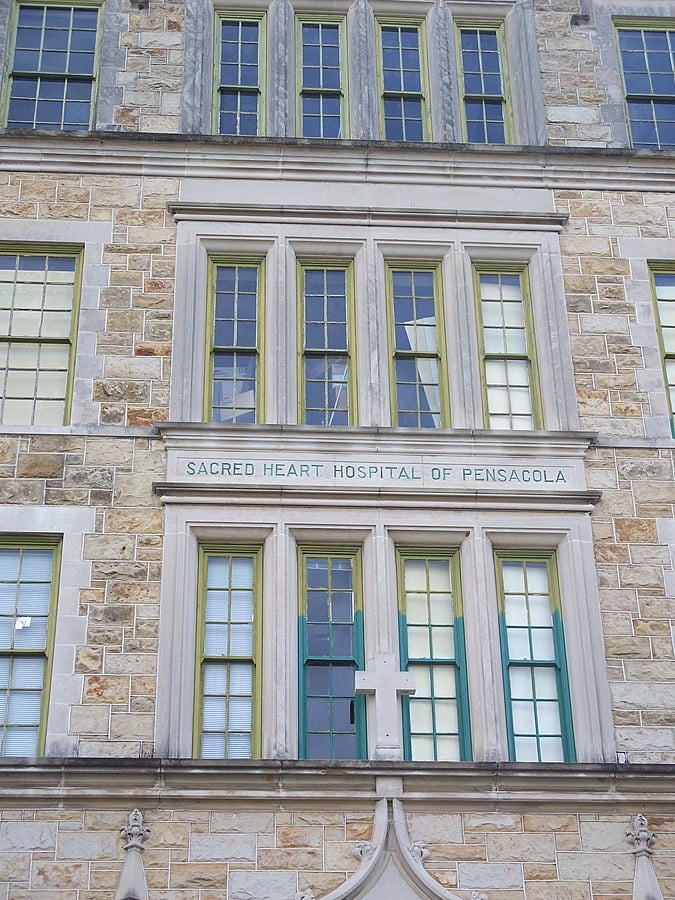 Between 1969 and 1978, the old hospital served as the very first campus for the Pensacola Private School of Liberal Arts. Founded by William J. Holston as an alternative to Pensacola's public school system, the institution later relocated to 13th Avenue; still in operation today, it's now based at 301 E. Gadsden Street, where students from 7th to 12th grade are welcome. Tuition is $6,525 per year, with financial aid available for those who need it. The building was then purchased by the Tower East Group in 1980, who have worked since then to preserve, renovate, and maintain the old hospital. Historic Sacred Heart Hospital made its way onto the National Register of Historic Places just a few years later in 1982 — and ever since then, the Tower East Group, which is a local, family-owned organization, has rented out space within the historic building to a wide array of businesses.
Again, though, these businesses are limited to the first three floors. Those are the floors that have been renovated and are safe for visitors; indeed, you can stop by whenever you like to look at the display cases lining the hallways, filled with artifacts and old photographs from the hospital's history.
But the fourth and fifth floors are closed to the public. Of course, that doesn't stop people from occasionally sneaking up to them, although it's neither recommended or encouraged that you do so. (It's trespassing, after all.) And according to those who do find their way to the off-limits levels, the areas aren't always as deserted as they might appear. Indeed, most — though not all — of the spooky stories connected with the former hospital are associated with its upper levels.
Some say, for example, that the apparition of a nurse can still be seen roaming the hallways in her nun's habit — and even if you don't see her, you might feel her: She has a habit of tapping people on the shoulder from behind. Others report having heard music or seen the apparitions of both children and adults on the hospital's vacant floors. And, per one eye-witness story recounted on Your Ghost Stories, odd screams might shatter the silence on the upper levels — screams that sound like they belong to people you know. Except, you'll discover later on that whoever you thought you heard screaming is perfectly fine. A little spooked, perhaps, but not so spooked they would have let loose with any kind of audible yelp.
So, who — or what — was responsible for the screaming, then?
And why would whoever it was have gone to the trouble to mimic a familiar voice?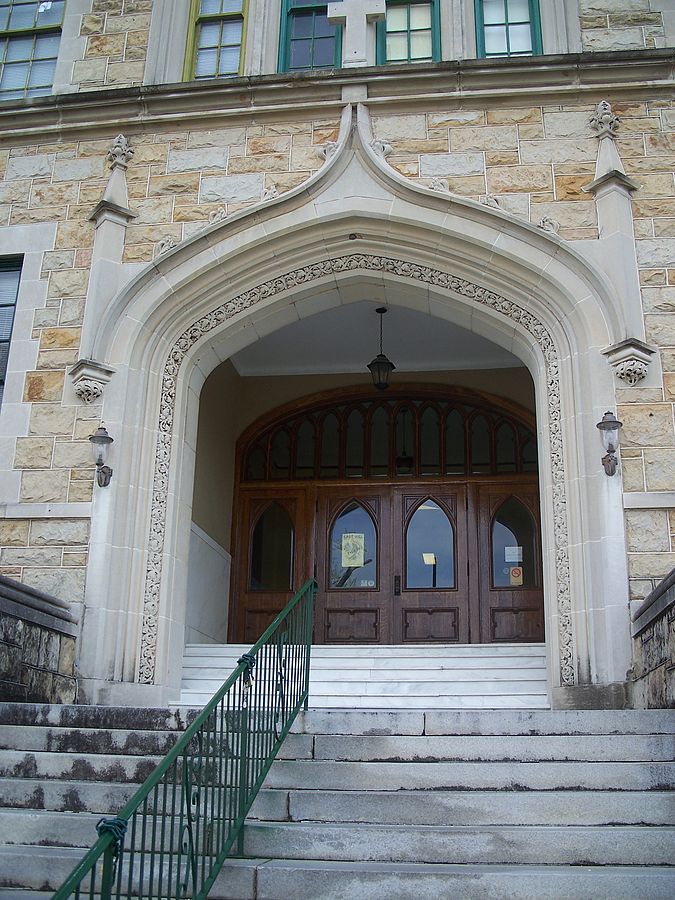 It's perhaps no wonder that the top floors have the spookiest reputation of any of the building's other locations; the operating wards were all once located on the fifth floor, according to Film North Florida, the website of the Film Liaison of Escambia County. What's more, many of those rooms still contain remnants of their previous functions. In one of the operating rooms, for example, you can still see the original tile on the walls. Another former operating room is now used for storage. And at the end of one hallway, the swinging doors that allowed speedy access to yet another operating room remain, as well.
And, of course, there's also the creepiness inherent in aging, vacant, unrenovated spaces. Never underestimate how far atmosphere will go when determine how haunted most of us believe any given location to be.
So where does O'Zone Pizza Pub fit into the picture? It's obviously not located on either the fourth of fifth floor of the old Sacred Heart. So, why is it that, out of all of the businesses that have found their homes at the former hospital, is this the one most commonly brought up in the same breath as the hospital's haunted reputation? There's no solid answer to that question, unfortunately, but I have a theory:
I think it's the result of a perfect storm of a spooky venue and some general confusion and misunderstanding.
Here are all those pieces and how I think they come together.
First, there's the rumor that the restaurant, which opened in 1998, is located in what was once the hospital's morgue. Morgues often are situated in the lower levels and basements of hospitals and medical facilities, so it's not unreasonable to assume that O'Zone, with its basement locale in an old hospital building, might occupy a space formerly used as a morgue. And even though death in and of itself doesn't have to be a scary or creepy thing, many of us do consider it a little unnerving. So, with both of those elements at play, it's perhaps understandable that a restaurant located within a space that's understood to have existed primarily for death might spook people out just a little bit — or even convince them that the place is straight-up haunted.
Then, there are Sacred Heart's own ghost stories — stories which might have gotten rolled up with the spookiness inspired by the morgue rumor and sort of mooshed them all together. I've actually seen accounts which take some of those stories and move them, situating them not within the areas of the old hospital to which they're typically pegged, but rather within O'Zone itself. In one post on This Is Who We Are, for instance, a commenter notes that the ghost nun appears not within the hallways of the hospital's upper levels, but rather near O'Zone's restrooms, tapping people on the shoulder as they head in to do their business. Another story on O'Zone's old Foursquare page, meanwhile, mentions specifically that the women's restroom is haunted, although there's no mention of the nun here. However, the nun story as I first encountered it — and as I've more commonly encountered it in general — isn't associated with O'Zone at all, but rather the main hallways of the hospital building.
That's… interesting to me.
And then there's O'Zone itself, which neither confirms nor denies its haunted reputation — but which uses that unconfirmed reputation as a selling point all on its own. "Only friendly spirits allowed in here!!!", the restaurant notes on its website. "We're in one of the oldest buildings in Pensacola. Built by the nuns in 1915, the original Sacred Heart Hospital. Is it haunted? Come and see for yourself."
When you combine these three elements with my previous point about the inherent fascination created by the incongruity of the whole thing… well, it's not hard to see how we get from "Sacred Heart Hospital is haunted!" to "O'Zone Pizza is inside Sacred Heart Hospital, which is haunted!", and finally to "O'Zone Pizza is haunted!"
It's worth noting, by the way, that the morgue story is disputed. For one thing, the hospital may not even have had a proper morgue: Said Aaron Ritz, whose family runs the East Tower Group and therefore owns the building, to local ABC affiliate WEART in 2017, "They didn't have anywhere to keep a cadaver, so as soon as someone died they went to a funeral home or returned to their family." Furthermore, in 2011, one blogger describing their experience exploring the old building noted that they were told that O'Zone might actually be located where the hospital kitchens were — which, y'know, would make a certain amount of sense, if it were true. The blogger's source didn't know how the morgue thing originally got started, but asserted that it "was obviously a story put there by someone who thought it would sound good."
But that anonymous source is right: It does sound good. So, hey — the next time you're in Pensacola, stop by O'Zone Pizza Pub. You might just end up with a spectral dining companion of your own.
***
Follow The Ghost In My Machine on Twitter @GhostMachine13 and on Facebook @TheGhostInMyMachine. And don't forget to check out Dangerous Games To Play In The Dark, available now from Chronicle Books!
[Photos via Ebyabe (1, 2, 3)/Wikimedia Commons, available via a CC BY-SA 2.5 Creative Commons license.]