Previously: The Chicago Cholera Epidemic Myth.
There are 14 of them: 14 paintings depicting ghoulish figures and desolate landscapes rendered in dark, muddy colors. They have no names — or at least, no official names; their artist never gave them any — or if he did, he never revealed them to the world. Indeed, the "Black Paintings" of Francisco de Goya, as they're known, were never meant to be seen by the world at all. As the Wikipedia page on the Black Paintings describes them, they are "intense," "haunting," and "reflective of both [Goya's] fear of insanity and his bleak outlook on humanity."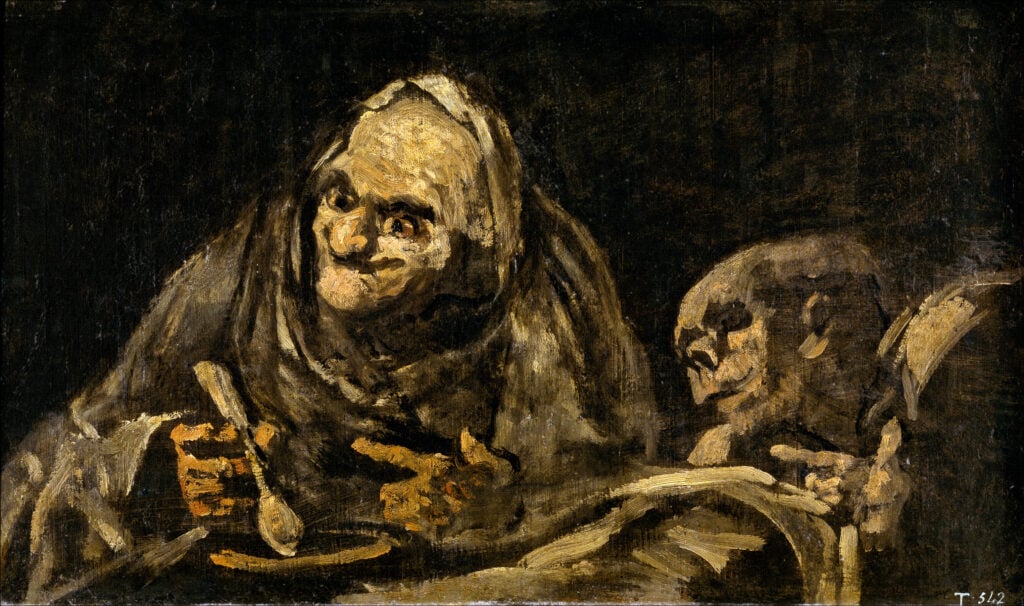 They're unpleasant to look at.
And yet, it's hard to look away.
There's something about the paintings that at once repels you while simultaneously drawing you in — something haunting. Not literal ghosts, but something just as terrifying.
[Like what you read? Check out Dangerous Games To Play In The Dark, available from Chronicle Books now!] 
In 1819, Goya, then already in his 70s, purchased a house outside Madrid known as Quinta del Sordo — Villa of the Deaf. Although Goya had become deaf in the 1790s following a severe and nearly fatal illness, the house had already earned its name by the time the artist took up residence within it; the previous owner had also been deaf. And it was here, in this isolated, former farmhouse far outside the oppressive court of Ferdinand VII of Spain, that Goya would paint his Black Paintings — the series of 14 nameless paintings we've come to understand as depicting Goya's inner turmoil, his views on the state of both Spain and the world at the time, and his struggles with his own, rapidly approaching mortality.
Goya never wrote of the paintings. It's believed he never spoke of them, either. They just… were. It's notably that they weren't originally done on canvas; the artist painted them on the walls of the home he shared with Leocadia Weiss — his maid, caregiver, and possible lover — and her daughter Rosario. He may even have painted them over earlier works — pastoral scenes and other more conventional pieces commonly used in home décor at the time. Whether there's some deeper meaning in this action — the covering up of what had hitherto been the norm with a sort of new and disturbing normal — remains to be seen.
The most famous of the Black Paintings has been given the name Saturn Devouring His Son. As its title might suggest, it depicts the Titan Cronus — here given his Roman name, Saturn — consuming one of his children in order to prevent them from overthrowing him once they were grown. He ultimately failed, of course; when Zeus — or Jupiter, as he's known in Roman mythology — was born, his mother, the Titan Rhea, endeavored to save him by tricking his father into consuming a rock wrapped in a blanket instead of Zeus himself. The god was raised in secret, hidden away from Cronus until he reached adulthood; then he went after his father, forcing him to disgorge first the rock, then his siblings, ultimately banishing Cronus and all of the other Titans to Tartarus.
In mythology, Cronus swallowed his children whole when they were babies. Here, however, we see something substantially more gruesome — the son is depicted as an adult, already partially torn asunder as Cronus frantically devours him in cannibalistic fashion. It's bloodier, for sure — which, I would argue, drives home the futility of Cronus' actions. We know how this story ends. We know that Zeus will overthrow him. And we know that Cronus is ultimately forcing himself, bug-eyed and manic, to consume his own flesh and blood for nothing.
But although Saturn Devouring His Son is perhaps the most grotesque of the Black Paintings, it's not necessarily the most unsettling. For me, that honor goes to the innocuously-named Two Old Ones Eating Soup; like Saturn Devouring His Son, there's a kind of gross depiction of eating going on, but one that's much more recognizable in terms of the day-to-day — and, therefore, much grosser to me.
The Black Paintings are currently located at the Museo del Prado in Madrid, although not in their original form: In 1874, the process to transfer them to canvas began, and by the time the restoration work was completed, it's likely that "extensive changes and a lot of repainting" had occurred, as art historian Nigel Glendinning put it to the New York Times in 2003.
But there's one more thing worth noting, too:
It's possible that the Black Paintings were not actually painted by Goya. In 2003, art historian Juan José Junquera posited that the Quinta del Sordo may not have had a second floor when Goya lived there — and that, if the second floor, where nine of the Black Paintings resided, was added to the structure after Goya left for Bordeaux in 1824, then the paintings could not have been the artist's work. Junquera believes they may have been painted either by Goya's son, Javier, or his grandson, Marioano.
Not everyone is convinced by Junquera's argument — Nigel Glendinning strongly disagreed with it, for example — but it's an interesting proposition all the same.
We may never know the truth. But regardless, the Black Paintings remain — and so, too, does the darkness held within them.
The (rather detailed) Wikipedia entry on the Black Paintings is here. Read on for more to explore.
Further Reading:
Goya, by Robert Hughes. One of the most highly-regarded biographies of the artist on the market, Hughes' Goya was originally published in 2004 and hasn't yet been overtaken. As Nicholas Lezard summed it up in his review at The Guardian at the time of publication, "The only objection I have is that [Goya] is not baffling enough. Which is a lunatic objection. This book is robust, informative, honest. The bafflement resides, forever, in Goya's images." Find the biography at Amazon.
Francisco Goya at The Art Story. For a quicker, brief bio of Goya, here's a good place to start.
The Prado's Goya Collection. You can view the Black Paintings online via the Prado's website, along with the rest of the museum's collection of Goya's work. The complete list of titles is comprised of: Atropos (The Fates), Two Old Men, Two Old Men Eating Soup, Fight with Cudgels, Witches' Sabbath, Men Reading, Judith and Holofernes, A Pilgrimage to San Isidro, Women Laughing, Procession of the Holy Office, The Dog, Saturn Devouring His Son, La Leocadia, and Fantastic Vision. I'm particularly fond of The Dog; considered a masterpiece, it's striking in its despair. As curator Manuela Mena once noted, "There is not a single contemporary painter in the world that does not pray in front of The Dog."
A Virtual Tour Of Quinta del Sordo. Quinta del Sordo was demolished in 1909 — but G. Fernández over at The Art Wolf has rendered images of how the house may have looked with the Black Paintings on its walls. It positions each of the 14 paintings where they would have been located on the walls of Quinta del Sordo's two floors, giving us a rough idea of what they layout of the place would have been at the time.
Imagine yourself in the center of that house.
Imagine being surrounded by these works on all sides. Imagine actively choosing to surround yourself with these works on all sides.
It's… unnerving, to say the least.
"Goya's Black Paintings," by Stephen Phelan. The Guardian seems to publish a lot about Goya, both in general and with regards to the Black Paintings in particular. This piece, which was published in early 2019, deals how people tend to react to the Black Paintings — what they do to us, in short. As Phelan observes, they shock us; they disgust us; and sometimes, weirdly, they make us laugh — the result of a bizarre sort of black comedy that's as present in some of the paintings as the bleakness is.
No matter what other reaction we might have to them, though, one thing's for certain: They always, always fascinate us. More here.
"The Secret Of The Black Paintings," by Arthur Lubow. The 2003 New York Times article analyzing the origins of the Black Paintings, spurred on by Junquera's then-forthcoming book about the Black Paintings and their authorship. The book itself is hard to come by these days (and often very expensive if you're able to find it), but much was written about it when it was first published; of these, the Times' piece is one of the first ones I'd recommend readers pick up. It lays out the significance of the works, as well as addresses both sides of the authorship question. It's absolutely worth reading; check it out here.
A Selection Of "Haunted Painting" Media. I think what I find most fascinating about the Black Paintings is the way they bring to mind the "haunted painting" trope — something for which Goya certainly isn't necessarily responsible, but which I find hard to ignore all the same. This trope has existed for centuries, and in many different forms; I think it has something to do with how we react to the idea of a painting or piece of art being able to capture something about our thoughts, feelings, or souls that might not otherwise be apparent. Here are a few pieces of fiction that capitalize on this trope to great effect:
"This 'Haunted' Painting Has Been Terrifying People For Decades," by Fernando Alphonso III. I first learned about "The Hands Resist Him" — the creepy painting by artist Bill Stoneham that gained a reputation for being haunted after a bonkers eBay listing for it emerged from the depths of the internet — in 2011. It became the subject of an installment of the "Creepy Things That Seem Real But Aren't" series I was writing for the now-defunct website Crushable at the time — and honestly, I've never quite been able to get it out of my mind since. The eBay listing is clearly a work of fiction; indeed, according to Stoneham himself, who painted "The Hands Resist Him" in 1972, the painting was never intended to be "creepy" as such. The boy is himself at the age of five; the hands are the "other lives" that can cling to a place; the glass door, "that thin veil between waking and dreaming"; and the girl — who's actually a doll —represents an "imagined companion, or guide through this realm."
The Daily Dot's piece on the painting and its strange life as an internet ghost story was published in 2013 and remains one of the best on the subject. Read it in full here.
Oh, and for the curious, Stoneham painted several "sequels," so to speak, as well as a "prequel" — which, curiously, shows the original image from a slightly different angle. You can find them over at Stoneham's website.
"Netflix's Velvet Buzzsaw And The Sinister World Of Haunted Art," by Thomas Page. The peg for this deep dive published — perhaps curiously — in CNN's Style section back in February is Velvet Buzzsaw, but it's really about the bigger theme of "the psychology behind good art." It talks both of "The Hands Resist Him" and of another contemporary "cursed painting" legend — that of Bragolin's Crying Boy paintings — as well as of the real artist who served as inspiration for Dease: Henry Darger, who seems to have been… something of a colorful character.
As Velvet Buzzsaw production designer Jim Bissell put it to Page in the article, "If it's powerful art, there comes a point when the mechanisms of our ego dissolve and we start to lose ourselves into the art. That's a particularly vulnerable point for anyone's psyche."
The question, of course, is whether we need to pull ourselves back when that happens… or whether we should just surrender and give ourselves over to it completely.
***
Follow The Ghost In My Machine on Twitter @GhostMachine13 and on Facebook @TheGhostInMyMachine. And don't forget to check out Dangerous Games To Play In The Dark, available now from Chronicle Books!
[Photo via Wikimedia Commons]