Previously: The Plague Doctor Video.
The video that's now typically referred to as the "Blank Room Soup" video isn't actually called "Blank Room Soup." When it first appeared on the internet, it was under the title "freaky soup guy" — which, honestly, is an apt description: A mere minute in length, it features a man in a white tank top seated at a large table in an otherwise empty room, eating what looks like a bowl of soup with a comically oversized spoon. He's also crying, although we can't actually see any tears; his eyes have been blanked out with one of those black censor bars. Just the sound of the crying is enough to make it disturbing, though: It's the kind of crying that's so distraught that it sounds like laughter. It might even be laughter, in some strange way.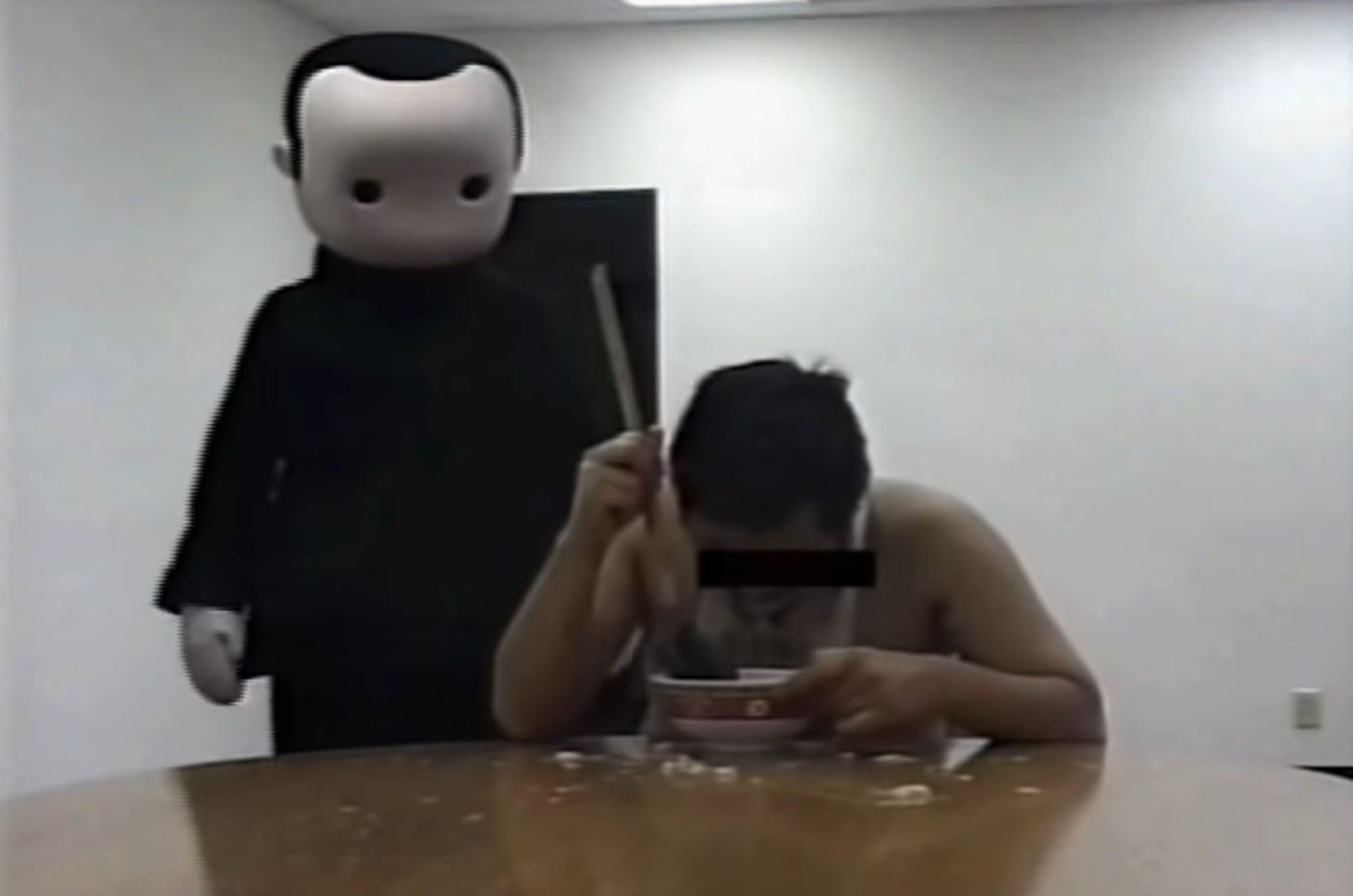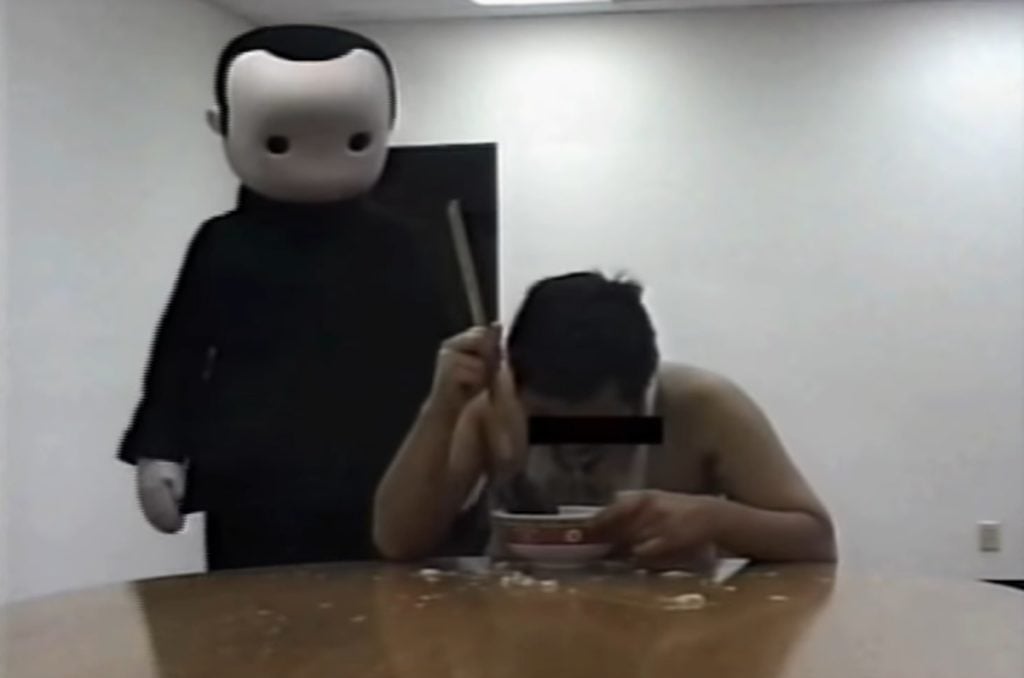 True to the video's name, the soup guy is, in fact, freaky.
But he isn't the freakiest part of the video. That prize goes to the strange character standing in front of the door located behind the man. Humanoid, but definitely not human, the character has a white face, holes for eyes, and no other discernible facial features. Its hair is dark; however, it isn't actually hair. It looks hard to the touch, like a helmet made of plastic. Its hands, too, are hard and plastic, but white, like its face. It's wearing a black shirt and trousers. The overall effect is doll-like and appears to be accomplished by putting an actual human inside the kind of suit you expect a mascot to wear.
[Like what you read? Check out Dangerous Games To Play In The Dark, available from Chronicle Books now!]
As the man eats and cries, the character approaches him from behind and gently pats his back. About three-quarters of the way through the video, the character is joined by another, identical character, who also pats the man's back as he eats and cries.
Then, abruptly, the video ends.
This video has equally baffled and frightened people ever since it first appeared on YouTube in 2005 (yes, it's that old). Dozens of theories about it, attempting to explain what it is, who made it, and why it exists, have popped up over the years, most of which have never been confirmed. So: What's the deal with "Blank Room Soup?" Why is it so weird? And what on earth does ot mean?
To unravel the mystery of "Blank Room Soup" — or "freaky soup guy," or "torture soup," or whatever you want to call it — we actually need to talk about a few other things. We need to talk about art, and about performance art. We need to talk about a certain creative and artistic event that occurs in the deserts of Nevada every year, and we need to talk about one of the acts that arose out of this event years ago. And, most importantly, we need to talk about an animator, director, writer, and all-round creative powerhouse named Raymond S. Persi.
Let's start with that last one and work backwards.
A Portrait Of The Artist As A Young RayRay
Raymond S. Persi was born in Eagle Rock, California — an area of Los Angeles located between the cities of Glendale and Pasadena — on Feb. 17, 1975. Primarily an animator (although he wears many different hats), he's been working in the film and television industry since the mid-'90s; the earliest job listed on his IMDb profile is one of the five episodes of the television series The Twisted Adventures Of Felix The Cat he worked on: He did storyboard clean-up on the 1995 episode featuring the segments "Surreal Estate," "Phony Phelix," and "Five Minute Meatball."
After Felix The Cat, he moved onto The Simpsons, on which he worked largely as a character layout artist between 1996 and 2003. He also directed 10 episodes of the show between 2005 and 2010. In 1999, he directed the music video for the Squirrel Nut Zippers song "The Ghost Of Stephen Foster," which earned a number of accolades on the award circuit. Since 2010, he's been at Disney, where he's worked on major features such as Wreck-It Ralph and Frozen; he's also an occasional voice actor, notably having lent his voice to Flash the sloth in Zootopia.
And in the midst of all that, Persi has continued to create his own independent work, as well — including the characters seen in "Blank Room Soup." Collectively, they're called RayRay.
Like many artists, Persi doodles. Also like many artists, Persi's doodles often reflect something about how he sees himself or the world. RayRay is no different: Originally, they were a representation of how Persi views himself. Arising from "a mix of inhibition, a sense of alienation, and a deep-seated need to entertain," according to the characters' official bio, they were sort of a reflection of the hypocrisy inherent in being an artist: We create because, deep inside ourselves, we need to — but how do we reconcile the need for others to see our art in order for us to feel like it matters? We create for the merits of the art itself — but how do we deal with the fact that we need to be paid for our work in order to keep being able to make it? How do we cope with needing to be in the world, but often feeling like we aren't a part of it? There are no easy answers, but in a lot of ways, RayRay personifies the struggles inherent in these questions.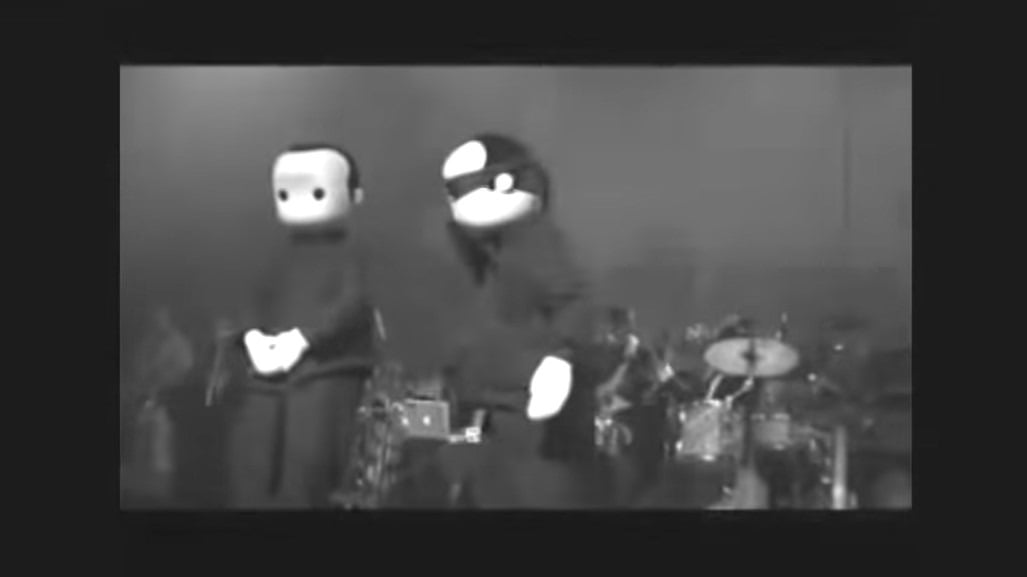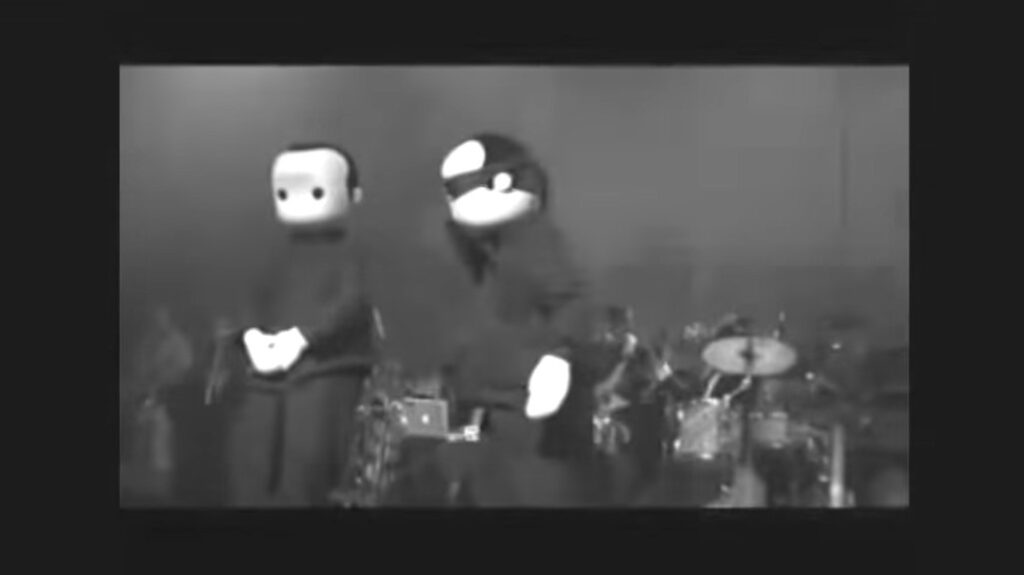 Meanwhile, there was Burning Man — and out of Burning Man came the Mutaytor.
The huge art and creation event known as Burning Man originally grew out of two separate events originally launched in the late 1980s and early '90s. One was at Baker Beach in California; the other was in the Black Rock Desert in Nevada. They came together in 1990, and in 1991, the event took up full residence at Black Rock. That year, there were 250 participants. By 1998, participation numbers had grown to 15,000 — and that year, one of the most notable creations ever to arise out of the event came to be: The Mutaytor, a performance collective that's equal parts orchestra and circus.
The timeline gets a little hazy here, but sometime between 1998 and 2002, Raymond Persi, puppeteer and SFX artist and animatronic creator Paul Pistore, and Mutaytor all came together. The resulting collaboration brought RayRay off the page and into three-dimensional space: Suits were created that could be worn by human performers, allowing RayRay to appear onstage, to star in their own skits, and to generally exist in the "real world" in a way that they hadn't been able to before. In their home base of Los Angeles, they became true cult favorites, beloved for their relatability. To this day, RayRay is still listed as a cast member on the Mutaytor's website, with Persi and Pistore being describe as their main creator, while a handful of other members of the collective — Arno Yeretzian, Julia Yemelin, Elan Trinidad, and Steven Loeb — receive additional credit for helping to bring RayRay to life.
RayRay has had various online homes over the years, including the domains RayRayWorld and RayRayLand, the MySpace page RayRayVille, the channel RayRayTV on various video streaming platforms, and RayRayVision on YouTube. RayRayWorld seems to have been one of the earliest of the bunch; according to the Wayback Machine's archive of it, the website was under construction in April of 2003 — which would have been shortly after RayRay began performing live — and operational by October of that year. This domain seems to have fallen in disuse sometime around 2010, though, and by 2011, RayRayWorld redirected to RayRayLand. By 2015, the RayRayLand domain was no longer registered and doesn't seem to be in operation as of this writing.
Meanwhile, videos featuring RayRay, as well as videos of Persi's other work, appeared on the YouTube channel RayRayTV between 2006 and 2018; additionally, for a period between 2010 and 2011, RayRay's videos lived primarily at the YouTube channel RayRayVision. Othera RayRayTV channels can also be found on DailyMotion and MetaCafe, with uploads dating back to 2007 or 2008 on each. More recently, another RayRayTV channel popped up on YouTube, with uploads — mostly reposts from other previous RayRay channels — having been added in 2018
These online homes do, by the way, all seem to related — that is, I don't think any of them were just begun by random people hoping to piggyback off of RayRay's popularity; they're probably official RayRay pages. Here's why I think that: In 2011, the RayRayLand website — which, you'll recall, is where the RayRayWorld website eventually redirected to — was under construction; it did, however, both clearly identify itself as RayRay's website and link directly to the RayRayVision YouTube page and the RayRayVille MySpace page. RayRay's bio on the Mutaytor's website also links to the RayRayVille MySpace page, and, well… if you follow all of these links long enough, you can connect all of them to each other through various meandering paths. This, to me, suggests that they do all actually belong to RayRay's creators.
But here's the thing:
According to Raymond Persi, he didn't make "Blank Room Soup." Neither he nor any of the other RayRay performers are wearing the suits seen in the video. And he has no idea who actually did make the video, or why.
The Making Of A Myth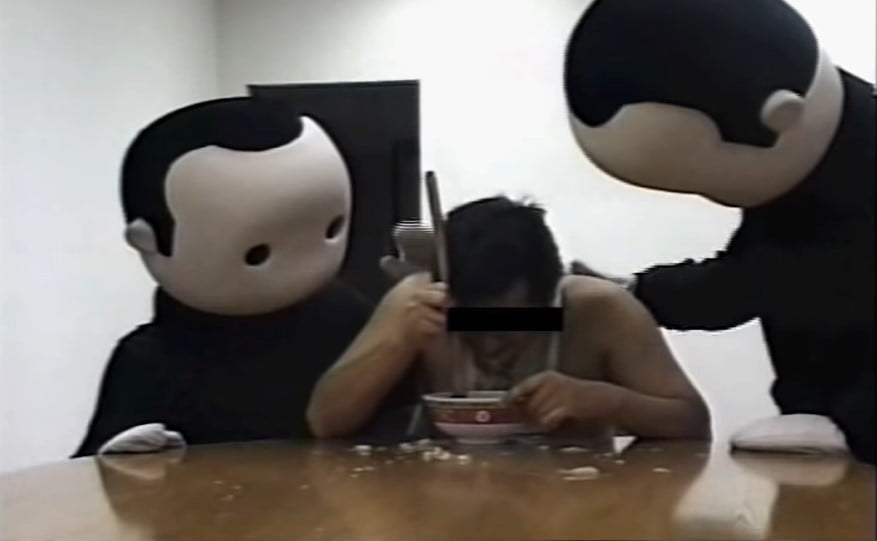 The video wasn't given the name "Blank Room Soup" until later on; many, many people have uploaded it, and reuploaded it, and uploaded it again — over and over and over — during the intervening years since its first arrival, with these uploads pegging the now-infamous title to it. And with each upload, the video's mythology grew: It was a snuff film, people said; the figures in the costumes had kidnapped the man, starved him, and — gruesomely — served him soup made from the remains of his wife, whom they had also killed. That was why he was crying, people said. That was why he seemed like he might be about to vomit. That was why the figures were patting his back — they were torturing him, treating him with mock sympathy as they forced-fed him the cannibalized remains of someone he loved. The video had originally been found on the Deep Web, people said, well known to be the most depraved corner of the internet.
This backstory is, of course, untrue. As previously noted, the video's title isn't "Blank Room Soup"; it's "freaky soup guy," and when it was first uploaded by an anonymous YouTuber going by the name renaissancemen in 2005, the only "story" it featured in its description was the sentence, "We don't know what this is." There's no evidence that the video came from the Deep Web.
Somewhat surprisingly, though, there aren't a lot of deeply researched or reported pieces on "Blank Room Soup" out there. There's a lot of creepypasta, sure — but only a small handful of people have really attempted to get to the bottom of the mythology surrounding the video. YouTuber ReignBot is one of them, though, and her 2015 investigation is worth a watch. It doesn't explain who made the video or why, but it does put the kibosh on some of the weirder rumors about it.
Although ReignBot originally intended to debunk the video, she ultimately ended up not quite being able to do that, due simply to the fact that there isn't a lot of solid information about it to be found. She did get in touch with Raymond Persi himself, though, first by tracking down a variety of his video channels, then his Tumblr, and finally his email. And according to the emails she received, two RayRay suits were actually stolen at some point in the early-mid 2000s — the two RayRay suits that later appeared in "Blank Room Soup."
(Everything in these emails holds up to scrutiny, by the way; it all lines up with readily available information found on Mutaytor's website, RayRay's official websites, the RayRay Vision YouTube channel, IMDb, and so on.)
According to Persi's emails, the suits were stolen after a performance in a club on Hollywood's Sunset Strip. The club was so tiny that the dressing room was just an old RV parked in the alley out back — an RV which, it turned out, didn't have a lock on the door and could therefore be entered by anyone who happened to walk by. And hey, guess what? After Persi and his crew were done striking the stage after the performance, they returned to the RV to find that the majority of their RayRay gear had been stolen. They had recently had some spare costumes made, so the show could continue to go in the meantime — but Persi was understandably upset.
Then, a couple of weeks later, Persi received an email with a video file attached to it. "It was the video that everyone is now calling 'Blank Room Soup,'" Persi wrote. "The guy in the bib with his eyes blacked out eating I don't know what out of a bowl with a big spoon and my characters standing around him!" He posted it to YouTube so he could "share it with his group." It's not clear whether the group means Mutaytor, the RayRay crew, or just Persi's friends, but honestly it probably doesn't really matter. The bottom line is, that's how the video ended up on YouTube in the first place.
This story, by the way, also helps solve the mystery of who renaissancemen on YouTube is: It's probably Persi himself. Remember, the original "freaky soup guy" upload featured the simple description, "We don't know what this is" — that is, it's exactly the kind of description you'd give to a weird video starring your own hijacked creations if you want to share it with your friends to see what they can make of it. Additionally, the rest of the content on the channel all looks to be Persi-related — it's full of promos for episodes of The Simpsons on which Persi worked, short clips of someone identified as "Arno" (who is, I'm sure, Mutaytor's Arno Yeretzian, aka one of the folks credited with helping to bring RayRay to life), the Squirrel Nut Zippers video Persi directed, and so on. They seem to be a weird and random assortment of clips that are difficult to make sense of at first—but you've got to bear their dates in mind: They're all from the early days of YouTube (the oldest one is "freaky soup guy" from 2005, while the most recent one is dated 2010), and as such, reflect the nature of early YouTube: The channel reads more like a personal scrapbook, rather than the slickly-produced television-like juggernaut YouTube is now.
Also, if you stick the main renaissanceman landing page through the Wayback Machine, a capture from 2008 includes a link to another MySpace page — a different one from RayRayVille. It's called RayRay_Space. There are images of RayRay in the Photos section. And the username displayed on the page is Raymond Persi. Mystery solved.
Persi noted in his emails to ReignBot that the characters in the video he was sent "moved and behaved exactly the way they should" — which, given that there wasn't much video footage of them widely available at the time, suggested that the people who made the video had seen RayRay perform before. They might have been fans, even. Maybe that's what the video was: A sort of fan letter — a way to say, "Look, I get what you're saying; I feel that way, too." If that's the case, then it also ended up being a sustained campaign of fandom; Persi wrote to ReignBot that he's been sent many more clips over the years that he hasn't uploaded anywhere.
He did upload one other, though — and he later seemed to try to acknowledge the fact that his characters had been hijacked: Both "freaky soup guy" and a second video called "Soup torture" were uploaded to the RayRayTV MetaCafe channel in 2007 and the RayRayTV Daily Motion channel in 2008. (Note, though, that the Daily Motion videos have both since been made private.) On MetaCafe and Daily Motion, the description of the "freaky soup guy" video reads, "A clip of people who look like us doing something to someone that we would never do. We promise," while that of "Soup torture" reads, "What's happening in this clip and why do these people look like us!"
Excellent questions — and, unfortunately, ones that RayRay's own creator can't answer.
Why You Gotta Go And Make Things So Complicated?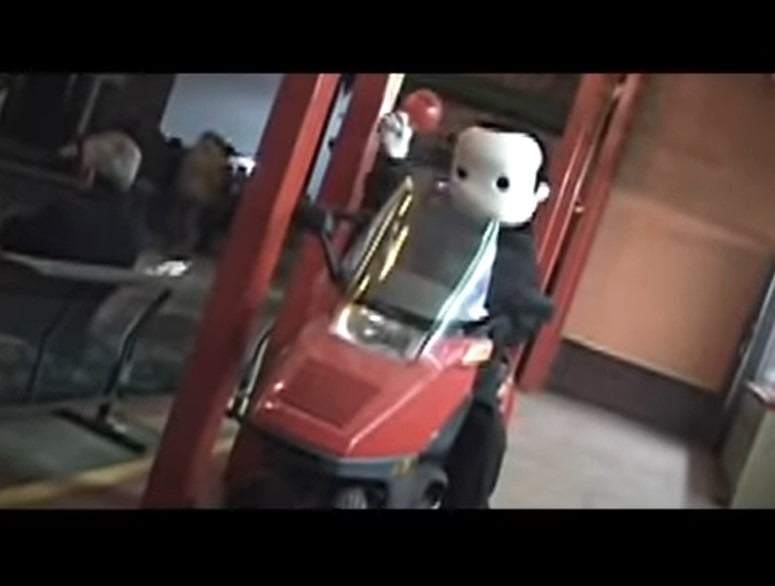 I thought at this point that I'd mostly figured it out: Raymond Persi had created RayRay; RayRay had enjoyed a healthy life as a performance art character for some time; during that time, some of the RayRay costumes were stolen by fans; and those fans subsequently used the character to make their own videos, possibly as a tribute to a character and an artist they loved.
But then something… complicated the matter.
In 2017, YouTuber SuperHorrorBro also published a video on "Blank Room Soup." There are some inaccuracies in it — again, there's no evidence that the video originated on the Deep Web, and it first appeared on YouTube not in 2008, but three years earlier — but it did point my attention toward another person who attempted to get to the bottom of the whole thing: A "horror theorist," as he's described by SuperHorrorBro, who goes by the name Mister E. Nigma (I see what you did there, Nigma).
It took me a while to find SuperHorrorBro's source; he didn't link it in the video's description, so locating it ended up being an adventure all on its own. It also turns out that the source is defunct, too, so I had to get creative in order to finally gain access to it. After a lot of searching, I dug up a 4chan thread on the /x/ paranormal board that included a link to the defunct source, which I was then able to access via the Wayback Machine.
The source turned out to be a post on a forum run by Nigma (which, again, doesn't exist anymore). The post, which was originally published in February of 2016, is titled "SOLVED: Blank Room Soup.avi." It's long, winding, and often unclear, so if you really want all the minute details, I'll send you over there to read the whole thing yourself — but the short version is that Mister E. Nigma claimed to have gotten in contact with a hacker who says they were the person who stole the RayRay suits. The hacker, Nigma said, sent him an email in which they explained their motive for the theft: It was a big statement about how capitalism corrupts art; in stealing the suits, he freed RayRay — that is, he freed the magic of art from the corruption of capitalism.
I'll admit that I'm not sure how much I trust Nigma's narrative, partially because it just seems too weird and complicated to be completely factual. Nigma also claimed the hackers said they had spoken to ReignBot posing as Persi — that is, that she hadn't actually spoken to Persi himself, but rather to someone who had intercepted the communication.
Nigma, for what it's worth, also seems not to have actually spoken to Persi. He writes that he did converse with the RayRayTV YouTube channel, which he initially thought was either Persi himself or "a representative"; however, he says he later found the contact info for a former crew member of the RayRay team who then messaged Persi on Facebook — and according to this crew member via Nigma, Persi said not only that he didn't really use that YouTube channel anymore, he had also never heard of Nigma. At that point, Nigma writes that Persi changed the password for the YouTube channel, that the crew member told him he must have been talking with a hacker, and that YouTube refused to "pursue fraud" (by which I assume he means YouTube declined to investigate). It was at that point, says Nigma, that the hacker emailed him.
The crew member didn't want to be identified, and the hacker has been unreachable since January 2017, according to Nigma's post. Everything in the post is therefore conveniently unverifiable.
And again, that claim about the hackers having posed as Persi to speak to ReignBot is weird. Her video noted that she'd initially contacted Persi through Tumblr (not YouTube, as Nigma did), and as far as I'm aware, this Tumblr does, in fact, belong to Raymond Persi. The Tumblr features a lot of behind-the-scenes stuff about Persi's work, including illustrations and storyboards, that the poster wouldn't have access to unless he actually was Persi; what's more, he also communicates with fans this way. After ReignBot reached out to him via Tumblr, Persi gave her his email address — so unless the "hacker" gained access to Persi's Tumblr or intercepted ReignBot's message, I'm not sure how the switch from Persi to poser would have be made. The Tumblr does not seem to have been hacked or vandalized in recent years.
The whole thing, however, is still… odd. It throws a wrench in the works of what would otherwise be a fairly neat explanation for "Blank Room Soup." True, we've never learned who actually made the video, but at least we know where the characters in it come from and how they came to be under the purview of someone other than their creator. The narrative that emerges from putting together RayRay's history with ReignBot's investigation is satisfying and believable.
With Nigma's additions, though? It's a lot less tidy.
The Questions That Remain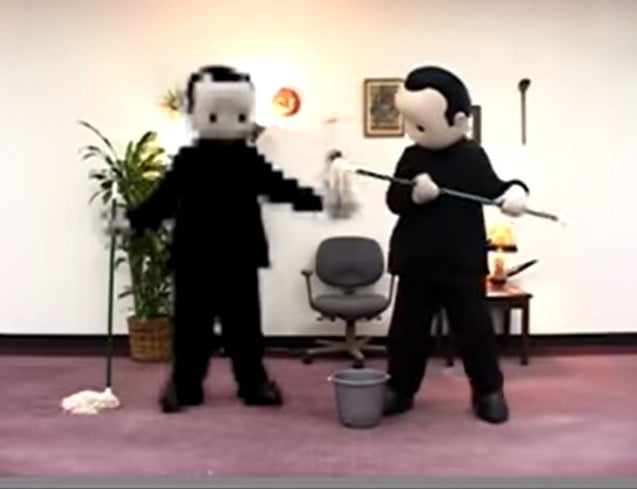 So: What are we to do with all of this?
Some possibilities:
The original narrative (e.g. that the suits were stolen and "Blank Room Soup" was made by someone else) is true.
Nigma's story is true and everything we thought we knew before it came out is a lie.
Nigma's story is made up.
Nigma's story is partially true, but with some details made up.
The whole thing is an elaborate fiction spun by Persi himself.
I can't say for sure whether any of these explanations — or any of the explanations I haven't thought of — are true. I still think I come down mostly on the side of the original narrative: That Persi created RayRay; that the costumes were stolen; and that "Blank Room Soup" was made by the people who stole the costumes as a creative sort of fan letter. But let's perform a thought experiment. Let's entertain the possibility that the last bullet point in my list of possibilities could be true.
Persi could have created Blank Room Soup.
He could have told ReignBot he didn't.
He could have told Nigma he did.
He could have claimed to Nigma that he was speaking to a hacker, and that a hacker had also intercepted ReignBot's communication.
I think all that is unlikely — again, it's just… so weirdly complicated that I can't imagine it being the most feasible explanation — but it's not totally improbable.
For what it's worth, Persi does occasionally seem to create alter egos and make comedic YouTube videos starring them for his friends. For example, consider the handful of videos starring someone named "Roy" Persi has posted on his Tumblr. Roy is usually referred to as a "friend" — in quotation marks — and… as far as I can see… Roy, his brother Troy, and the various other people who appear on Roy's YouTube channel all seem to be played by Persi. Or at least, I think they are — it's hard to verify, but it certainly looks to be the case.
I'm just… going to leave that there for now.
But hey, no matter what the true story really is, at least it's pretty clear by now that "Blank Room Soup" isn't a snuff film, right?
***
Support The Ghost In My Machine on Patreon for behind-the-scenes access and bonus content. You can also follow on Twitter @GhostMachine13 and on Facebook @TheGhostInMyMachine.
[Photos via renaissancemen/YouTube (2)]